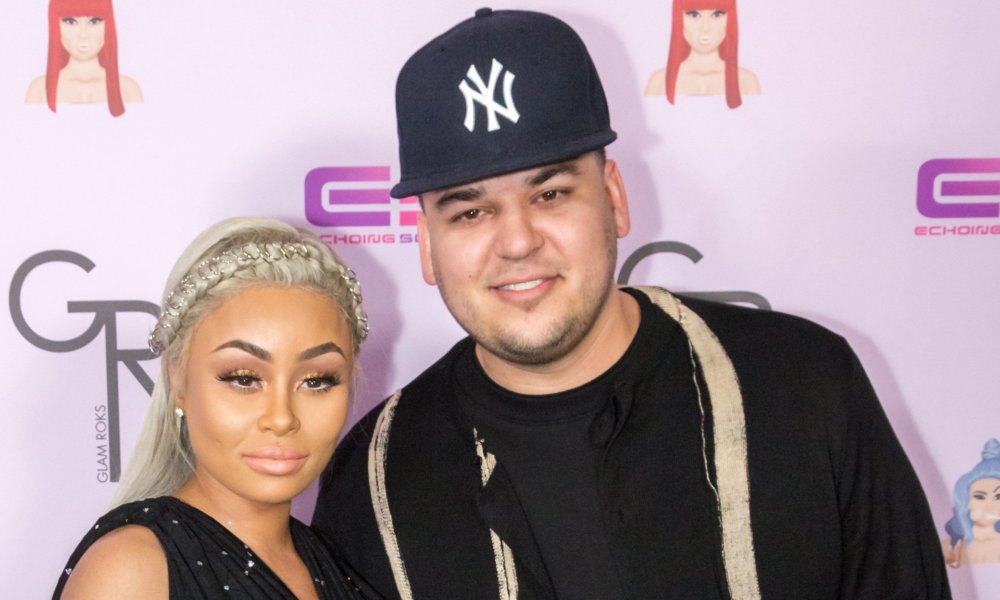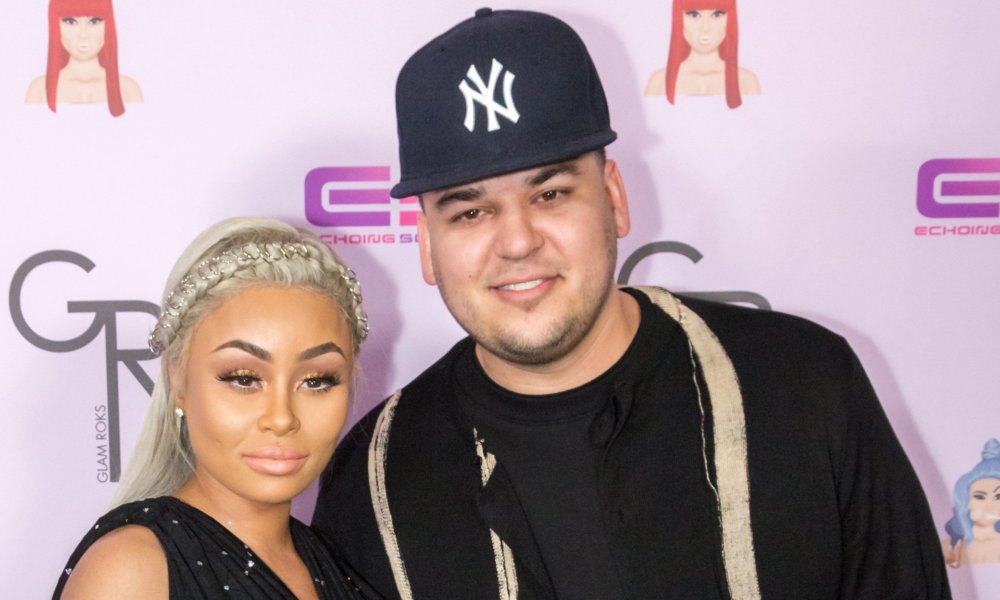 Love doesn't always last forever, and instead of being bound to an ill-fated marriage, these celebrities decided to put the kibosh on their relationships before walking down the aisle. We were shocked to see these romances come to an end, but in most cases, their decisions to head down splitsville were for the best. Here's our list of 20 celebrities who called off their wedding.
1. Brad Pitt & Gwyneth Paltrow
Before Brangelina and way before Brad Pitt and Jennifer Aniston were even a thing, the Troy actor was engaged to actress Gwyneth Paltrow. But after three years together, the wedding was called off after Pitt reportedly got cold feet. Paltrow later went on the record to say she was way too young to make such a serious commitment at that time anyway. "You can't make that decision when you're 22 years old," she told the Howard Stern radio show. "I wasn't ready, and he was too good for me."
2. Blac Chyna & Rob Kardashian
The world waited with bated breath for Rob Kardashian and Blac Chyna's wedding, but sadly, that day never came. In February 2017, People magazine confirmed the fiancés had gone their separate ways, but it wasn't until their July 2017 Internet showdown – complete with Kardashian leaking Blac Chyna's nudes – that we realized there was no hope for the former flames. Their wedding would've made for good TV, but it just wasn't in the cards for these two.
3. Courtney Cox & Johnny McDaid
Former Friends star Courtney Cox and her rocker fiancé Johnny McDaid appeared to be equally yoked and super adorable together, but after a 17-month engagement, they decided to break up in December 2015.
But love has a weird way of working itself out, and the couple reunited in April 2016, although they've refrained from putting a label on their romance redux.
4. Dove Cameron & Ryan McCartan
Love swept Disney star Dove Cameron off her feet when she began dating her Liv and Maddie costar, Ryan McCartan. After dating for three years, McCartan popped the question, and Cameron said yes! But just six months later, he took to his Twitter to confirm his split with the 20-year-old actress. "Dove has decided this relationship isn't what she wants. We still love each other very much. Please be sensitive, as this is painful," his tweet read.
5. Naya Rivera & Big Sean
When a primetime princess linked up with a hip-hop newcomer, love began to bloom. Big Sean and Naya Rivera appeared to have the perfect relationship, so naturally an engagement soon followed. But, after a few months of trying to iron out their differences, they ended their engagement and canned their wedding plans for good.
6. Kanye West & Alexis Phifer
Long before Kanye West was galavanting around Calabasas, Calif. with his wife, Kim Kardashian, and their three kids, he got engaged to designer Alexis Phifer on the island of Capri. A low-key lifestyle away from the prying eyes of the media soon followed, but with West putting all of his time and energy into his music, the relationship suffered and their engagement went up in flames.
7. Marilyn Manson & Evan Rachel Wood
Marilyn Manson and Evan Rachel Wood made an odd couple, but they had enough in common to get engaged when she was 19 and he was 36. But she and the makeup-obsessed rocker had a tumultuous engagement that finally ended in 2011.
8. Lance Armstrong & Sheryl Crow
A gorgeous wedding was planned in Austin, TX., but cyclist Lance Armstrong and singer Sheryl Crow would never get the chance to say their I do's. After three years together, they decided to walk away from their relationship. And fortunately, Crow didn't feel any resentment about how their romance came to an end, telling Good Housekeeping, "But I don't think marriage is the be-all and end-all. It's better to have three broken engagements than three divorces." Touché.
9. Jennifer Lopez & Ben Affleck
Bennifer was the talk of the town when they met on the set of Gigli and began their a highly-publicized romance. Ben Affleck proposed to Jennifer Lopez with a beautiful engagement ring, and the smitten couple began planning their Santa Barbara, Calif. wedding. But after 18 months together, Affleck decided to put a stop to the wedding and reportedly left Lopez completely heartbroken.
10. Jim Carrey & Renée Zellweger
After meeting on the set of Me, Myself & Irene, Jim Carrey began dating his costar, Renée Zellweger, and rumors about an engagement began to circulate after Zellweger was spotted wearing a diamond ring on that finger in 1999. But, before the media could pry all of the wedding details out of them, the couple announced their breakup with Carrey's publicists simply calling the split a "private matter."
11. Britney Spears & Jason Tarwick
Britney Spears has been in a series of doomed relationships, including her broken engagement to former fiancé, Jason Tarwick. After news broke that the couple was kaput, it was suggested that Tarwick's lack of desire to have children prompted Spears to stick a fork in their wedding plans.
12. Tyler Posey & Seana Gorlick
Tyler Posey and Seana Gorlick were childhood sweethearts, so it was only natural that the next phase in their relationship turned into a whirlwind engagement. But after 10 years together, they caught us off guard by calling it quits in 2014. "We have broken up … I'm just gonna get it out there because I get sad talking about it. I'm just gonna get it out there now so that hopefully people start hearing about it," he told Us Weekly.
13. Jennifer Love Hewitt & Ross McCall
After two years of dating, actor Ross McCall proposed to Ghost Whisperer star, Jennifer Love Hewitt. "I'm getting ready to turn 30 and get married and all those things. This year was my year to try to glow from within and feel better," the actress told People magazine, but by January 2009, the wedding was off. "They broke up over the holidays and have ended their engagement," a source told the publication. "They're both really sad about this. Even their friends are surprised; they seemed really happy. Everyone just wants the best for both of them."
14. Miley Cyrus & Liam Hemsworth
Miley Cyrus and Liam Hemsworth had a very bumpy relationship, which they both attributed to being young when they first fell in love. Those who shipped the couple – who was affectionately dubbed Liley – were shocked when The Hunger Games actor proposed, but they were even more shocked when the couple called off their engagement.
Thankfully, they reconnected, Hemsworth confirmed they were an item again in 2017, and Cyrus started to wear her engagement ring, although Hemsworth never officially re-proposed.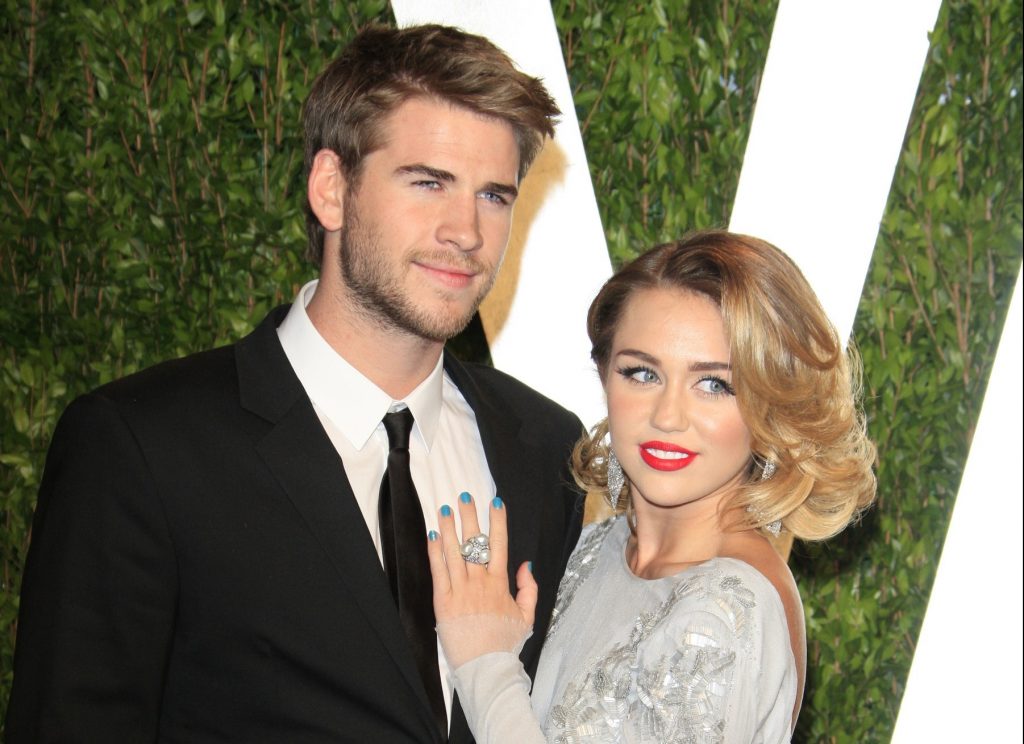 15. Uma Thurman & Arpad Busson
They have a daughter together named Luna, but things didn't quite pan out for Uma Thurman and her businessman fiancé, Arpad Busson. Thurman told W magazine in October 2009, "I'm happily engaged, but we haven't set a wedding up," and we should've known a walk down the aisle probably wouldn't happen. "I'm not in a rush to do anything. One day, we'll do it when we're ready," she continued. Well, as you already know, that "one day" turned out to be never.
16. Katie Holmes & Chris Klein
American Pie star Chris Klein got down on one knee and proposed to Katie Holmes in 2003 – pre-Tom Cruise's infamous couch antics on the Oprah Winfrey Show. After their engagement, the two appeared to be unbreakable with Klein telling SF Gate, "We found comfort in one another." But when Holmes also found comfort in Cruise, her engagement to Klein was done-zo.
17. Sienna Miller & Tom Sturridge
Six months before Sienna Miller gave birth to their daughter, Marlowe, Tom Sturridge popped the question. But a stunning wedding would never take place because the couple decided to end their engagement and carry on as co-parents instead. "It's been really quite overwhelming recently, just with the volume of everything going on. Everything is shifting," Miller told British Vogue in response to her engagement going up in smoke.
18. Jamie Lynn Spears & Casey Aldridge
It's time to add another Spears to the list, this time, it's Britney's lil' sis, Jamie. After getting pregnant at the age of 16, she got engaged to her daughter's father, Casey Aldridge. But this was simply a case of the young couple being unprepared for that level of commitment, so we're not surprised things didn't work out. "She did a lot of growing up but he didn't," a source told People in 2010. "I think she put up with more than she cared to put up with. She just got enough of it and was tired of the situation."
19. Tara Reid & Carson Daly
MTV fanatics remember Carson Daly's relationship with Tara Reid all too well. They were ascending towards becoming Hollywood's "it couple" after Daly proposed in October 2000, but when he broke up with her before the wedding, Reid's world came crashing down. "I literally thought I couldn't breathe … Every restaurant, every food, every song reminded me of him. I'm OK now, but there are times I definitely miss him. … I've never had my heart broken before," she told CosmoGirl magazine (via People).
20. John Cena & Nikki Bella
The wrestling world breathed a sigh of relief when John Cena finally made Nikki Bella's dreams come true by proposing to her. He had always made it known he wasn't too keen on getting married, but he decided to take the plunge to make his lady happy. Just weeks before their wedding, the couple abruptly called everything off, releasing a statement which read, in part, "While this decision was a difficult one, we continue to have a great deal of love and respect for one another." Later, rumors popped up that it was Cena's reluctance to have kids and Bella's feelings that he was marrying her just to make her happy that eventually formed a wedge between them.