Miley Cyrus has been in the media spotlight since the day she was born, or at least since she started playing Hannah Montana in 2001. Since that iconic television role, there have been multiple movies, six albums, 27 singles and several world concert tours that have given her celebrity status staying power. The girl isn't shy about exposing herself to her fans – quite literally, recently. She's an unabashed open book with a penchant for shocking her way into the headlines. Think you know everything there is to know about the entertainer/provocateur? Read on to learn more.
1. Miley's Just a Nickname
Her birth name was Destiny Hope, but her smiley disposition when she was a baby led to the nickname "Smiley" which morphed into "Miley" over time. She legally changed it to Miley in 2008. The name Destiny has a certain star quality to it, too, but Miley's kind of grown on us.
2. She Has a Fairy Godmother
Miley's famous godmother is the legendary Dolly Parton, who's been friends with Billy Ray Cyrus since they did the song "Romeo" together. In fact, Miley sings a mean rendition of Parton's signature hit "Jolene" at concerts in tribute to her "fairy godmother". Dolly says of her protege, "I've always loved her since she was a little baby…She's a very smart and talented girl and I really hope she does as great as I think she can and will because she's a lot more gifted that a lot of people realize right now. So I hope her choices are good, I hope she takes what she's done now and really turns it into everything that she wants it to be."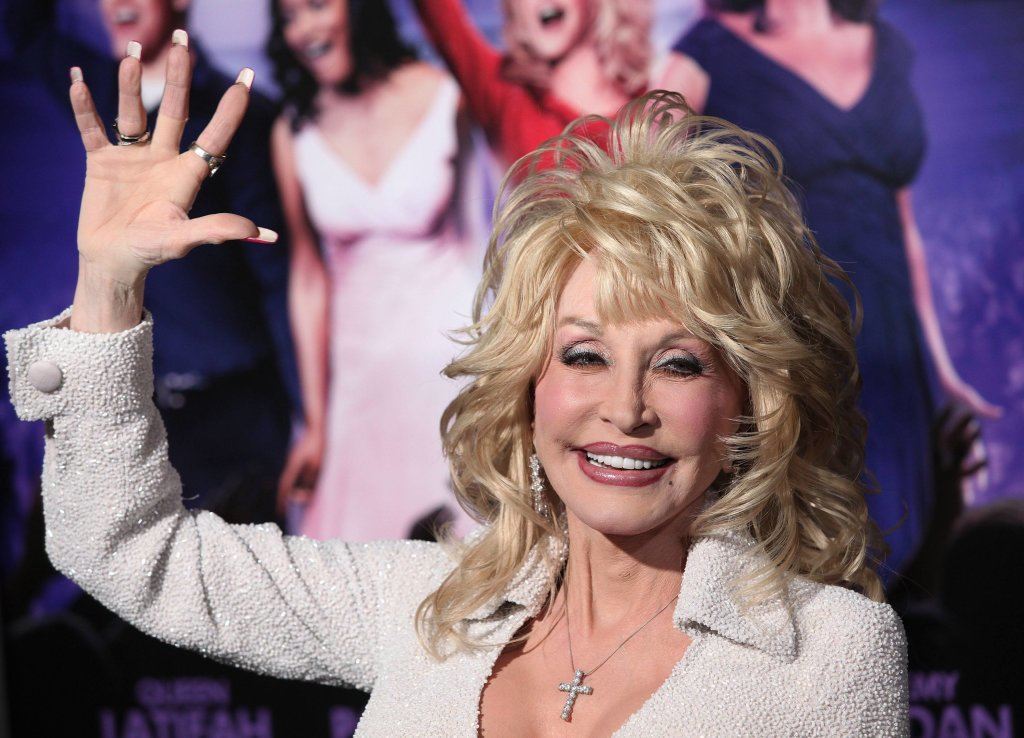 3. Miley Has an Achy Breaky Heart
Miley Cyrus suffers from tachycardia. No, that's not a reference to her tacky fashion sense, it's an irregular heart condition that means her resting rate beats faster than normal. It's not life threatening, but Miley has to watch it. She wrote in her biography, Miles to Go, "There is never a time onstage when I'm not thinking about my heart."
4. She Grew Up in Canada
The Cyrus's are an all-American family, but they spent several years north of the border when patriarch Billy Ray was working on the TV show, Doc. When Miley was eight years old, they moved from Franklin, Tennessee to Toronto, Ontario for a three year stint. She took singing and acting lessons at Armstrong Acting Studio in Toronto, so one could say that she honed her skills in Canada.
5. Miley Almost Wasn't Hannah Montana
Miley's breakthrough role was as Miley Stewart and her alter ego Hannah Montana on the Disney show, but she almost didn't get the part. Singer JoJo was who the writers originally had in mind for the role of "Chloe/Hannah". JoJo didn't want to be pigeonholed as a Disney girl, so she passed (not the best career move). Taylor Momsen, Alyson Stoner and Jordan McCoy all auditioned for the part. At first, 11 year old Miley was deemed to young and small to be cast, but producers changed their minds, took a chance and the rest is history.
6. She Has a Pet Pig
Miley has always been a pet person. Her beloved dogs Bean, Mary Jane and Happy are often featured on her Instagram posts. After her dog Floyd died, she decided to try a pet pig on for size. She adopted Bubba Sue, often called Pig, and even posed nude with her on the cover of Paper magazine. She admits that the cute pink piglet has grown into a rather aggressive beast. She told Jimmy Kimmel, "I've taken out all the furniture pretty much because she eats everything."
7. Miley's Got Tats
The Bangerz star has plenty of ink. In fact, she has well over 20 tattoos across her body, and counting (one estimate says 41, but it's hard to verify). She got her first one at age 17, the words "just breathe" across her rib cage, and she just keeps adding to her body art collection. Among her many tats are a puffer fish, an avocado, a slice of watermelon, a dream catcher, a tiny tooth, a robot and a naked woman. She even has a sad kitty tattooed on her inside lip. Maybe that's what all that tongue wagging is all about.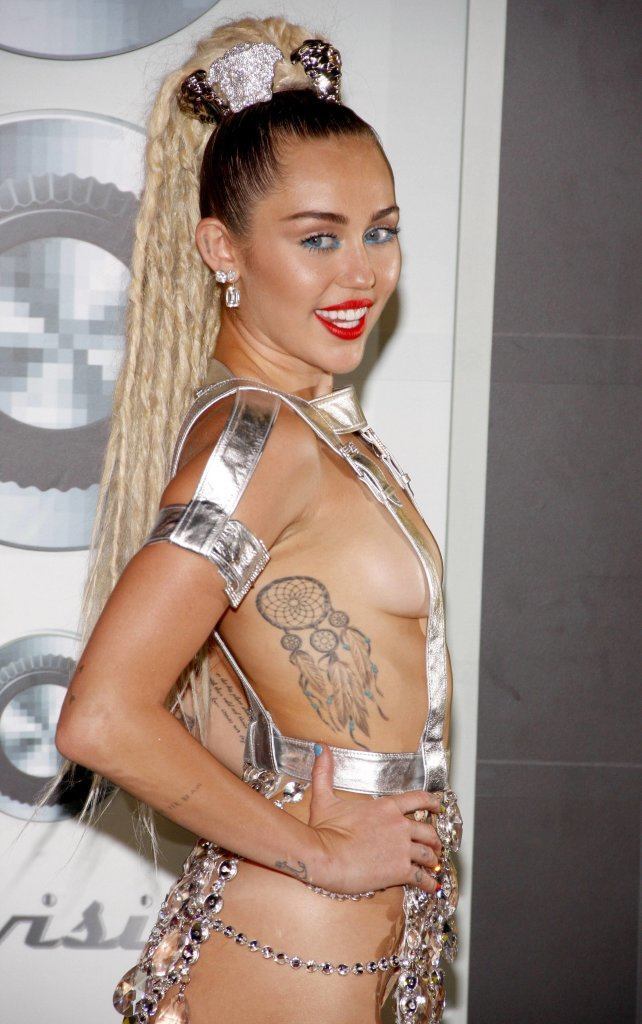 8. She's Richer than her Dad
Billy Ray may have had a long career as a country music and television star, but 22-year-old Miley has certainly eclipsed him. Dad's net worth is a respectable $50 million, but 2014 estimates had her net worth at around $165 million – and she's had some considerable album and touring success since then. Let's just say Miley's not coming to her dad for pocket money these days.
9. Miley Met the Queen
Back in December 7, 2009, Miley had the honor of shaking hands with Queen Elizabeth II after a Royal Variety Performance in Blackpool. She performed raunchy dance moves in skimpy black leather hotpants, but changed into a striking floor-length orange gown for her monarch meet-and-greet.
9. She Has a Secret Sibling
The Cyrus bunch is a big blended family of five kids, plus one. Her mom, Tish, had two kids, Brandi (born in 1987) and Trace (born in 1989) before marrying Billy Ray. He later adopted them. Together, they had Miley (born in 1993) and her full siblings, brother Braison (born in 1994) and sister Noah (born in 2000). They are a close clan, and most of them dabble in showbiz. However, there is one other Cyrus sibling out there, but the core family doesn't see him that much. Billy Ray had a brief relationship with a waitress that resulted in a son, Christopher, born in 1992 after the couple had gone their separate ways. Billy Ray and Tish were also expecting a child around the same time, so Miley was born just eight months after her big bro Christopher.
11. Her Image Change was a Calculated Strategic Move
Miley got a lot of bad press when she started twerking, tongue wagging, dressing provocatively, talking drugs, posing nude and assorted other scandalous behavior. Things really took a turn when she gyrated on stage with Robin Thicke at the 2013 VMAs and straddled a wrecking ball naked on a music video. Is it just a post-adolescent rebellious phase? Is she a product of a red-neck over-indulgent childhood? Or is she just trying to shake off that damn Disney persona by going anti-Hannah Montana to the extreme? Probably all of the above. But make no mistake, she's consciously using shock-value to take her career in an upward trajectory. Like Madonna, Lady Gaga and many other entertainers before her, she knows that these kinds of envelope-pushing antics lead to the kind of publicity that endears her to her true fans.