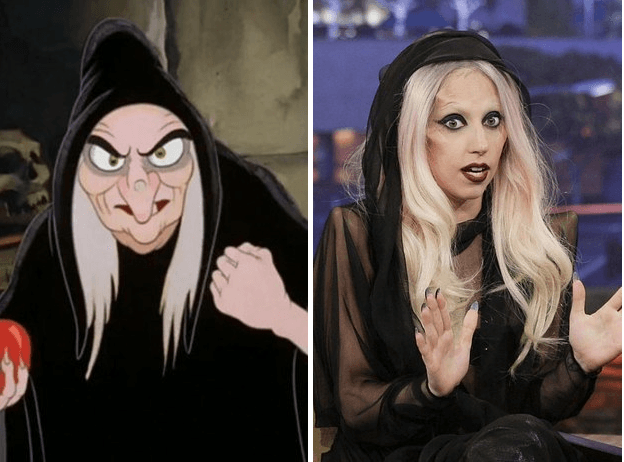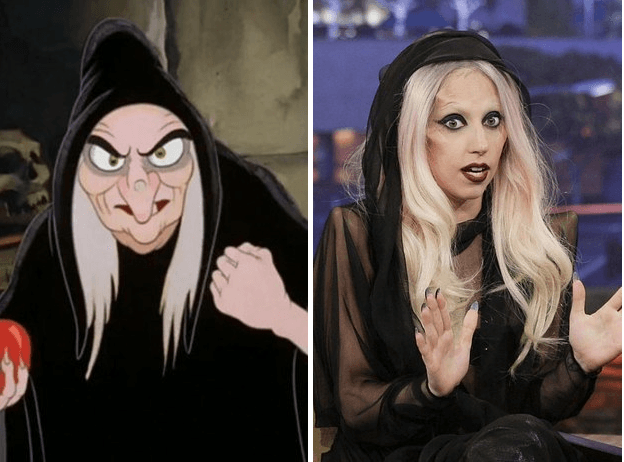 When it comes to fashion, celebrities have a number of influences that they can look to for inspiration. Believe or not, even Disney can play a role in Hollywood style trends. These are ten celebrities who channeled Disney characters, copying hairstyles and wardrobe choices, surprisingly even for red carpet appearances.
1. Michelle Williams
The 34-year-old Oz the Great and Powerful actress channeled Peter Pan's favorite vindictive sidekick when she decided to chop off her hair in 2007. Williams debuted the edgy pixie cut style at New York Film festival over eight years ago. Today, she's letting her hair grow out a bit more into a short bob.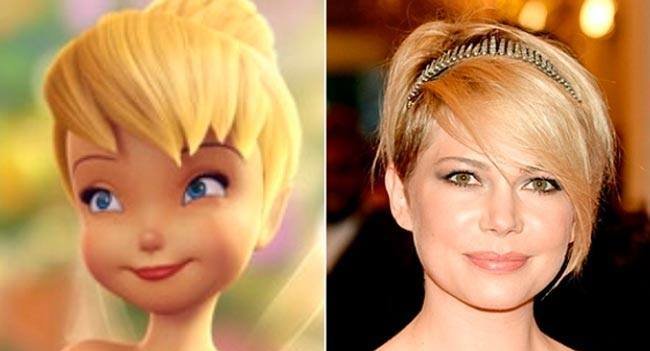 2. Katie Holmes
Katie Holmes was definitely channeling a particular Disney princess when she opted for this yellow-gold Marchesa ball gown that draped off the shoulder at the 2014 Met Gala. Holmes looked exactly like Belle from Beauty and the Beast. The only thing she was missing was a single red rose.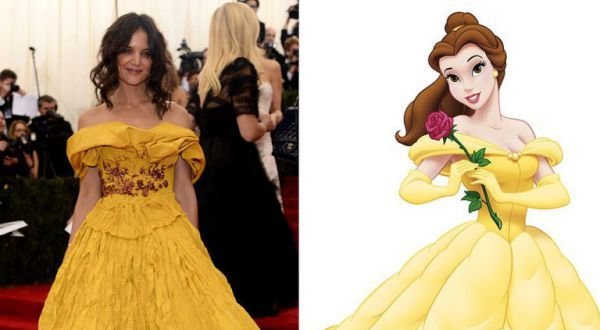 3. Princess Beatrice and Princess Eugenie
Princess Beatrice and Princess Eugenie reminded us of the evil step-sisters from Cinderella, when they attended the Royal Wedding in 2011. Their extravagant hats were reminiscent of the feather headpieces sisters Anastasia and Drizella wore to the Prince's ball.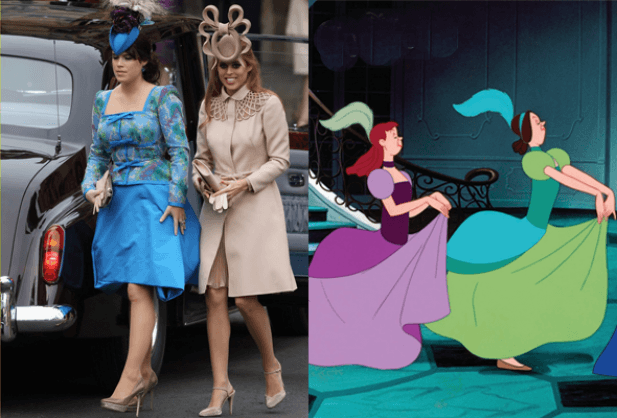 4. Christina Hendricks
The voluptuous Mad Men star looked wildly similar to Roger Rabbit's toon-human wife, Jessica Rabbit, while attending the New York premiere of I Don't Know How She Does It. Hendricks' silk off-the-shoulder Vivienne Westwood dress definitely enhanced the star's best assets. With red hair, envious curves and plenty of sex appeal, we think Jessica is Christina's Disney doppelgänger.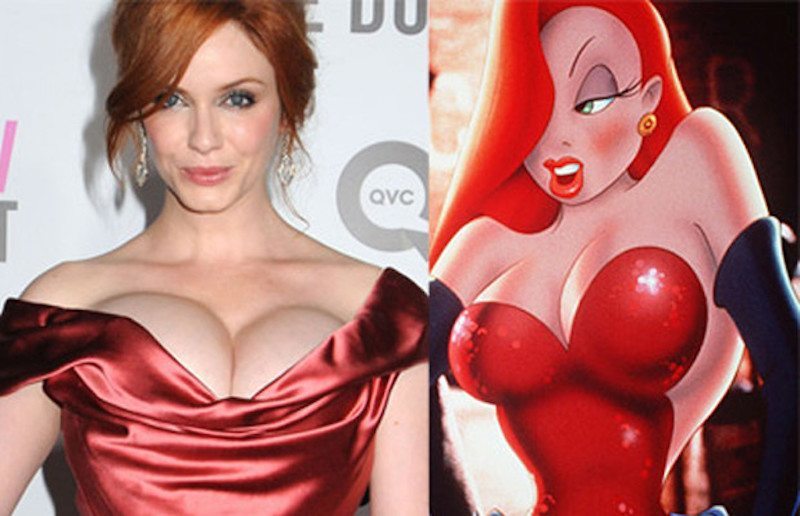 5. Lupita Nyong'o
The Academy award-winning actress wore this light blue pleated Prada gown to the 2014 Oscars and bore an uncanny resemblance to Disney character Tiana from the Princess and the Frog. Lupita's gown featured a plunging neckline and crystal beading strangely similar to Tiana's sparkly ensemble.
6. Lady Gaga
Lady Gaga is no stranger to bizarre costumes, so we can't say that we were surprised when the pop star chose a 'darker' look for an interview on The View. Gaga appears to be channeling the Evil Witch who gives Snow White the poisonous apple with this all-black hooded outfit and pale makeup.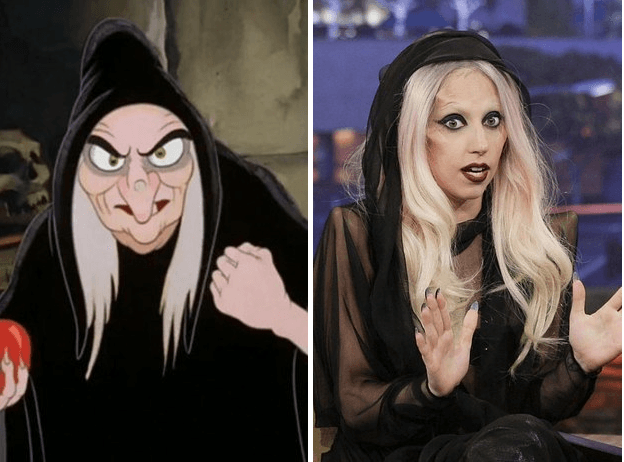 7. Katy Perry
When Katy Perry chopped her hair off into a wavy bob we realized that her Disney doppelgänger is Snow White! The pop star's jet black hair, cherry lips and fair skin make her look like the Disney princess' twin.
8. Adrien Brody
The Grand Budapest Hotel actor looks eerily similar to Rapunzel's love interest, Flynn Rider, from Disney's Tangled. Brody's bushy eyebrows, long, thin nose, strong jawline and hazel eyes resemble the Disney character's features exactly.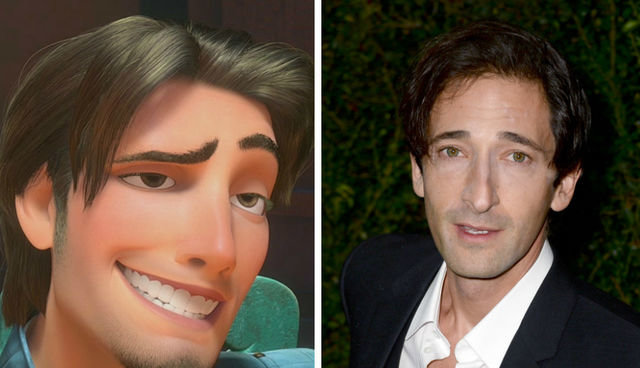 9. Sandra Lee
TV chef Sandra Lee was just missing a pair of glass slippers and we would have easily mistaken her for Cinderella on the red carpet of the 2014 Met Gala. The Food Network star's extravagant white gown, complete with silk gloves and plenty of tulle was reminiscent of the Disney princess' attire, but unfortunately landed Lee on the night's 'Worst Dressed' list.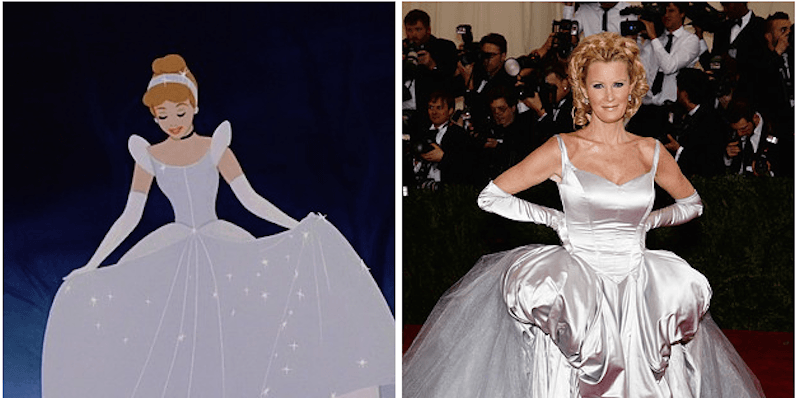 10. Russell Brand
Comedian turned actor Russell Brand appears to have tapped into Captain Hook's style. Brand, who's known for his unkempt appearance, complete with a scruffy beard and wild head of dark hair, looks remarkably similar to the Peter Pan villain. Coincidentally, Brand transformed into his doppelgänger when he appeared in an Annie Leibovtiz Disney Dream Portrait photoshoot in 2012.