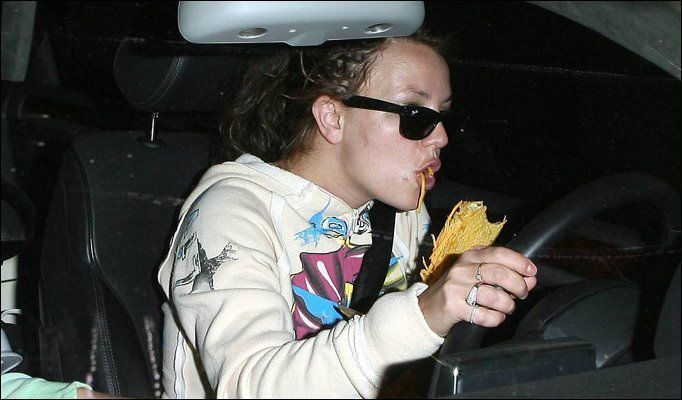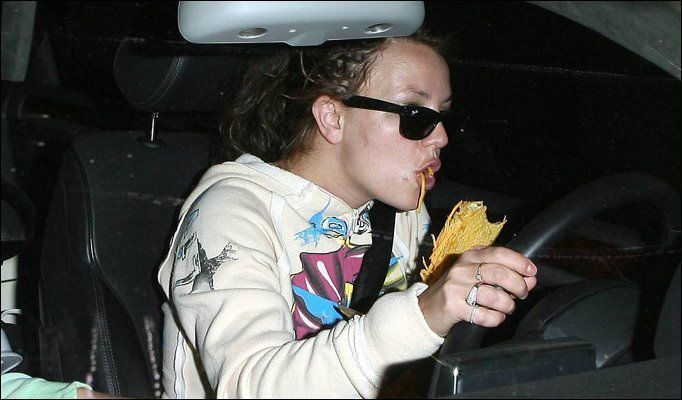 We always see those articles that try and tell us that celebrities are just like "us" – grocery shopping, buying Starbucks, doing laundry. But these are nine Hollywood stars gorging on junk food who prove that even our favorite flawless celebrities can't refuse a Big Mac. It's refreshing to see these celebs chowing down without a care in the world.
1. Beyonce and Jay Z
Even the most powerful couple in the world (don't tell Kanye and Kim) can't refuse a McDonald's Happy Meal. Here's Bey and Jay snacking courtside at a New York Knicks game. At least they're practicing portion control by ordering a kid's meal.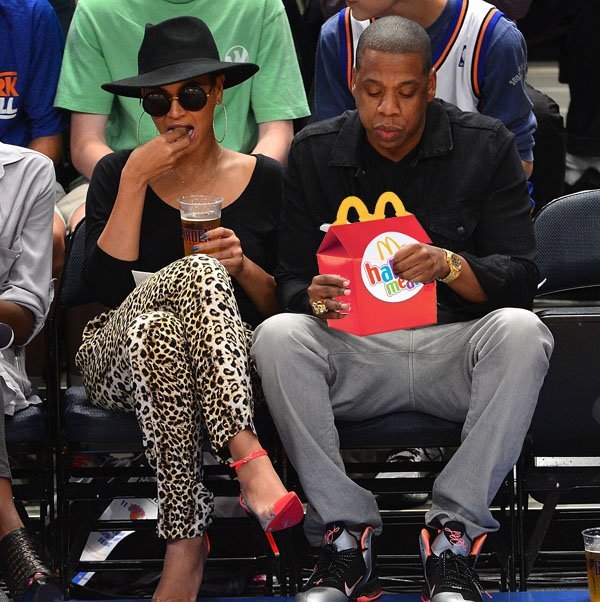 2. Katy Perry
Katy Perry ate a cheeseburger and she liked it. Here's the "California Girls" singer chowing down on a McDonald's snack backstage in full glam makeup. Although she enjoys her splurges, Perry says she works out up to three hours per day to stay in shape.
3. Britney Spears
Brit's been spotted leaving famous junk food joints like McDonald's, Taco Bell, In-N-Out and KFC too many times over the years. But her real weakness is chocolate. Spears told a popular UK magazine her favorites are, "Scores, and if I'm really hungry then a Snickers bar is good. And M&Ms are great, Hershey's Whoppers are great, Raisinettes… Twixes are great too. And the new Hershey's Cookies & Cream, too." The mother of two still knows how to stay in shape because after 15 years in the industry, her body hasn't seemed to age.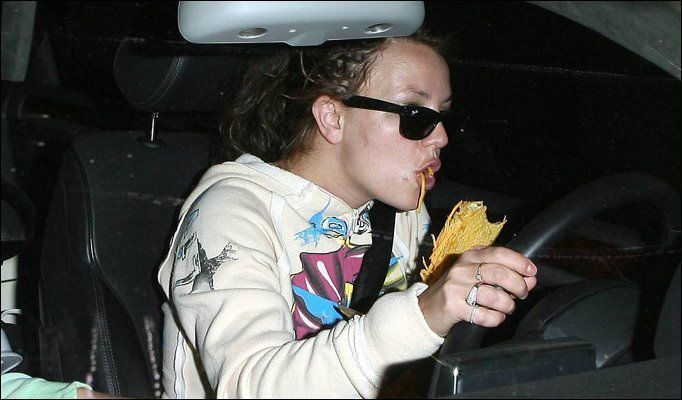 4. Kim Kardashian
You may always see Kim and her sisters chomping down on fresh mystery salads on their hit show, but once in a while the cravings hit. Here's Kim walking down the streets of LA with a take-out bag of California Pizza Kitchen. We've always heard the chain's food tastes better in its home state.
5. Hayden Panettiere
The petite actress has always been known to be in excellent shape so we we're surprised to catch her snacking on an order of fries bigger than her head. The Nashville star instagrammed this picture of herself with the caption: "The Perfect FRYYYYDAY Night." It sure is refreshing to see these stars gorging on junk food, just like us.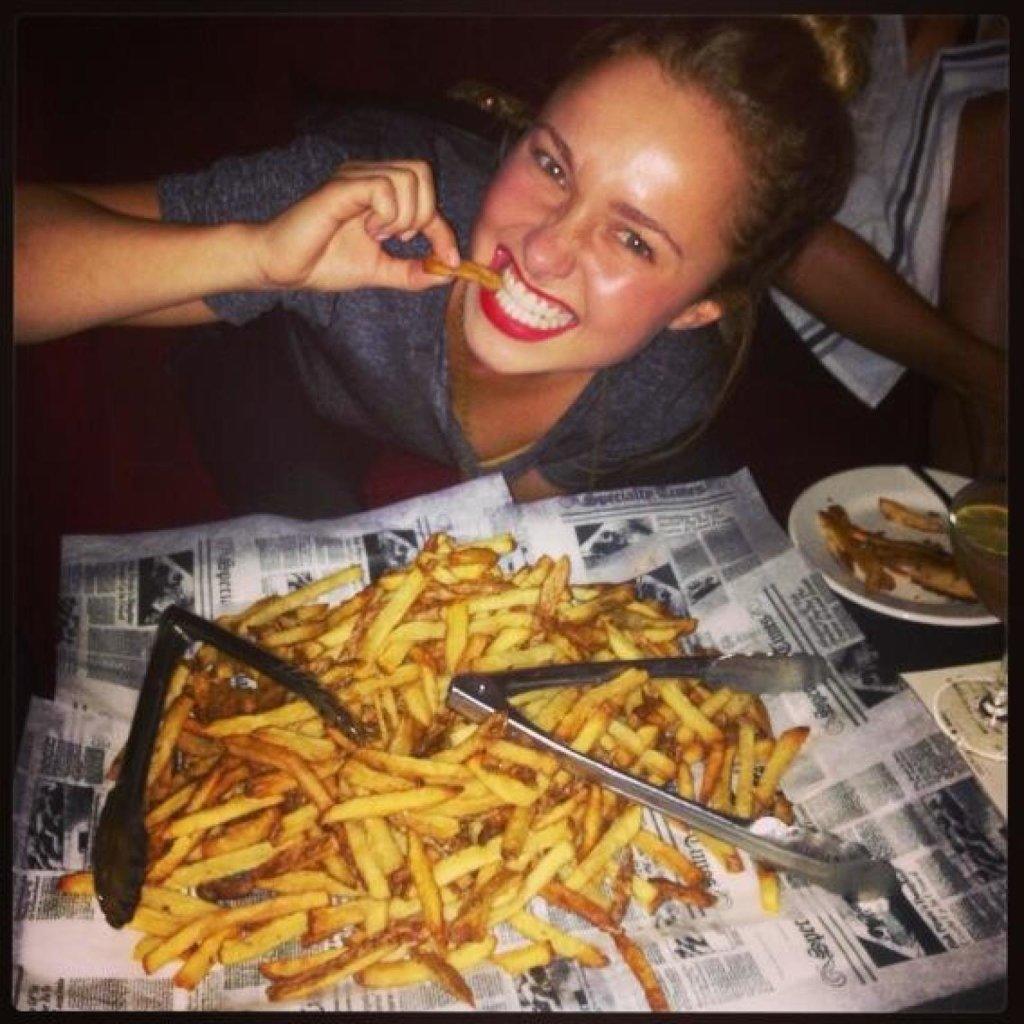 6. Jessie J
Sexy songstress Jessie J snapped a selfie while she was devouring an In-N-Out burger in the car. She must be a serial gym rat because Jessie still looks great in her skimpy jumpsuits on stage.
7. Jessica Simpson
Not only does Simpson love "Chicken of the Sea" (is that joke old yet?) she also has admitted to being a fan of fried chicken, Kraft Macaroni and Cheese and buttered Pop-Tarts. The mother of two took a lot of slack for gaining weight during her pregnancies, but a new slimmer Jess has emerged. She must have kicked a few of her junk food habits.
8. Miley Cyrus
Miley shares her love of fast food with all of her social media followers. Here are two pictures from her Instagram account. Looks like some of her favorite spots are Sonic and Carl's Jr. We just wonder how she's able to stay so thin?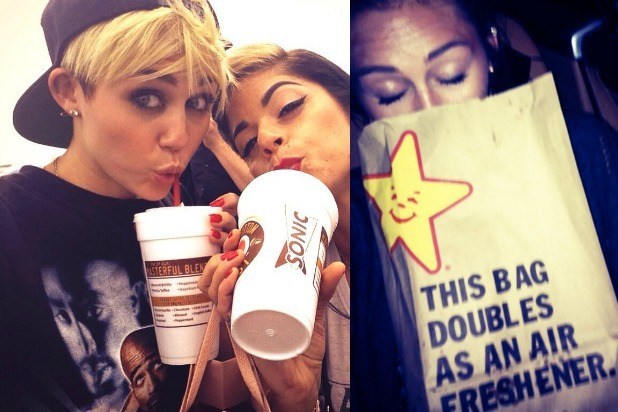 9. Heidi Klum
Hey, even gorgeous supermodels have an affinity for McDonald's. Here's Heidi Klum enjoying a double cheeseburger from the famous fast food chain. This isn't the first time we've spotted Klum snacking on junk food. She also has admitted, "I love a good hamburger and French fries with mayonnaise and ketchup. That's definitely one of my splurges. And chocolate with hazelnuts." If only this was her secret to staying in shape.