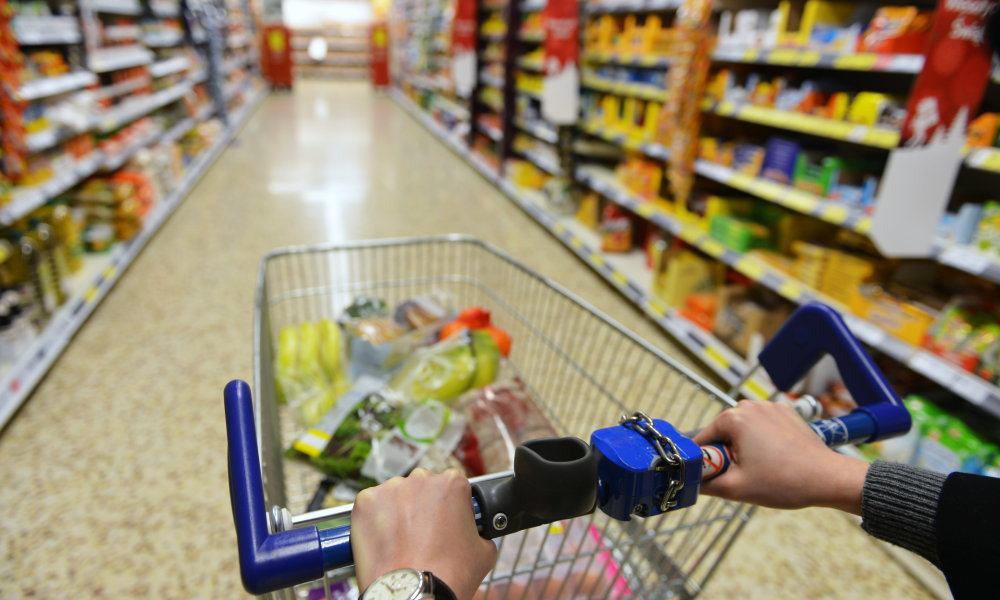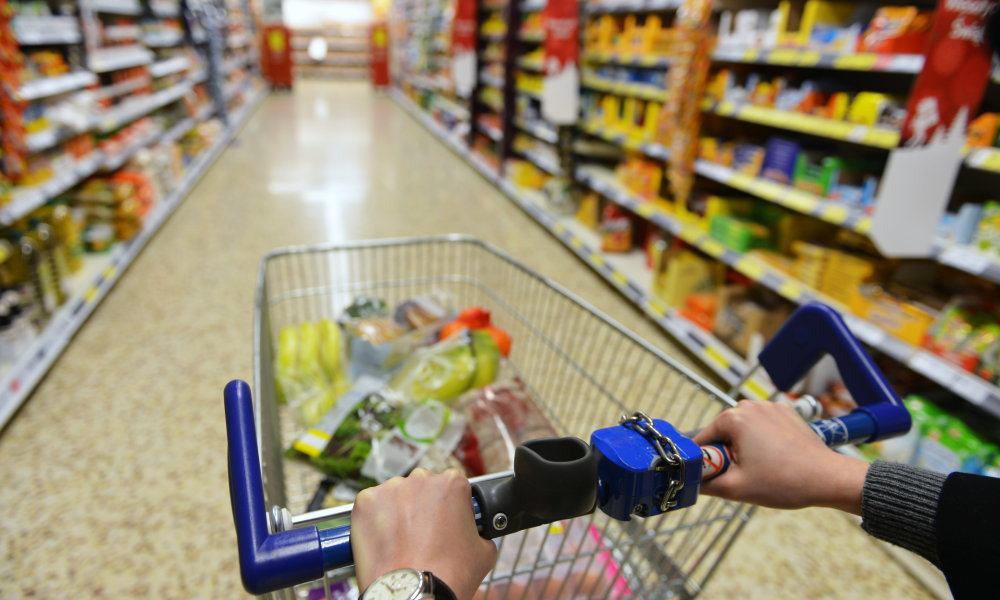 The celebrity lifestyle can seem so out of our league that it's sometimes tough to believe that they do some of the same things we do. Just imagine, before getting on that private plane to head to a fashion show in Milan, there could be a celeb grabbing a pair of socks at Walmart. Check out these stars who've taken a detour from their rich and famous lifestyles to shop retail like the rest of us in a local neighborhood superstore.
1. Beyonce
Back in 2013, Beyonce brought shopping at Tewksbury Walmart to a grinding halt when she graced shoppers with her presence. The superstar wished everyone a Merry Christmas and surprised them by not only pushing her own cart, but letting them know that the first $50 of their holiday shopping was on her.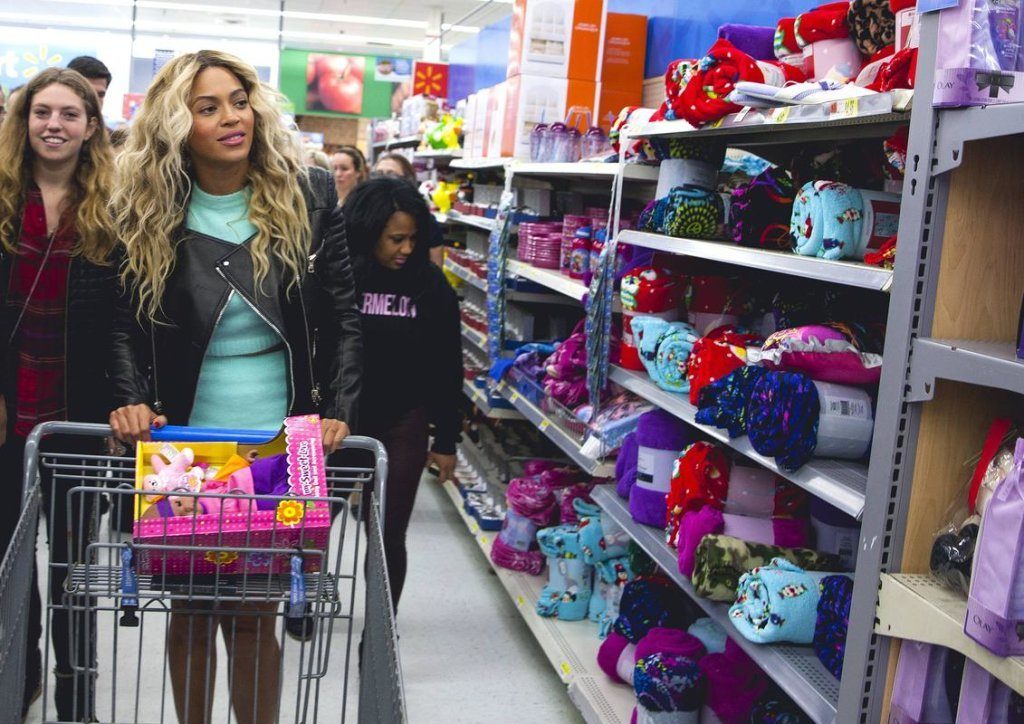 2. Justin Bieber
The Biebs popped into his hometown Walmart in Stratford, Ontario back in 2014. He took the time to snap a pic with a young fan, but he otherwise behaved badly in the store (no big surprise there). Apparently he and his entourage were running around the store, throwing merchandise, eating food before paying and shining lights in patrons eyes. Sounds like it's time for him to say sorry.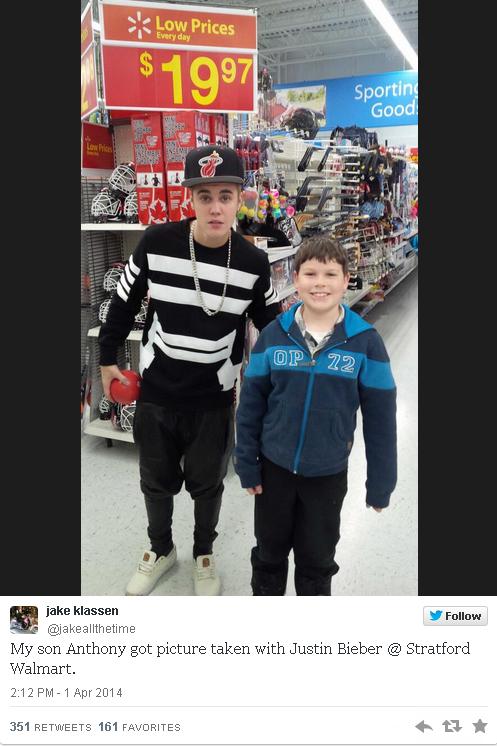 3. Rihanna
Even divas need to pick up sundries. Pop sensation Rihanna, who is one of the most recognizable celebrities in the world, was seen traipsing around a Walmart in Kamloops, B.C., while on her Diamonds World Tour. Fans were shocked to spot the glamorous celeb poking through the aisles, and the sighting had people all over the world abuzz with excitement.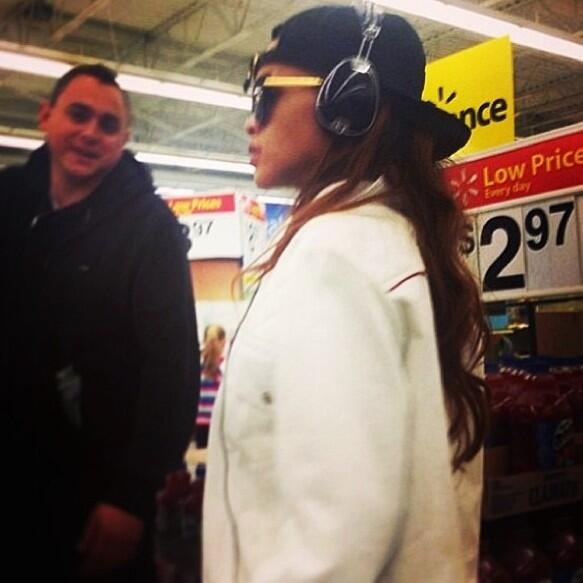 4. Dakota Fanning
Actress Dakota Fanning is another one of the celebs who's done a little Walmart retail therapy over the years. The actress was seen in a Baton Rouge location back when she was filming Breaking Dawn, and was gracious enough to take a minute to be photographed with excited fans.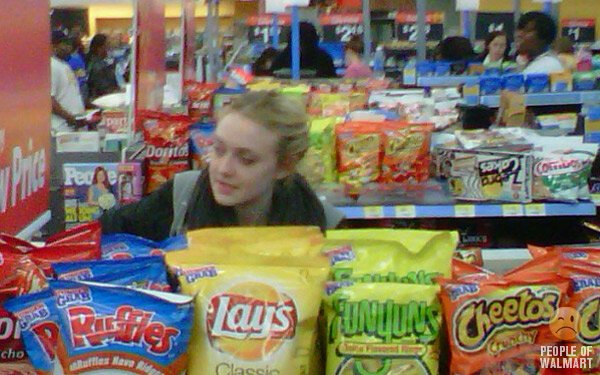 5. Britney Spears
Ms. Spears is no stranger to Walmart. The Louisiana native frequents the store for her family's everyday needs whether she's in her childhood hometown or near her home in Calabasas, California. Although the "Toxic" singer has pre-teen sons, Ms. Spears appears to be examining some Barbie Dolls at the Walmart in Kentwood, Louisiana here. Maybe they're for her niece, Maddie?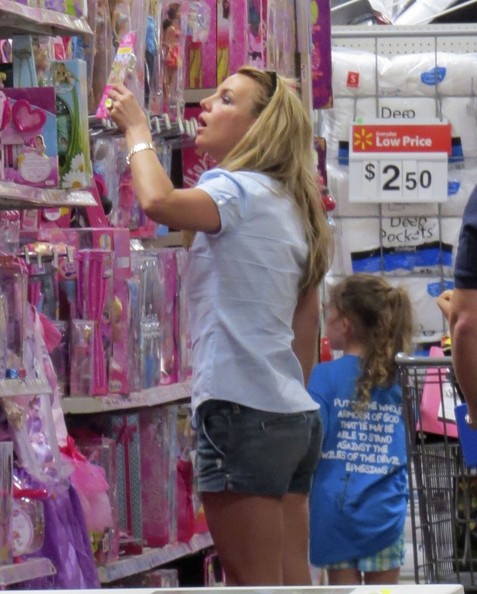 6. Chris Brown
Connecticut Walmart shoppers got to see Chris Brown live when he was spotted at a branch there. Brown showed that he was loyal to his fans as he was all smiles taking photos.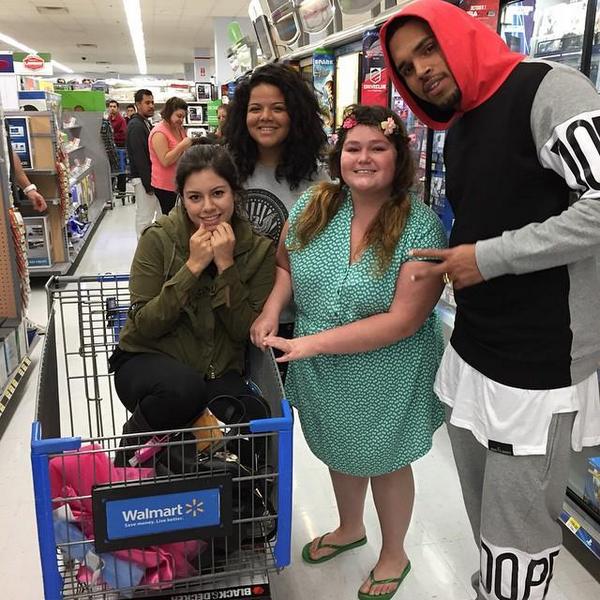 7. Mark McGrath
Sugar Ray front man Mark McGrath just wanted to fly into a California Walmart location, and ended up taking pictures with fans. We don't know what McGrath was buying, but the current co-host of TV's Extra seemed pretty chill while doing it.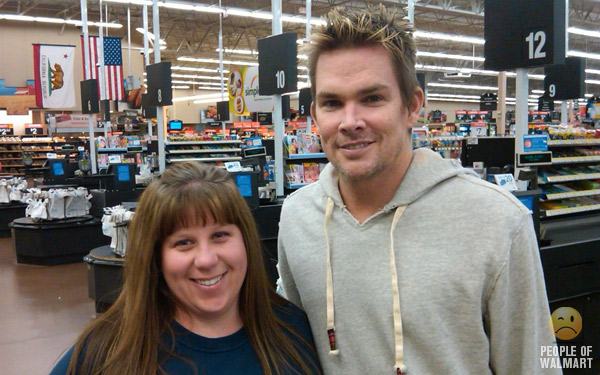 8. Method Man
Method Man is another celeb who's been seen perusing the aisles of Walmart, this time in North Charleston, North Carolina. Though his face was partially hidden by a red cap, that didn't stop shoppers from recognizing who he was, and they didn't miss the opportunity to meet him. The rapper created a bit of a ruckus as fans tried to get pictures, video and autographs. Can't a man shop in peace?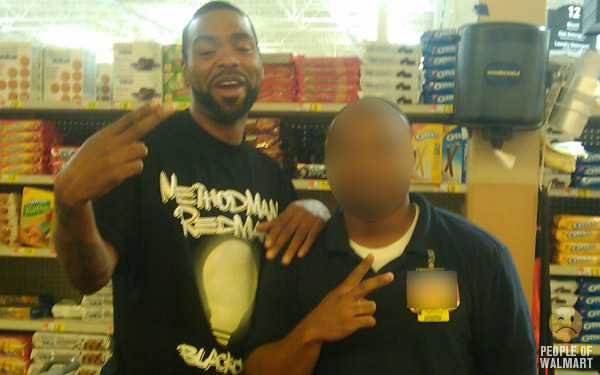 9. Tony Shalhoub
Best known for his roles in Wings and Monk, Tony Shalhoub may have played a man with OCPD (obsessive-compulsive personality disorder) in the latter, but had no qualms shopping at Walmart. Spotted at a West Virginia outlet, Shalhoub seemed to be in deep concentration as he waited for the cashier to ring him up.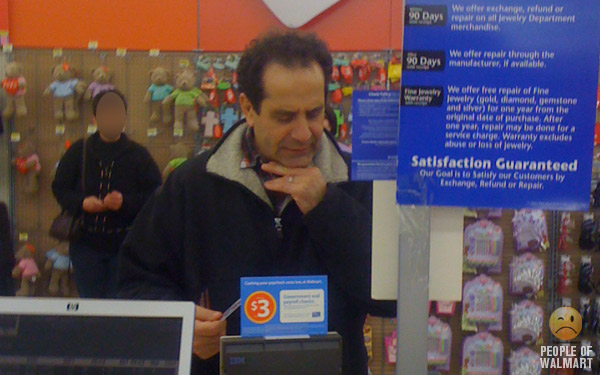 10. Snoop Dogg
Acting like he hadn't a care in the world, rapper Snoop Dogg was seen doing a bit of shopping at a California Walmart. Though one would think Snoop, who towered over many of the shoppers there, would have been bombarded by fans, it seems most people weren't aware that anyone special was in the store. Talk about laying low.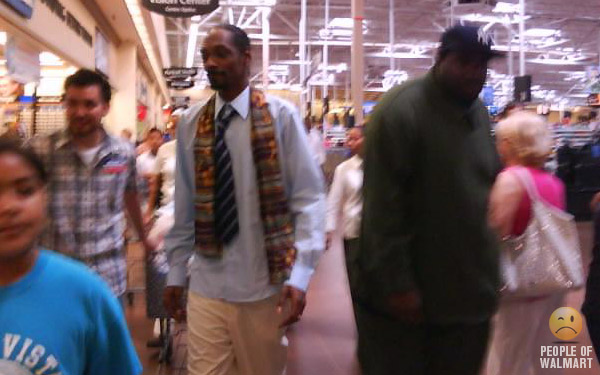 11. Jillian Michaels
Fitness guru Jillian Michaels made shopping look amazing when she was seen at Walmart a few years back. The ripped celeb posed for a picture. Who knows, she might have been shopping for a future biggest loser candidate.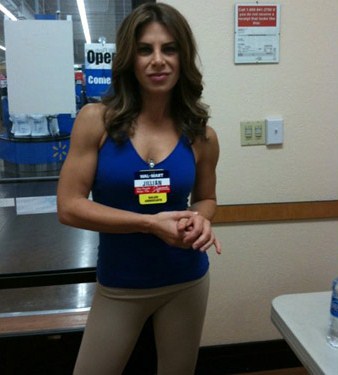 12. Michael Cera
Michael Cera is another famous star who's been photographed being "ordinary" in the mega-store. At first fans weren't sure if it was him when he was spotted in a Colorado branch. Identity confirmed, the Scott Pilgrim vs. the World star showed that he wasn't really super bad, as he happily took some photos with fans.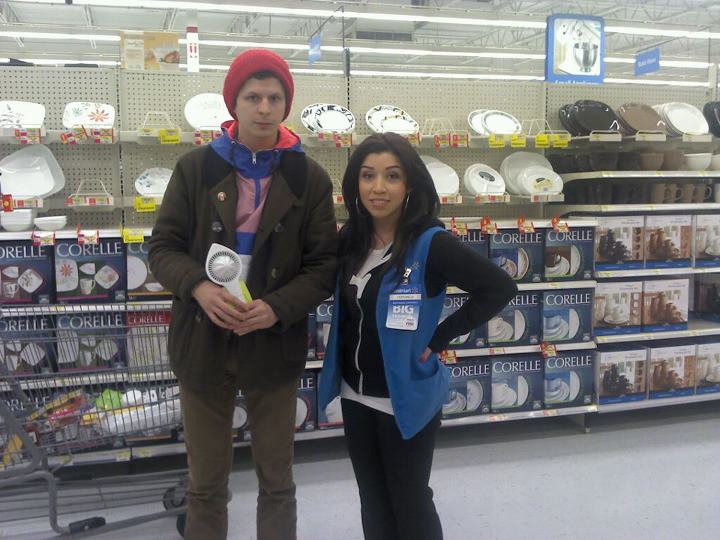 13. The Great Khali
What do wrestlers do while on downtime? Shop at Walmart. At least that's what WWE professional wrestler and actor Dalip Dingh was seen doing in a Texas location. The Great Khali, as he's more commonly known, seemed to be taking a leisurely stroll as he decided on purchases. Maybe he does prefer the longest yard.