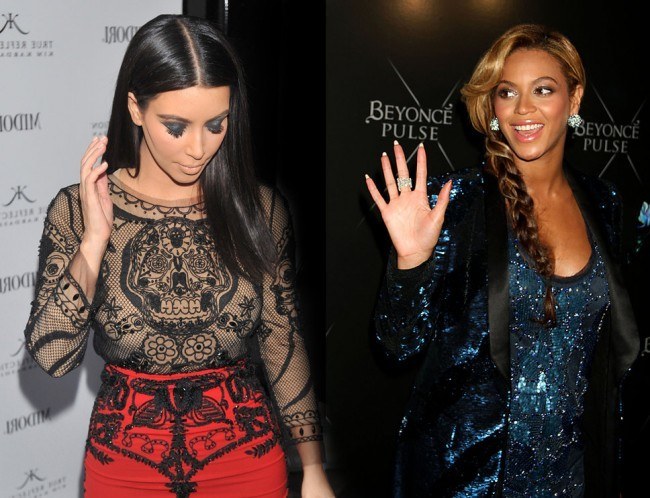 Meow, let the cat fights begin. There's so much ego in Hollywood we're not surprised by celebrities occasionally feuding with one another, but some stars take immaturity to a whole new level. Check out the 10 cattiest celebrity feuds in Hollywood and let us know what you think. Are some of these celebs acting like children?
1. Katy Perry vs. Taylor Swift
Two of Hollywood's biggest pop stars actually despise one another. Allegedly, the "Bad Blood" (Taylor actually wrote a song about it) started when Perry tried to steal Swift's back up dancers. The story was retold by the country star in an interview with Rolling Stone, "she basically tried to sabotage an entire arena tour. She tried to hire a bunch of people out from under me." The "California Girl" responded with a tweet, "Watch out for the Regina George in sheep's clothing…" Perry claimed that the backup dancers had worked with her for two and a half years, before she invited them to tour again with her. The problem was they had to leave Taylor's tour to do so. The dancers admitted to having more fun with Katy saying, "we weren't really dancing in Taylor's tour anyway so I had got a little bored and I really wanted to do a promo tour." The feud continues…
2. Orlando Bloom vs. Justin Bieber
This feud started over a supermodel, Bloom's ex-wife and former Victoria's Secret Angel, Miranda Kerr, to be exact. Bieber allegedly flirted with Kerr whenever the two were attending the same events, and the pair even partied together after one of her fashion shows. This made her Pirates of the Caribbean star husband very jealous. Once Bloom and Kerr split, the actor sought revenge by hanging out with Justin's ex, Selena Gomez. The feud became physical at Cipriani restaurant in Ibiza back in July 2014, when Bloom threw a punch at the singer. Justin retaliated with a tweet of a bikini-clad Miranda Kerr and a Bloom crying-face. Very mature.
3. Chelsea Handler vs. Angelina Jolie
Comedian Chelsea Handler has not been shy about sharing her thoughts regarding the humanitarian/actress. Handler has called Jolie "a home-wrecker" and a "demon" on more than one occasion. Sources speculated that the Chelsea Lately host's animosity towards "Mrs. Smith" stems from her friendship with Jennifer Aniston, but Handler denies those claims. Handler said, "It has nothing to do with Jennifer. As a woman, I know when you see somebody walking across the room that's a bad girl. I just don't like Angelina Jolie. I don't think she's a girl's girl. I like girl's girls!" We're still waiting to hear back from Angelina.
4. Kim Kardashian vs. Paris Hilton
Many have forgotten that Kim Kardashian was once Paris Hilton's personal assistant. But, today it seems as if the roles have been reversed. Kardashian is Hollywood's "it girl," while Hilton has retreated from the celebrity spotlight. Hilton continues to bash her frenemy. Here's what the heiress said about Kim's best "ass-et," "It's gross! it reminds me of cottage cheese inside a big trash bag." Paris also commented that Kim's family only became famous because of her. She even tweeted a link to an article earlier this year entitled, "Kim Kardashian Making It the Old-Fashioned Way; On Her Back." Whoa, this feud is still going strong.
5. Nicki Minaj vs. Mariah Carey
When these two pop divas became American Idol judges at the same time, it was pretty obvious that all that ego could not fit in the same 30,000 seat auditorium. Carey allegedly expected the younger Minaj to pay her respects, but the "Anaconda" singer was not bowing down to 90's star. The two engaged in spewing insults and more than one heated public battle while taping the show. Awkward.
6. Kelly Osbourne vs. Christina Aguilera
Unfortunately this feud revolves around two women tearing each other down over their weight. Both stars have had issues with their weight and recently Osbourne has not been shy about criticizing the pop star's fluctuating figure. The Fashion Police host claims that the pop star used to call her fat for years, so now she's seeking revenge. Kelly said, "she called me fat for years, I was never that fat." Wow, we just hope these two realize what a bad example they're setting and squash this feud now. It's one of the pettiest celebrity feuds in Hollywood today.
7. Beyonce vs. Kim Kardashian
Beyonce's biggest diss towards the reality star – not attending the Kardashian-West wedding in May 2014. Kim even asked Beyonce to be one of her bridesmaids, which the Flawless singer publicly scoffed at. Even though their hubbies are best friends, we don't see these two stars becoming close any time soon.
8. Leah Remini vs. Kirstie Alley
Just call this cat fight the "Crusades," as these two ladies are feuding over religious beliefs. Alley, who is a proud member of the Church of Scientology, shunned her former friend Leah Remini, when the King of Queens star decided to leave the church. Alley went so far as to call Remini a "repulsive bigot" on Howard Stern's radio show. Recently, Alley was interviewed again by the controversial radio host and claims that the feud is over, however Remini doesn't seem to be on the same page.
9. Snoop Dogg vs. Iggy Azalea
Snoop Dogg started a month-long Twitter war with the Australian rapper after calling her some pretty awful things on social media. Unflattering pictures and memes of both singers were tweeted back and forth. Then, Snoop compared Iggy to Marlon Wayans' character in the 2004 comedy White Chicks. But, Azalea had the last laugh when she showed up to a Hollywood Halloween party dressed as Wayans' character. These two have since ended their feud.
10. Gwyneth Paltrow vs. Martha Stewart
Battle of the lifestylers. Apparently the feud between Paltrow and Stewart began when Chris Martin's "consciously uncoupled" wife started her own lifestyle blog Goop, in 2013. Stewart questioned Paltrow's credibility saying, "She just needs to be quiet. She's a movie star. If she were confident in her acting, she wouldn't be trying to be Martha Stewart." Then, Paltrow hired Stewart's former CEO to run her business. Stewart retaliated by publishing an article in Martha Stewart Living, headlined "Conscious Coupling," writing about flavor pairings that work well in pies. This is a dig at Paltrow, who labeled the separation of her and former husband Chris Martin as "conscious uncoupling." Then, Paltrow uploaded a recipe for a "jailbird" cake on her website. What's next, a crochet war?
We're sure these won't be the last celebrity feuds in Hollywood.