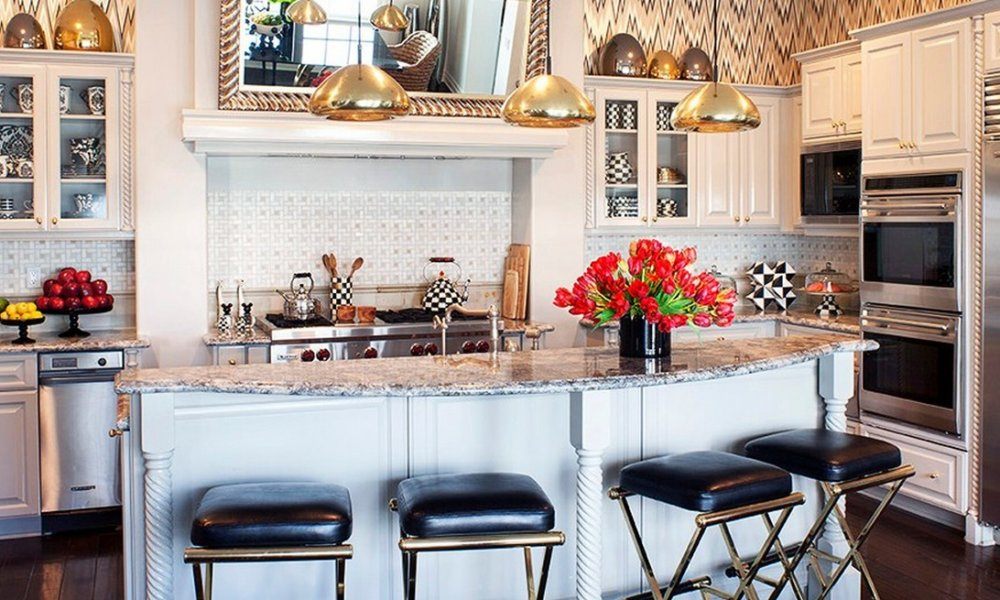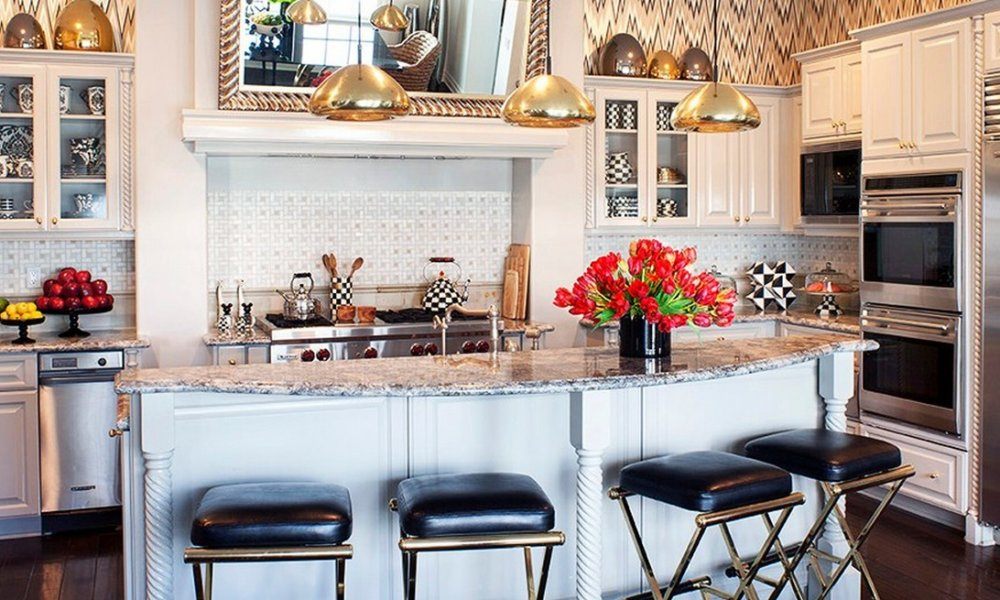 With money at their disposal, celebrities have the ability to deck out their kitchens with state-of-the-art appliances and dazzling decors that many homeowners can only dream of. Get ready for some major design inspo as we share 10 of the coolest celebrity kitchens that will definitely leave you in envy.
10. Denise Richards
Actress Denise Richards has a top-notch kitchen that would be any live-in chef's dream. Her Hidden Hills, California mansion includes a luxury kitchen complete with a wine tasting room and temperature-controlled walls. The open floor plan allows this kitchen to be multi-functional and inviting. And it really doesn't get any better than her magnificent view of the California mountains. Imagine enjoying your morning coffee while gazing out those windows. Pretty breathtaking, right?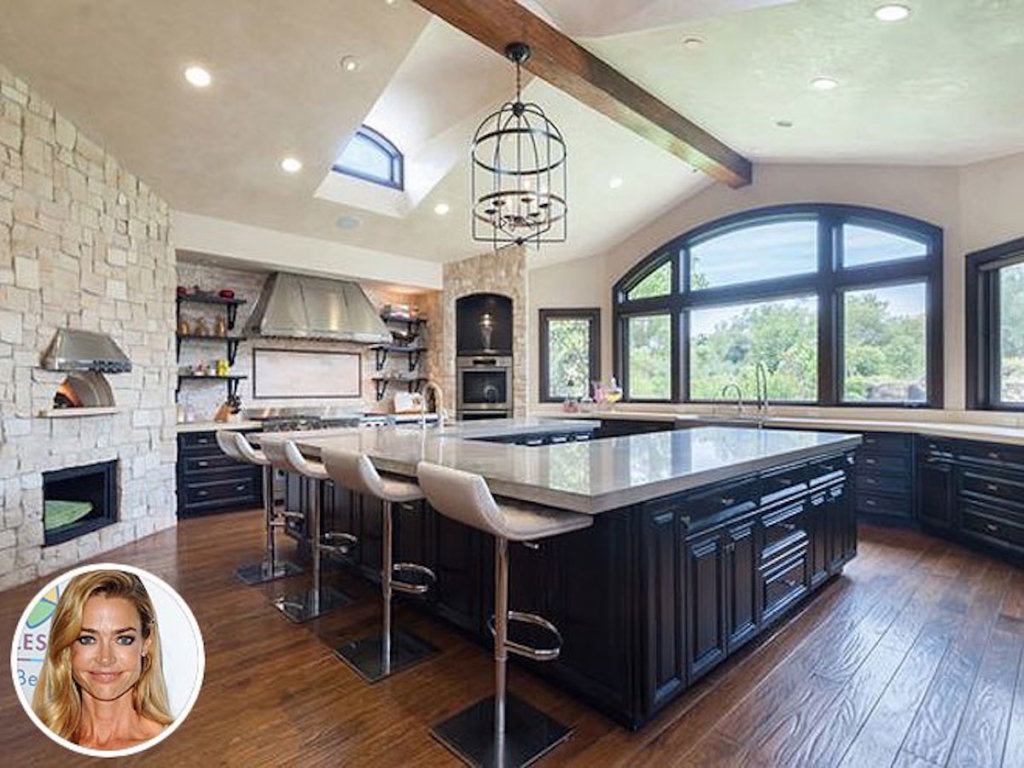 9. John Legend & Chrissy Teigen
Singer John Legend and his supermodel wife, Chrissy Teigen, combined a bit of rustic elements to their modern kitchen in the heart of Manhattan. The open design is perfect for Teigen who spends most of her day whipping up new dishes. The floral backsplash is a visually appealing addition, and the gold stools add just the right amount of glitz and glamor.
8. Patrick Dempsey
The former Grey's Anatomy star opted for a modern and sleek design for his Venice Beach, California kitchen. What really catches our attention is the way the orange chairs really stand out against the white cabinets, and the light fixture is most definitely eye-catching.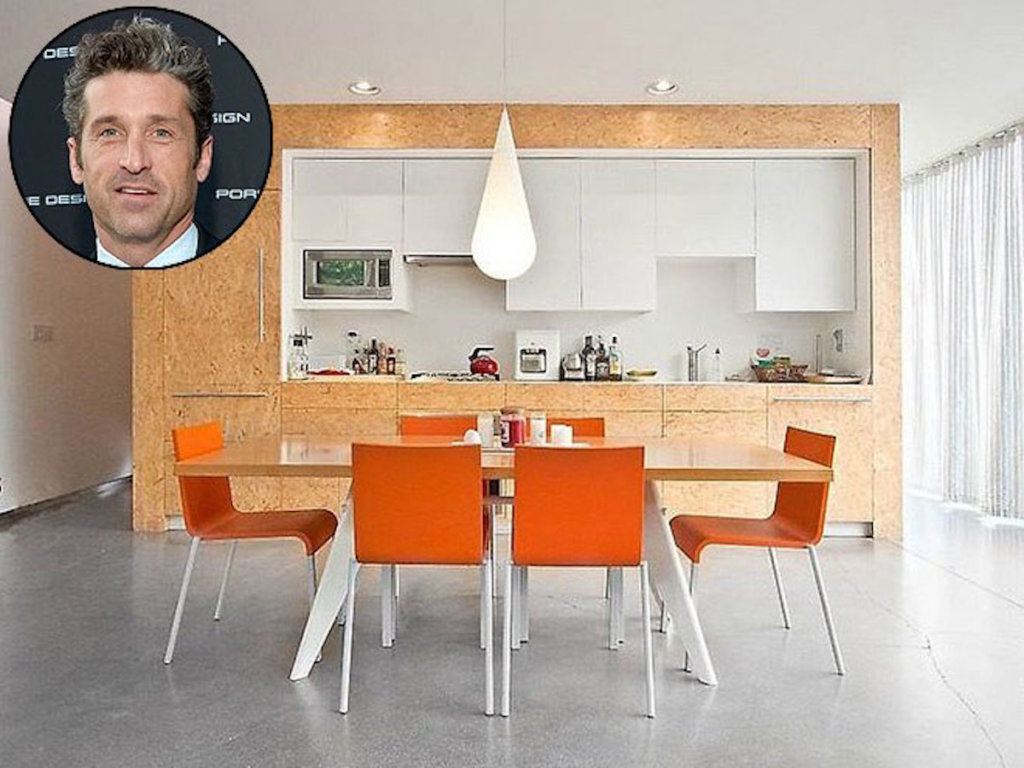 7. Suzanne Somers
Suzanne Somers mixed her love for the French countryside into her elegant yet cozy kitchen. The actress' kitchen in her Palm Springs estate is full of sleek stainless steel appliances and dark cabinetry to give the space a luxurious feel, and the eat-in layout brings some warmth and coziness to the overall design.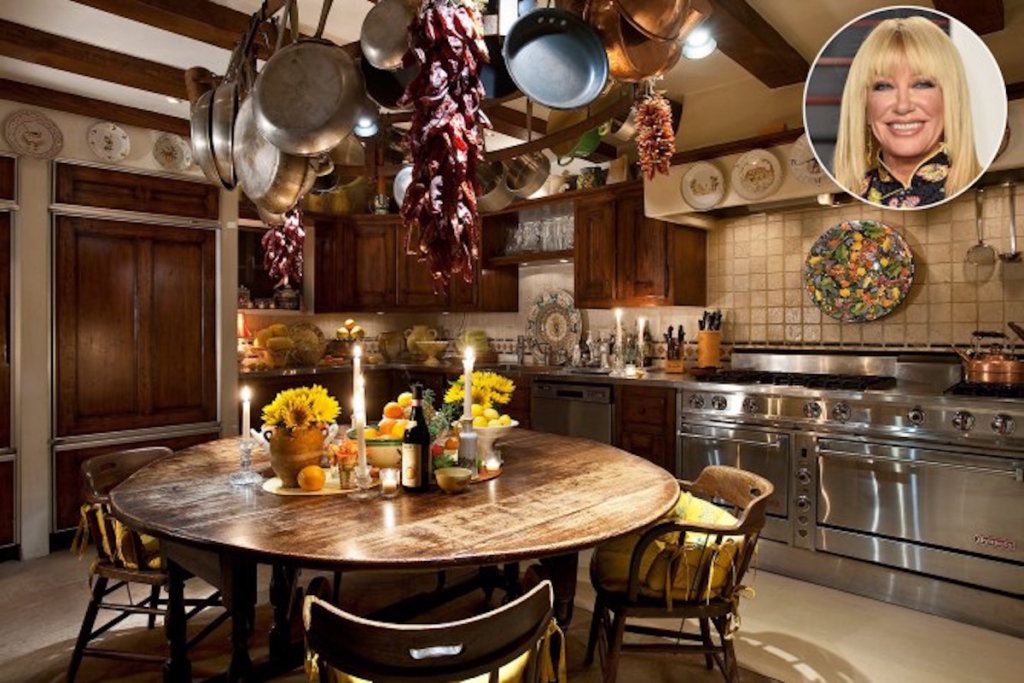 6. Kourtney Kardashian
Reality star Kourtney Kardashian infuses white and a touch of gold for her glam kitchen in her Calabasas, California home. As a mother of three, Kourtney's kitchen is well-equipped for her to prepare and cook large meals, and if any of her nine siblings and step-siblings decide to stop by, her double range and double ovens are more than accommodating to prepare a large family meal. Aside from the top-of-the-line appliances, her classic white kitchen has a vintage flair with shiny, metallic finishes.
5. Giuliana & Bill Rancic
Television personality Giuliana Rancic and her husband Bill's all-white kitchen is breathtaking. The clean and sleek design is complete with a marble backsplash and marble countertops. The large island is the focal point of the entire room, and the abundance of natural light would definitely make the Rancic's houseguests gravitate towards the jaw-dropping room.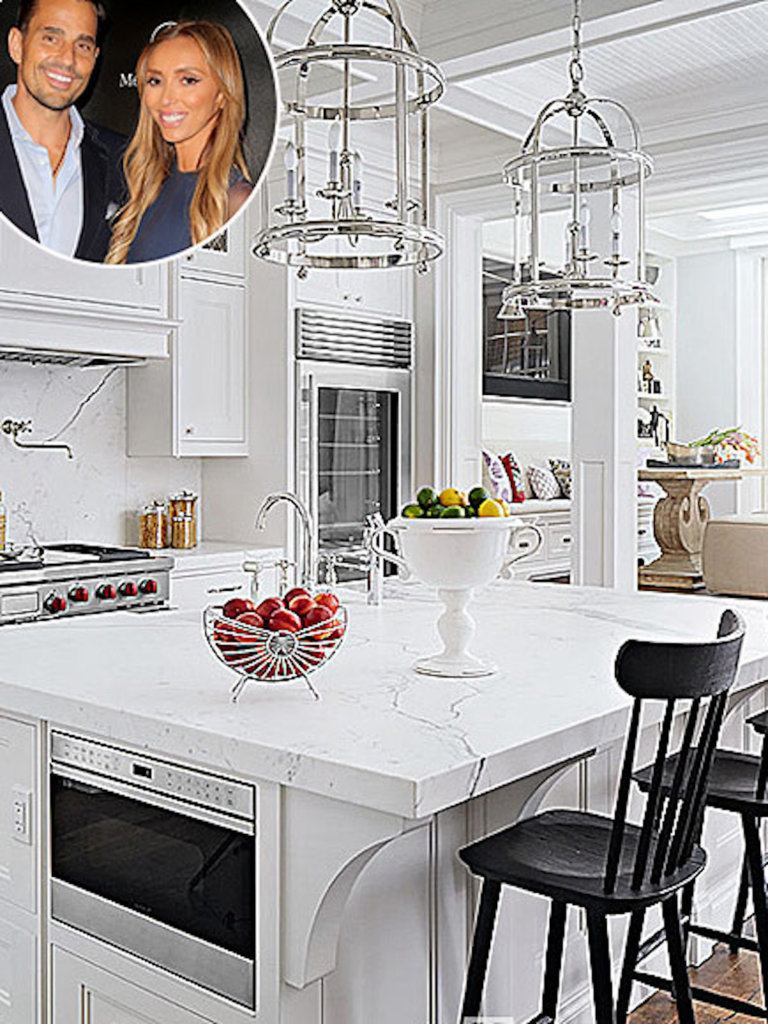 4. Naomi Watts
When actress Naomi Watts wants to get away from the hustle and bustle of New York City life, she can retreat to her retro-inspired kitchen. The mixture of natural wood finishes gives the kitchen a 70s feel without looking too dated. In a place like NYC where space is limited, Watts was able to expand her kitchen to include an eat-in island, as well as a beautiful banquette.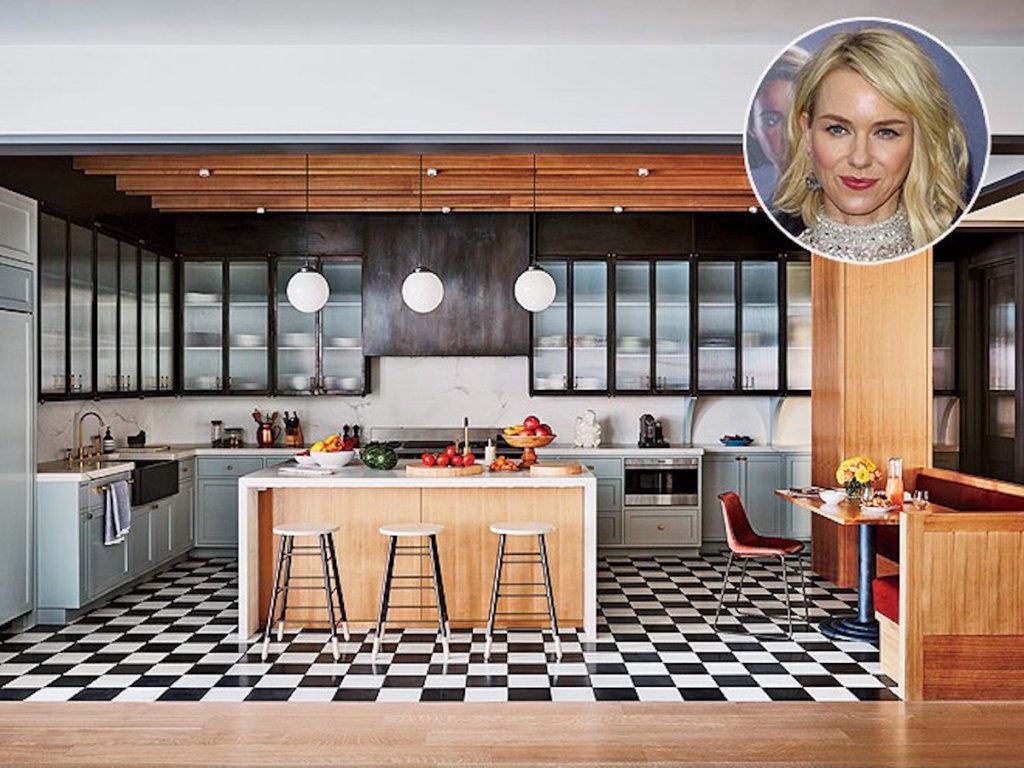 3. Pharrell Williams
A dinner party host's dream is artist Pharrell Williams' Miami kitchen. The massive island is the stand out point, and it houses the gas range and stove. Double fridges and a wine cooler line the walls. With the NYC skyline as a backdrop, this kitchen provides quite the view for the artist and his guests.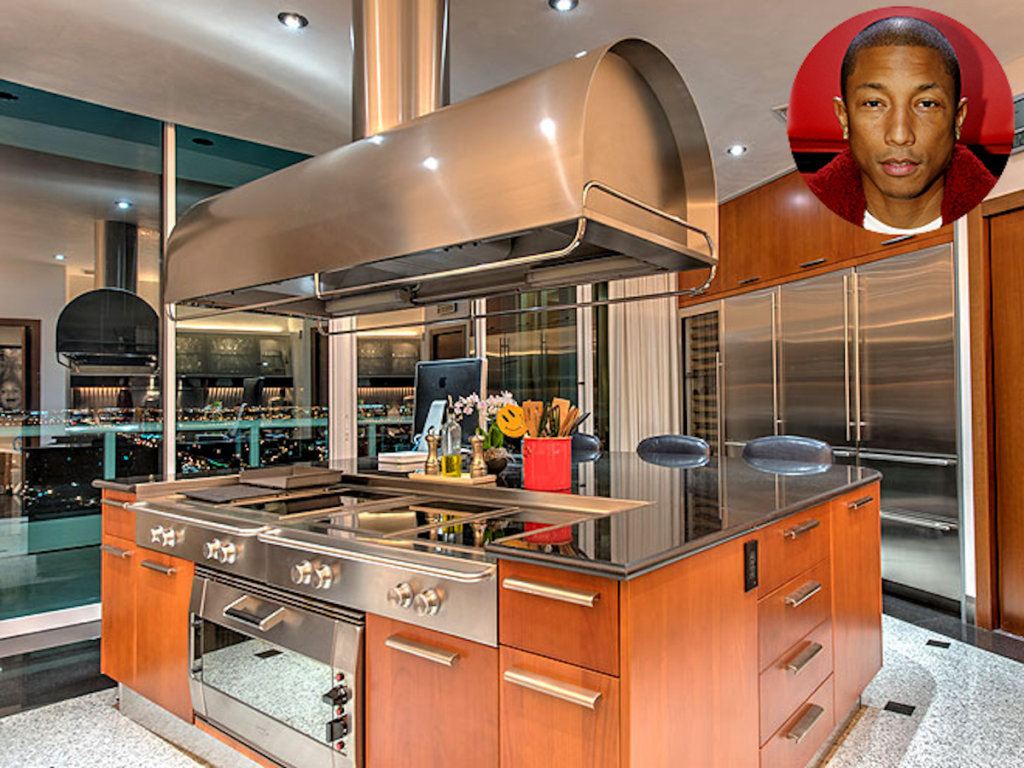 2. Jennifer Lopez
Jennifer Lopez went with an all-white kitchen with dark wood accents for her penthouse in Manhattan's Flatiron district. The glam eat-in design incorporates glossy doors to conceal the fridges, and a double wine fridge ensures Lopez's guests are never without their drink of choice.
1. Kris Jenner
When it comes to cool kitchens, it doesn't get any better than Kris Jenner's Calabasas, California space. The ultra-glam kitchen has two islands for her growing family to gather around. The white wood and countertops stand out against the retro, checkered flooring, and the contrasting dark color in the tray ceiling creates a cozy yet inviting ambiance.