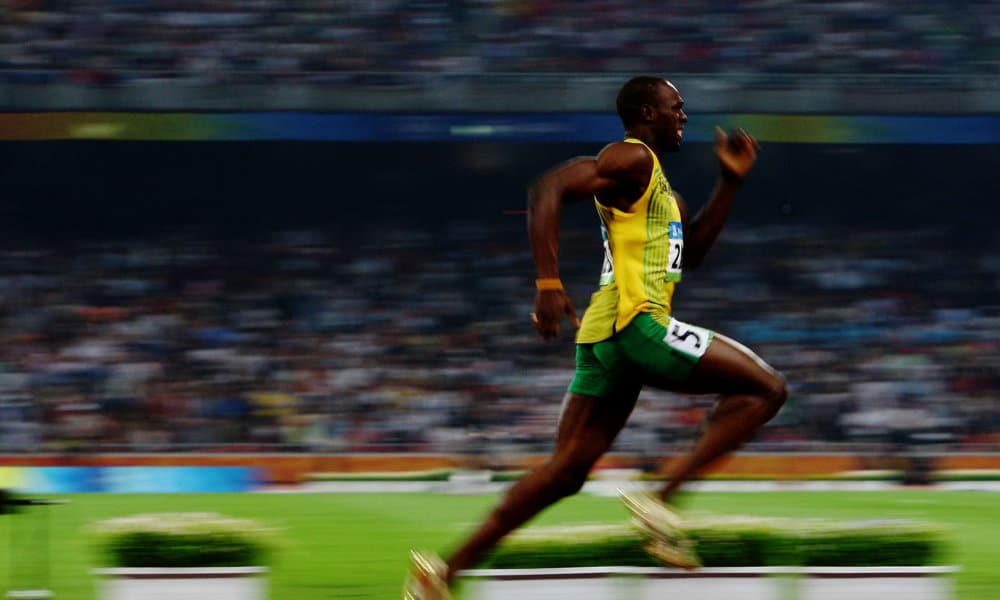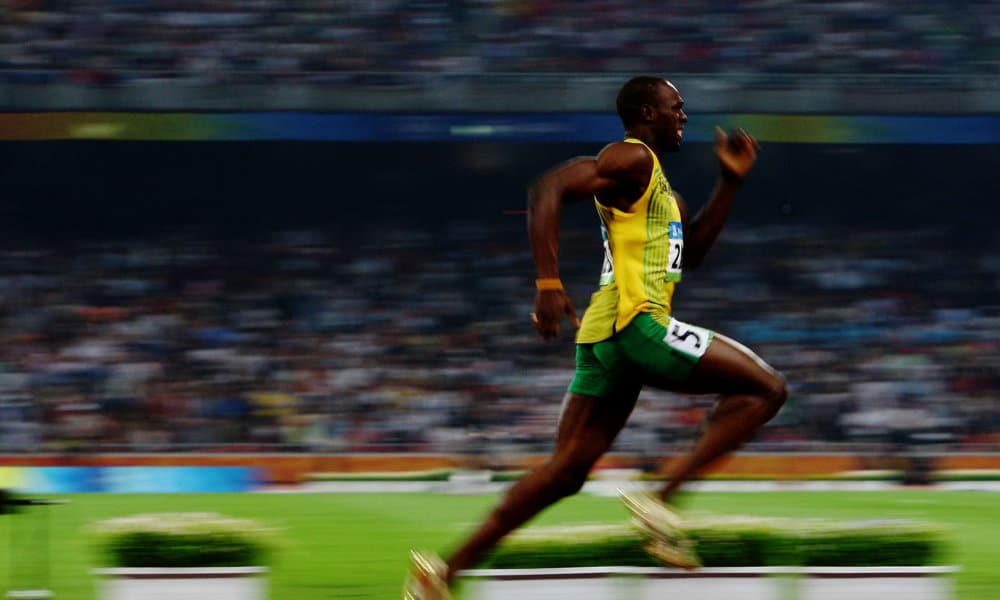 Usain St. Leo Bolt, better known as the Fastest Man Alive, is a Jamaican sprinter who needs no introduction. Bolt dazzled and wowed the entire world by breaking world records on several occasions, propelling him to global superstardom and completely dominating his competition. With plans to retire after the 2017 World Championships, it's only right we pay homage to the sprinter by sharing 15 facts you may have never known about the Olympic gold medalist.
1. His Dog Was His First Trainer
Bolt credits his dog, Brownie, as his first track and field trainer. When Bolt would sneak out of the house to play with his friends, Brownie would alert him when his dad's bike came "rumbling home." Brownie's ears would perk up because he could hear the noise of the bike before anyone else could. That was Bolt's signal to run back home as fast as he could.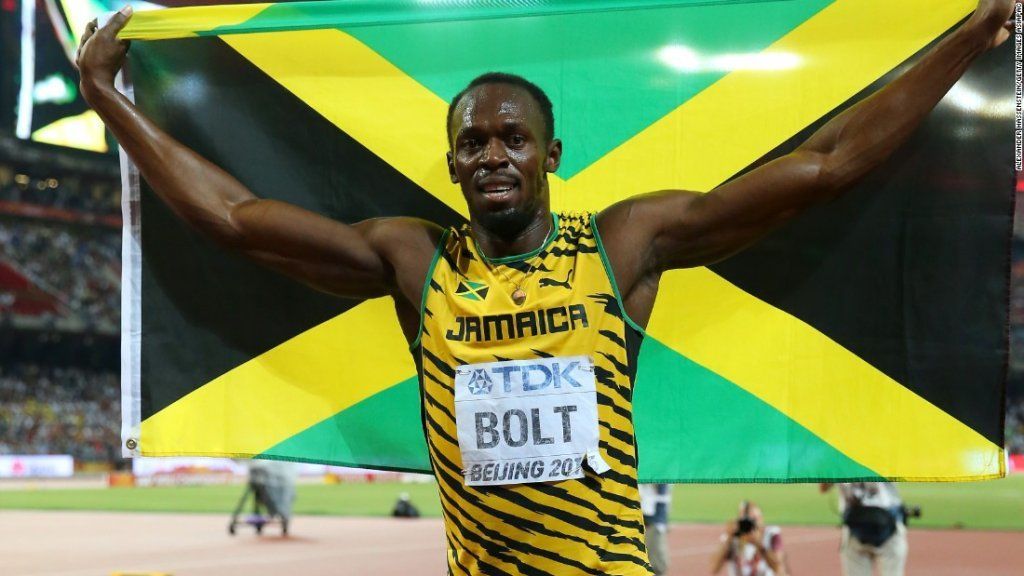 2. He Runs the 100m Because He's 'Lazy'
Bolt dominates in the 200m sprint, but he added the 100m to his arsenal after seven seasons in track and field. His coach, Glen Mills, has tried to persuade him to run the 400m, but Bolt refuses to do so because he's "too lazy."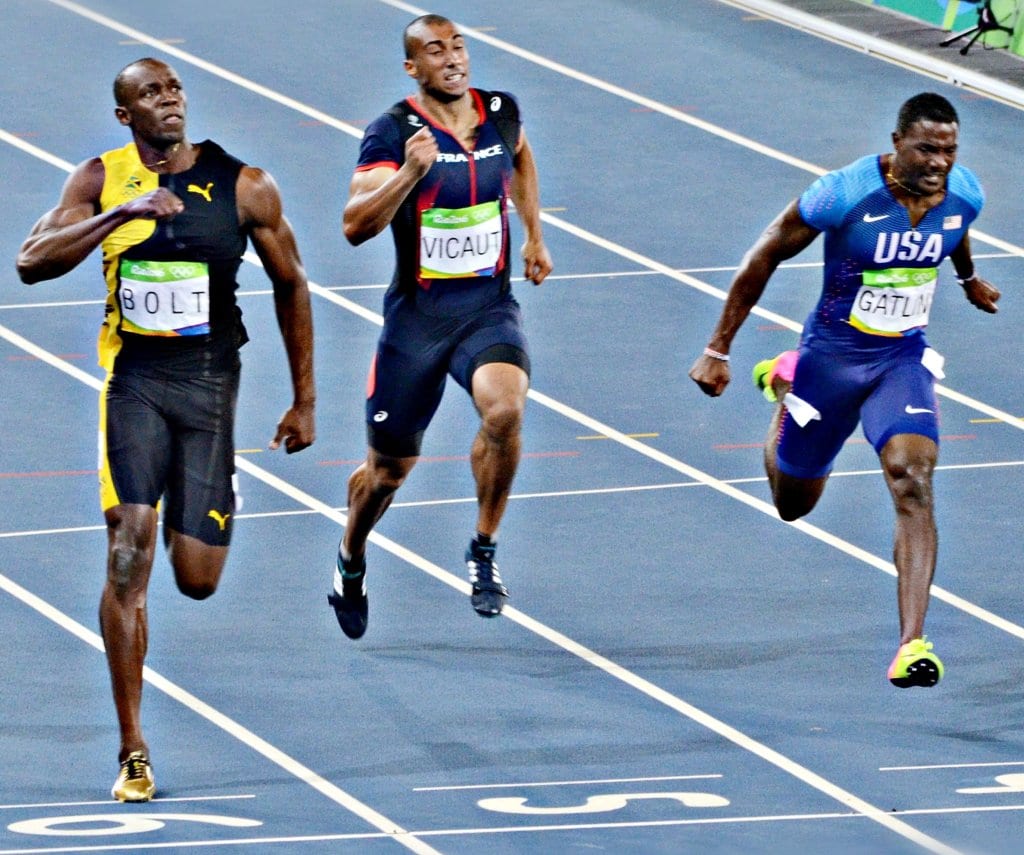 3. He Can Win With His Shoes Untied
If this isn't proof that Bolt is one of the best athletes of all time, then I don't know what is. He actually won his first 100m gold medal with the laces on his gold shoes untied. Oh yeah, he also broke the world record, too!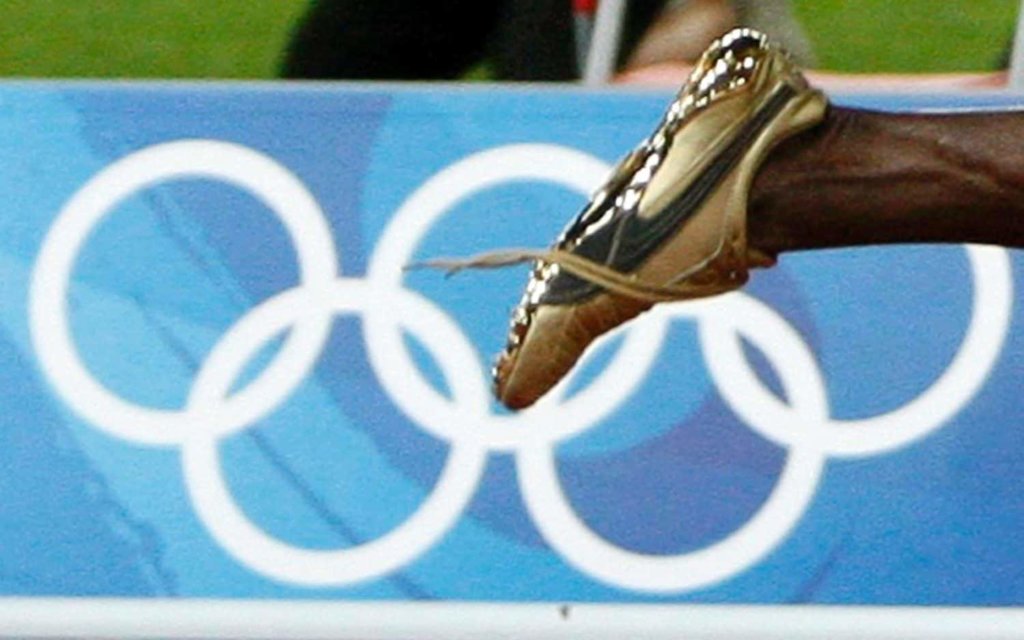 4. He Began Running in Primary School
Growing up in Trelawny Parish in the small town of Sherwood Content, Bolt attended Waldensia Primary school. And this is where he first noticed his sprinting abilities. He ran in the school's annual national meet for his parish, and by the age of 12, he held the school's title as the fastest 100m runner. So basically, he has been crushing records for the majority of his life.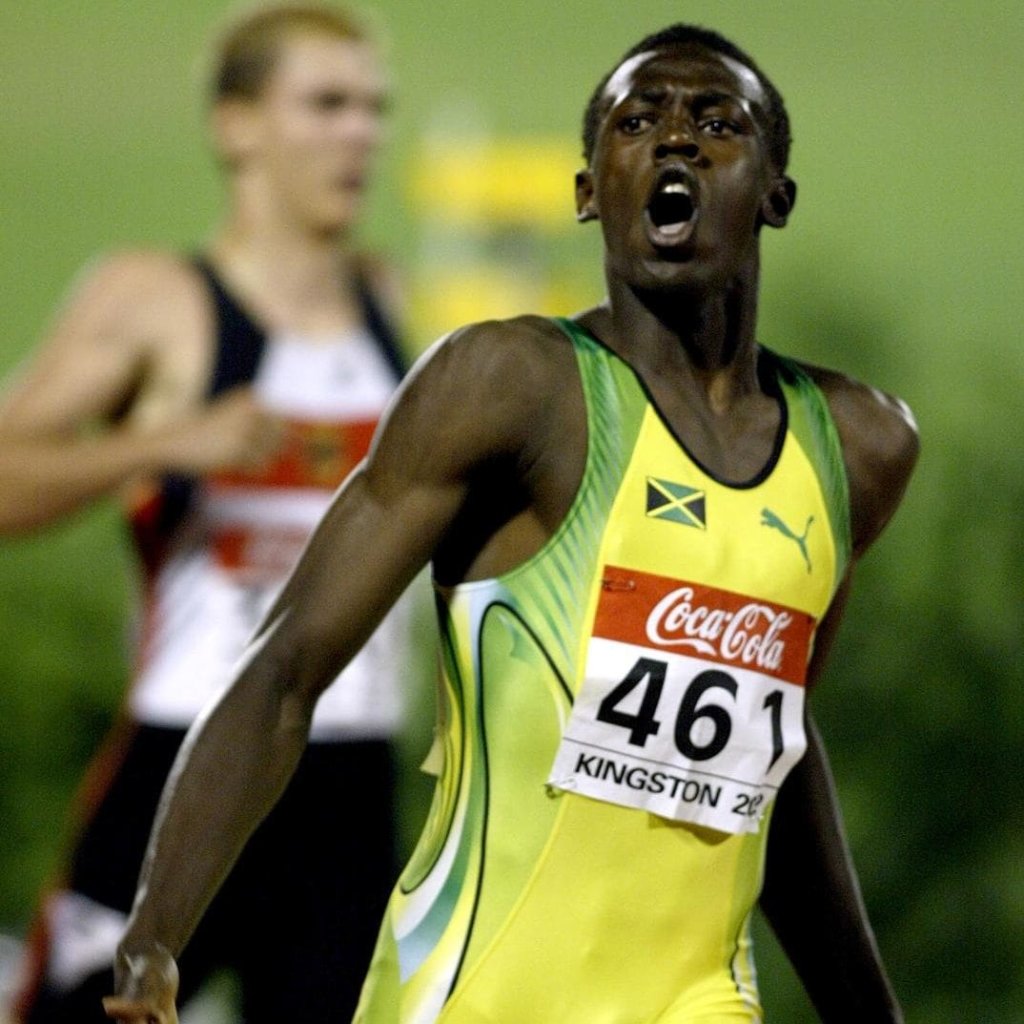 5. In High School, Cricket Was His Sport of Choice
When he entered William Knibb Memorial High School, Bolt joined the cricket team. It was his cricket coach who noticed his lightning speed and urged him to try out for track and field.
6. He Once Cracked Under Pressure
At the 2002 World Junior Championships in Kingston, Jamaica, Bolt was forced to perform in front of his home crowd, and he almost cracked under pressure. Due to all of the expectations from everyone in attendance, he accidentally put his shoes on the wrong feet. He finally was able to regain his composure and ended up winning the 200m in a time of 20.61 seconds, making him the youngest junior gold medalist ever.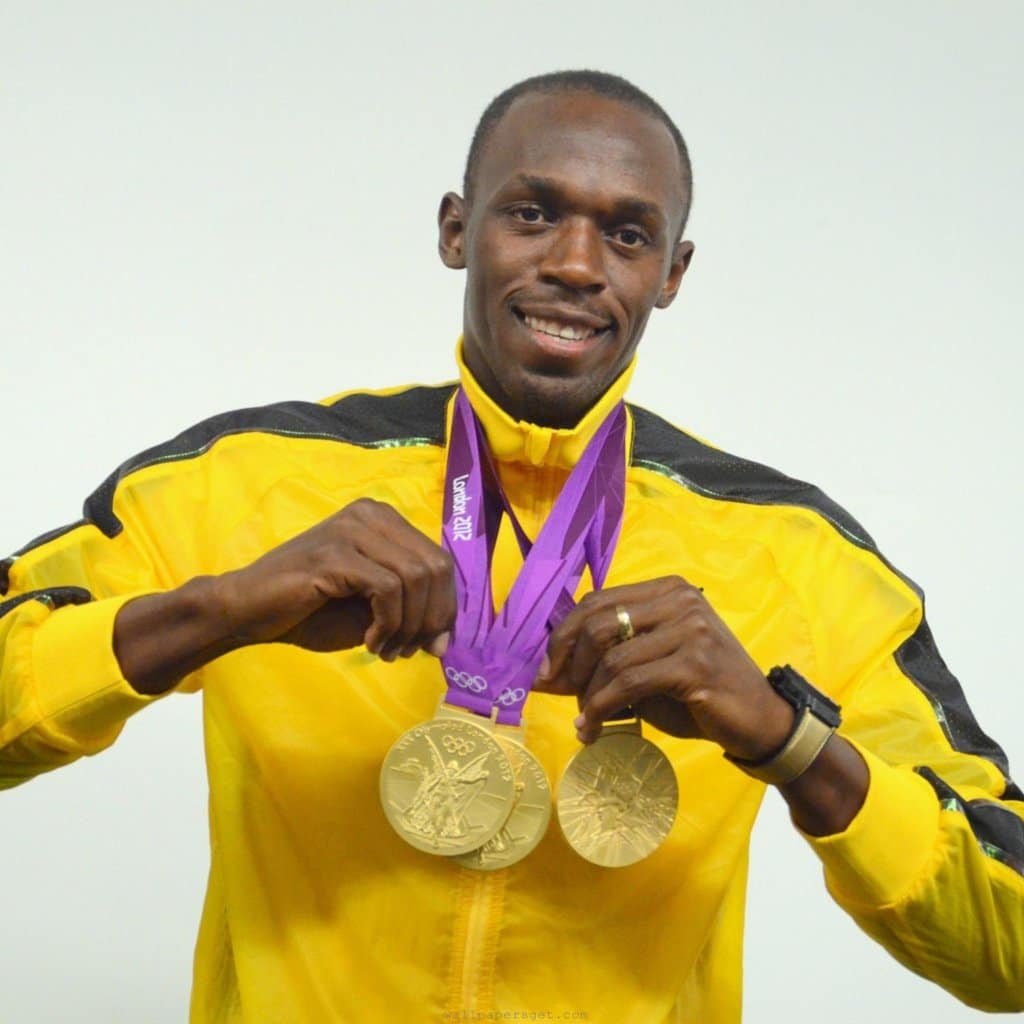 7. He's Raking in the Dough
Bolt doesn't earn the majority of his millions from track and field. More than 90% of his $32.5 million networth comes from endorsements, including the sportswear brand PUMA who pays him about $10 million a year.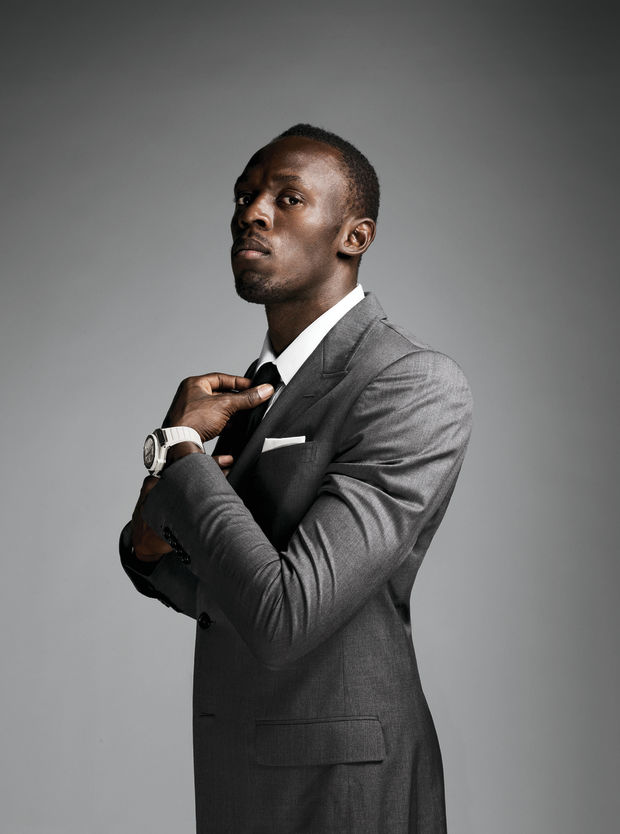 8. He's Obsessed With Call of Duty
In order to fall asleep, the sprinter says he has to get in a few games of Call of Duty first. In a 2012 Runner's World interview he said, "If I lived in Europe, I'd shut the curtains, play Call of Duty on my PlayStation, 24/7, and never go out."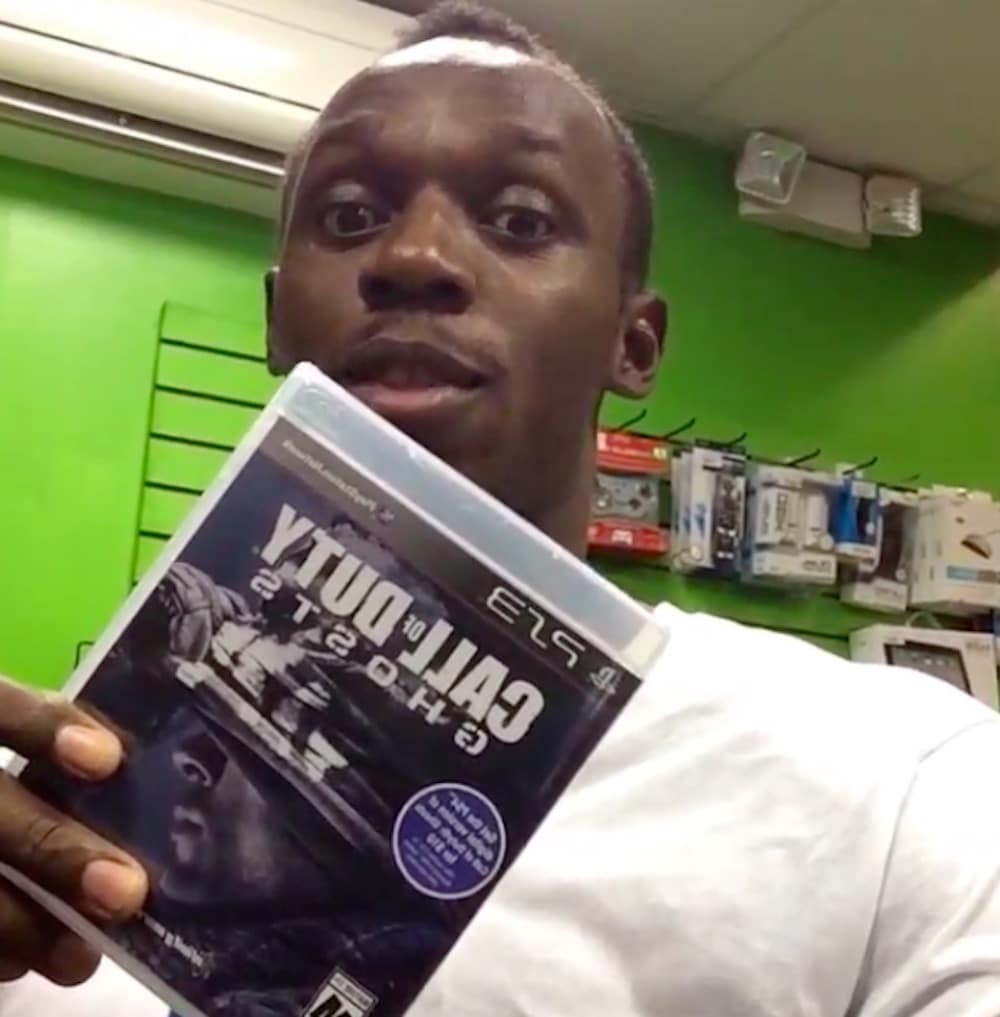 9. He's Faster Than a Bus
In Buenos Aires, Argentina, Bolt went head to head against a bus, and unsurprisingly, he won.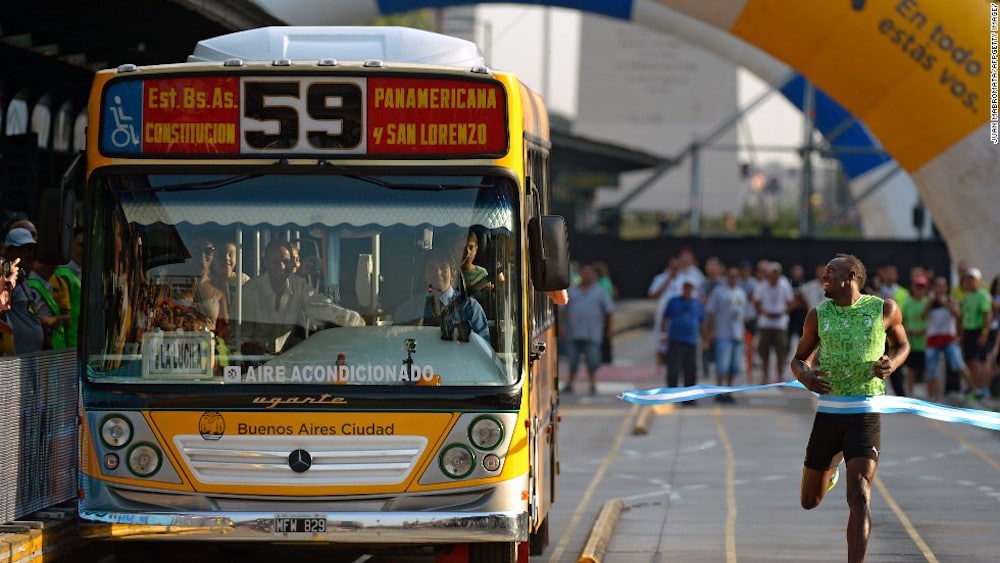 10. Chicken Nuggets Are His Secret Weapon
If you've ever wondered what the secret to Bolt's success was, we think we finally cracked the code. During the 2008 Beijing Olympics, Bolt said he devoured 1000 McDonald's chicken nuggets in 10 days. He went on to win medals in the 100 m, 200 m and the 4 × 100 m relay.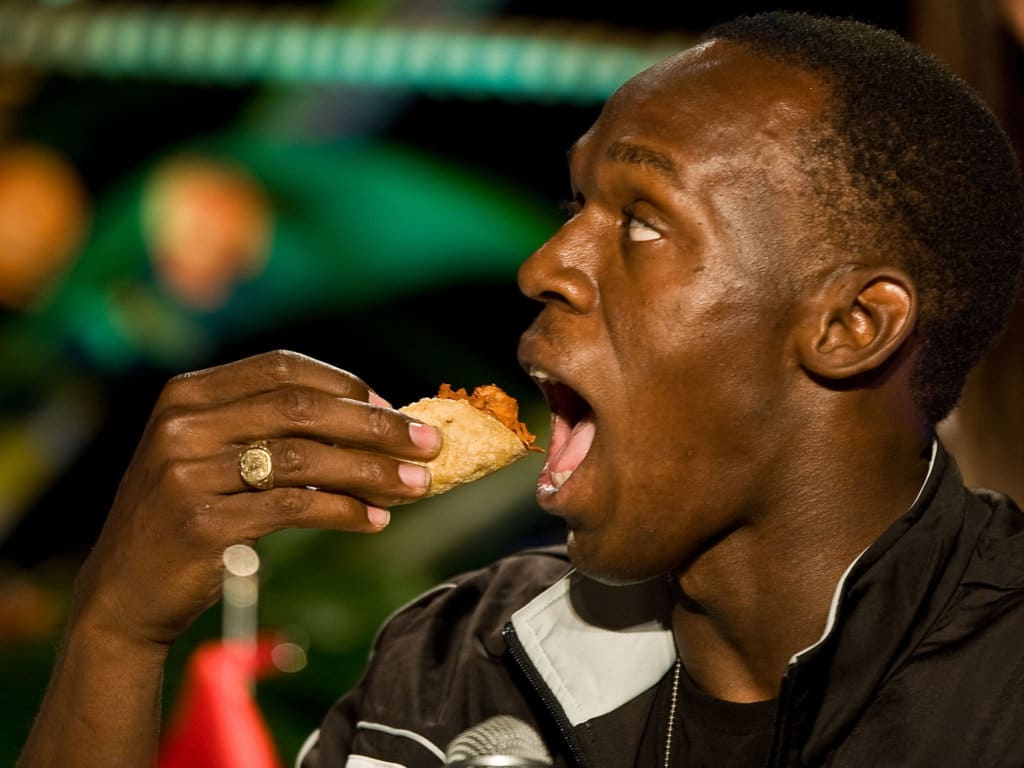 11. He Was Forced to Change His Diet
Bolt's obsession with chicken nuggets and all things fried came to an end as he prepared for the 2016 Rio games. The sprinter said, "I haven't had any KFC for about four months, which is killing me but it's got to be done. I've tried my hardest to bribe my chef but my team have been clever and hired someone who not only is not bribable but who chases me round the house and makes sure I eat what he's cooked." He also said he "backed off" from hard liquor, but he still enjoyed the occasional Guinness and a Heineken or two.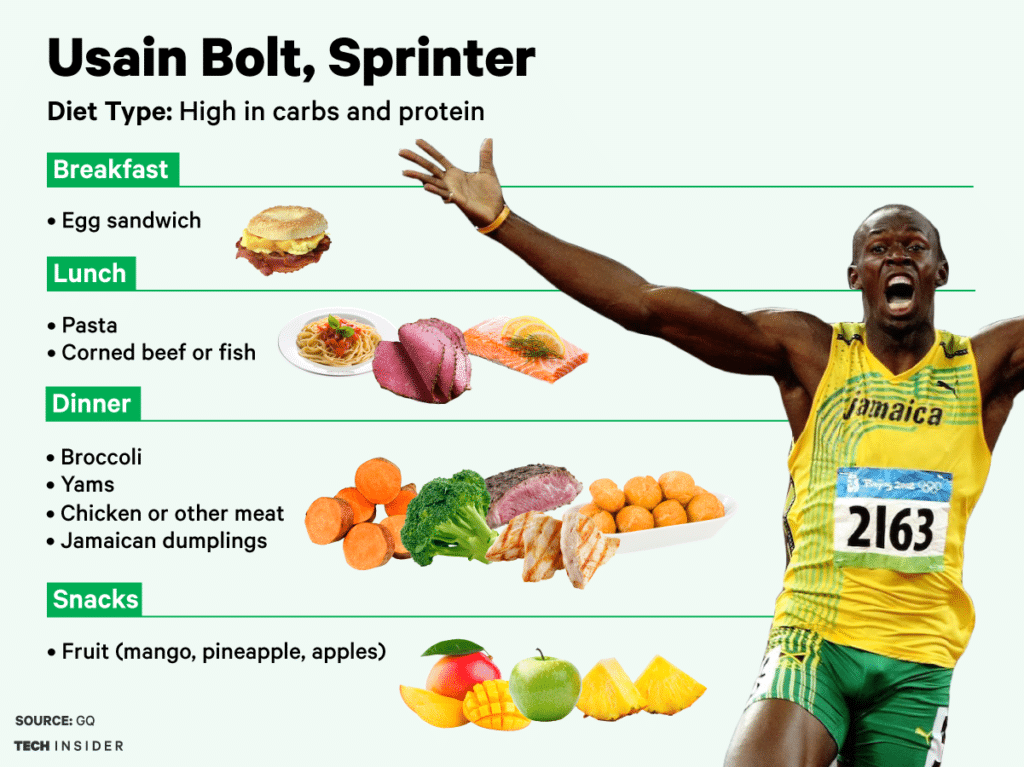 12. He Was Born With Scoliosis
Bolt was born with scoliosis, but he wasn't diagnosed until 2004. The curvature of his spine didn't bother him when he was younger, but it got worse as he matured. Bolt said, "I don't have to worry about it as long as I work hard. The early part of my career, when we didn't really know much about it, it really hampered me because I got injured every year."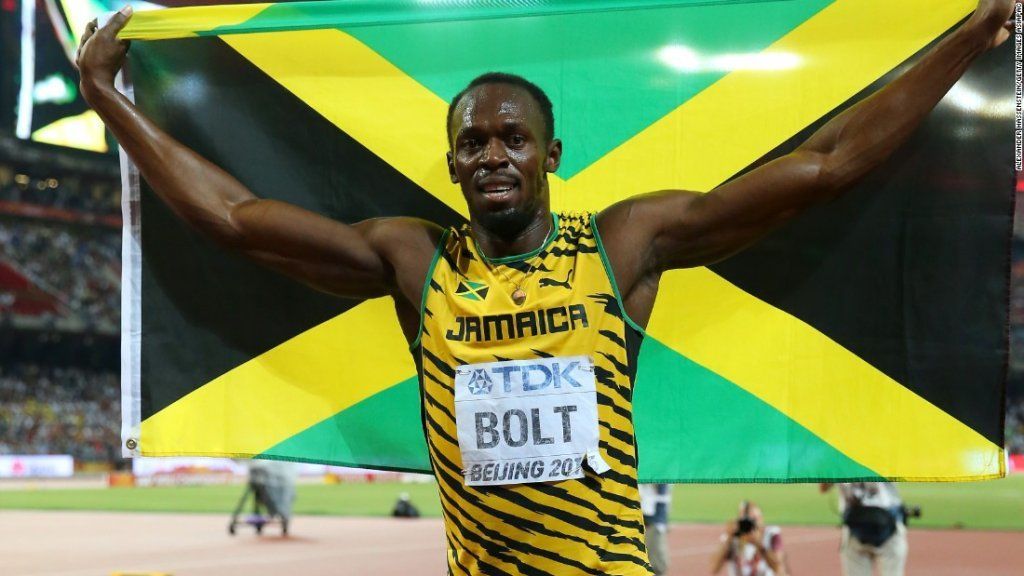 13. He Doesn't Take Disrespect Lightly
When his opponents disrespect him, Bolt doesn't take it lightly. When Yohan Blake defeated the sprinter in the 200m race at the 2012 Jamaican national championships, he pressed his finger against his lips as a signal to Bolt. The sprinter said it gave him "such a fury" to see Blake tell him and the rest of the field to "keep quiet." This anger drove Bolt to dominate Blake in the 100m and the 200m races in London. Bolt took home the gold medals, and Blake was stuck with the silver.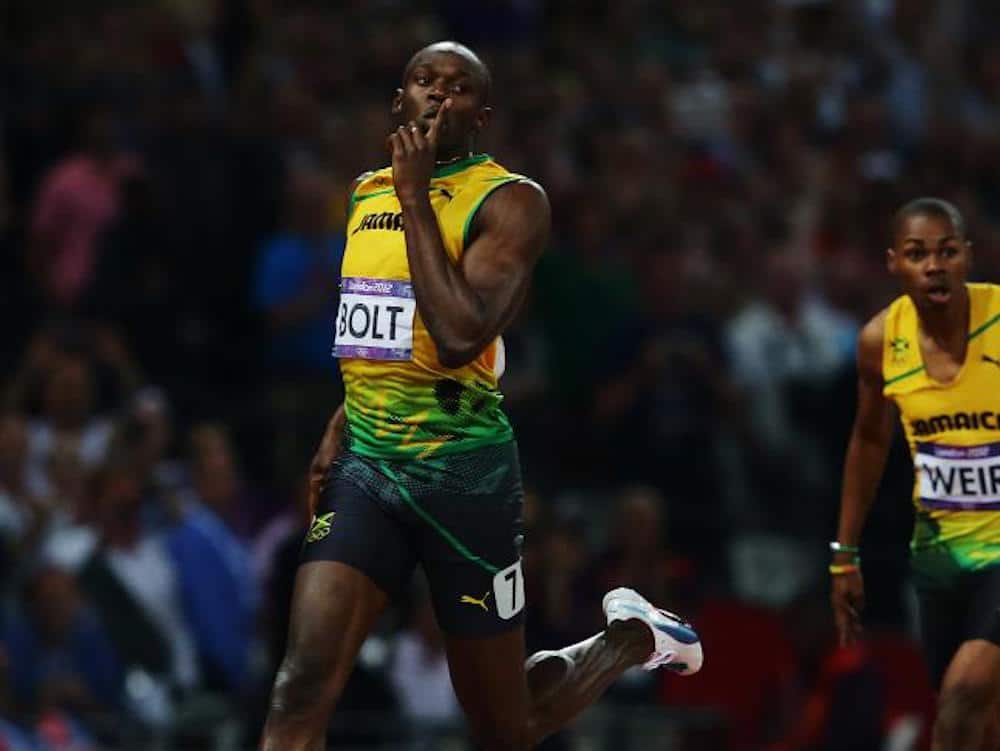 14. He's an Animal Lover
Bolt reportedly paid $13,700 to adopt a pet cheetah that is being raised in an animal orphanage in Nairobi. Bolt pays $4,000 a month in upkeep to have the pet monitored and raised by the staff. The cheetah's name is Lightning Bolt, of course.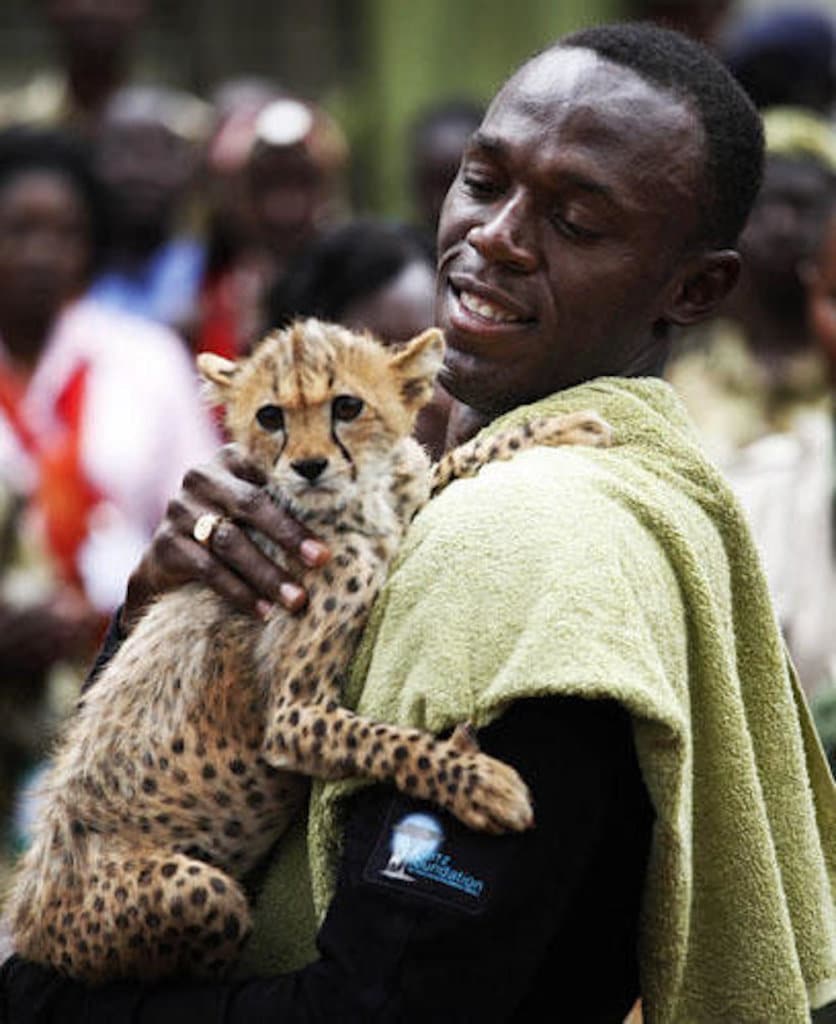 15. He Was Involved in a Very Serious Accident
In 2009, Bolt and a few friends were involved in a very serious automobile accident in Jamaica. The sprinter's BMW 3 series flipped over three times, and Bolt was taken to a hospital to have shards of glass removed from his feet. Thankfully, he and his friends didn't sustain any life-threatening injuries.