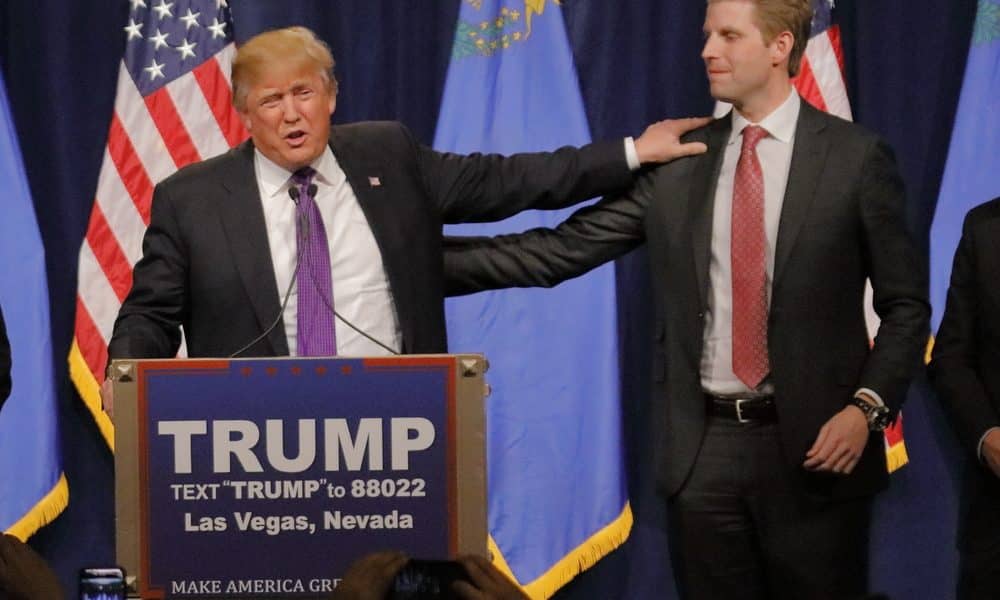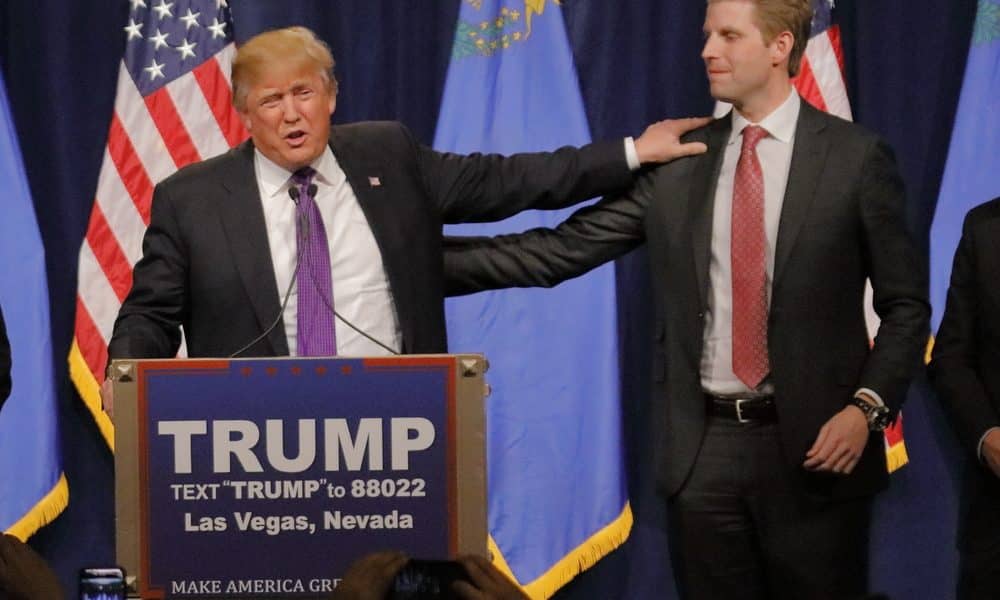 Oh, the Trump clan; they're the gift that keeps on giving. Every distinctive member of the family has their own inimitable style. Sure, they all do derivations on "The Donald," but each family member really brings their own special something to the role. Ivanka got Trump's love of glitz, Donald Jr. got his father's love of the kill, and Tiffany got . . . well, basically just his last name (she's the good one). Then there's Eric Trump, the man who seems to have inherited his father's flexible morality. The second son of Donald Trump is a big shot in the Trump organization, but there's some doubt as to whether he'd have reached executive status without a little help from his famous daddy.
1. He's a Dirty, Lemonade-Stealing Thief
In October of 2016, Eric Trump took some time out of his meal at the In-N-Out Burger to take a picture with a fan. Of course, when the photo was Tweeted by user Kush Vonnegut one detail that popped out was the glass Trump was holding. See, at California's most famous burger chain, those clear plastic cups are given to visitors asking for some free water. And yet, unless California has some really bad water purity issues, that doesn't look like water in Eric Trump's cup. Sure it's minor, but honestly, what kind of jerk does something like that? It's gutter-level dishonesty.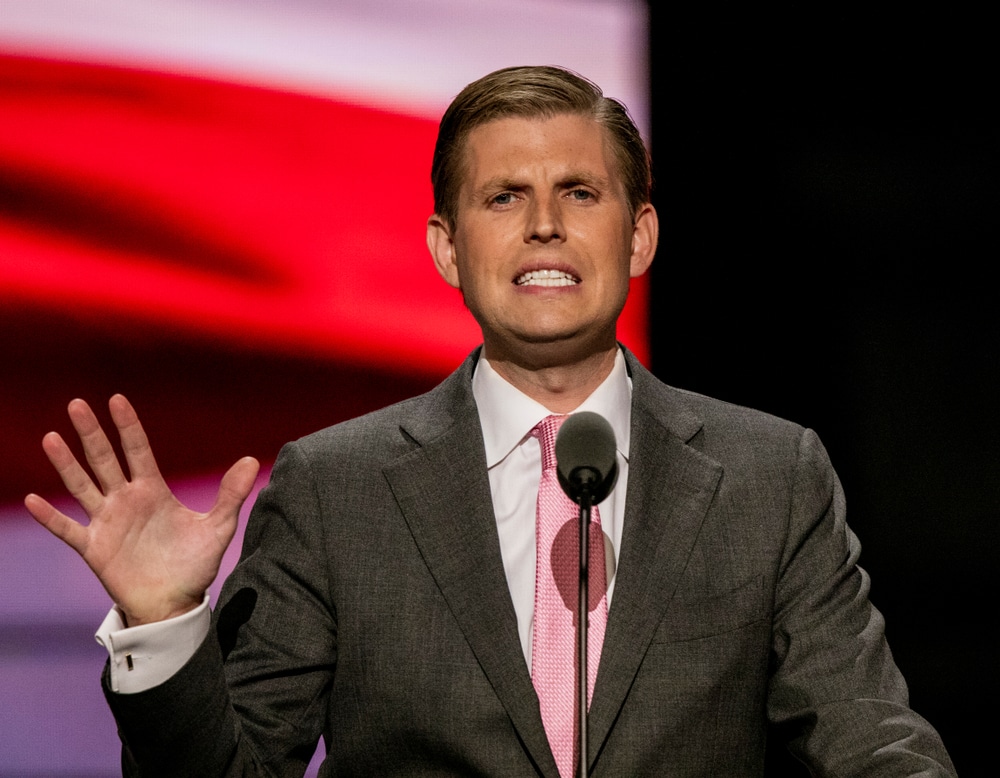 2. Also, He Probably Steals Money From His 'Charitable' Foundation
The Eric Trump Foundation promises its investors 95 to 100 percent donation ratio to its benefactors. That's what they say, but recent reports indicate that the Eric Trump Foundation has funneled nearly a million dollars through Trump-owned companies, including some suspected payments directly to the Donald. As much as $600,000 was also spent at Trump-owned golf resorts, which Eric oversees. Not all the money went to Trump himself though. Some charitable funds went to a plastic surgeon who specializes in giving nose jobs to children. Here's the kicker, what is the Eric Trump Foundation's primary charity? The St. Jude Children's Research Hospital.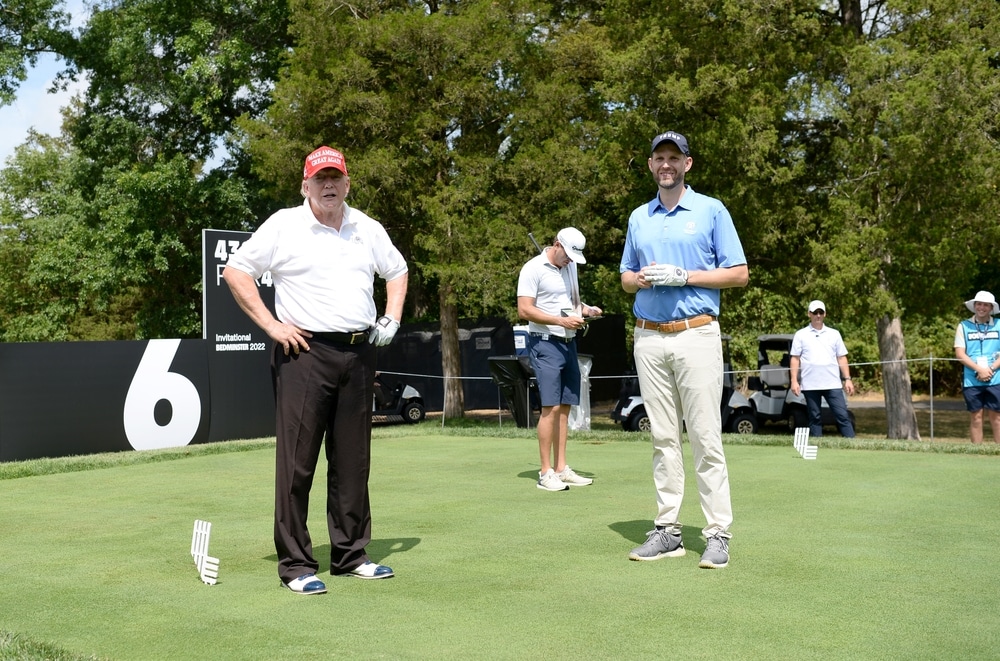 3. Eric is Masterful at the Re-Direct (But Maybe Not English)
At the DNC, Khizr Khan, the father of a fallen soldier, gave a powerful anti-Trump speech while standing next to his wife, Ghazala, who remained quiet as she was overcome with emotion. That didn't stop Donald Trump from suggesting that she was quiet because the Khan's Muslim faith prevented her from speaking. A few days later, Eric weighed in on the controversy by claiming Trump's comments weren't anti-Muslim, they were anti-terrorist. "My father's simple message – it's not an anti-Muslim message, it's [an] anti-terror message," he said. "You know, we have ISIS and they're running in rampant around the world and we have to do something about it and quite frankly, if you look at Hillary." That last thought may not be a complete sentence, but it's certainly loyal. Also, what is "running in rampant"?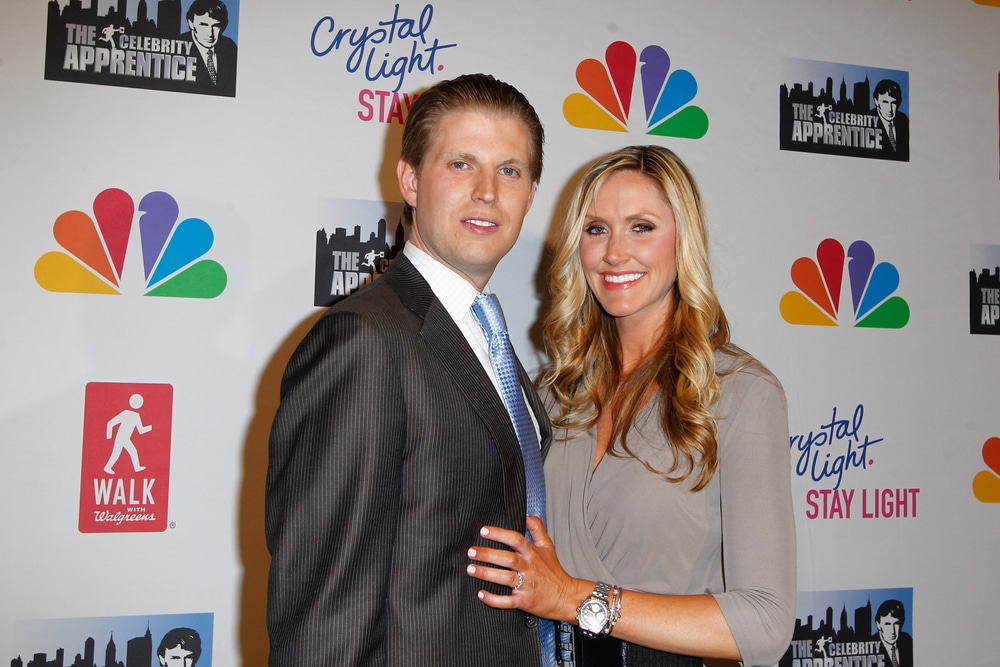 4. Eric Trump Respects the Value of a Frivolous Lawsuit
When women began coming out of the woodwork to accuse Donald Trump of inappropriate behavior (eleven and counting), Eric took to the campaign trail to not only back up his father's claim that every one of the women was a liar, but to glamorize his father's threat to sue every public accuser. "Quite frankly, he's a great fighter, and he believes in calling out right and wrong," he said.
5. Eric Loves to Get His Dad's Back, Facts Be Damned
Of all the controversies sprung up in the final weeks of the election, perhaps the most troubling is Donald Trump's continued vagueness surrounding what he'll do if he loses. He's even taken to calling the contest rigged, weeks in advance of the vote. Eric has been right there with his dad saying, "My father will accept it 100 percent if it's fair. If it's fair."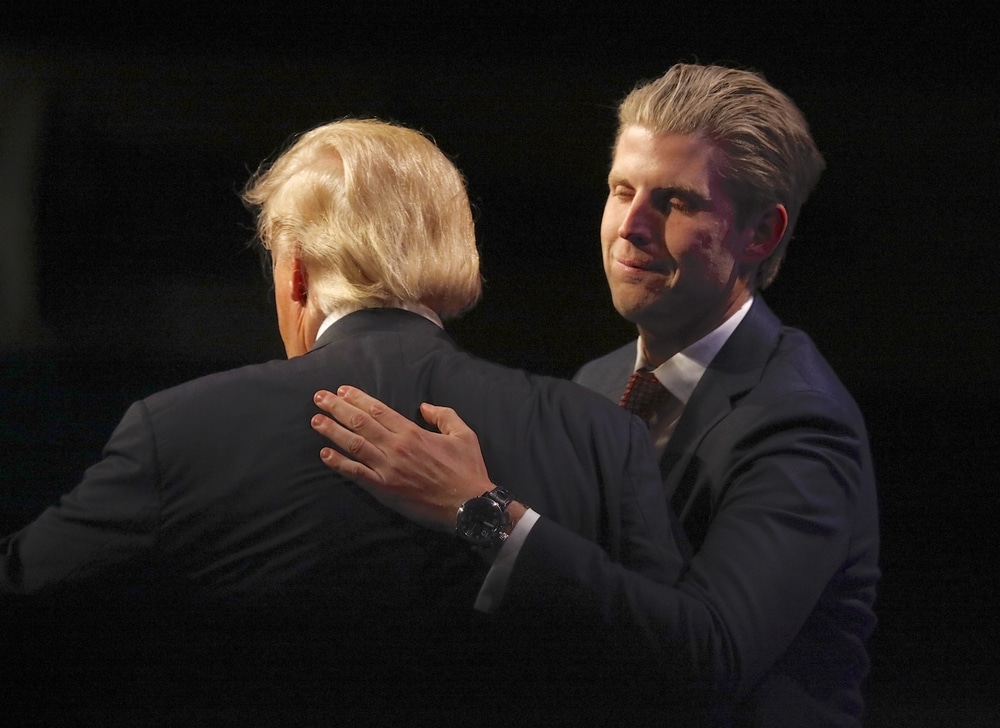 6. Eric Trump Hunts Big Game
Like his older brother Donald Jr., Eric Trump is an accomplished big game hunter. And by "accomplished" I mean he travels around the world sneaking up on endangered animals and blowing their brains out. In one trip to Zimbabwe, the Trump boys reportedly killed "elephant, crocodile, kudu, civet cat, and waterbuck." While there's nothing overtly illegal or exactly "wrong" with the Trump kids using their largess to extinguish life, how many people really look at a picture of an elephant in the wild and think, "Gee, if only I had a big gun in my hands right now."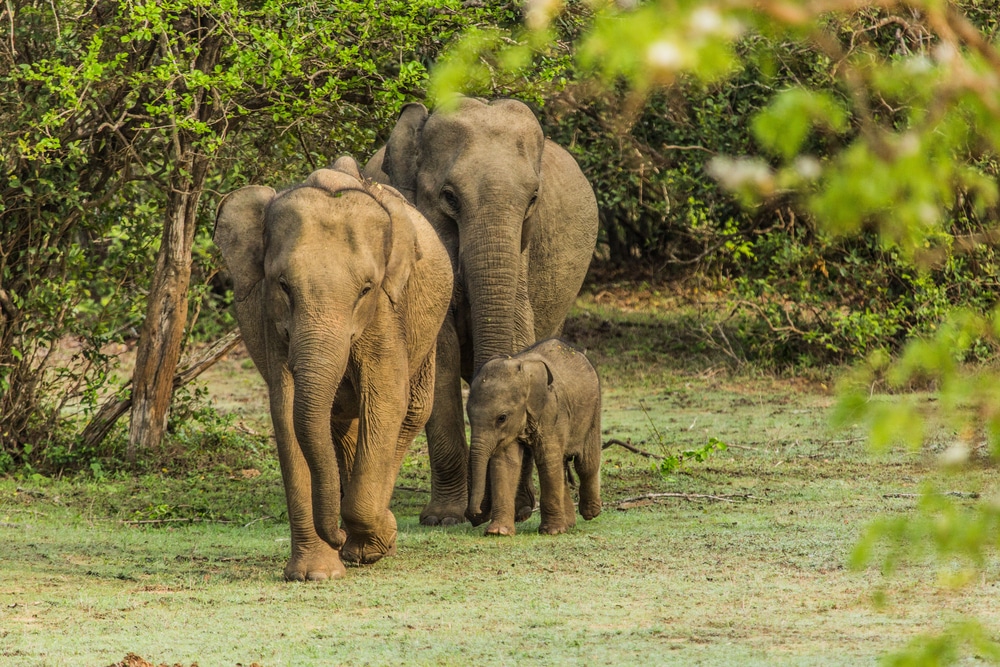 7. Eric Trump Has the Same Grasp of Reality His Father Does
As a member of the Trump clan, Eric is often called on to do some fundraising. That includes sending emails to potential donors. Unfortunately, if Eric actually wrote the emails, they demonstrate a very thin grasp of the facts. In October, he claimed the Trump campaign was picking up speed, a fact that's completely counter to every poll published in October. The email even included an interactive map that displayed absolutely untrue polling statistics. Like the Donald, Eric has no problem fiddling with the truth in order to make his case seem stronger.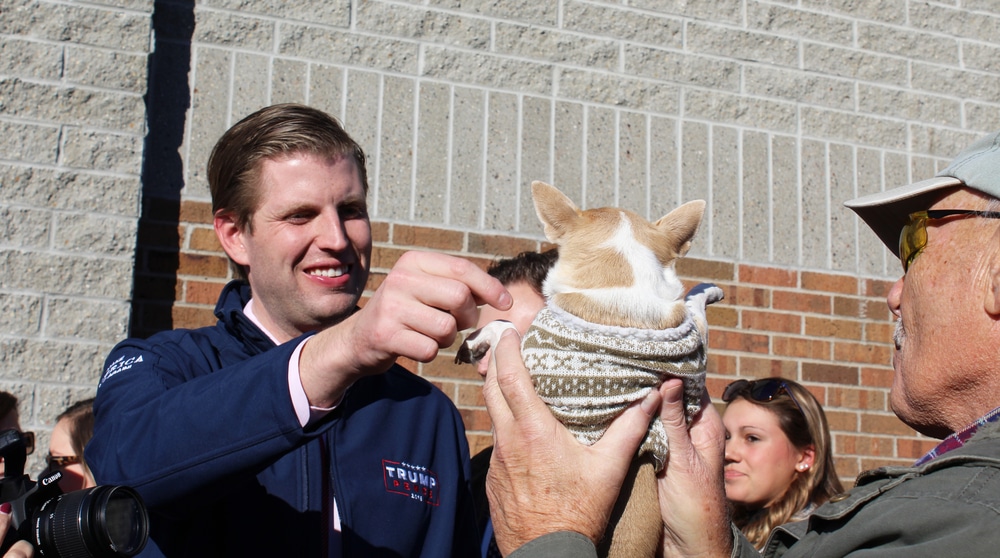 8. No One Ever Accused Eric Trump of Knowing Even Basic Spanish
On Friday, October 21, Eric Trump attended a Republican rally in North Carolina. After a quick speech, the GOP candidate's son was glad-handing supporters, when a young woman in a homemade T-shirt asked for a picture with Eric and his wife Lara. The shirt read, "Latina CONTRA Trump," which, in Spanish, reads "Latina Against Trump." Of course neither Eric nor his wife knew what "Contra" meant — in spite of the fact that it's incorporated into like, a dozen basic English words. So, they happily posed for the picture, only to have it posted to Twitter a few hours later alongside the caption, "No one at the rally realized my shirt said AGAINST trump . . . congrats, y'all played yourselves."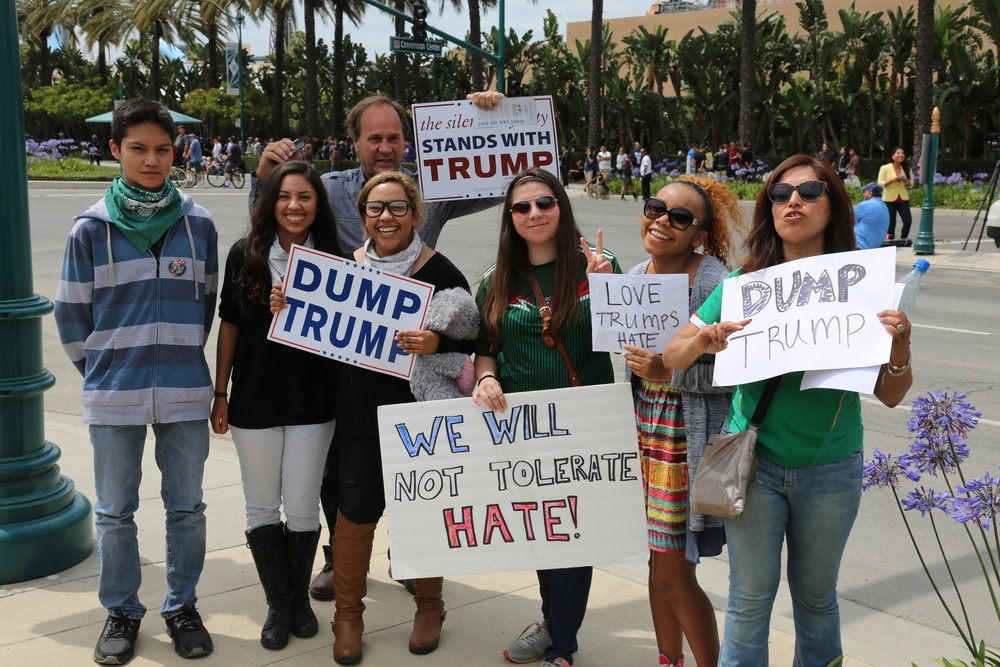 9. Eric Trump Loves a Scandalous Headline
At one point in the campaign, Eric Trump tweeted the following, "For anyone who wants to know what jobs leaving the USA looks like, here is the CLOSED #Ford plant in Brook Park, Ohio." The implication is clear, manufacturing is moving away from America and Donald Trump will do something about it. Of course, the facts (duh) say different. Not only does Ford employ more Americans than any other car company, but the jobs lost when that Brook Park plant closed were all transferred to another facility on the same campus. So yes, jobs were lost, but doesn't Ford get credit for immediately handing those former employees another job?