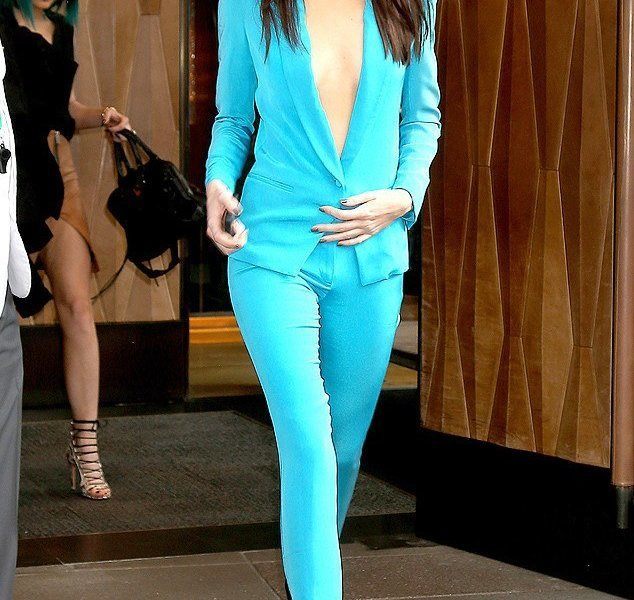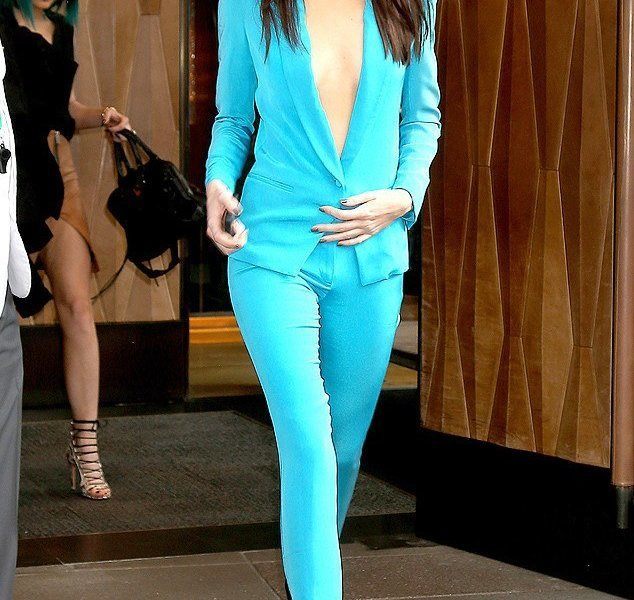 The second youngest Kardashian sister has been making quite a name for herself recently. Kendall has a booming modelling career and is currently one of the biggest names in high fashion. Sources say all of her success is going to her head and she now considers herself the most "in demand" sister. We can't deny that 18 year old Kendall definitely has the stature for high fashion, unlike her petite sisters, but we still hope she stays grounded. Let's take a look at 8 times Kendall Jenner stunned with her style and even looked better than her sister!
1. Lots of Leg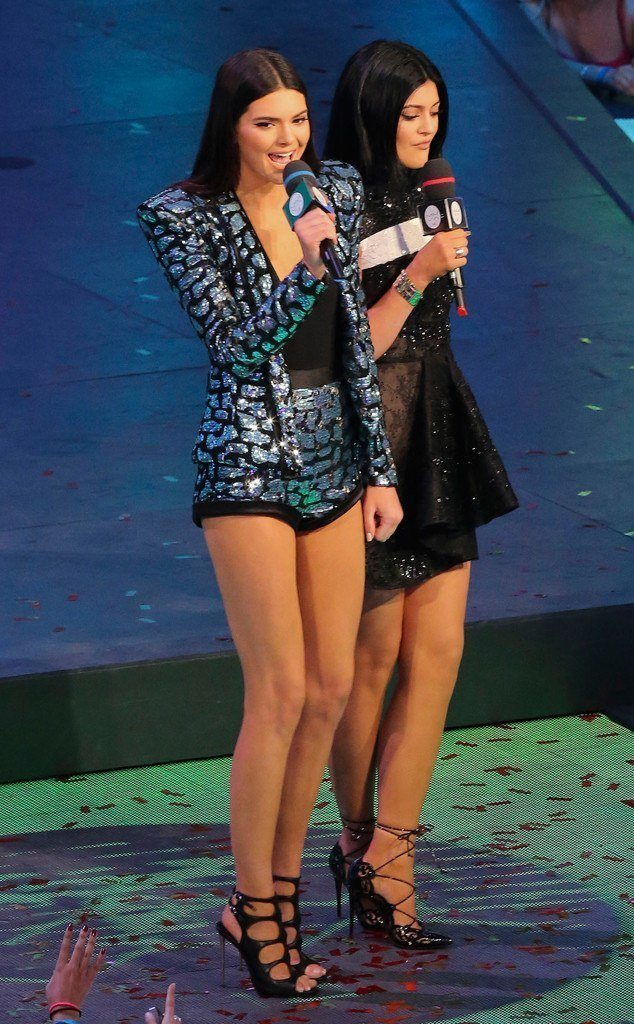 Here Kendall is hosting the Much Music Video awards with her sister, Kylie. The two piece bedazzled suit shows off Kendall's long, toned legs. We love the high shoulders in that jacket too!
2. Kendall's Bright Blue Suit
Above, Kendall's leaving the Trump SoHo Hotel in NYC wearing this fitted robin's egg blue suit. Kendall opted to go shirtless and we think this look makes a fabulous statement. She's leaving her sister, Kylie, in the dust, literally!
3. Kendall Jenner's Biker Chic
Here the young model is leaving the Four Seasons Hotel in Paris wearing tight leather leggings and a gold studded leather jacket. Her square framed glasses make her look like a rock star!
4. Bohemian Beauty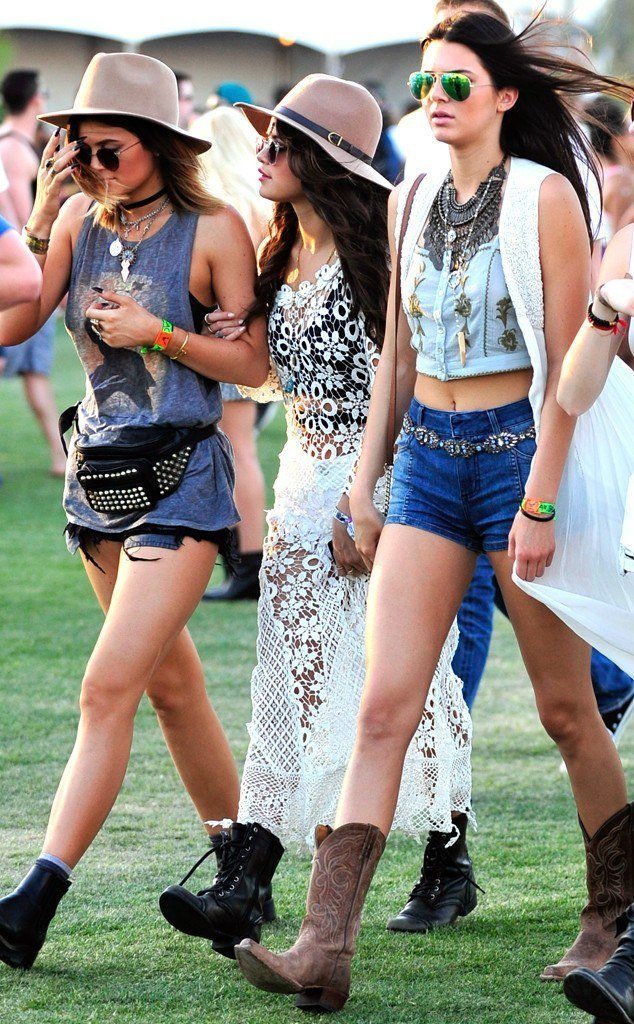 Kendall, Kylie and Selena Gomez were out to party at Coachella. Here the girls can been seen dressed in their chicest hippie-inspired outfits. We love Kendall's long vest and high-waisted jean shorts adorned with a jewelled belt. With those cowboy boots and chunky necklace, we think she captured the 60's look best!
5. Fashion Forward
Kendall's strutting down the streets of NYC with Kylie wearing her favorite leather leggings, a fierce white fur vest and her Aviator shades. We think think she looks fabulous out for a day of shopping!
6. Cinderella at the Ball
Kendall Jenner was invited to her first Met Gala this year. She pulled off an effortless look that made her sister Kim very jealous. But what also should make Kim jealous is Kendall's beautiful figure in this strapless, form fitting Topshop gown.
7. Comando Couture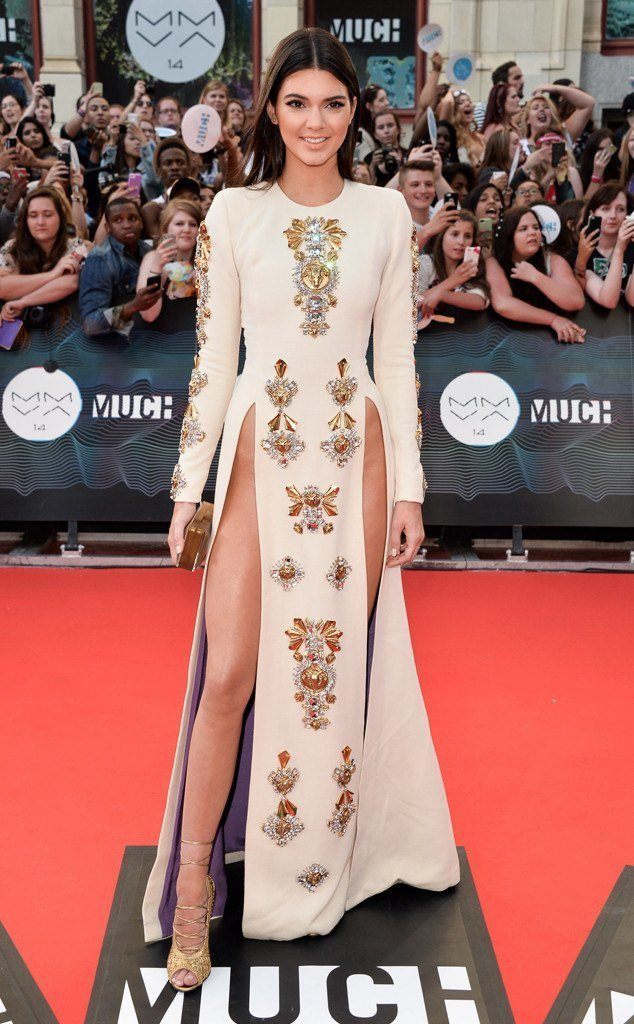 Kendall walked the red carpet of the Much Music Awards in this daring double-slit Fausto Pulisi dress. The bejeweled nude gown looks beautiful on Kendall, highlighting her lean legs. It made her the talk of the show.
8. White Haute
Kendall posed on the red carpet at the 2013 American Music Awards in this chic cut-out white dress. We love the way she's sleeked back her hair to accentuate her slim shoulders, and that necklace is the statement piece!