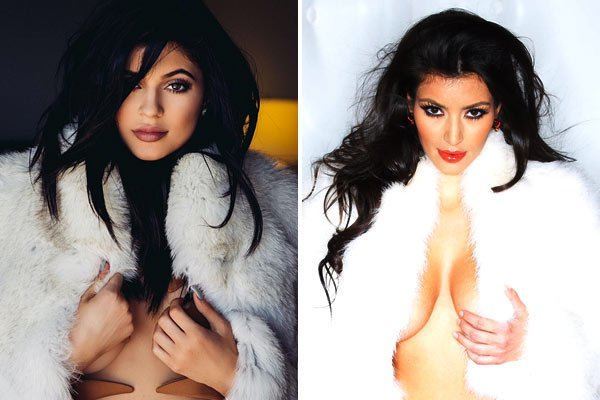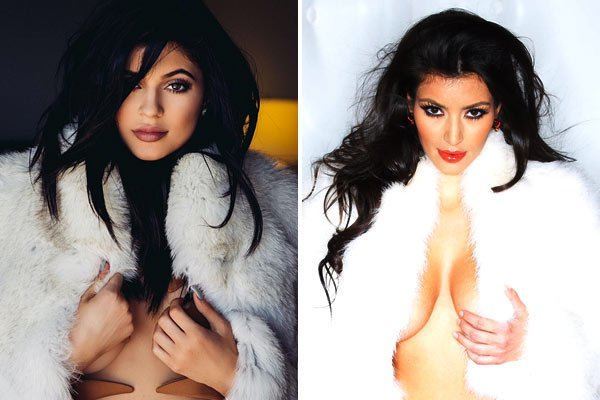 Kylie Jenner is slowly climbing the ranks as the most popular member of the Kardashian/Jenner clan. Although the 18-year-old has attempted to separate herself from the family with bolder make-up, hair and outfit choices, Kylie's also lucky to have four fabulous older sisters to gain inspiration from. Apparently, she likes following in the footsteps of Kim best, because at times it was hard to tell these two apart. These are eight times Kylie stole Kim's look. Mrs. West better watch out, there's a new style queen in town.
1. Casually Copying
Kylie stepped out in LA donning an outfit all too similar to one Kim wore last year in Paris. The relaxed white T-shirt tucked into jeans look works well for both shapely sisters. But who do you think wore it better? Let us know in the comments section below.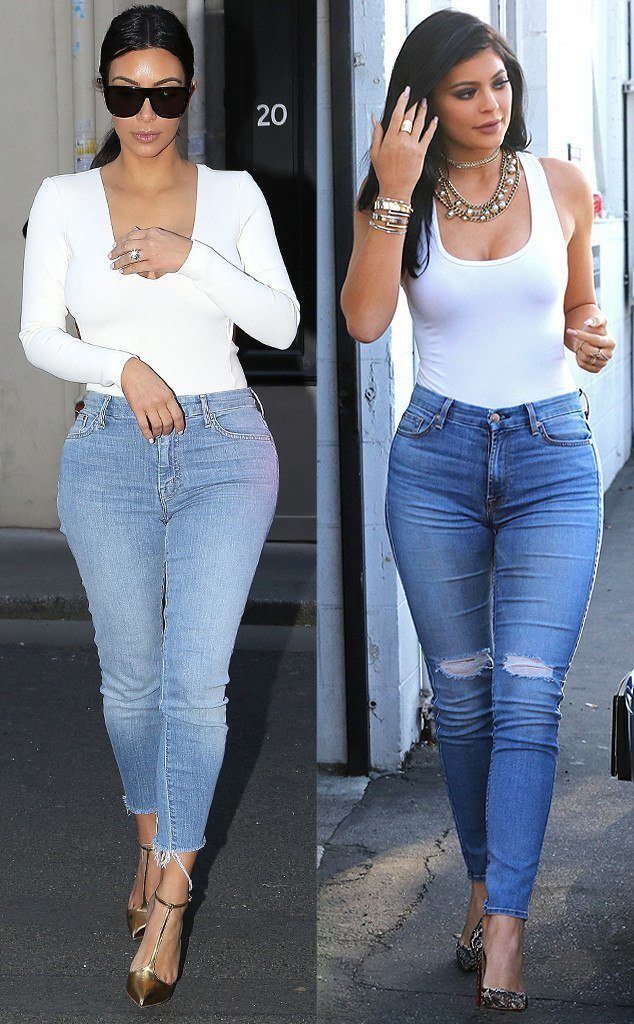 2. Bra-Baring Beauties
Here's more proof that Kylie is slowly transforming into Kim. The 18-year-old channeled her big sister at a London event, wearing a sheer, bra-baring black top, high-waisted trousers and lace-up shoes. Kylie even opted for the the 'fashion drape' with her coat, a look her sister often wears. Kim donned a very similar all-black ensemble to Kanye's show during Paris Fashion Week.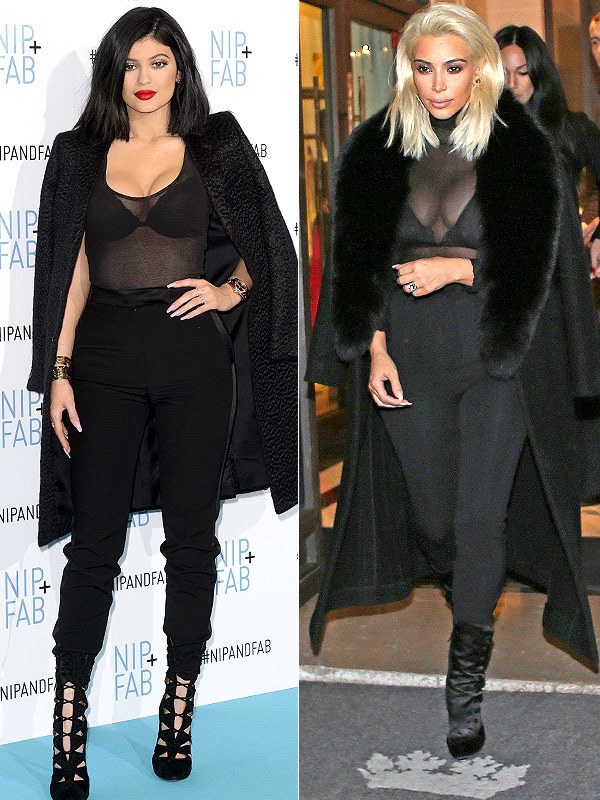 3. Sisters Who Swim Selfie
We doubt the Kardashians ever actually go for a swim when snapping selfies by the pool, but there's no denying that both Kim and Kylie have flawless bikini bodies. This picture proves that Kylie not only gathers inspiration from her sister, she actually steals her clothes. Kim and Kylie are wearing the exact same bikini in this swimsuit selfie. In your opinion, which reality star rocked it better?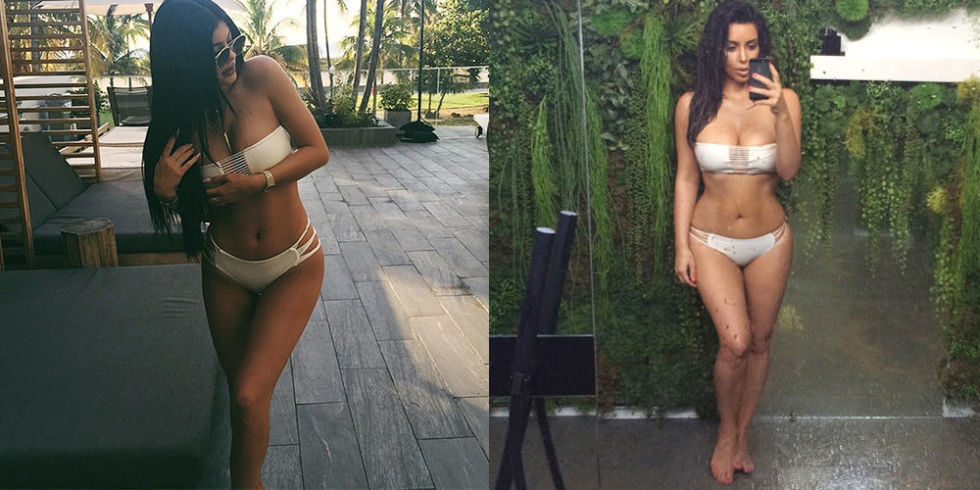 4. White Hot
Kylie drew another page from sister Kim's style book with this June 2015 Instagram post. The 18-year-old captured herself walking up a flight of stairs in a revealing white dress complete with sleeves and a train. She appeared to be recreating one of Kim's earlier pictures from a month before at the 2015 Met Gala.
5. Shady Sisters
The resemblance between Kim and Kylie is uncanny. Take a look at these selfies capturing both Keeping Up with the Kardashian stars in square-framed black shades, with fully-lined lips and jet-black bobs. It's honestly hard to tell them apart in their matching black turtlenecks.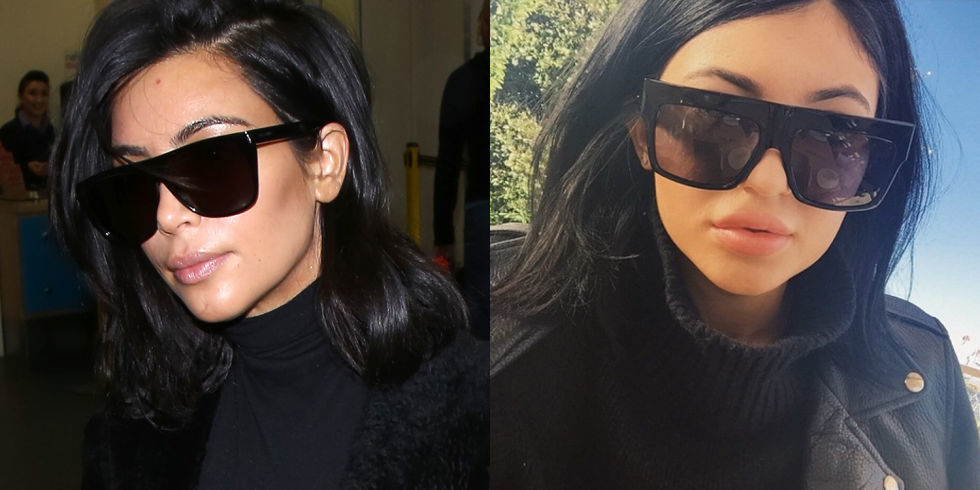 6. Double-Take in Denim
There's no denying that Kylie stole Kim's all-denim look, because the two sisters look identical in matching distressed skirts and button-down jean tops. Plus, Kim donned the denim ensemble in August 2014, while Kylie wore it nearly a year later, in March 2015. The only amendment Kylie made to the outfit was pairing it with black-ankle booties versus Kim's nude stilettos.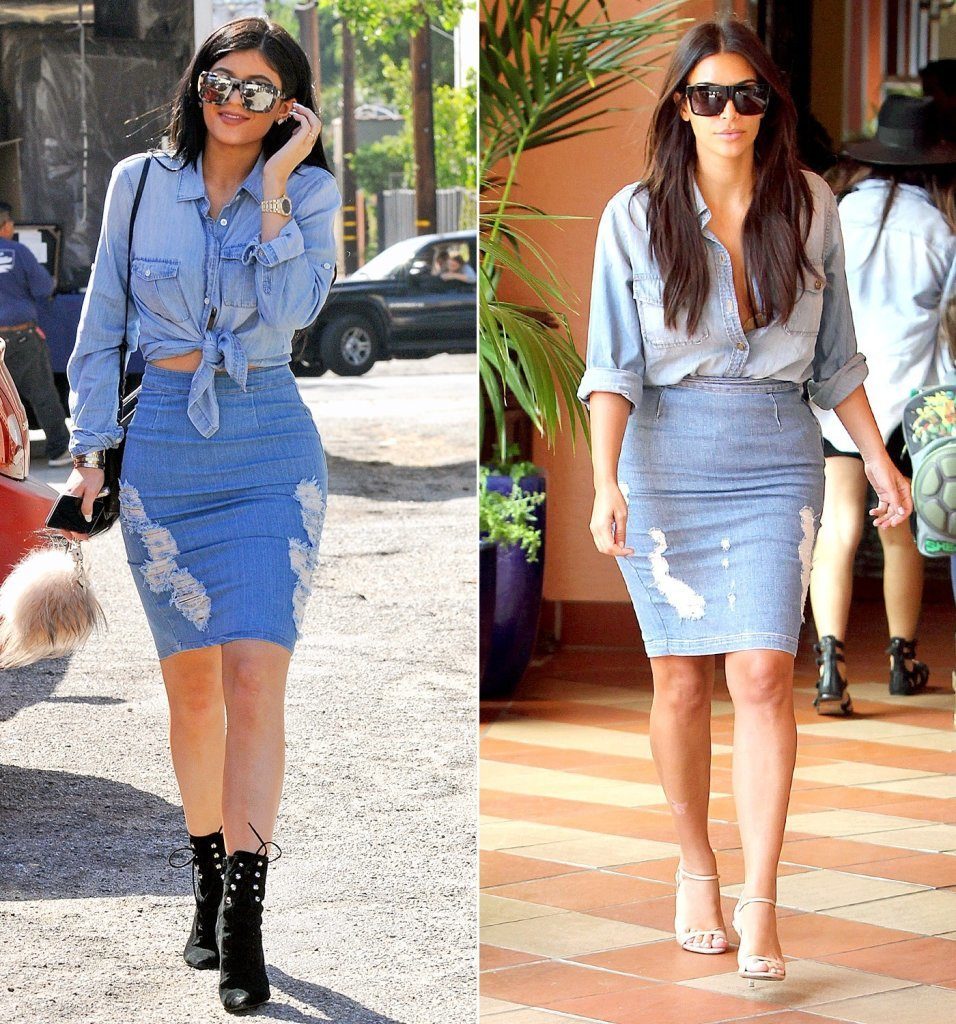 7. All That Glitters Is Gold
Kylie once again channeled her big sister on the red carpet. Jenner rocked this gold gown at the 2015 EPSYS, where her father was presented with the Arthur Ashe Courage Award. Kim opted for the golden-robe look a few months earlier at the 2015 Grammy Awards. Which sister shone brighter?
8. The Pic That Really Proves It
This picture solidifies Kylie's desire to be Kim. This Instagram pic from May 2015 shows Tyga's girlfriend posing nearly topless in a white fur coat. It looks just like a photoshoot Kim did for Playboy in 2012. Sources say Kylie doesn't want to just be like her older sister she wants to be bigger than her. So we'll just have to wait and see.