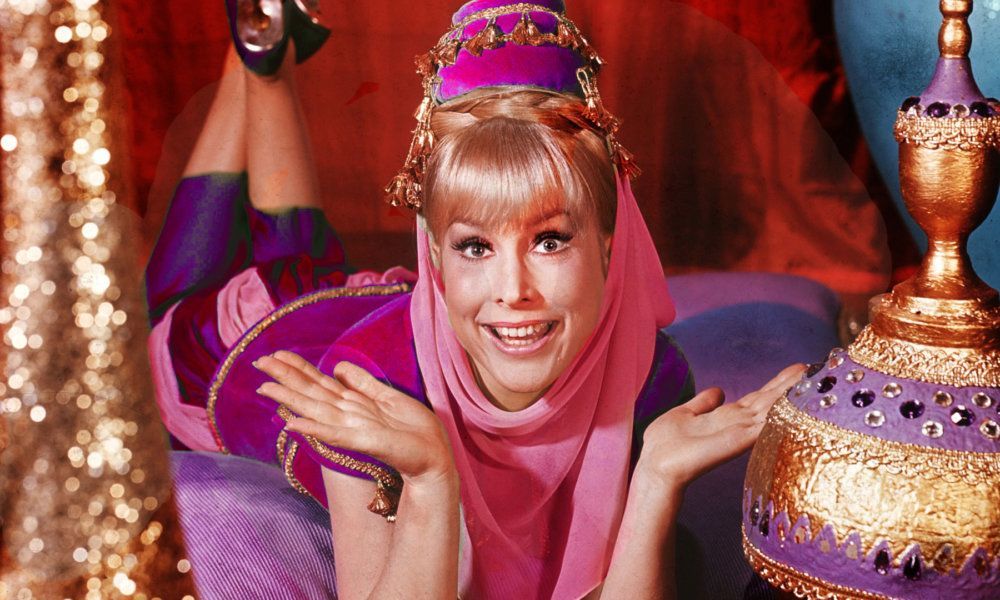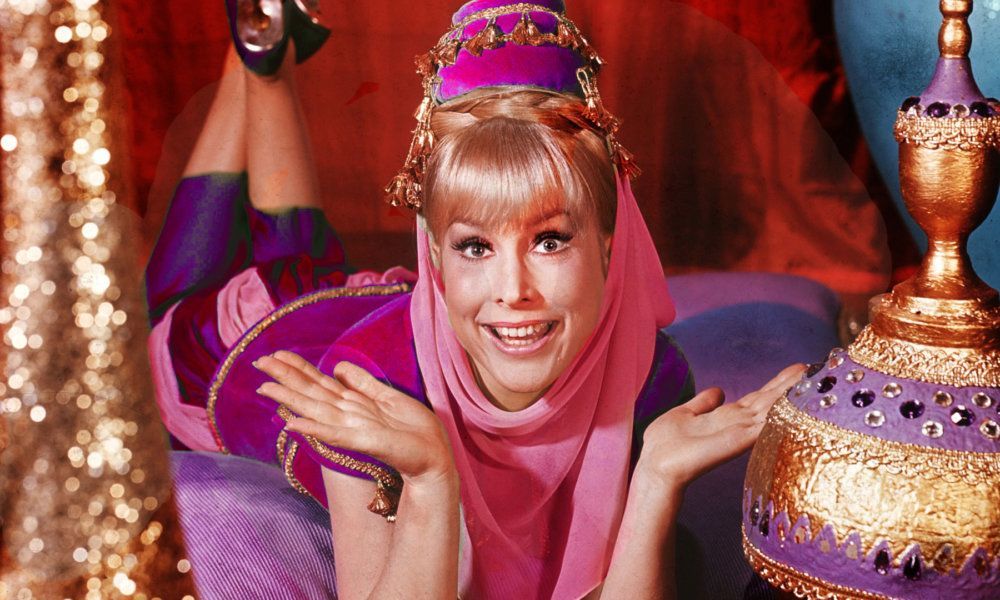 The NBC series I Dream of Jeannie premiered in 1965 in an effort to get their own piece of the magical popularity that Bewitched was providing over at ABC. The series starts with astronaut Tony Nelson (played by Larry Hagman) finding Jeannie the genie (played by Barbara Eden) living in the bottle and takes her home with him. Naturally, hilarity ensues between the genie and master. Here are some things you never knew about the show.
1. The theme song didn't exist until the second season
The first season of Jeannie was shot in black and white and played around with a couple different opening songs. It was in the second season that they switched to a color opening and the song that everyone remembers as the catchy theme song.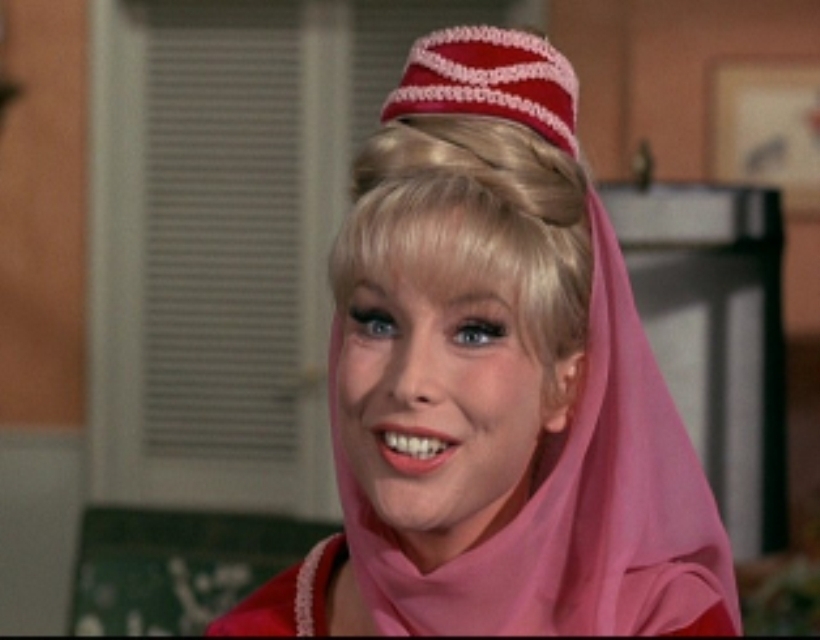 2. Barbara Eden did not approve of the marriage between Jeannie and Tony
Part of the whole fun of the show was the sexual tension between Tony and his very attractive Jeannie who was willing to fulfill all his wishes (and call him master no less.) But in the last season the two characters wed, and it didn't go over so well with everyone. Barbara has said: "It ruined the show. Because [Jeannie] wasn't human. She thought she was, and [Tony] knew she wasn't … I think it broke credibility."
3. Barbara was pregnant during the first season
The first ten episodes after the pilot Barbara was pregnant and had to be covered up more than normal. They just kept adding veils and layers to hide her baby bump as much as possible. Barbara has said: "I looked like a walking tent."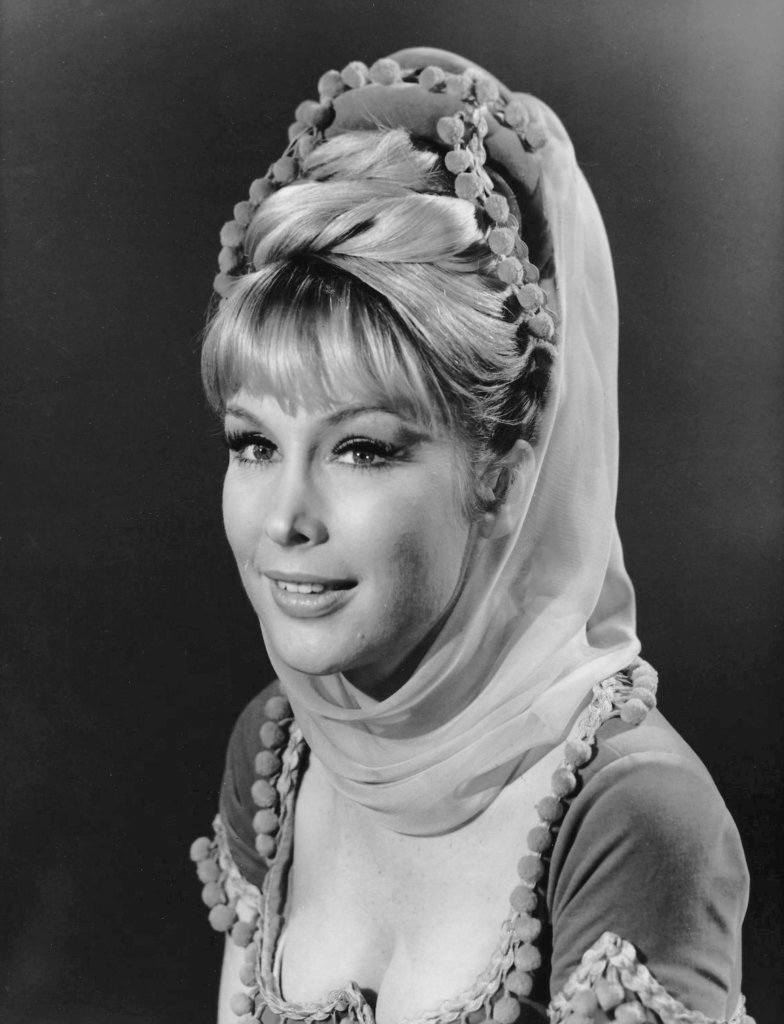 4. Barbara considered herself a lion expert
During the first season they had a lion on set, and Barbara had worked with lions before so she offered the following advice: "You have to stand very still and let the lion smell you. Then, when he's finished doing that, you should lean forward very, very gingerly and stroke him as gently as you can. That way, he'll get to know you and everything will be fine." Larry was not interested in bonding with the lion, and when he came on set the lion roared at him and he and some of the crew bolted.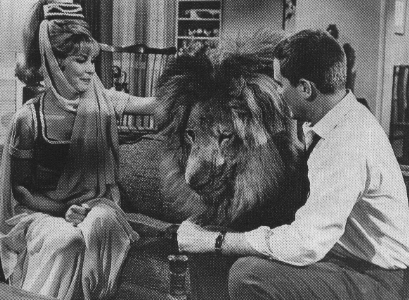 5. Convicted murderer Phil Spector was on the show
Phil Spector was a big record producer in the 1960s and 70s before heading to prison for shooting actress Lana Clarkson in 2003. He made a cameo on the show playing himself when Jeannie had musical aspirations, and poked fun at the industry in general.
6. The Monkees show made some Jeannie references
The Monkees show only lasted a couple seasons, but while it did it referenced Jeannie a couple times. One time the guys found a genie lamp and a genie came out, which led Davy Jones to respond: "Imagine that—wrong show!" Cue the laugh track.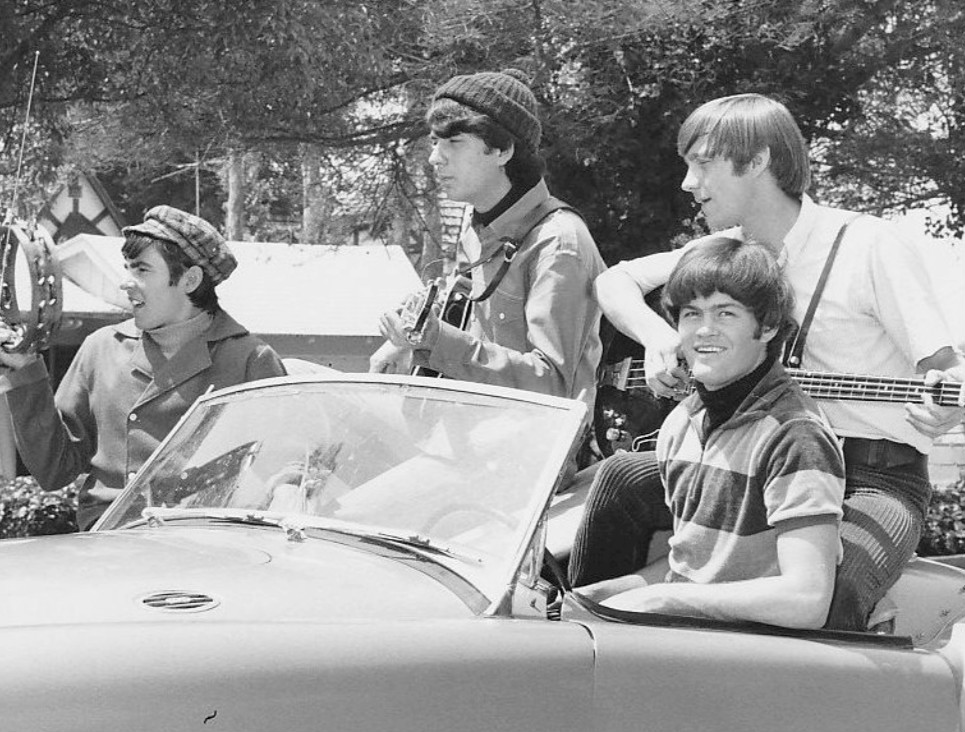 7. Larry Hagman handled his frustration with booze
Apparently Larry got frustrated with how the show was written quite often, so he drank away his sorrows. "He started every day at the studio drinking vast quantities of champagne, and in between scenes, he sequestered himself in his dressing room, smoking pot and downing yet more champagne, all in the interests of maintaining a calm serenity." He underwent a liver transplant in 1995, no doubt due to his heavy drinking.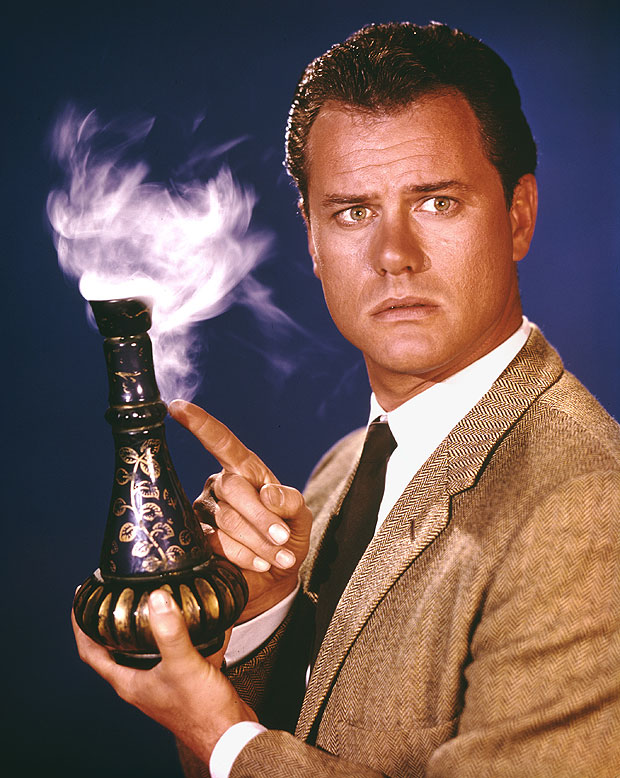 8. They changed the storyline of why Jeannie was a genie
Initially the story went that Jeannie was turned into a genie and stuck in the bottle for refusing to marry Blue Djinn (who was played by her real life husband), but later they changed the story to say that Jeannie and her family had always been genies.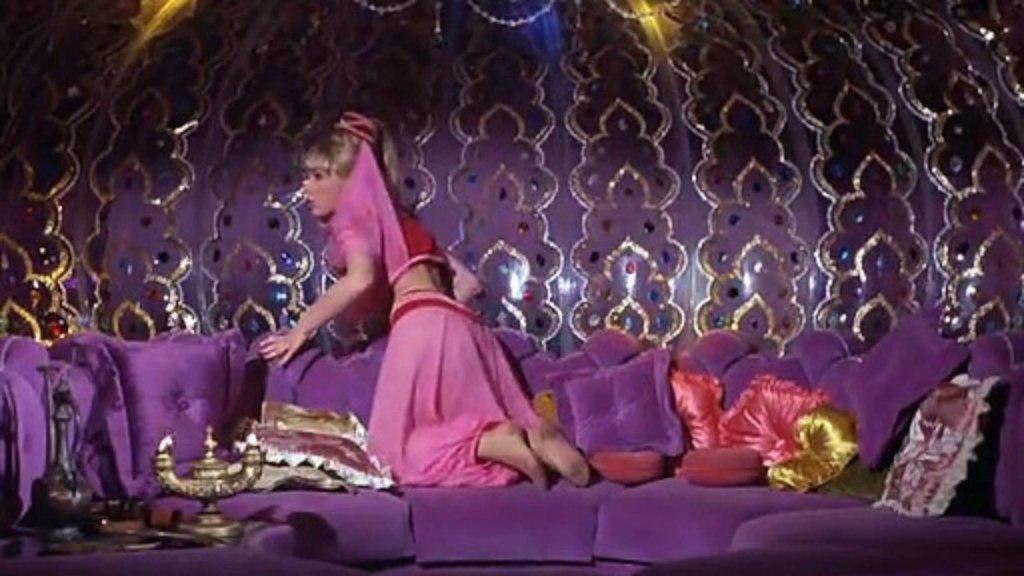 9. The cast met Buzz Aldrin before the Apollo 11 mission
Since Larry's character was an astronaut, the cast once took a visit to Cape Canaveral Florida where Barbara-in costume-launched a weather rocket. Then they went to a dinner where Barbara was honored and got to meet Buzz Aldrin, the second man to walk on the moon.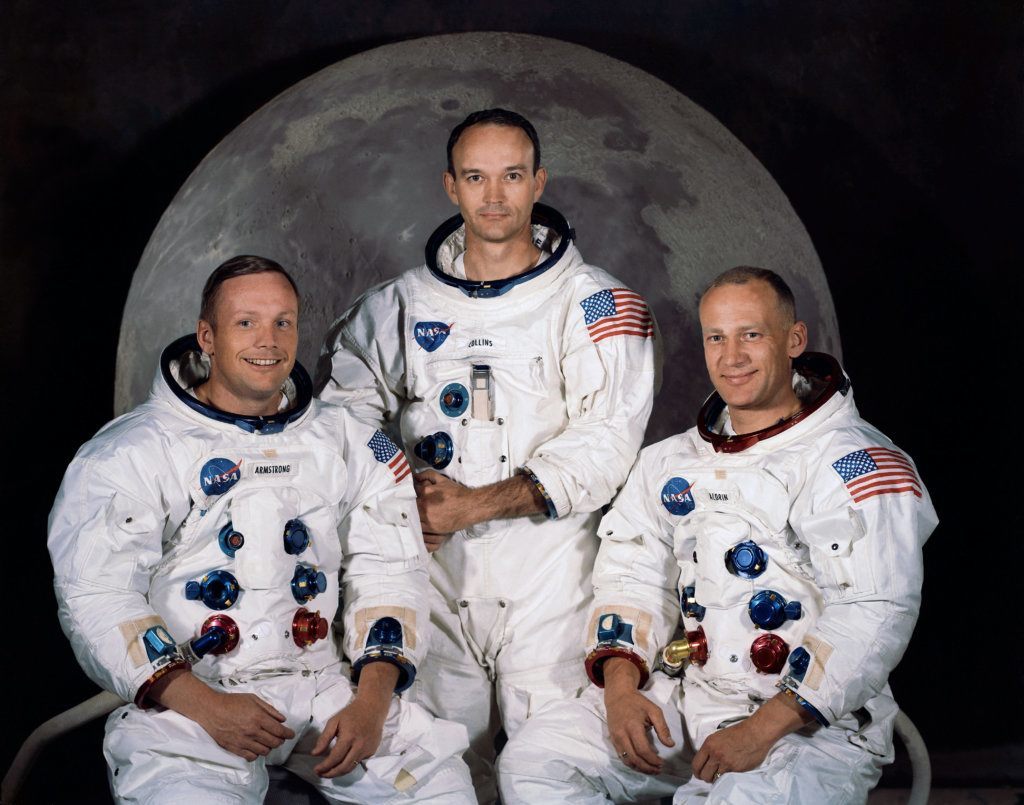 10. The show was the last network series to be filmed in black and white
The first season of Jeannie was the last network show to film in black and white, and they did so because of budgets. The network actually didn't think the show was going to work out so they didn't want to spring the extra bucks for the color film.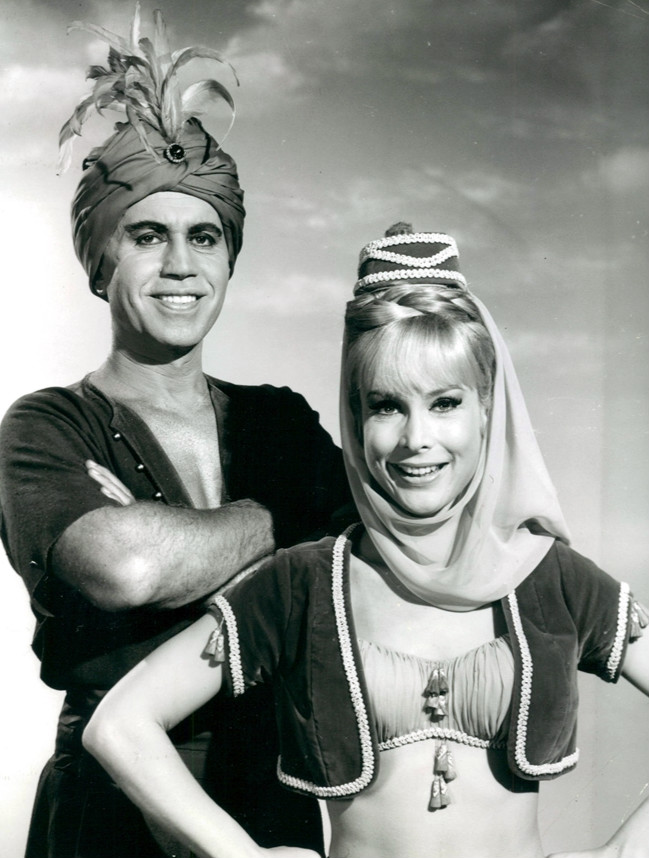 11. Barbara wasn't allowed to show her bellybutton
Thanks to the censorship rules at the time, the Jeannie costumes had to cover Barbara's bellybutton, and her pants were supposed to be thick enough that her legs didn't show through. Cleavage however was fair game.
12. They also had some strict bedroom rules
Also because of the censorship rules, Jeannie and Tony could not be shown going into the bedroom together with the door shut behind them. This rule even held when she turned into pink smoke, she had to be shown leaving the room only.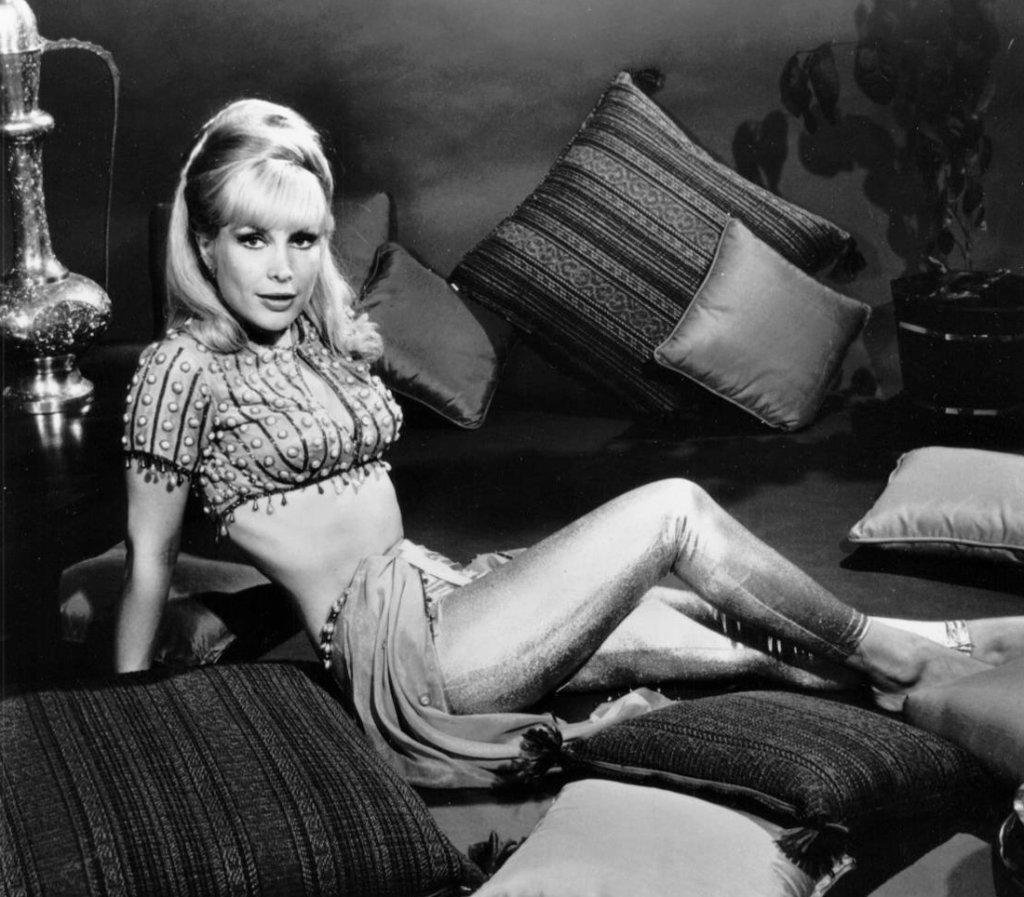 13. Barbara also player Jeanie's evil sister
Jeannie had an evil dark haired twin sister who was also named Jeannie, and some people didn't realize that Barbara Eden played that role as well. She would get fan mail asking who the dark haired actress was.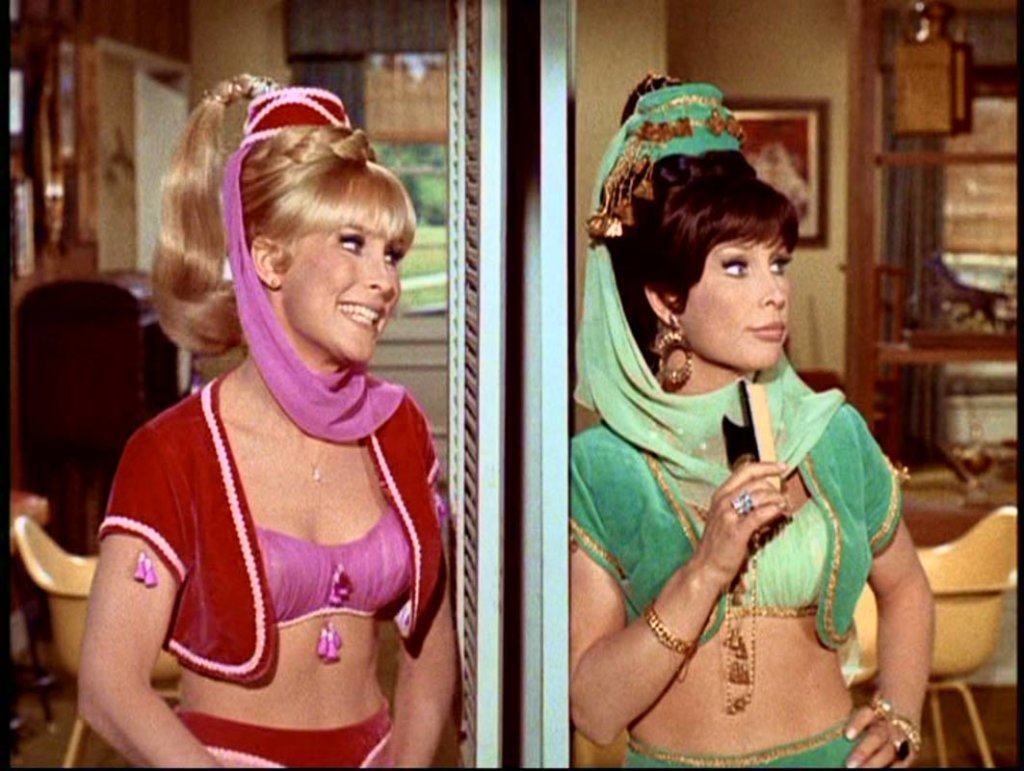 14. Larry Hagman found out the show was cancelled from a security guard
No one mentioned to Larry Hagman that the show had been cancelled until he came back from a South American vacation and went to grab something from his dressing room. The guard at the lot informed him that there wouldn't be a sixth season. Larry's reaction was "Wow, that was real Hollywood."
15. Barbara and Larry worked together again on Dallas
When Larry was playing J.R. Ewing on Dallas, Barbara came on the show to play his ex lover who tried to get money from him over a botched abortion. The storyline clearly didn't pay homage to their past on Jeannie, except for the fact that Barbara, as Lee Ann De La Vega, mentions that her maiden name was Nelson.