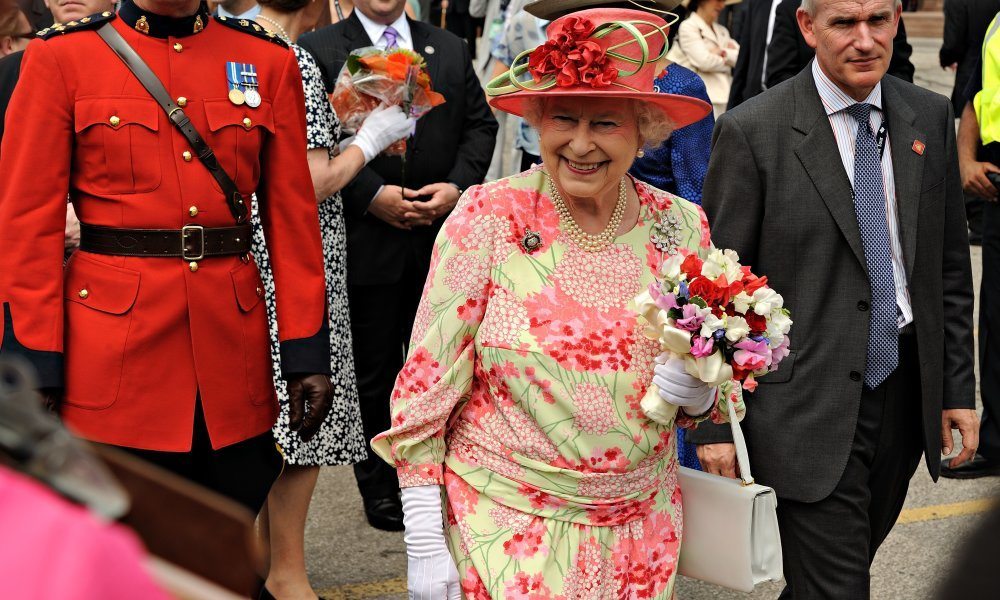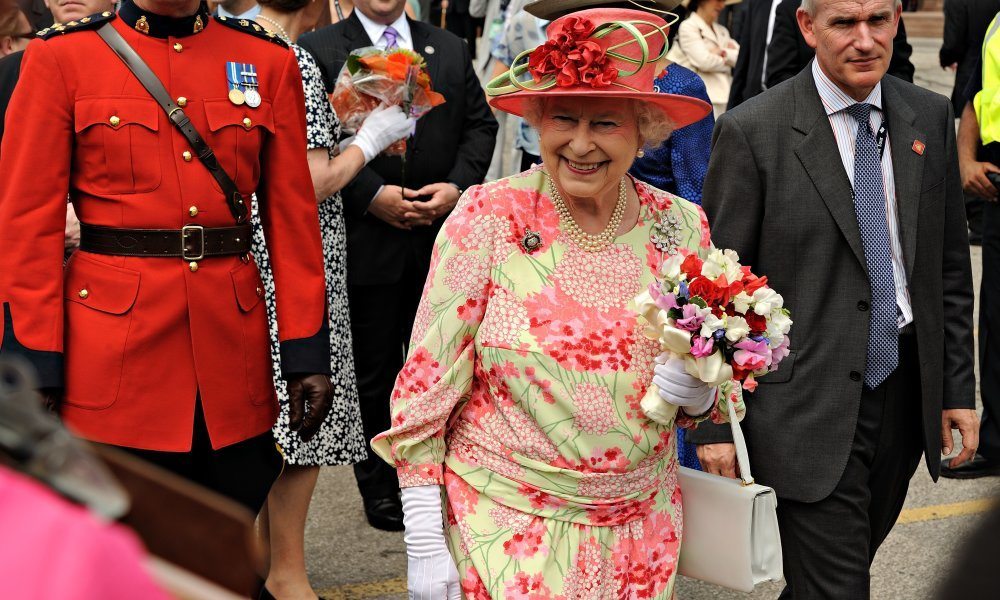 September 9, 2915 marks the day that Queen Elizabeth II surpassed Queen Victoria to become the UK's longest reigning monarch. The 89 year old has now reigned over 23,226 days, during which time she has made countless public appearances and donned a wide array of fetching outfits. Never known as a style icon, she's mostly opted for bright, block colors, pearl necklaces, white gloves, hats and occasional plaid skirts. Call it grandmother chic. Liz may not have rocked it like Kim Kardashian throughout the years, but she has occasionally stepped out with a little more flair than her usual prim and proper look. Check out these royal duds, some only a corgie could love. No disrespect intended, just a little lighthearted fun about a lady who has more important things to do than worry about fashion!
1. A Fashion Don't
We can forgive the Queen for this poofy-sleeved frock warn at a state banquet with the Reagans. Doesn't anyone who lived through the 80s have a similar outfit they'd rather forget?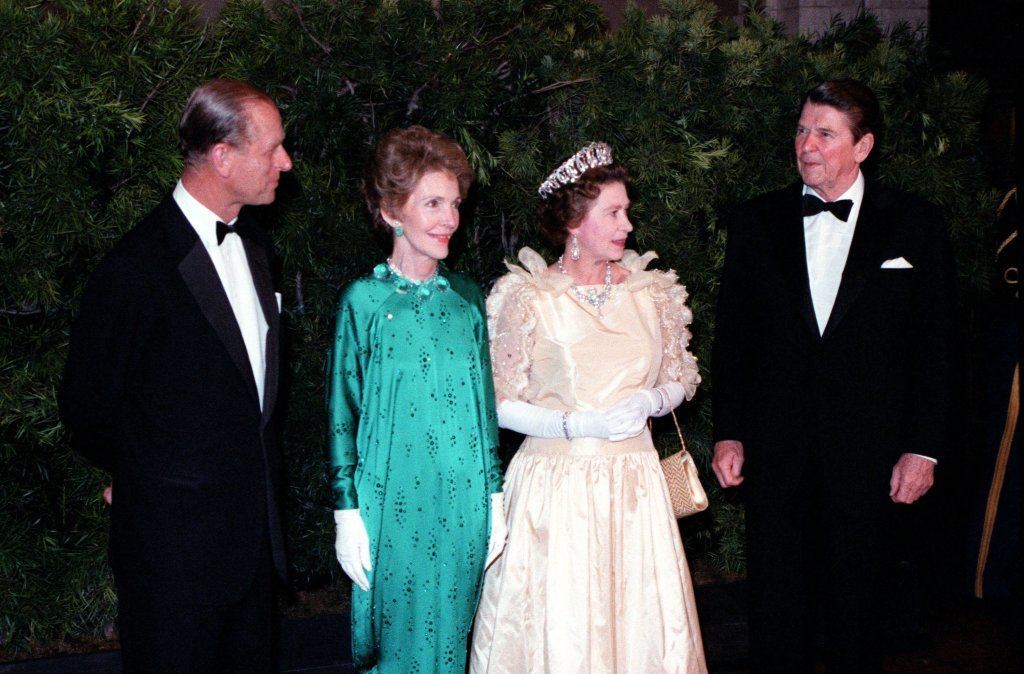 2. What Was She Thinking?
We don't care how chilly it may be outside, the furry hat is never a good look. It almost looks like she had a mishap at the hairdressers or an encounter with a rodent. Perhaps she was trying to pay homage to her guards who wear a similar fuzzy headpiece.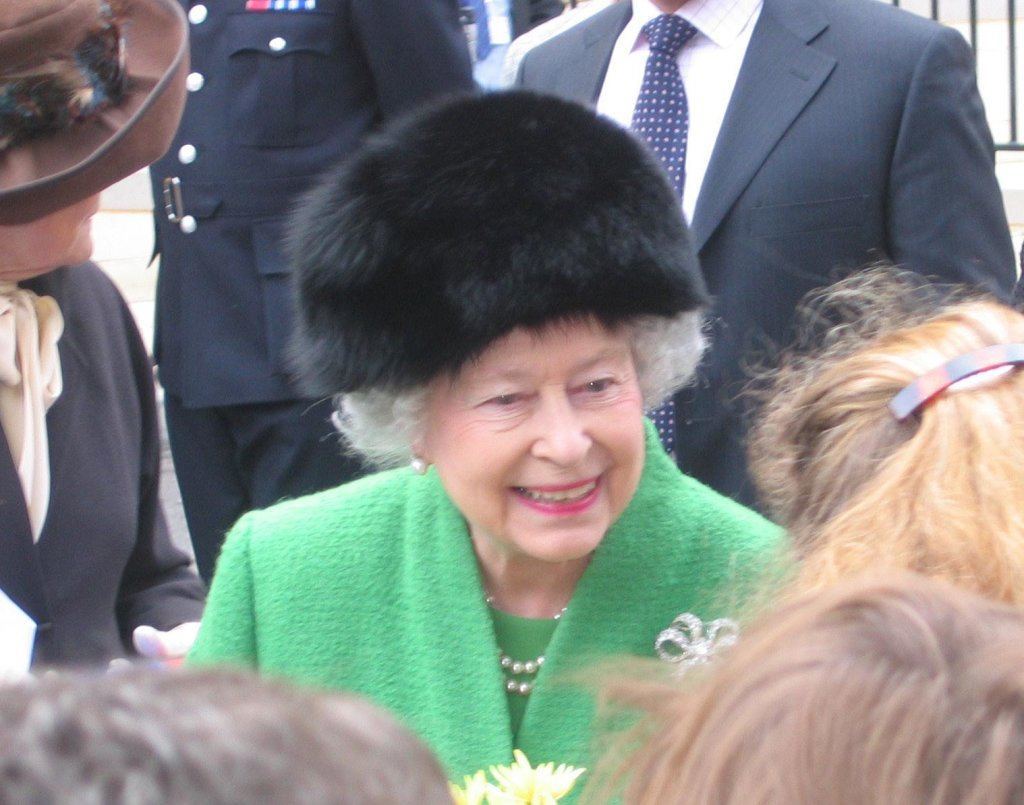 3. Wowza, Your Majesty!
We have no idea what Elizabeth was chatting to King Gustav of Sweden about back in 1954, but her wild pattered dress was certainly something to talk about. Bold choice, young Liz! The "Peau de faille" acetate fabric coat was by Robert Perrier for Norman Hartnell.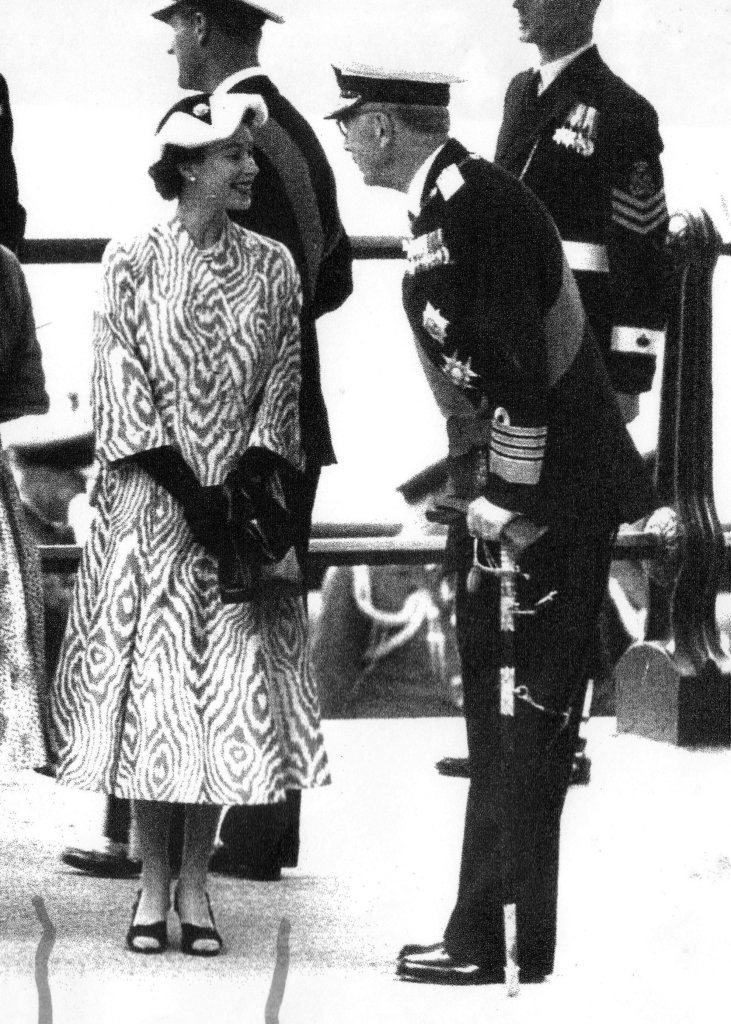 4. Bling Overkill
While the embroidered white gown is quite elegant, we have to rule against the jewelry. Too much bling. We'll let the crown slide – she's the Queen, after all – but the necklaces, broaches and earrings are overpowering. Sometimes less is more, dear.

5. Posy Pattern
We have to hand it to Liz for making this bold choice on a visit to Toronto in 2010. Rather than her usual solid colors, she burst forth in a floral patterned dress that almost looks Chinoise. The pink hat with light green ribbon was a perfect way to top off this summer look. Not sure about the gloves in July thing, but perhaps when you have to shake a lot of hands, this just becomes a de facto fashion choice.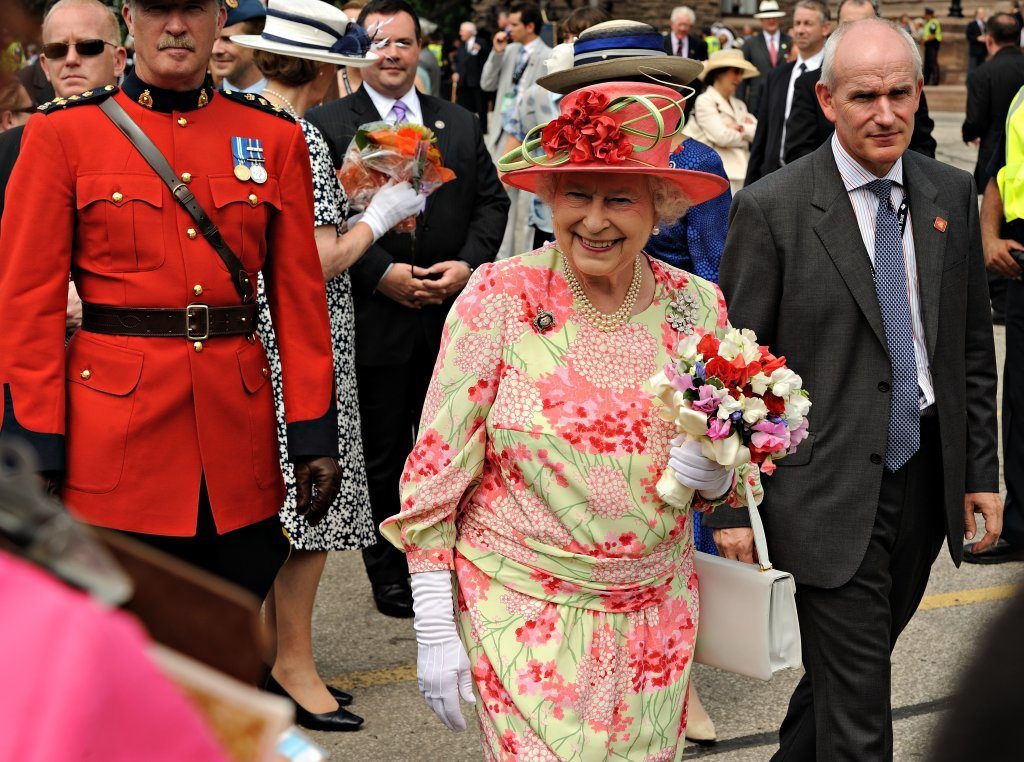 6. Statuesque at Madame Tussauds
We're not sure if it's the whitewashed dress or the sallow yellow sash, but something about this pic makes her look kind of stiff and waxy.
7. Pretty in Pink
Way to rock hot pink, Liz! There's nothing matronly about this bright hue. It's a perfect choice to avoid being trampled on at the racecourse.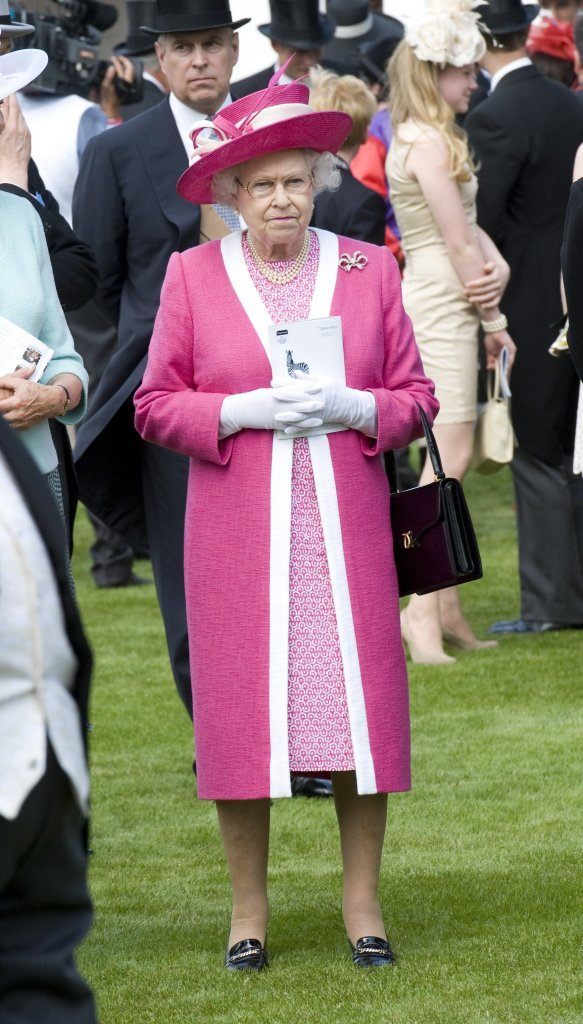 8. Sunshine and Smiles
Here she is with her favorite accessory, the Duke of Edinburgh – aka her husband, Prince Phillip. Her sunny disposition is evident in that cute yellow coat-dress and matching hat.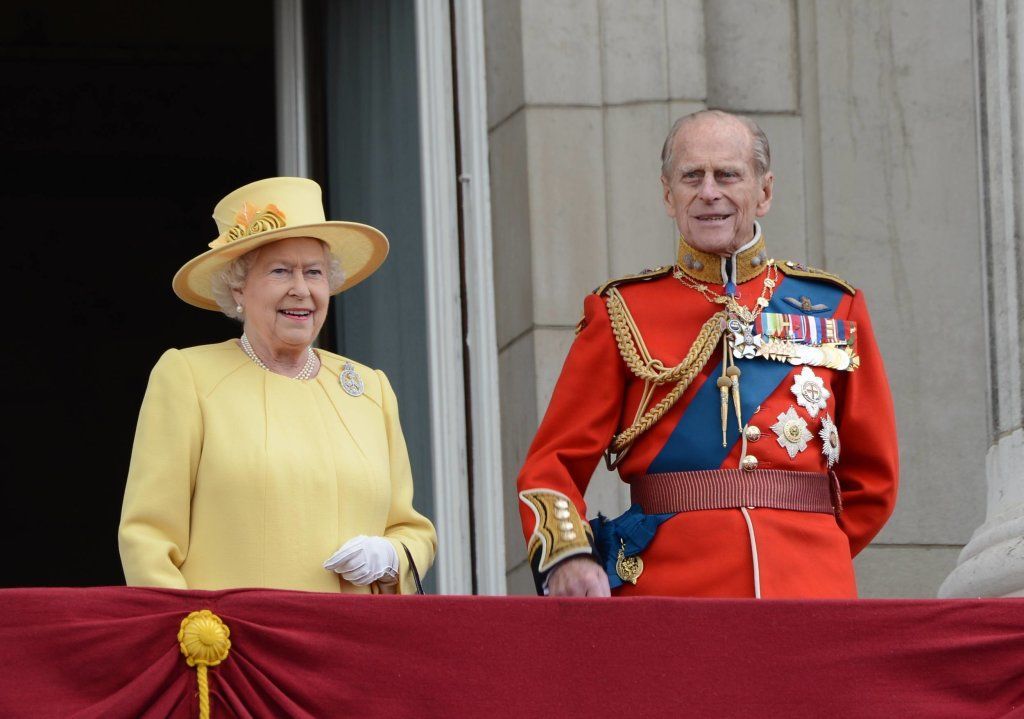 9. Who wore it best?
Our vote's for the Queen. All three generations went for blue at this visit to Fortnum and Mason, but Liz's powder blue suit with gold buttons and her ever-present black handbag looks a lot smarter than what Kate or Camilla wore. Booyah!