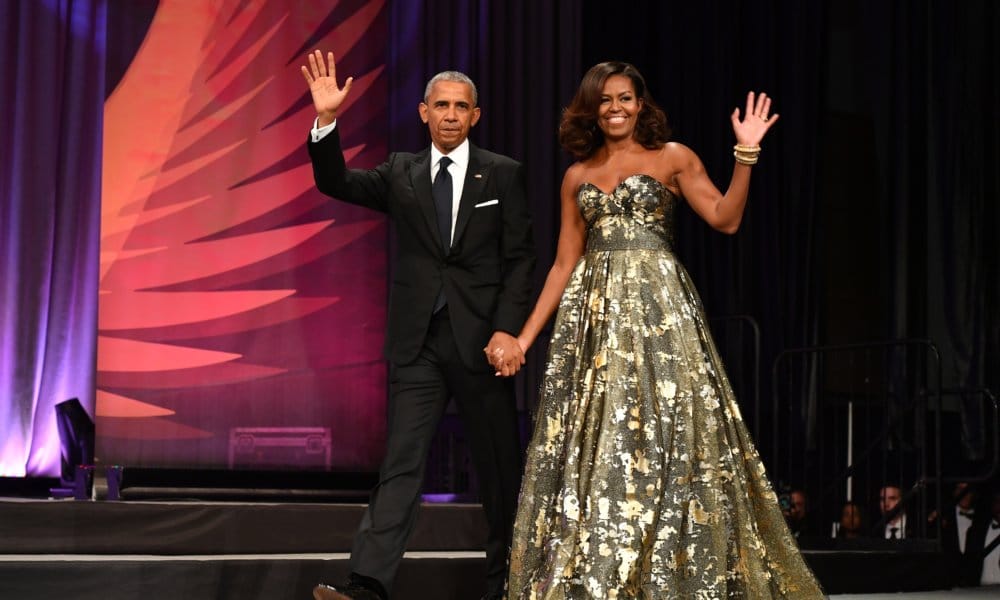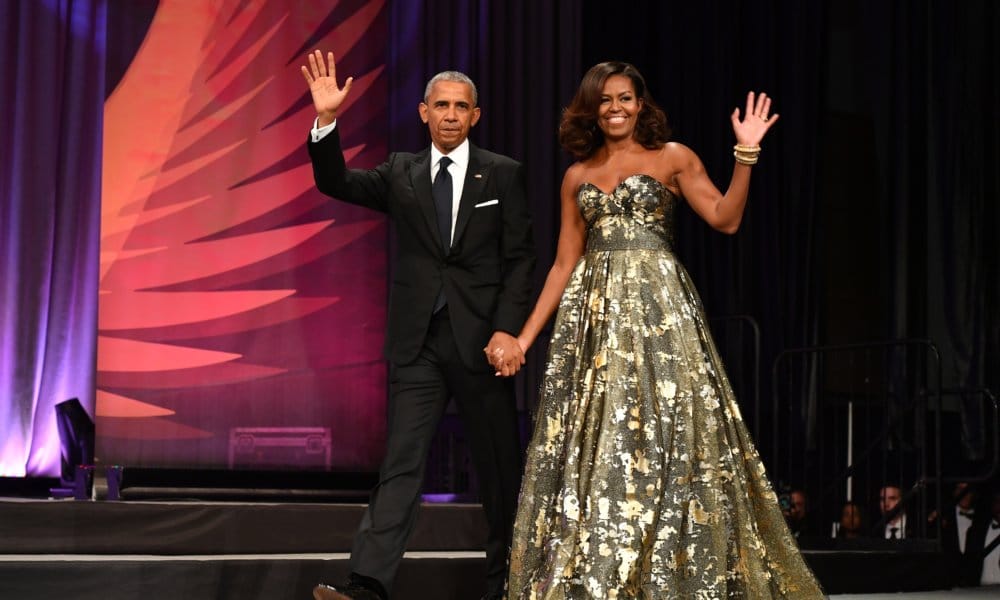 America has witnessed a long line of First Ladies who've dazzled us with their impeccable taste in fashion. Trends come and go, but these women have figured out the secret formula to look their best at all time: classic silhouettes and timeless styles. Check out our list of some of the best fashion throughout the years from some of America's most stylish First Ladies.
1. Mary Todd Lincoln 1861
First Lady Mary Todd Lincoln looks like a princess in this stunning ball gown. The off-the-shoulder style accentuates her decolletage, while the cinched waist draws attention towards the yards of beautiful ruffle trim at the hem. Not too many women can pull off cascading floral motifs, but Todd nailed this design element like a boss.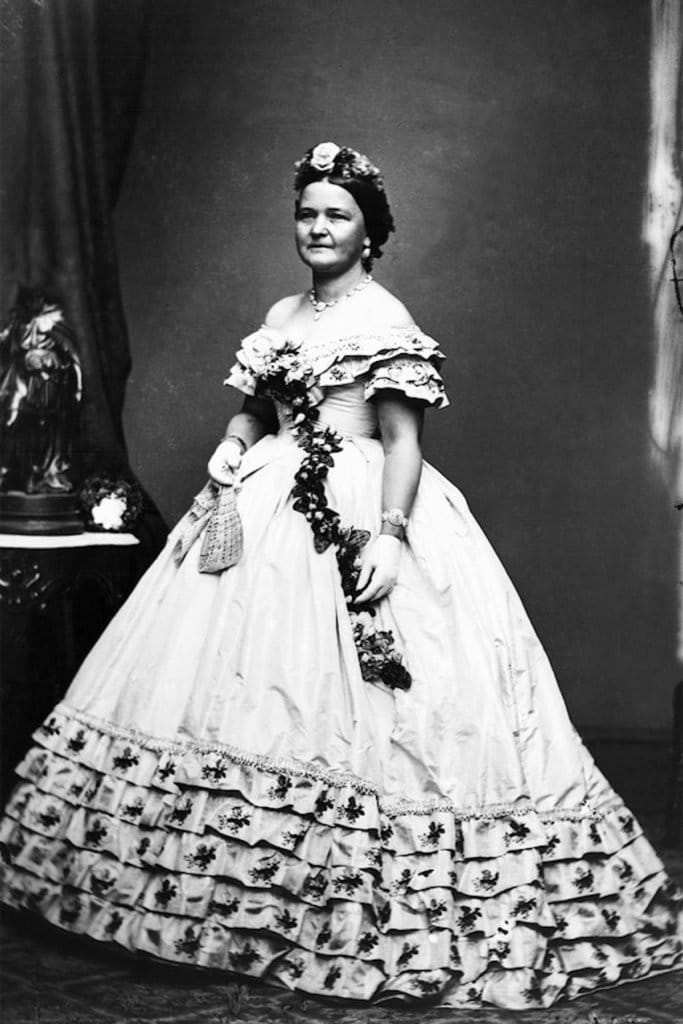 2. Helen Taft 1909
First Lady Helen Taft went with a demure gown for the 1909 Inaugural Ball. The lace gown has a square neckline, three-quarter length sleeves, and a sweeping train that definitely made her entrance into the ball an unforgettable one. But this outfit is all about the accessories. The matching lace choker and the dainty gloves are beautiful additions to her entire look.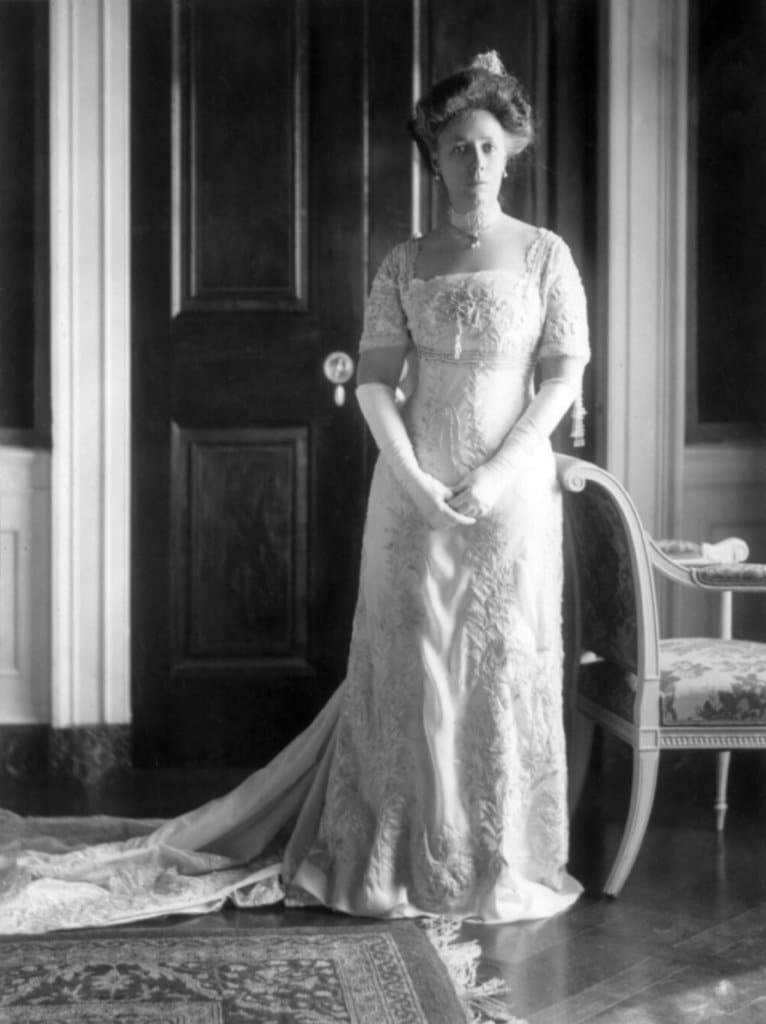 3. Eleanor Roosevelt 1915
This portrait from the FDR Presidential Library shows First Lady Eleanor Roosevelt in all her fashionable glory. Taken in 1915, this photo proves that when it came to fashion, Roosevelt wasn't afraid to take risks. This beautiful dress has delicate lace insets and flower motifs to bring out the feminine details.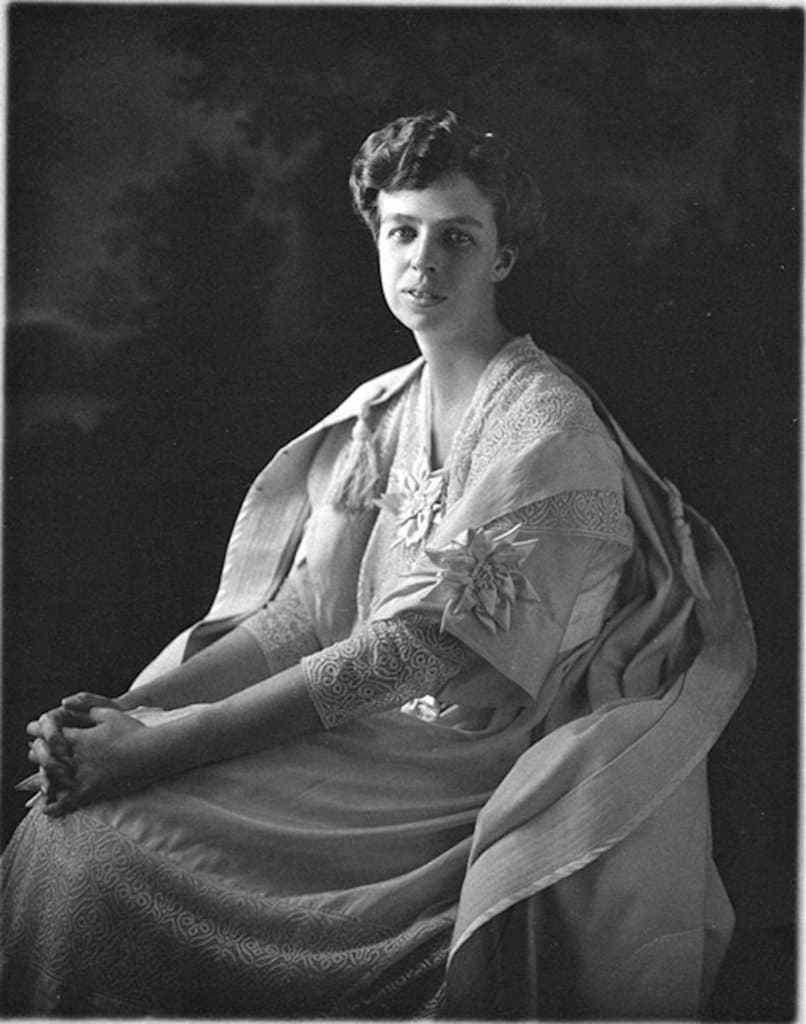 4. Jacqueline Kennedy 1961
When it comes to First Lady fashion, we couldn't complete this list without the style maven herself: Jacqueline Kennedy. Her impeccable style has been emulated for years, and rightfully so. This particular photo taken in 1961 shows Kennedy donning a beautiful bateau neckline gown with a gathered waist. The hemline of the dress is high enough for the world to catch a glimpse of the First Lady's stylish footwear. This entire look is perfection from head to toe!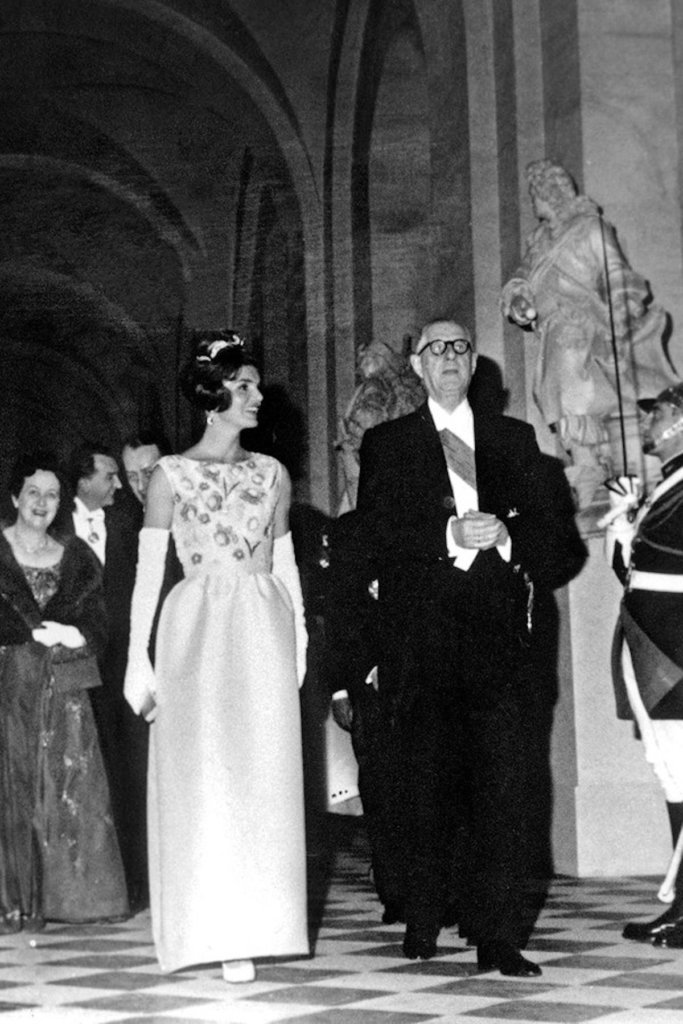 5. Rosalynn Carter 1979
While checking out some produce, First Lady Rosalynn Carter didn't skimp out on her outfit of the day. Even though she's dressed down, she still looks elegant and refined. Her seafoam dress is belted at the waist to accentuate her natural waistline, and it looks like she definitely made good use of those functional chest pockets.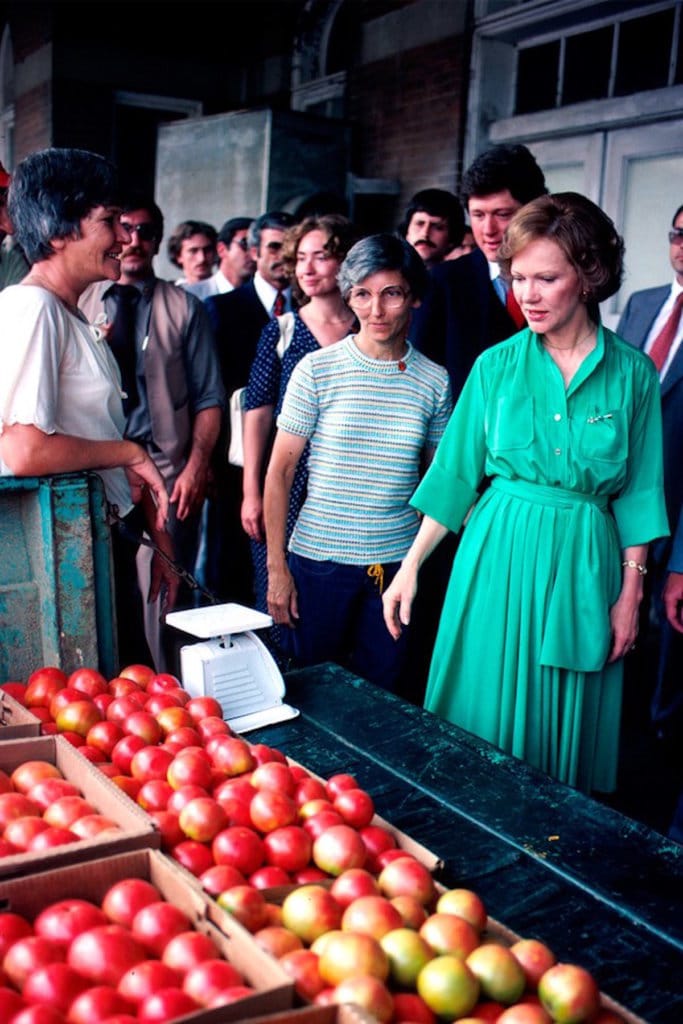 6. Nancy Reagan 1981
Are we sure Chris de Burgh didn't write the song "Lady in Red" in honor of First Lady Nancy Reagan? She's looking absolutely stunning in this fire-engine red knitted dress. The gold details in the buttons and the belt give this outfit a regal aesthetic, and the First Lady's megawatt smile is the icing on the cake.
7. Hillary Clinton 1991
Before hitting her own presidential campaign trail, Hillary Clinton was wowing us with some of the most memorable First Lady fashions. No one could rock a power suit like her, but she really solidified her stance as a fashion icon when she donned this violet sheath dress at former President Bill Clinton's inauguration. The lace overlay was bedazzled with tiny, shiny crystals that lit up the entire room, and the layered tulle overskirt took our breath away.
8. Laura Bush 2001
During the 2001 Presidential Inaugural Ball, First Lady Laura Bush showed up in this stunning red gown that definitely made her the center of attention. The Chantilly lace gave the dress a big dose of femininity, and the slight flare at the hemline allowed the dress to slide and delicately dance off her legs with each and every step.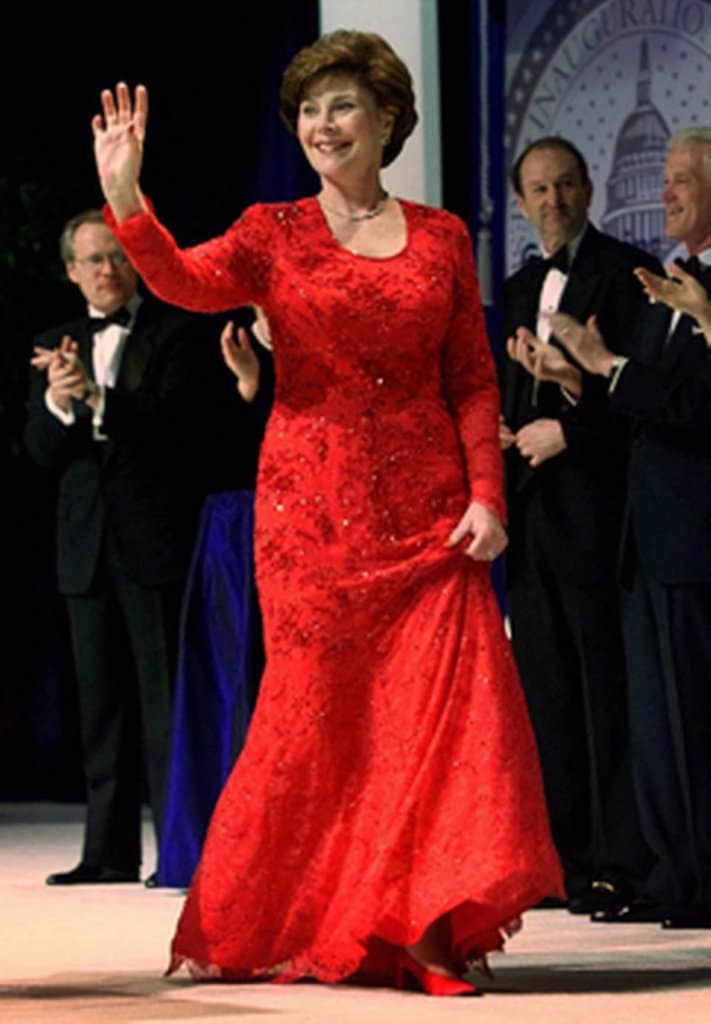 9. Michelle Obama 2013
First Lady Michelle Obama was the epitome of a style icon. At the 2014 Inaugural Ball, the crowd was speechless as she walked into the event wearing a ball gown created just for her by newcomer designer Jason Wu. The halter-style dress was such a hit, it propelled Wu to the top of the proverbial fashion food chain.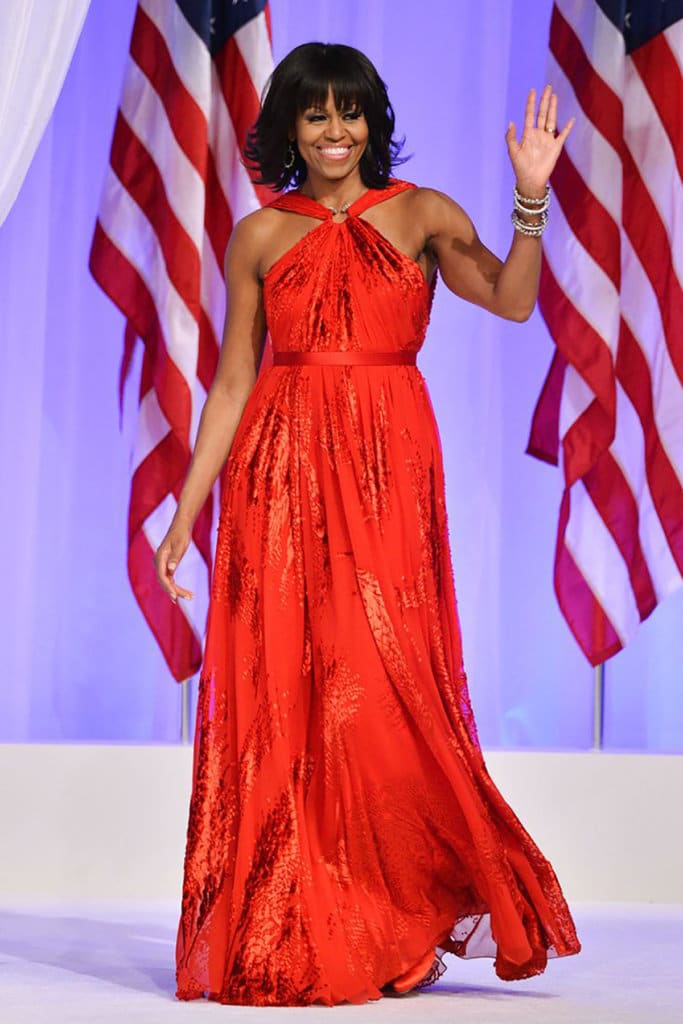 10. Melania Trump
First Lady Melania Trump is still getting settled into her role as being the wife of the President of the United States, but she's already cranking out more than a few glam outfits that have left the world in awe. For the 2017 Inaugural Ball, she showed up in a tailored, off-the-shoulder gown that fit like a glove. The ruffle details made this simple and chic dress a work of art, while the thigh-high split allowed just enough movement for her to effortlessly twirl around and enjoy her first dance with President Donald Trump.