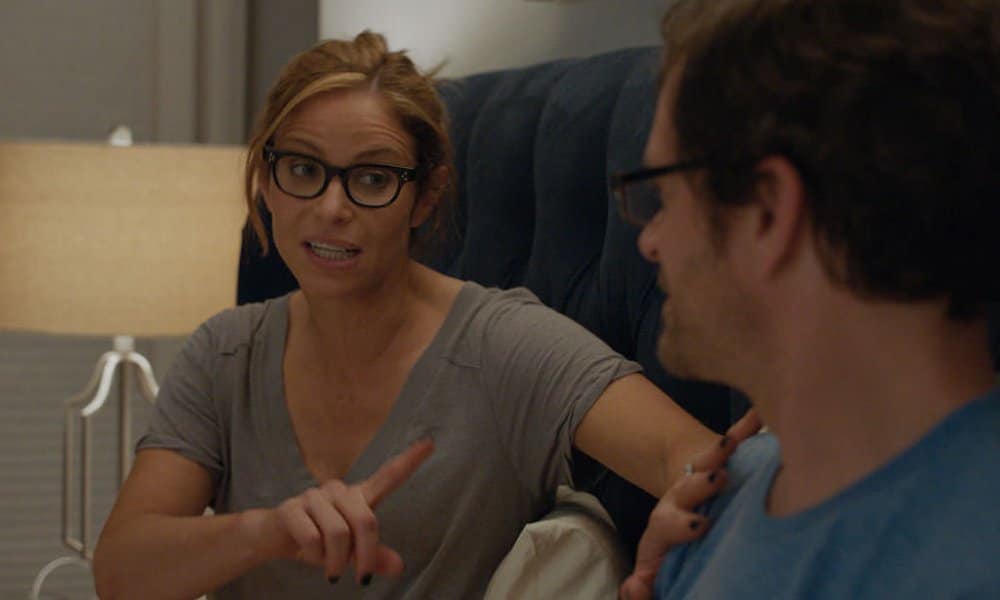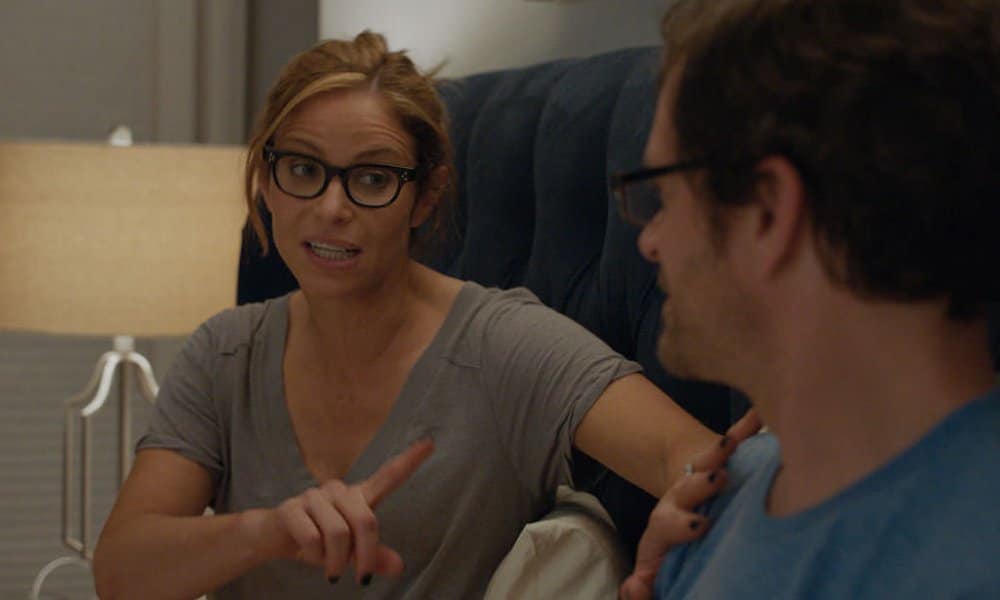 Over the summer, cable outlier TruTV took a break from their busy schedule of playing reruns of COPS to dabble in the increasingly crowded pool of sparse indie comedy. The most surprising thing about the channel's continued foray into comedy was that it's newest stab at comedy fame — I'm Sorry — is legit funny. Told from the perspective of a female comedian in Los Angeles, I'm Sorry mines new territory when it comes to modern parenting, relationships, and, you know, butt stuff. Series star Andrea Savage might not be a household name, but that very could change, because I'm Sorry absolutely rewards its viewers time and energy. If you haven't invested a half hour of your time into this kinetic comedy, you're missing out. Here are ten reasons why.
1. The Star Is Totally Charming
Ever since she squeezed laughs out of her role as Will Ferrell's only-partially-willing therapist girlfriend, Andrea Savage has been making a name for herself in a variety of high-class comedies. Fans of HBO's Veep might recognize her as President Laura Montez, where she gets a giggle every time she says her name. Anyone who's come to appreciate Savage's straight-faced delivery and nuanced character work will know exactly what to expect in I'm Sorry. As the show's main character, Savage handles the job with ease, effortlessly reigning in the mix of chaotic personalities around her. As the show's producer-writer-star, there's a lot of pressure on Andrea Savage to deliver the goods, and that's exactly what the veteran comedian does in every single episode.
2. Hey, Remember Tom Everett Scott?
If That Thing You Do was the last time you watched something with Tom Everett Scott, you owe it to yourself to check back in on his progress. As Savage's husband, Scott's sheepish delivery is a great counterpoint to his wife's brazen attitude. The innately likable actor has also turned into one heck of a performer, as well. Perhaps most surprisingly, Scott holds his own against some pretty formidable comedic talent.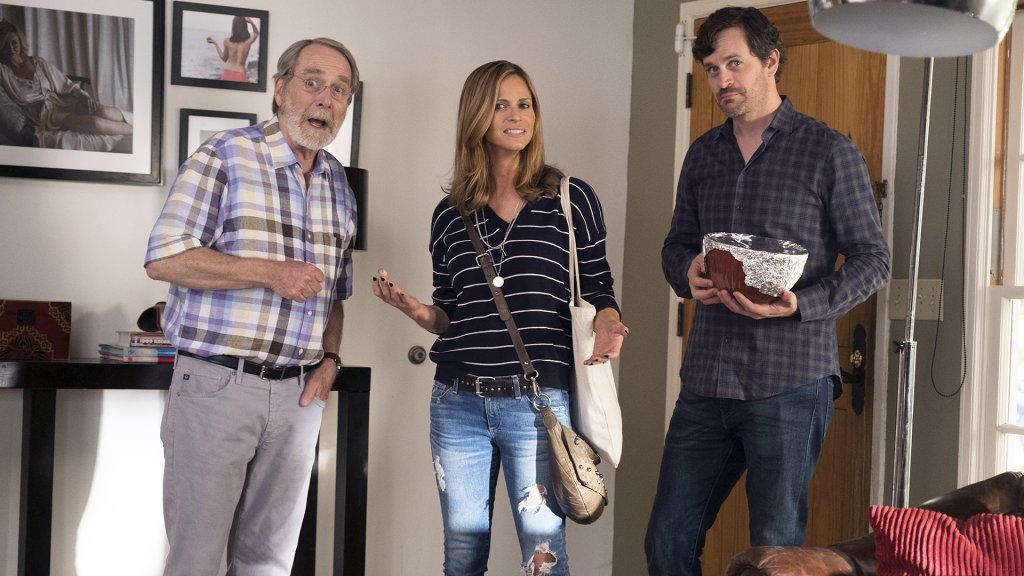 3. You'll Recognize the Rest of the Cast, Too
Andrea Savage, Tom Everett Scott, and their kid (played by Olive Petrucci) form the centerpiece of I'm Sorry, but the background is a revolving door of some of today's best actors and funniest comedians as well as some real titans in the industry. Martin Mull, Lizzy Caplan, Judith Light, Gary Anthony Williams, Judy Greer, Kathy Baker, and Allison Tolman are just a handful of the recognizable faces that have shown up to steal some screen time.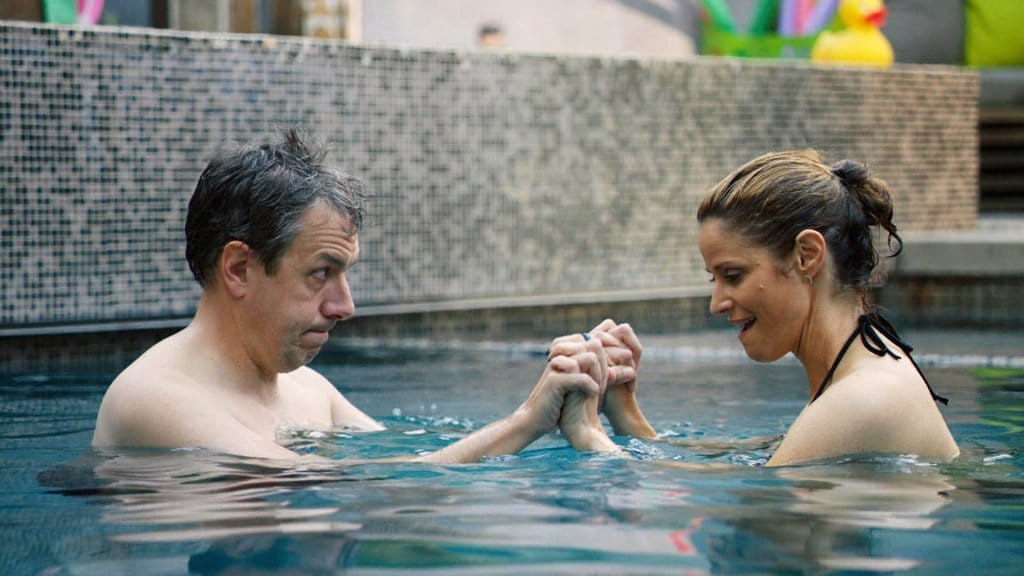 4. Don't Dismiss 'I'm Sorry' Because It's on TruTV
If you've avoided I'm Sorry because of the fact it's on TruTv, then you should know that the channel has undergone a serious makeover. While I'll leave it to you to judge whether or not the rest of the comedy series on TruTV are worth watching (they did give Amy Sedaris her own show, so that's cool), but with I'm Sorry, you can absolutely show up to watch.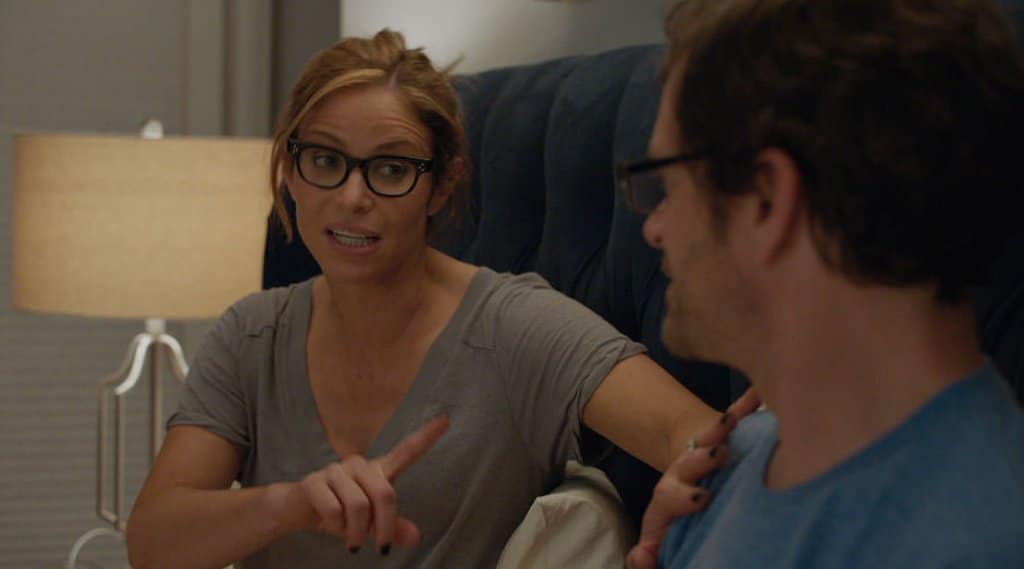 5. It's Super Duper Raunchy
This is not a comedy of manners. Savage's delivery might be dry, but the words coming out of her mouth are just, plain filthy. I'm Sorry uses its course humor to great effect, so if you love a well-crafted dick and fart joke, then this is the place for you.
6. Perfect for People Who Love 'The League'
If you couldn't get enough of the shenanigans of those idiots on FX's The League, then you'll find a lot to love in I'm Sorry. Not only does it feature Jason Mantzoukas (aka, Rafi) very heavily, but League regulars Paul Scheer and Nick Kroll have also made guest appearances throughout the first season of I'm Sorry. The natural, improv-style comedy that's so watchable on The League is in full effect in I'm Sorry. When you watch its cast sit around and shoot the breeze, it's very reminiscent of The League … but back in season two and three when everything was fresh.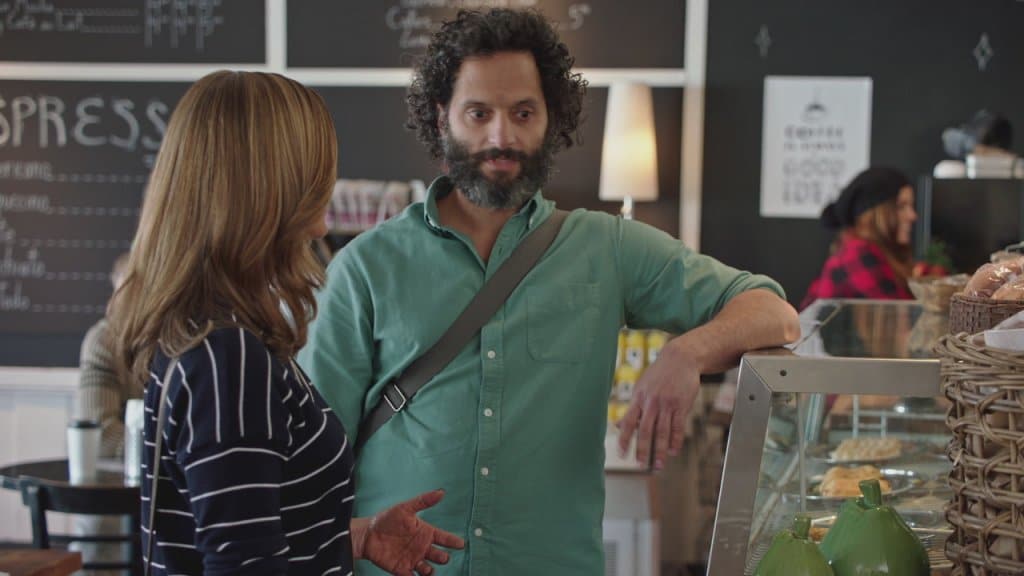 7. It Stands Out Among the 'Indie Comedy' Crowd
Just in case you're a little worried about the term "indie comedy" you should know that the only thing "indie" about I'm Sorry is its slightly unrecognizable leading lady. If you hear that "indie comedy" classification and get a little squeamish, there's nothing but funny hiding between the credits of I'm Sorry. Savage and company never miss a beat in terms of the writing, acting, and true-to-life production design. Seriously, it's all on point.
8. Functionally Dysfunctional
Anyone else getting tired of sharp-tongued comedies whose central characters are huge jerks? Ever since Seinfeld made it work, half-inspired comedies across the board have felt satisfied just throwing some a-holes into a room and having them snipe at each other. That's not the case with I'm Sorry. Sure, the humor is filthy, but Savage's comedy distinguishes itself by filling the screen with people with whom you might actually want to spend some time. It's a small distinction that makes a huge difference.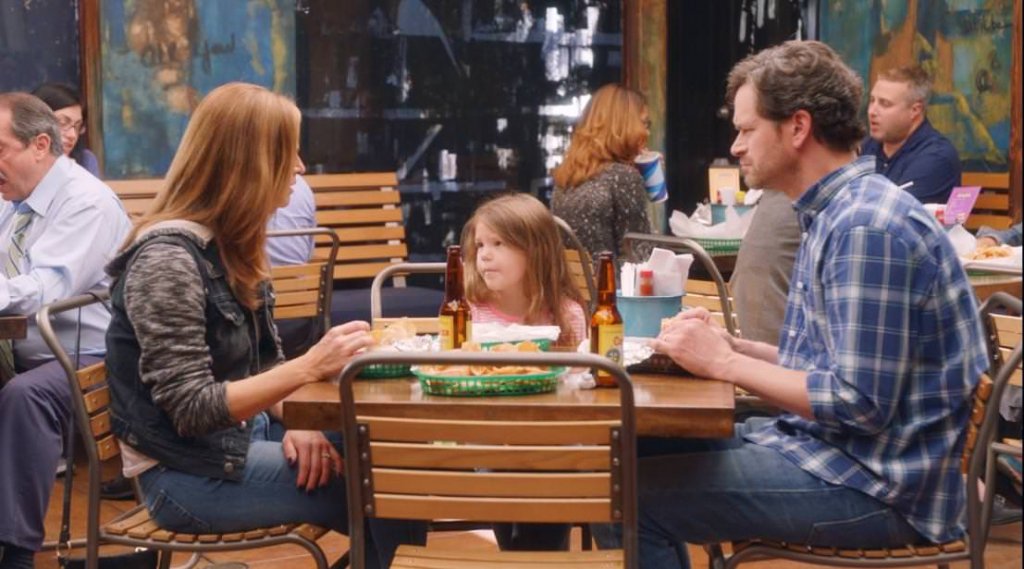 9. These Are the Parents You Know
There's nothing G-rated about the parenting style of Andrea and her husband. They're fully-functioning R-rated adults who are just trying to do right by their kid without becoming totally lame parent-types. It's a struggle with which anyone raising an infant can relate and Savage and Tom Everett Scott make it work.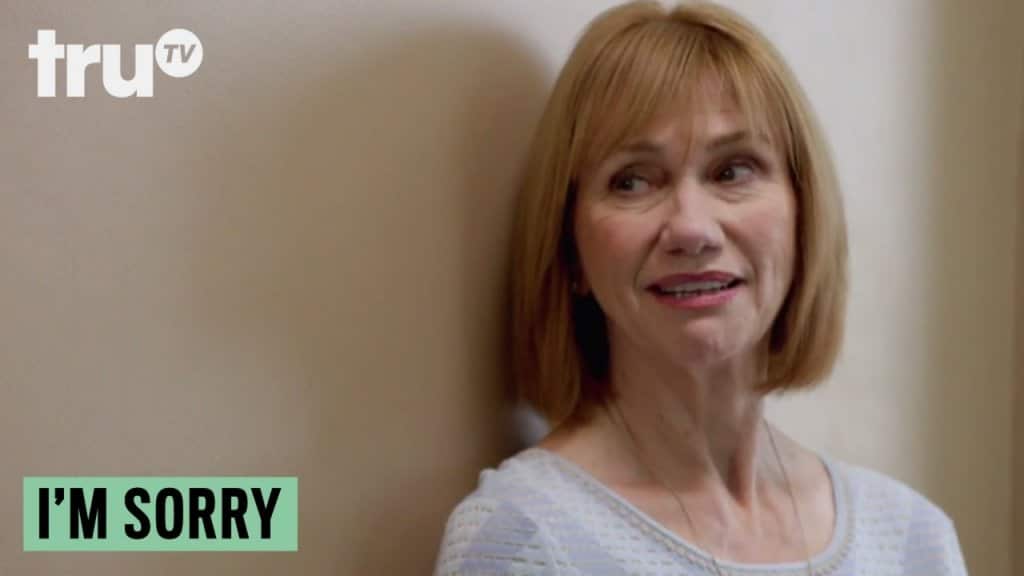 10. The Critics Are Finding Lots to Love
If you're the kind of person who pays attention to that kind of thing, you should know that the critics have been very kind to I'm Sorry. Variety declared that the show's interplay of "nontoxic" relationships was refreshingly funny. The Hollywood Reporter was even more complimentary, saying that, "early on the show feels like it's already in rhythm, which is a nice surprise," and adding, "I'm Sorry certainly deserves a look."