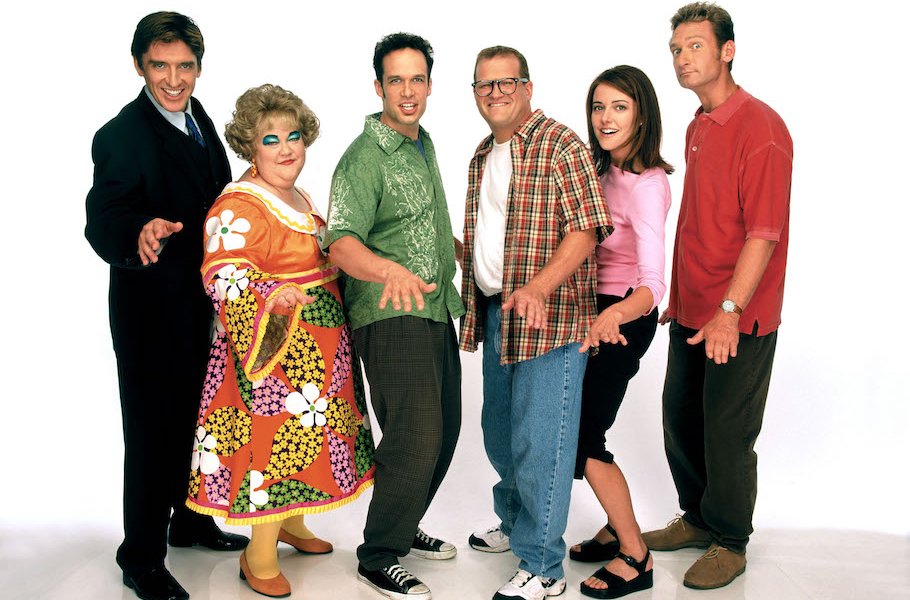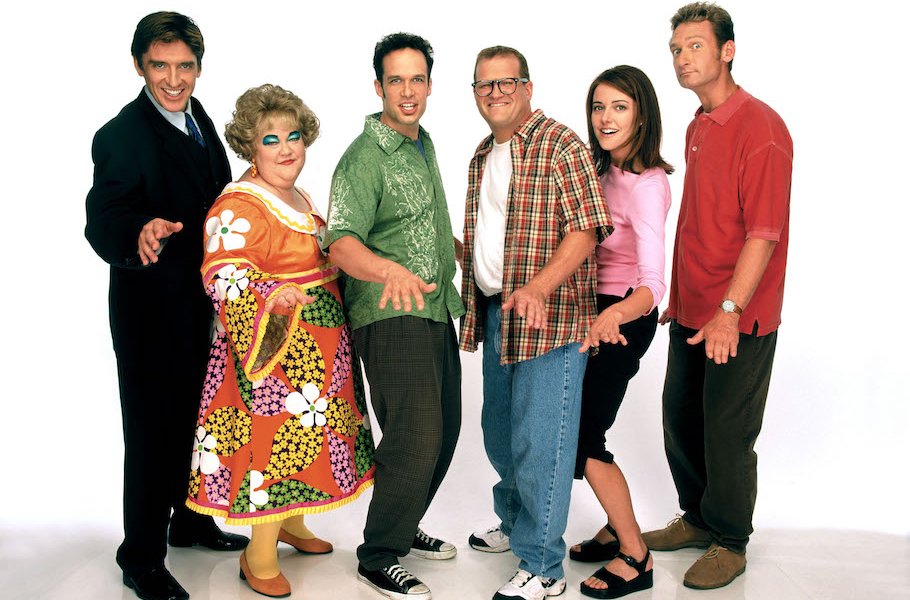 How could we forget the colorful cast of The Drew Carey Show? Comedian Drew Carey was the star, then there was Kate (Christa Miller), Oswald (Diedrich Bader), Lewis (Ryan Stiles), and Drew's hilarious enemy and co-worker Mimi (Kathy Kinney). From 1995-2004, the show provided viewers with relatable, down-to-earth humor and offhand gags that catapulted the series to the top of the Nielsen ratings. If you're feeling a bit nostalgic, go ahead and brush up on your TV knowledge by checking out 14 things you probably never knew about this classic show.
1. The Show Once Had an Interesting Name
Before it was given the title we all know and love, Drew Carey had a different show title in mind. He actually wanted to call it The Drew F. Carey Show. And the "F" stood for…well…I'm sure you can figure it out.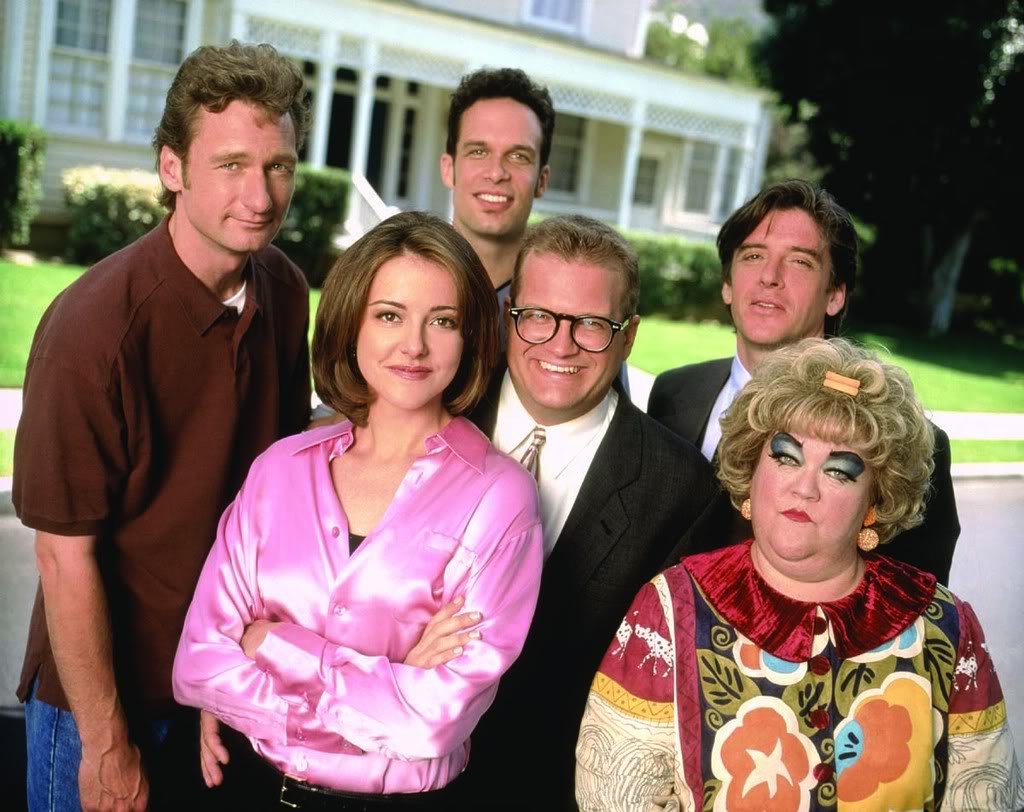 2. His Potty Mouth Launched His Career
When Carey first stepped out on the scene, he tried to be "squeaky clean" by telling PC jokes to his audiences during his stand-up gigs. He would get a few sympathy laughs here and there, but he wasn't really getting the response that he craved. He then decided to kick things up a notch by talking to his audience using the same lingo he would use with his friends every time they would hit up a bar. It wasn't until he stopped censoring his subject matter that crowds fell in love with him. Carey was quoted as saying, "I went from respectable laughs to belly laughs. I got more work and made more money."
3. He Had to Fight to Get Fart Noises on the Air
Carey was always pushing the buttons, and it turned into a constant battle with ABC. The network was always asking him to tone down the profanity, especially since the show debuted during a primetime time slot. In one episode, Carey wanted a series of fart noises to be played in a scene that featured the character, Kate, but the execs weren't having it. They thought the fart noises "sounded too juicy." After a lot of back and forth, Drew finally got the juicy farts featured on the episode.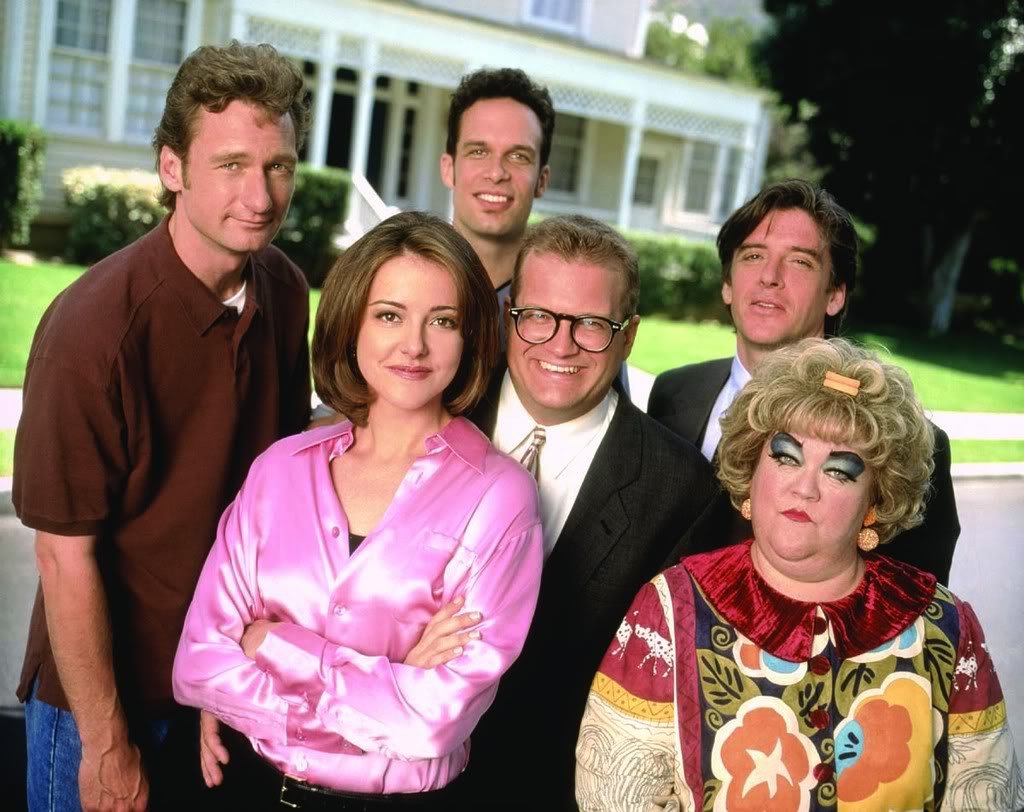 4. He Slept in His Car Before Launching the Show
Carey's life wasn't always full of glitz and glamour. He began his stand-up career in Cleveland back in the late-80s, but when his career began to stall, he decided moving to Los Angeles was the jumpstart he needed. Once he arrived in La La land, he battled depression for three years. He broke up with his girlfriend and was forced to live out of his car up until he made an appearance on The Tonight Show that changed his life forever.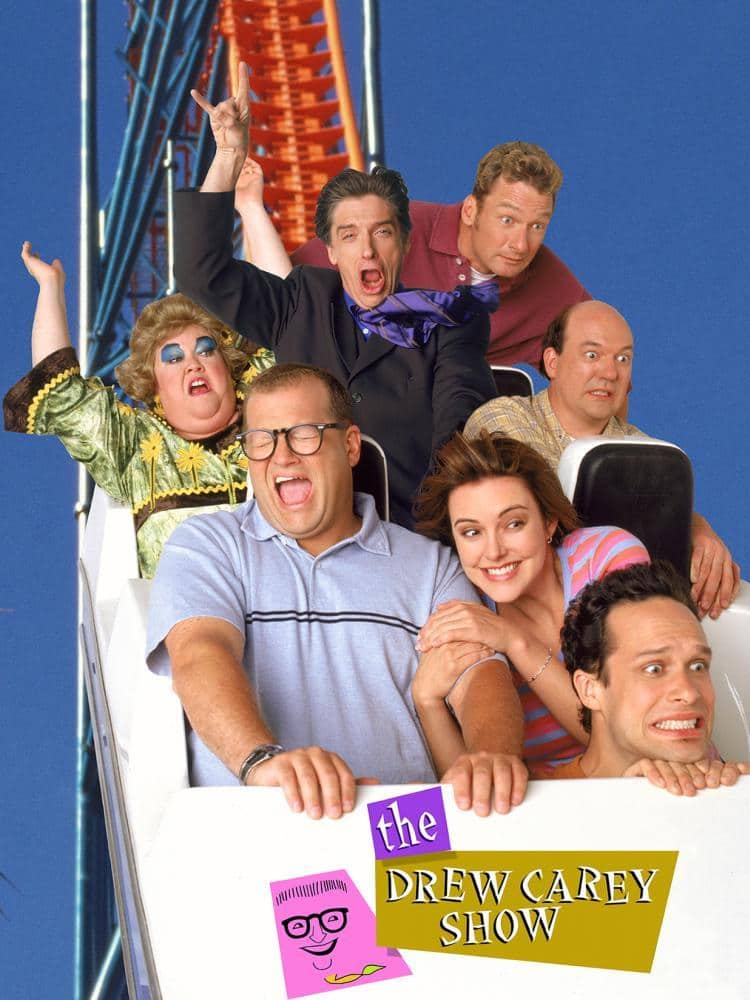 5. Kathy Kinney Always Avoided Auditions
Kathy Kinney avoided auditioning for roles that called for "heavy girls" because she didn't want to be typecast just because of her weight. She would lose weight here and there unintentionally, and she was always told she would "diet herself out of a career." She would always fire back with, "I'm losing weight, not my talent." Thankfully, she found an ally in Carey who treated her like she was more than just the size of her clothes.
These days, Kinney has a unique career as a YouTube star! You can watch one of her videos where she reads a children's book down below.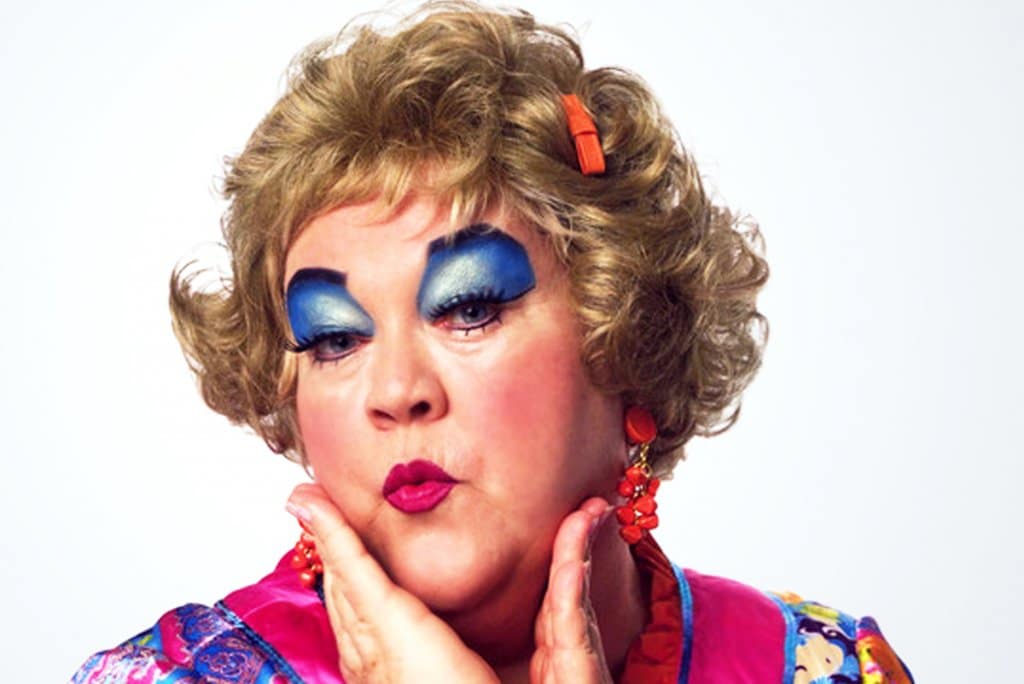 6. Playing the Lead Role Was a Breeze
It was easy for Carey to play the lead role because all he had to do was be who he was! He wanted the character to be tailored to him, so he made sure he had a "white-collar job with no authority and a bad boss." As for his appearance, he wore the same glasses he was issued when he joined the Marines, and kept his hair in a buzz cut because that's the way he always wore it in real life.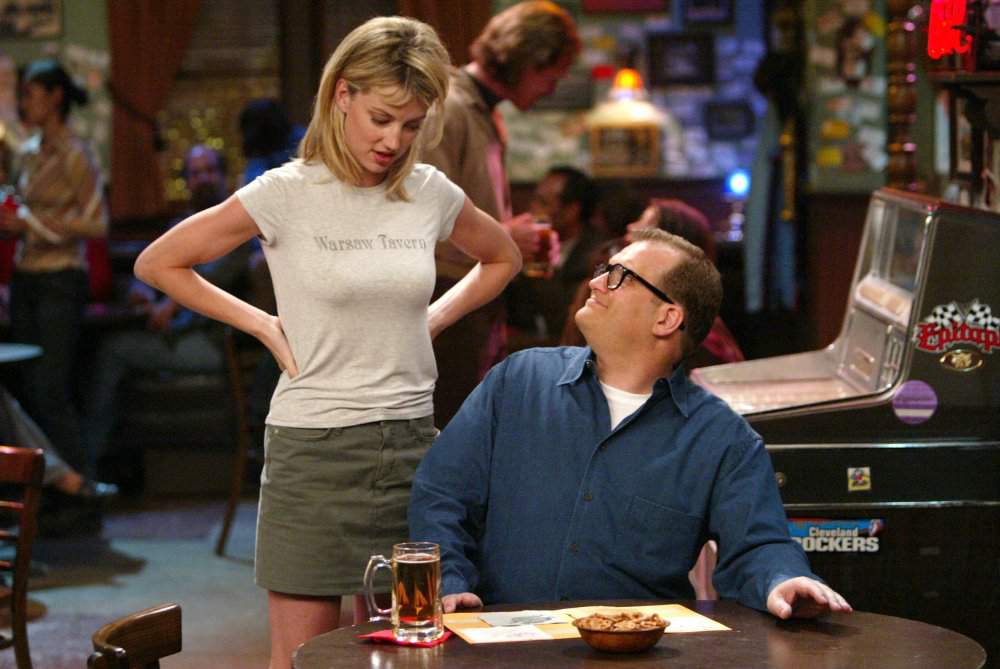 7. He Begged for Mimi to Call Him a 'Butt Wipe'
Censorship came into play once again when Carey begged ABC to allow an inappropriate joke to make it on air. In the scene, Mimi was supposed to call Drew a "butt wipe." But ABC wasn't giving in this time around. Instead, Carey was forced to settle on the word "butt weasel" instead. It kind of has a nice ring to it, don't you think?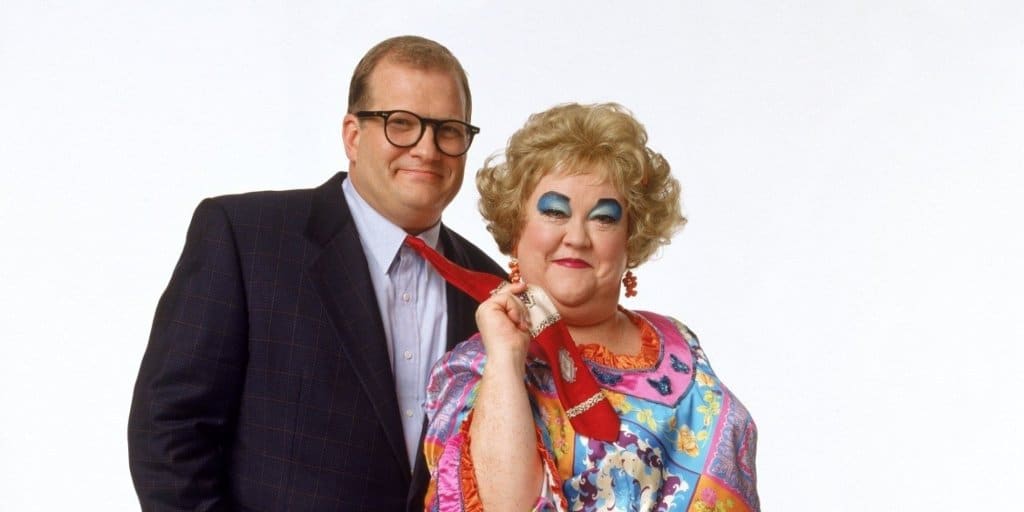 8. Carey Handpicked His 'Mate'
Finding an executive producer for the show who understood his vision was one of the hardest things Carey had to do. He "courted" a few people, but none of them were a good fit. When he finally met Bruce Helford, he knew he had found his "mate." The two sat down for lunch, clicked right away, and began working on the hit show almost instantly.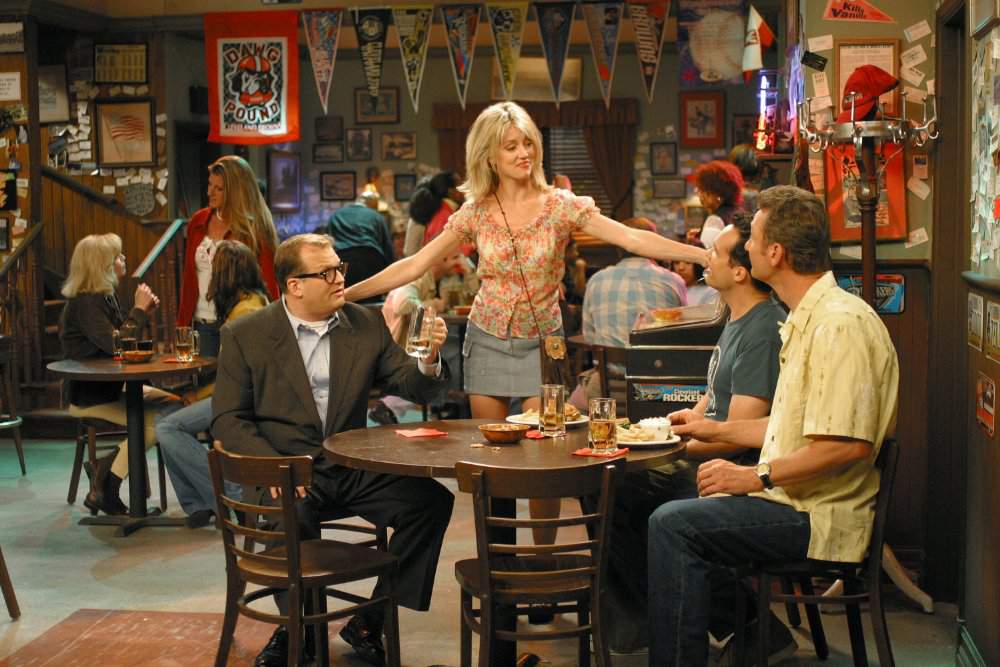 9. He & His Exective Producer Took a Road Trip to Cleveland
To get Helford ready for his new gig as the show's executive producer, Carey thought it was crucial to take a trip. Since Helford refused to fly, he and Carey headed out on a road trip all the way to Cleveland, Ohio. It helped them to get to know each other even better, and since it was the same place where the show would take place, the road trip helped Helford get a better feel for what the city was all about.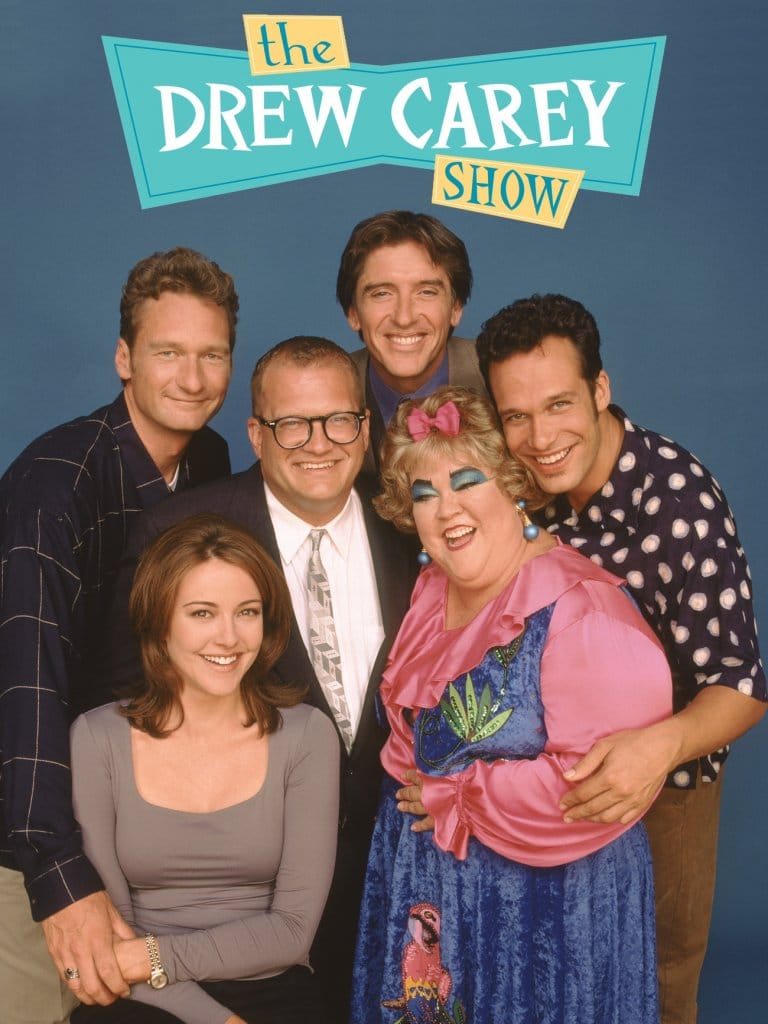 10. Ryan Stiles Had to Audition
Even though Ryan Stiles was a major celeb overseas for starring in the program "Who's Line Is It Anyway?" Carey had no idea who he was. When it came time to audition, Stiles had to go through the entire audition process just like the other actors. When the two met, they clicked right away, and they're still really good friends to this day!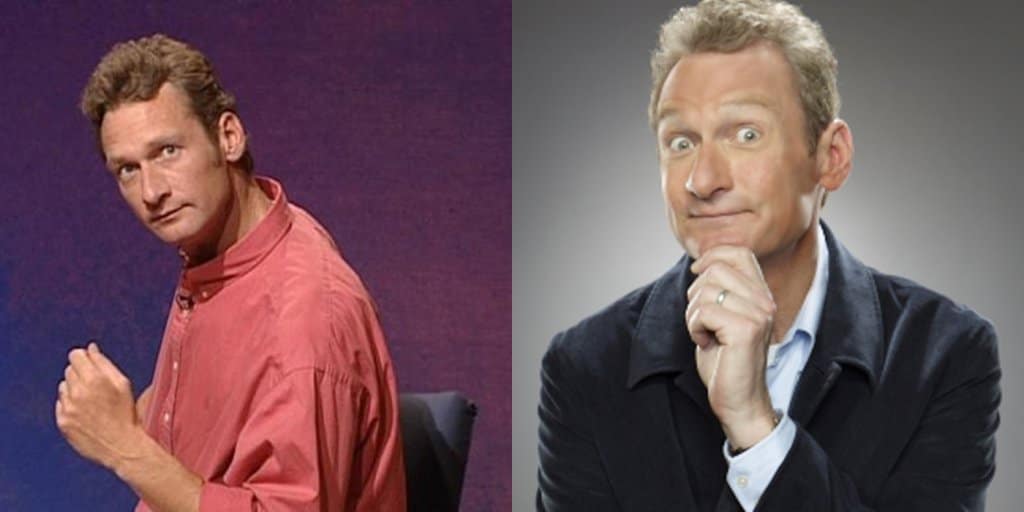 11. They Didn't Get Completely Naked for the Strip Scene
In one episode, the male cast members did a spoof to imitate a scene from the film The Full Monty. They stripped down in a courtroom and showed their goodies on national television. But the gang wasn't completely in the buff. According to Carey, the only thing they wore were little modesty pouches.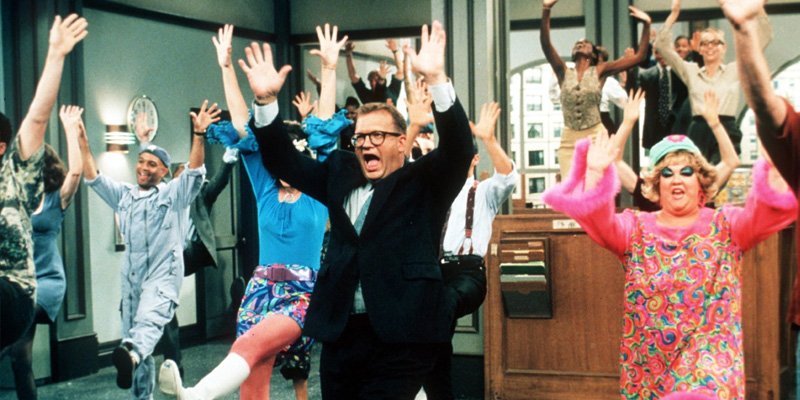 12. Mimi's Weight Was Off-Limits
Drew and Mimi were always going at it and throwing jabs at each other, but there was one topic that was always off limits. Kinney said it was fine for Carey's character to talk about her colorful makeup and her attitude, but talking about her weight was a complete no-no. Kinney believed it wasn't fair to make fun of something she couldn't control.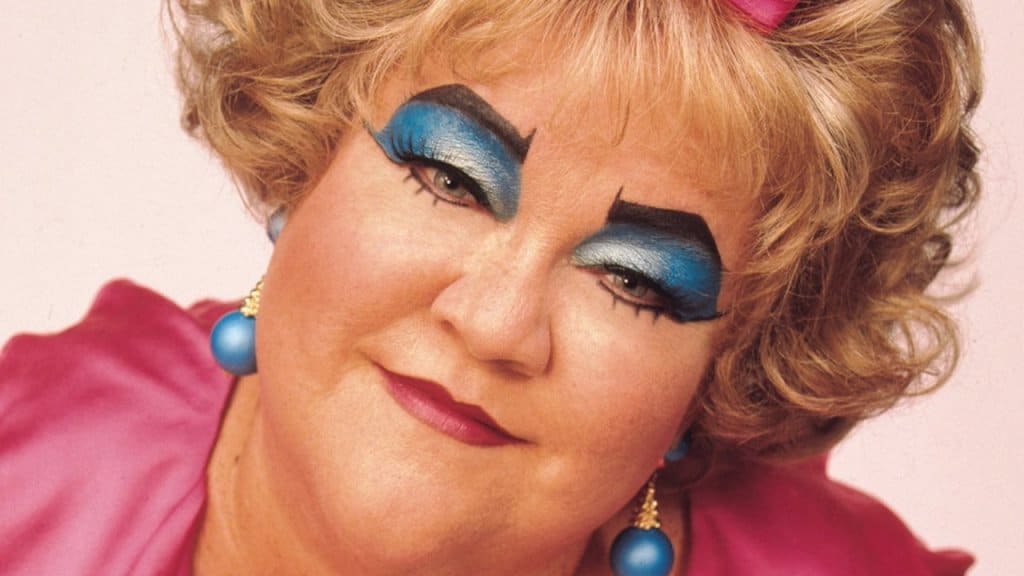 13. Carey Had a Lot of Input on the Script
The actor was the star of the show, but he also made sure to give input during the script writing process, too. Carey would sit in on the writers' sessions as much as possible. With him involved and being hands on, it helped writers get a better understanding of what he liked, what he didn't like, and what his acting strengths and weaknesses were.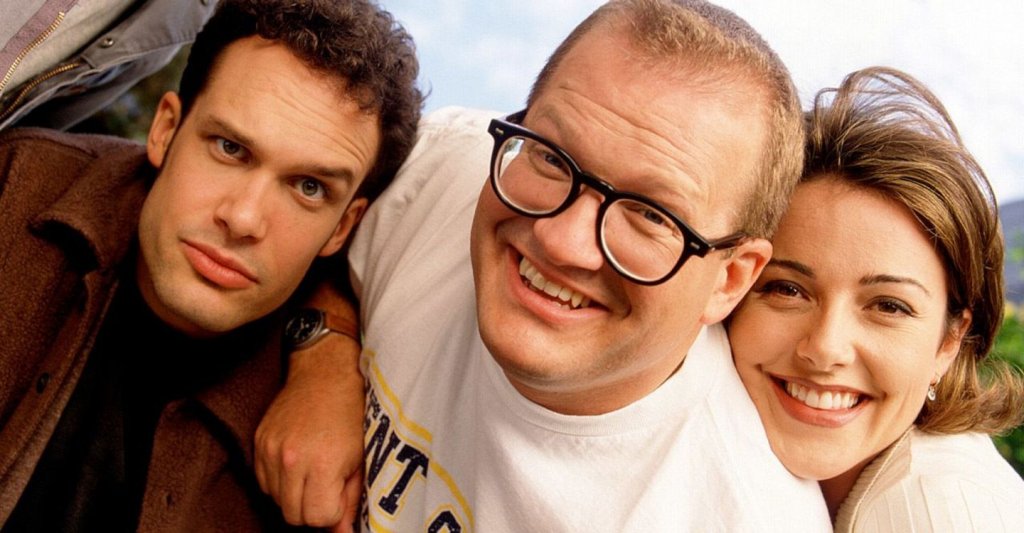 14. Donald Trump Made an Appearance
In season 2, episode 24, Donald Trump made an appearance, pre-presidency, of course. The episode was entitled, "New York and Queens," and Trump had some pretty harsh words after he couldn't get his hands on a Nutty Buddy ice cream. Check out the hilarious scene below!