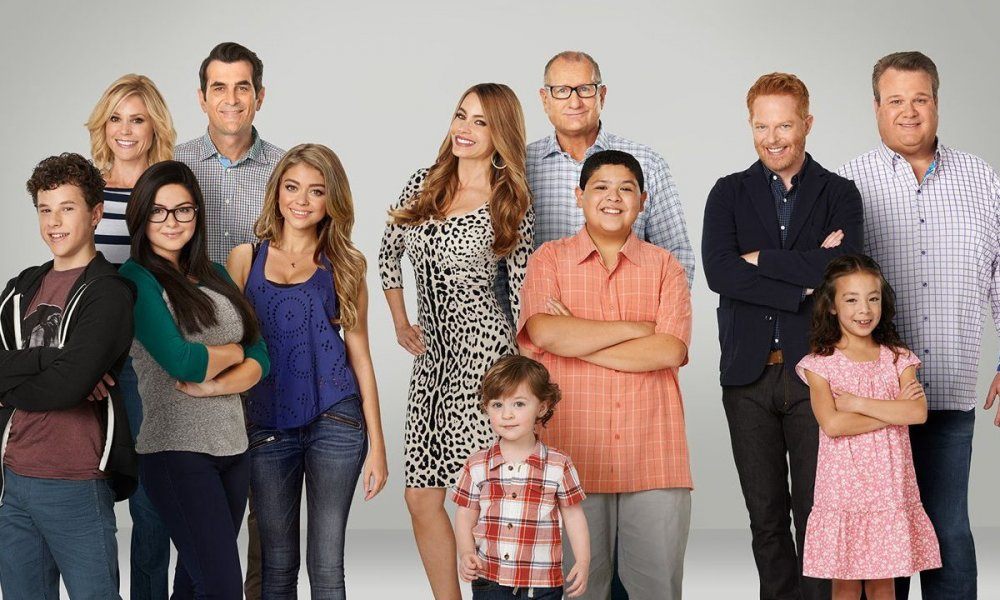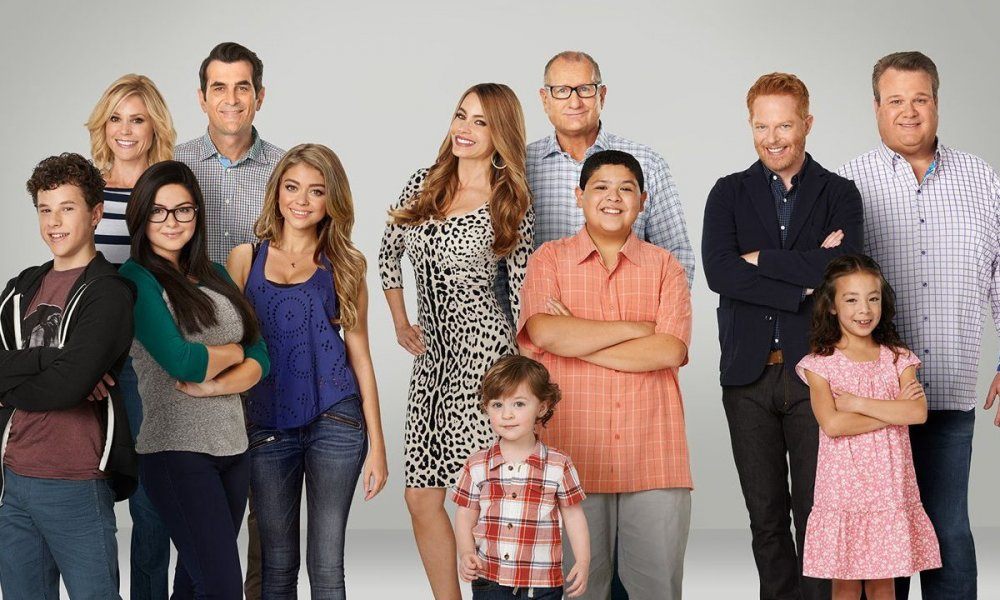 ABC struck primetime gold when they debuted their hilarious series Modern Family. Since 2009, the show and its cast has been racking up accolades, including multiple Emmy awards and five Producers Guild of America Awards. Despite the show being a success and a leader on the Nielsen ratings, the series is no stranger to criticism, as it attempts to discuss some rather touchy subjects in the most PC way possible. Keep reading to see a few of the show's most controversial moments.
9. Jewish Stereotypes
In the episode "Door to Door," Manny (Rico Rodriguez), is selling Christmas wrapping paper in his neighborhood. With his step-dad Jay (Ed O'Neill) by his side, Manny asks a neighbor, "Hello, ma'am, do you love Christmas?" She answers, "Well actually, I'm Jewish." Trying hard to be the best salesman he can be, Manny replies, "Well, then you must actually appreciate a good value!" Jay is completely mortified, as were many viewers who were disgusted that the dialogue would reference the stereotype of Jews being stingy and cheap. When it comes to Modern Family, there's a no-holds-barred approach to comedy, and no ethnicity nor culture is exempt from being the brunt of a joke, but the negative and offensive representation of Jews pushed the envelope a bit too far for some viewers.
8. Openly Transgender Child Actor
Modern Family introduced an openly transgender child actor in an episode entitled, "A Stereotypical Day." This was reportedly the first time a trans child actor would appear on network television, and the series had a huge responsibility to approach the topic gently. Eight-year-old trans actor Jackson Millarker, played the character Tom who befriended Lily (Aubrey Anderson-Emmons). When her parents Mitchell (Jesse Tyler Ferguson) and Cameron (Eric Stonestreet) overhear her call Tom a "weirdo," it throws them for a loop and prompts them to teach her a lesson about tolerance and acceptance of others. In the end, producers and writers handled the scene with kitten gloves, and it humanized the young faces of children who have struggled with their own gender identities.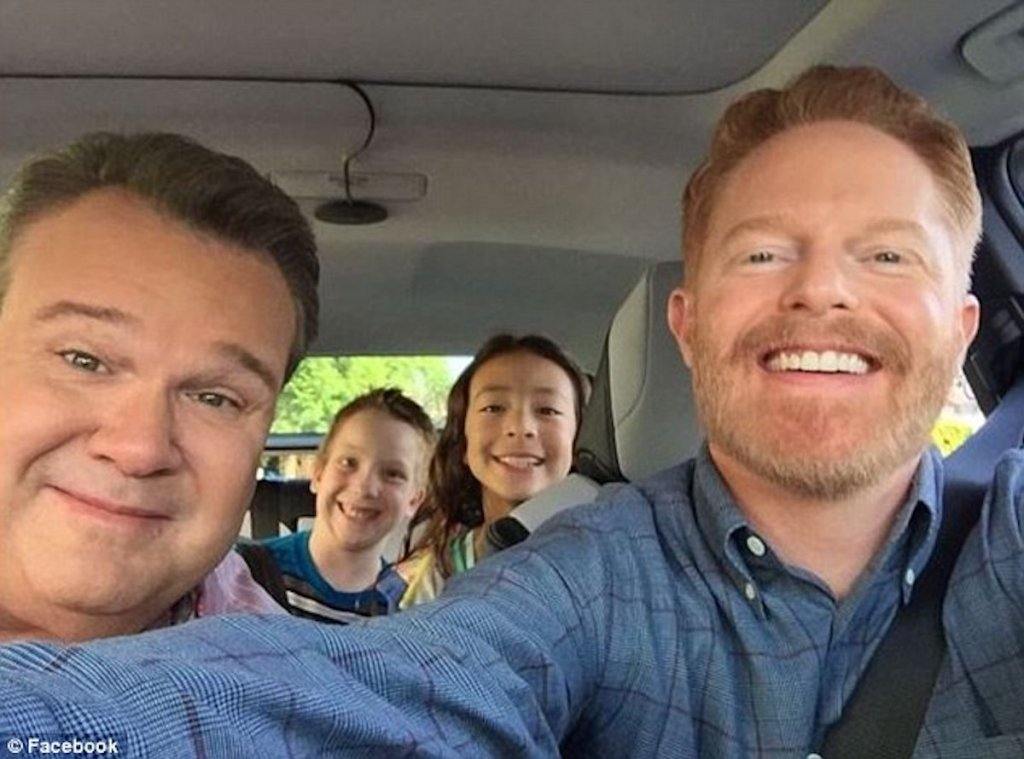 7. Lily's F-Bomb
The show received major backlash when Lily (Aubrey Anderson-Emmons) began dropping F-bombs at the most inappropriate times. The young actress never actually said the F-word. Instead, she was instructed to say the word "fudge," while her voice was bleeped and her lips were blurred during the post-production process. But the point was to make it appear that Lily had a bit of a cursing problem, and the foul language sparked backlash from groups such as the No Cussing Club and the Parents Television Council. These organizations felt the joke was done in poor taste, and it would encourage young children to use obscene language. Actor Eric Stonestreet who plays the character Cameron, took to his Twitter and told everyone they need to "Chill the f**k out." Well, that's one way to silence the critics.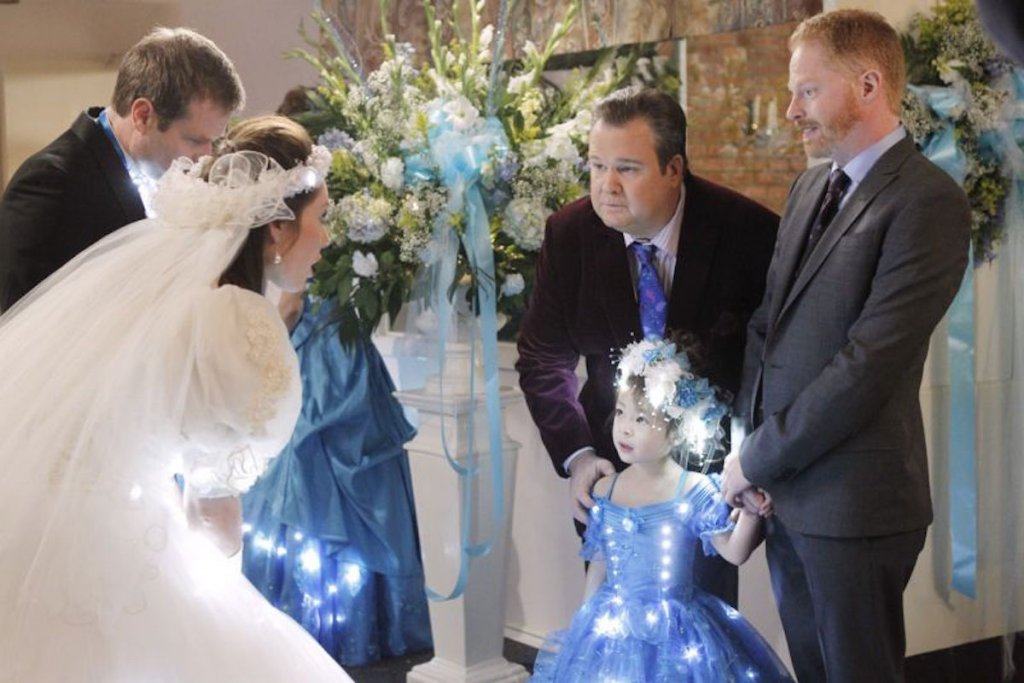 6. Gloria is a Latina stereotype
Colombian-American actress Sofia Vergara, became a household name when she made her first appearance on the hit comedy show, but she hasn't been widely-accepted for playing the hot-tempered and fiery Colombian trophy wife, Gloria. Leaders of various Latino organizations, including Abel Ortiz of La Prensa, spoke out about the Latina stereotypes that Vergara was portraying. He said, "She speaks English poorly, jokes about being a gold digger, constantly references crime and drugs in Colombia." But Vergara has taken the controversy and criticism in stride by proclaiming, "I am not scared of the stereotypes."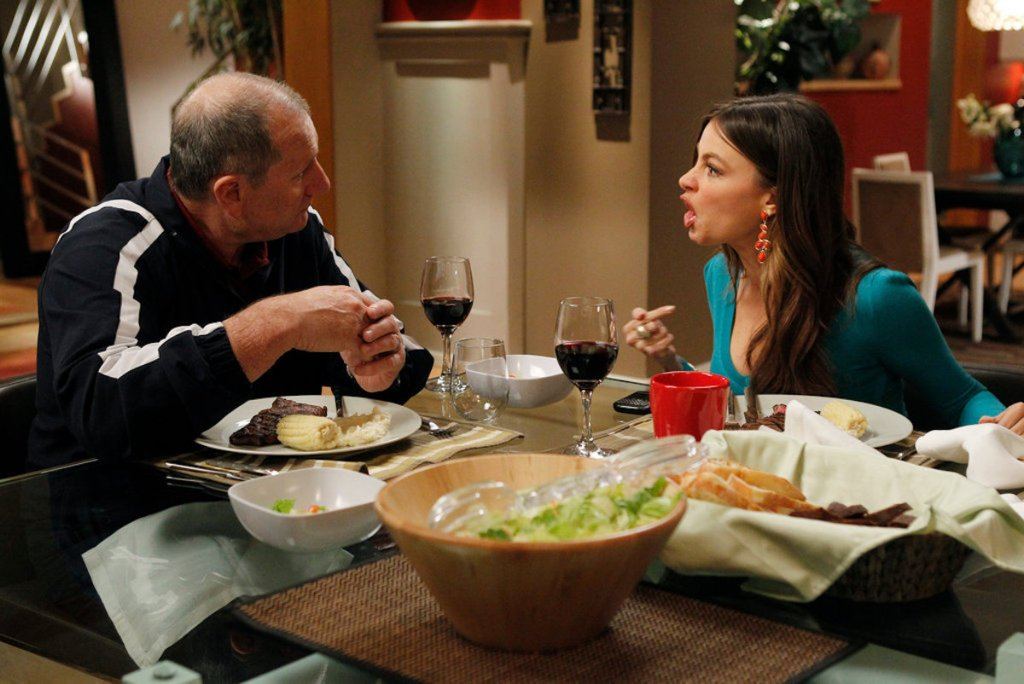 5. Haley's Not So Innocent
When ditzy teen Haley (Sarah Hyland), accidentally revealed she was no longer a virgin, parents' groups were absolutely outraged. Although the episode entitled "Virgin Territory," won a Writers Guild of America Award, it didn't change the fact that Haley's sexcapades were deemed "inappropriate," considering the show has a fanbase that includes young and impressionable teens.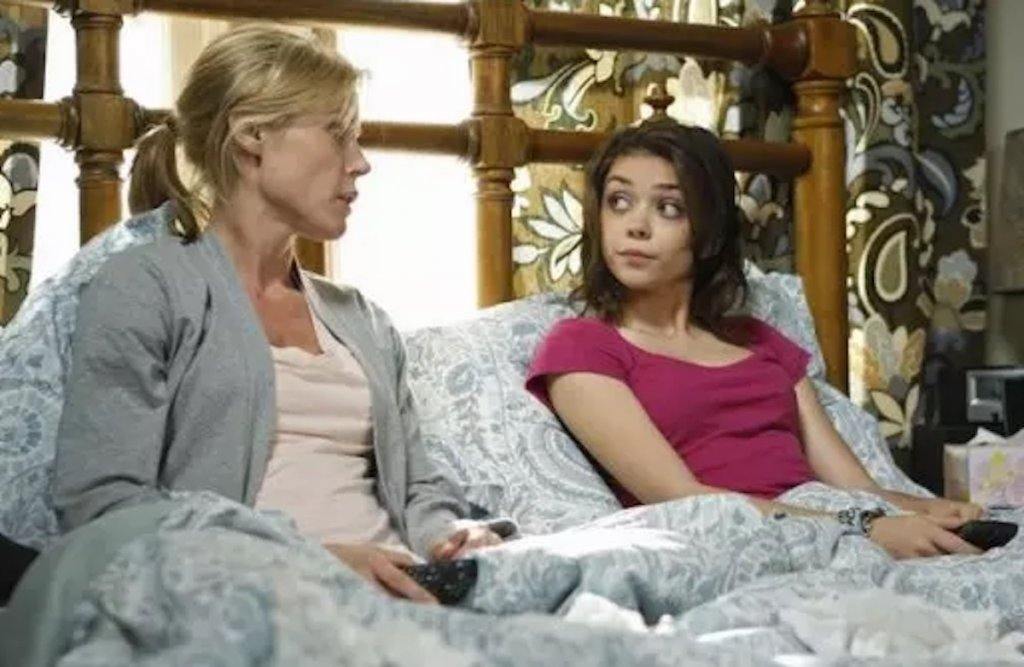 4. Cam and Mitchell's PDA
After the first season aired, viewers realized the show's two gay characters, Mitchell (Jesse Tyler Ferguson) and Cameron (Eric Stonestreet), had never shown any kind of affection towards each other in front of the cameras, despite their characters being very much in love. Viewers were disappointed that ABC was so gung-ho about the gay couple being featured on the show, but they seemed to be totally against the couple doing real things that couples do – like making out! A Facebook campaign called "Let Cam & Mitchell Kiss on Modern Family!" was enacted after the season finale, and fans demanded the two characters finally seal the deal and lock lips. Viewers finally got their wish in season two, when the characters finally shared an onscreen kiss.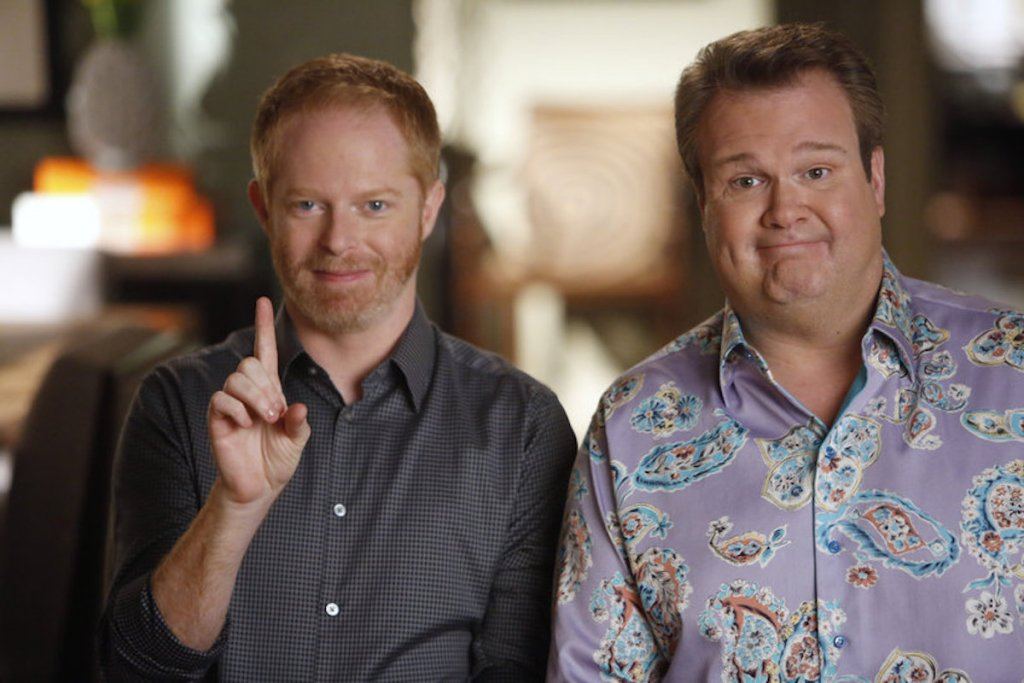 3. Peruvians Aren't Amused
Sofia Vergara managed to completely tick off an entire country in the episode entitled "Unplugged." Vergara's character Gloria stated, "Ah, here we go. Because, in Colombia, we trip over goats and we kill people in the street. Do you know how offensive that is? Like we're Peruvians!"
After the show aired, Milagros Lizarraga of Peru USA, and Beatriz Merino of Peru's People's Defender's Office, were outraged. They felt the show had offended their entire country, and they pointed their fingers at Vergara. They felt she had the responsibility to stand up to ABC execs, put her foot down, and refuse to recite the insensitive dialogue. Lizarraga told the Associated Press, "Many Peruvians think this is no coincidence, that she knew what she was saying, because an actress has the power to say, 'No, I can't say this because it would hurt my image,' unless she agrees with what she said."
2. Insane Asylum-Themed Halloween
Modern Family found itself at the center of controversy once again, after it aired its insane asylum-themed Halloween special. The episode showed Claire (Julie Bowen), turning her front yard into a spooky insane asylum, and many of the show's characters dressed up as sadistic nurses, demented doctors, and mental patients. Her daughter Alex (Ariel Winter), was even strapped down to a gurney wearing a straitjacket. Although most of the show's millions of viewers got a good laugh out of it, six mental health organizations reached out to ABC to slam the controversial episode. Mary Giliberti of the National Alliance on Mental Illness said the episode "greatly alarmed the mental health community," and it continued to stigmatize and place offensive stereotypes on those who suffer from mental conditions.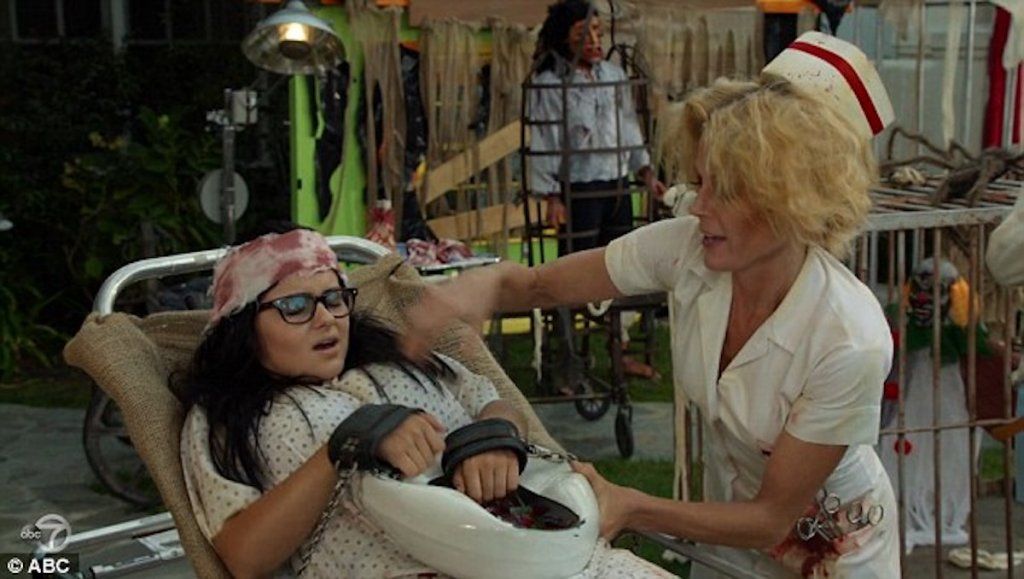 1. Cameron "Acting Straight"
Modern Family has been praised for its portrayal of a loving gay couple, but the show dealt with a bit of controversy in an episode where Cameron (Eric Stonestreet), was determined to show how manly he was by "acting straight." Cameron attempted to pick up a woman at a bar, but it turned into a massive fail when the woman called him out on his homosexuality. The woman stated, "It's obvious. The way you talk and walk and dress and your theatrical hand gestures." Many LGBTQ activists were offended by this dialogue, because they felt it perpetuated gay stereotypes that deem gay men as "girly," and heterosexual men as "masculine."