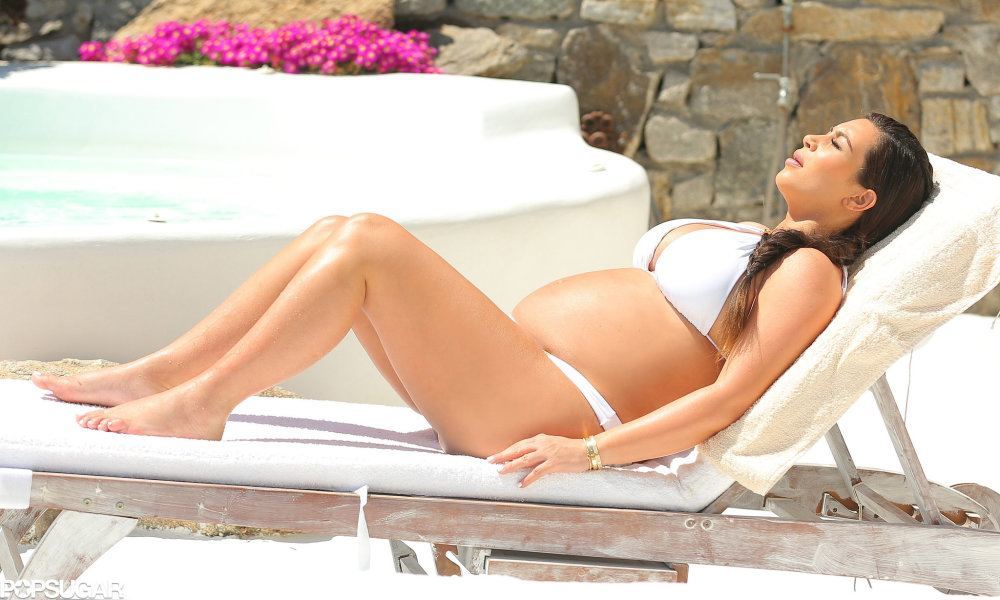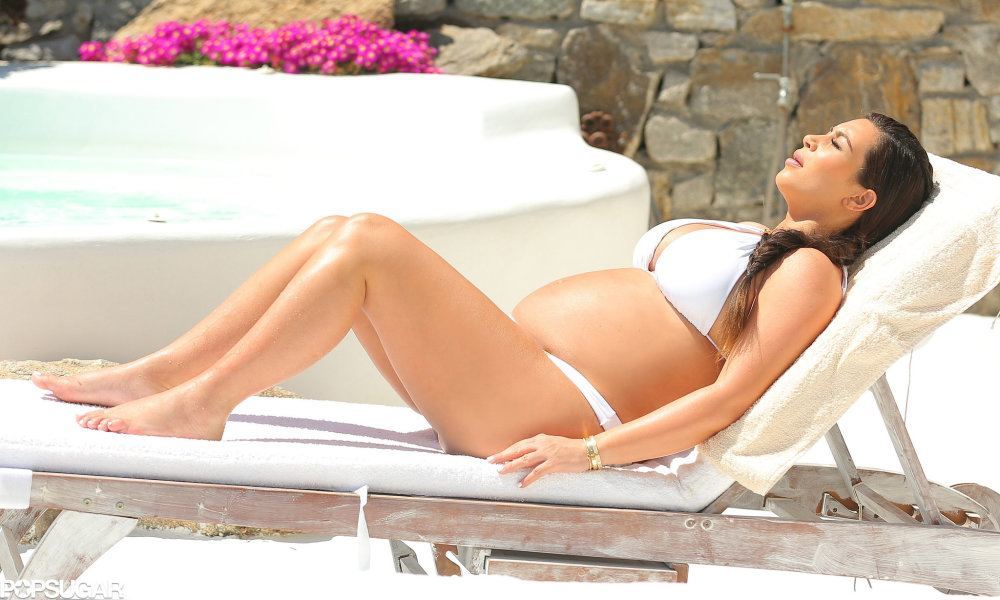 When a woman is with child, we often remark on her radiant "pregnancy glow." When that woman happens to be a stunning celebrity, that glow can make the star's beauty shine even more. Take a look at these famous moms-to-be who weren't too shy to flaunt their bellies while expecting their bundles of joy.
1. Hayden Pannettiere
Nashville star Hayden Pannettiere took a babymoon vacation to Hawaii when she was eight months pregnant, and she showed off her bump in a mismatched coral crochet bikini. The 5 feet 2 inch actress gained about 40 pounds during her pregnancy, but she has since bounced back into shape. Hayden has been open about her struggles with postpartum depression since the birth of her daughter Kaya on December 9, 2014. The experience was even written into her show, in a case of art imitating life.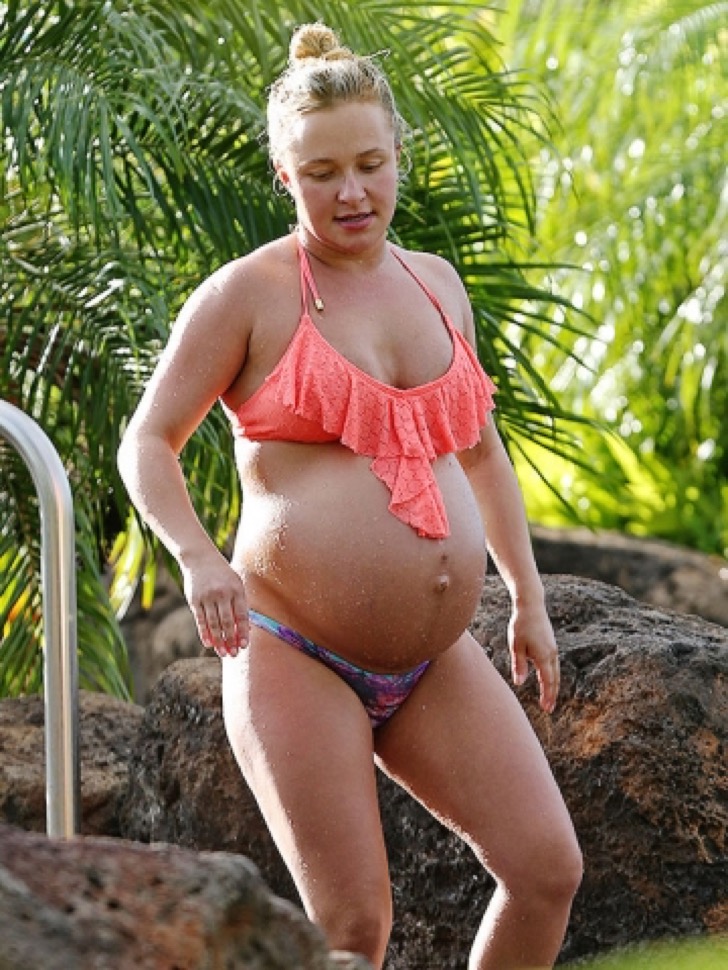 2. Kendra Wilkinson
Reality star Kendra Wilkinson took a vacation to Santa Barbara with her husband, Hank Baskett, and then 4-year-old son, Hank Jr., towards the end of her second pregnancy. No frumpy cover-ups for her. She left nothing to the imagination in this teeny-tiny bright yellow bikini – and why not, the former Playboy model looks great! She did admit that her second pregnancy was much harder on her body than her first, no doubt because running around after a toddler with a bun in the oven is no easy task. Her daughter Alijah was born on May 16, 2014.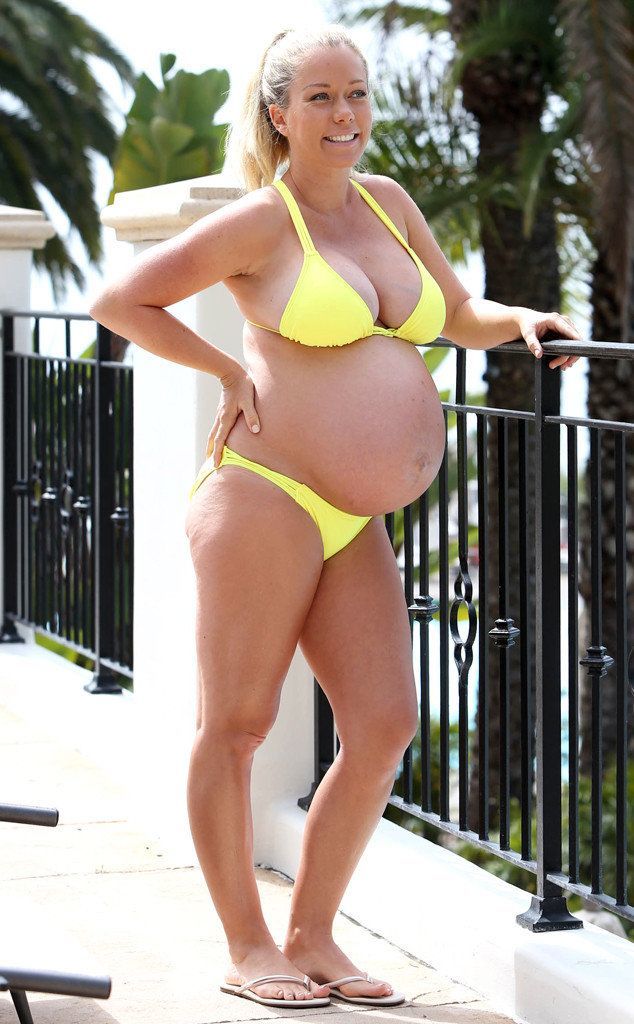 3. Kim Kardashian
Kim Kardashian is never shy about showing off her shape, pregnant or not. Her Instagram account, red carpet strolls, photo shoots and paparazzi stream documented both her pregnancies in various states of maternity dress and undress. She looks positively radiant in this silver snake-skin patterned bikini, despite admitting that her pregnancies with both North and Saint were really hard on her.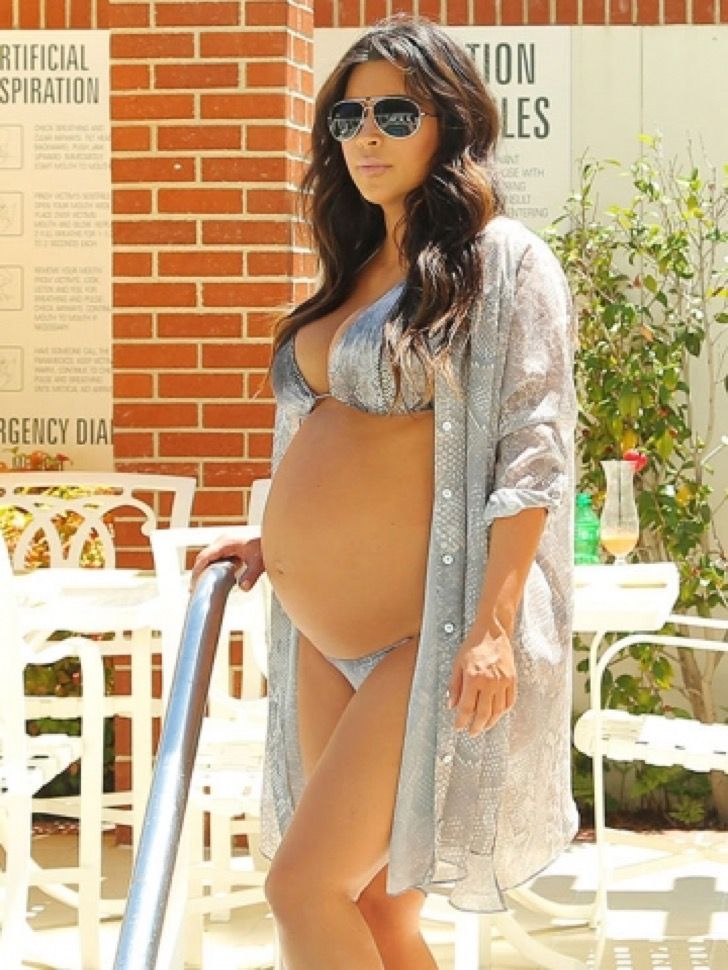 4. Bethany Hamilton
Neither sharks or pregnancy can't keep Bethany Hamilton out of the water. The inspirational soul surfer was all smiles with her board on a Kauai beach, still catching waves at six months pregnant (hey, she's a pro, she can handle it). The one-armed wonder and her husband Adam Dirks welcomed their son Tobias on June 1, 2015.
5. Shakira
Shakira's hips don't lie, even when she's carrying a child. The sexy Colombian songstress and her Spanish pro soccer star fiance Gerard Piqué are the proud parents of two young boys, Milan and Sasha. Shakira admits she wants more children, enough to make their own football team. Pregnancy certainly agrees with her, if this gorgeous picture is any indication.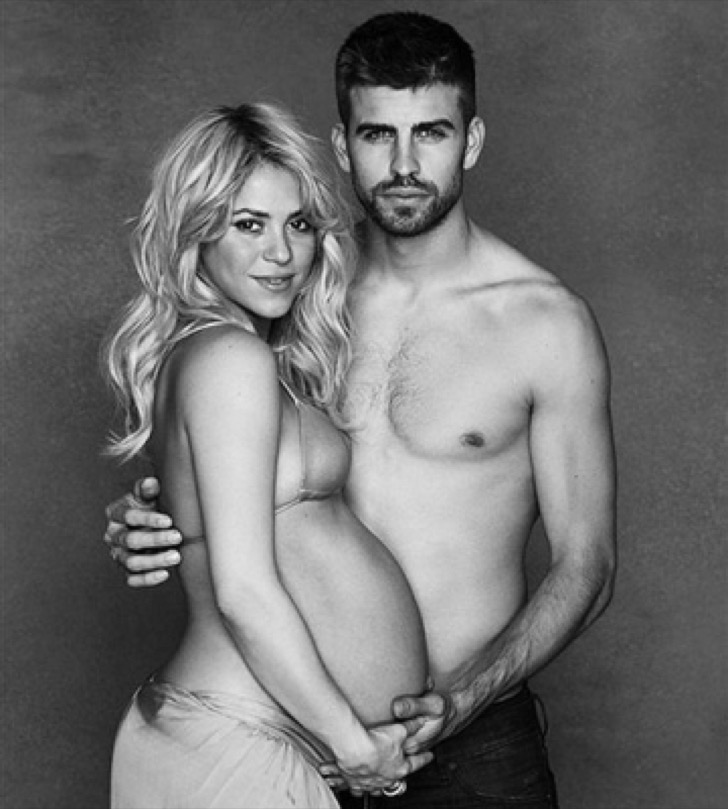 6. Mel B
There's nothing scary about spicy Mel B sporting this leopard print bikini while pregnant by an LA pool. Then 36-years-old, she was about eight months along and ready to pop with her third child, Madison, her daughter with husband Stephen Belafonte.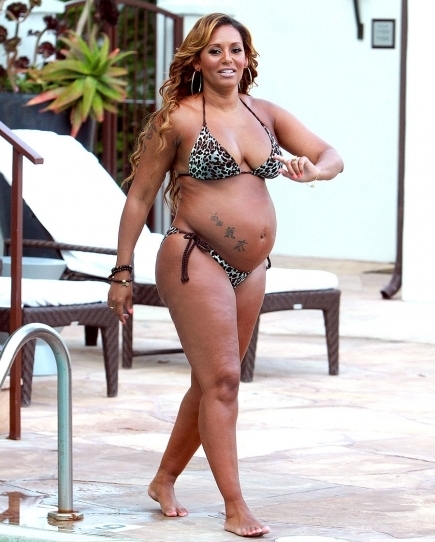 7. Tori Spelling
Beverly Hills 90210 alum Tori Spelling pushed out four babies in in four years with her husband, Dean McDermott. The proud mom of two boys and two girls has never been shy to show off her preggo-belly in hot bikinis and monokinis. She had complications with her last pregnancy, perhaps due to the fact that she conceived just one month after giving birth to her third child. She developed a condition called placenta previa and apparently almost died.
8. Teresa Palmer
Australian actress and model Teresa Palmer was caught in a candid shot while pregnant with her son, Bodhi Rain. He was born on February 17, 2014. Teresa recently starred in the remake of Point Break (which featured a character named Bohdi), so she's definitely comfortable on a beach.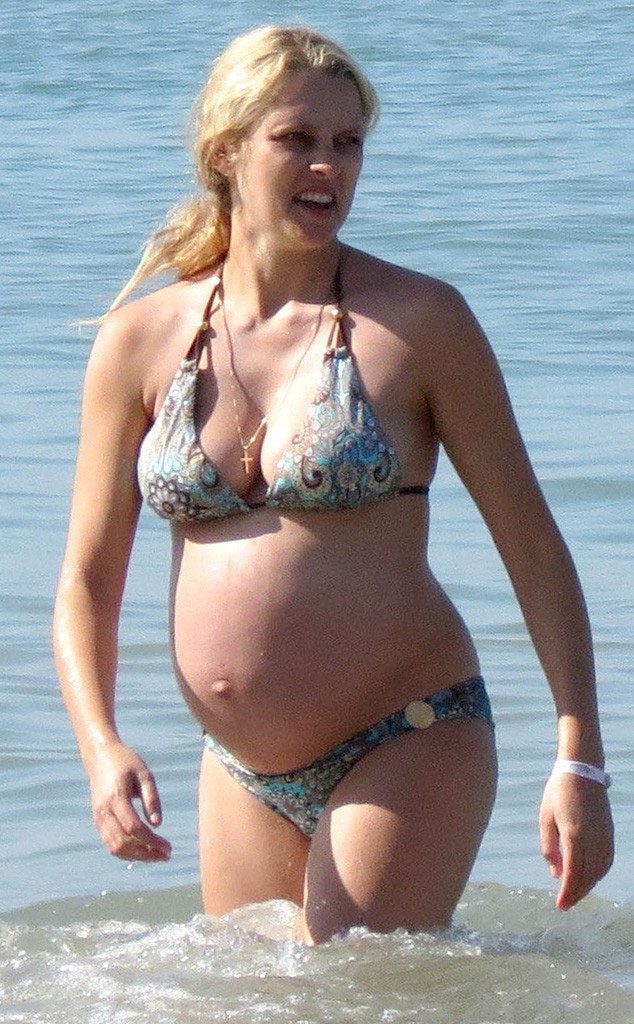 9. Jamie-Lynn Sigler
The Sopranos star was all smiles when she was snapped in a white bikini while pregnant with her son, Beau, who was born on August 28, 2013. Jamie recently revealed that she was diagnosed with MS years ago, and while it does present some challenges for her, it hasn't stopped her from being a hands-on mom.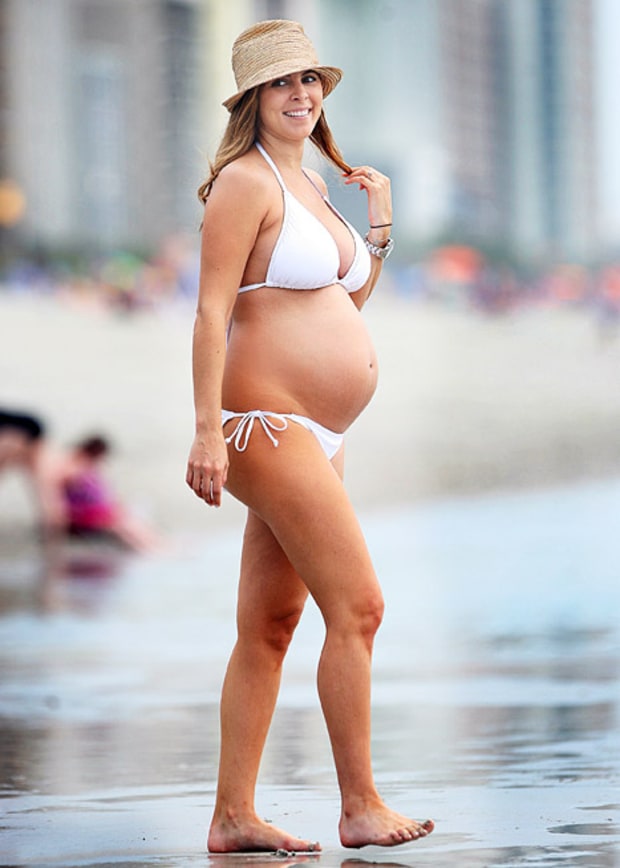 10. Gisele Bündchen
No surprisingly, Gisele Bündchen looks gorgeous even with a bun in the oven. The Brazilian supermodel rocked a strapless animal print bikini and straw fedora while enjoying a relaxing beach day. The then 32-year-old statuesque stunner was very pregnant with her second child, Vivian, who was born December 2012.
11. Nicole Ritchie
The always styling Nicole Ritchie looked super-cute in her black boyshort bikini and floral headscarf, but her best accessory was her big baby bump and glowing smile. She was enjoying a stroll along a Malibu beach with Joel Madden not long before their daughter Harlow arrived in 2008.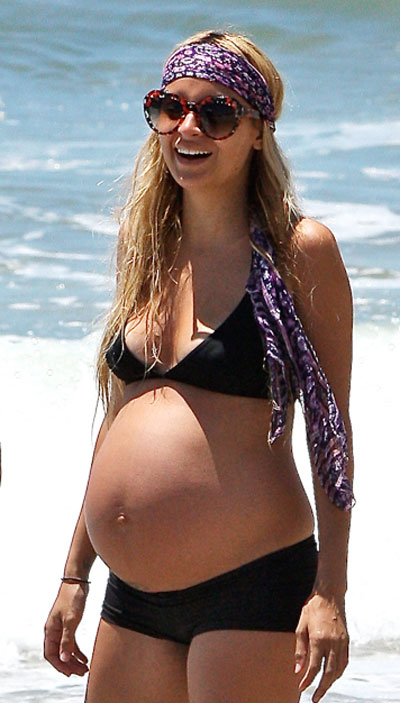 12. Anne Hathaway
You gotta love the way Anne Hathaway confidently showed off her growing belly in this red bikini selfie in January 2016. She and her husband, Adam Shulman, are expecting their first child sometime around June.