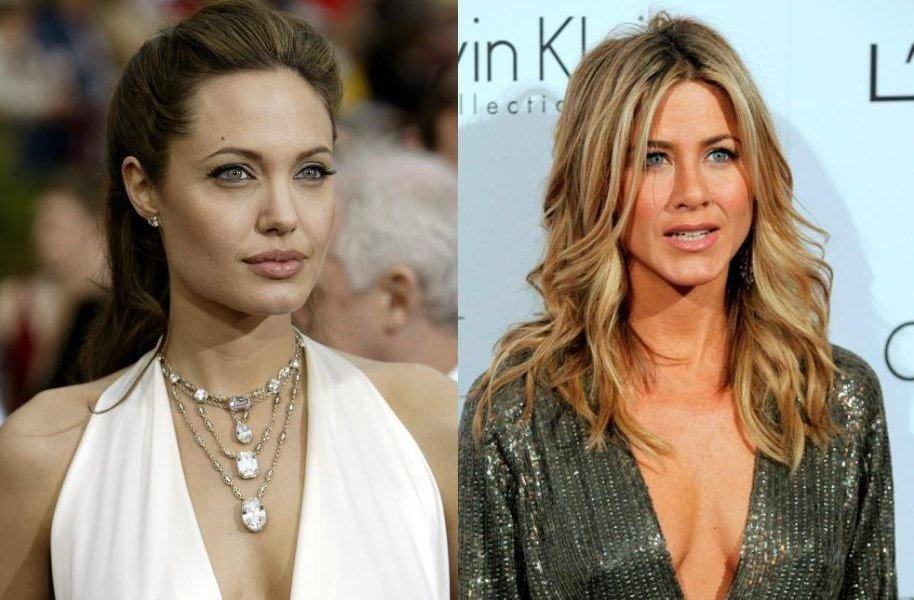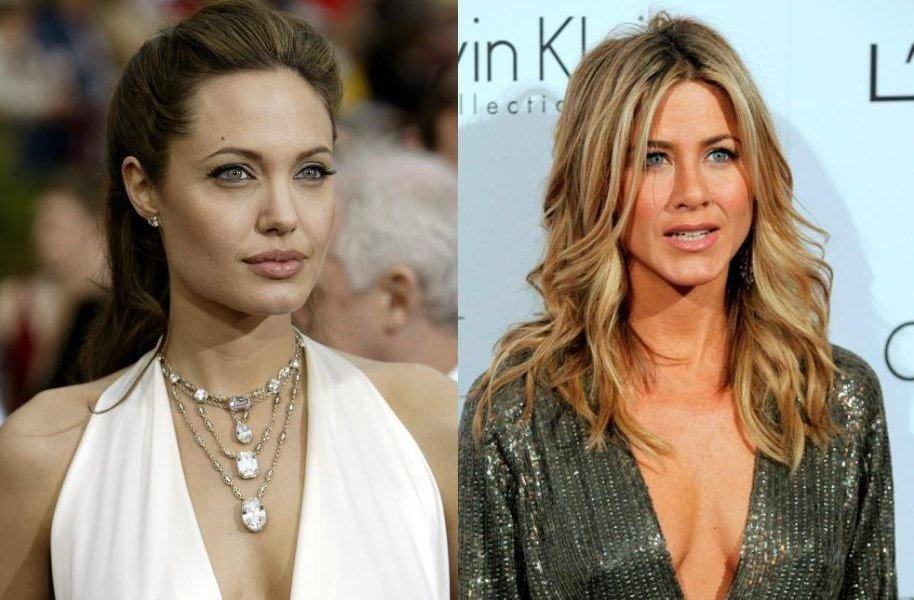 No one can rock a little black dress quite like Jennifer Aniston can, not even Angelina Jolie. Jen has perfected looking effortlessly chic in whatever she's wearing. We're not saying Angelina is lacking in the style department, but there are a few times that our favorite Friends star has looked better than Lara Croft. Aniston just has that "girl next door" sex appeal. Here are 11 times Jen looked better than Angelina on the red carpet. Who's style do you envy?
1. Beautiful in Bronze
Here's Jen showing off her toned gams in a short bronze sweetheart dress. Her signature blonde wavy locks and California tan make her look sophisticated and sexy at the Women in Film Awards.
2. Lady in Red
Jen blew fans away when she arrived to the 2013 Academy Awards in this red Valentino couture gown. She wore her hair in her signature parted style and carried a box clutch to complete the elegant look. Red is definitely her color.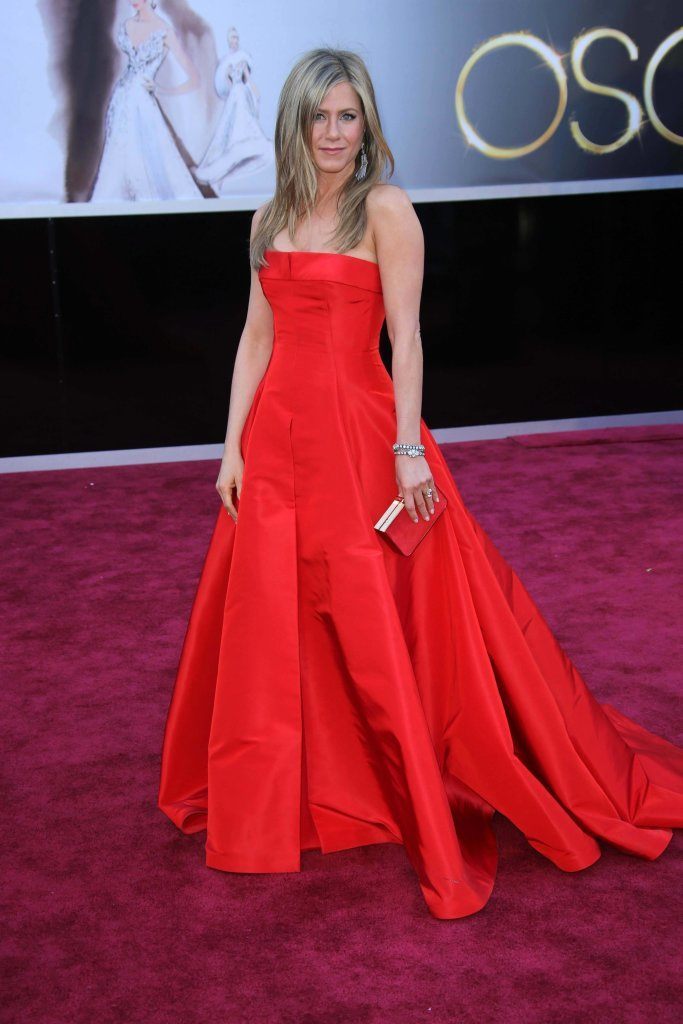 3. Gorgeous Gams
Jen wore this long slitted black dress to the 67th Golden Globe Awards in Beverly Hills. We know Angelina loves to show off her long lean legs, but we think Jen's toned gams win this time.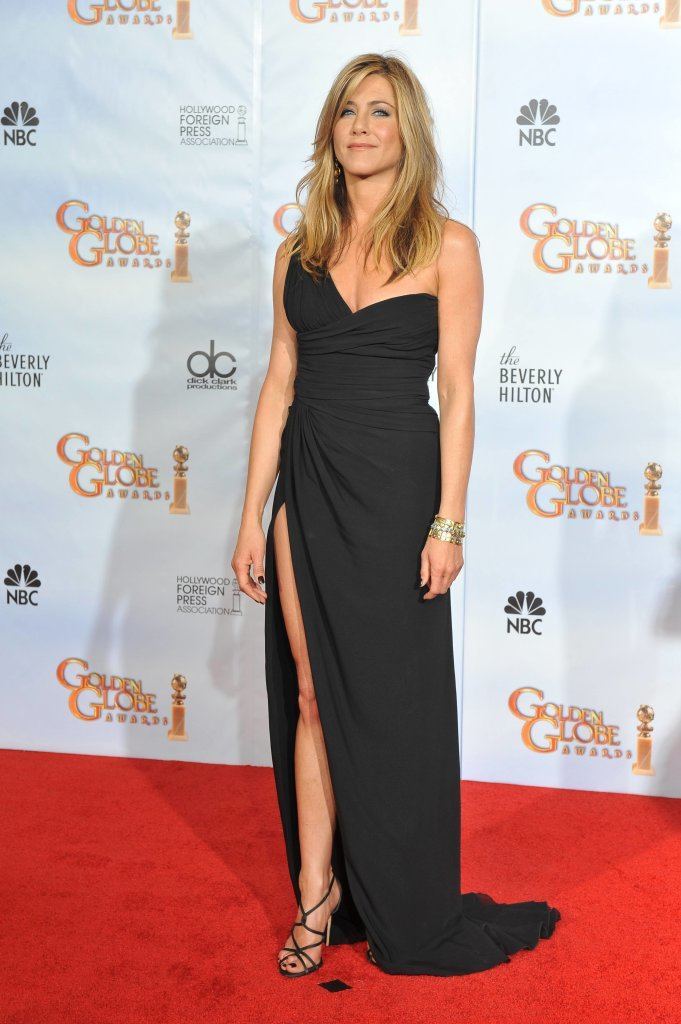 4. Jen's Pantsuit
Another look that Angelina frequently nails is feminizing a pantsuit. The 5'7 actress has a few inches on Aniston, but here Jen rocks a black silk suit with plunging neckline better than her elevated rival.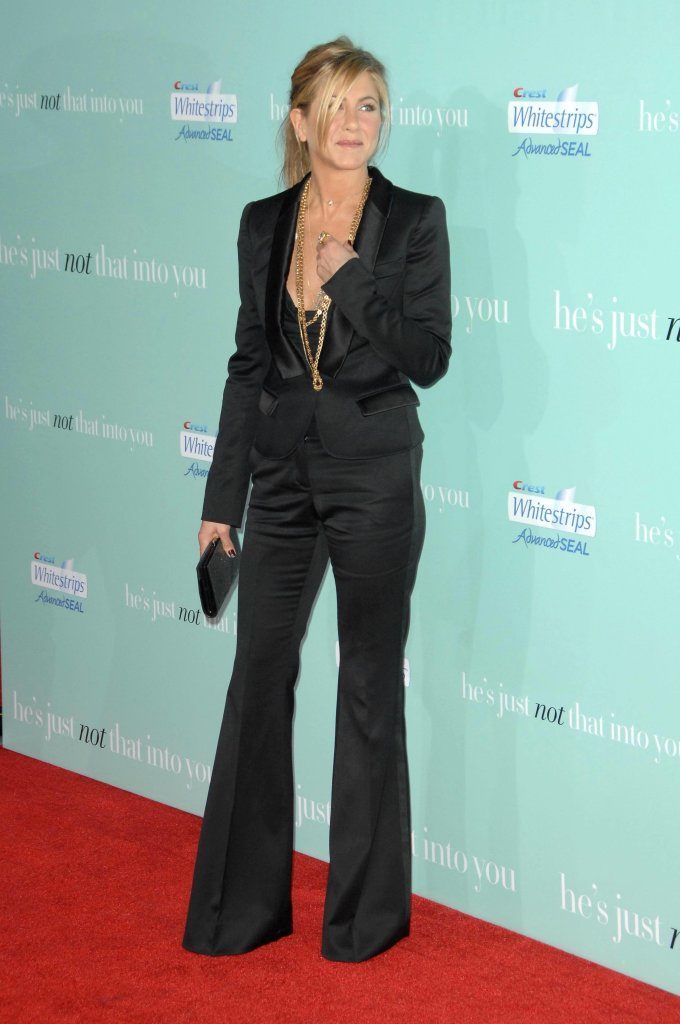 5. Toned & Tanned
Here's Jen on the red carpet of Call Me Crazy: A Five Film in West Hollywood. Jen wore her hair up in a sleek ponytail and once again highlighted what unbelievable shape she's in. We love this edgy black romper.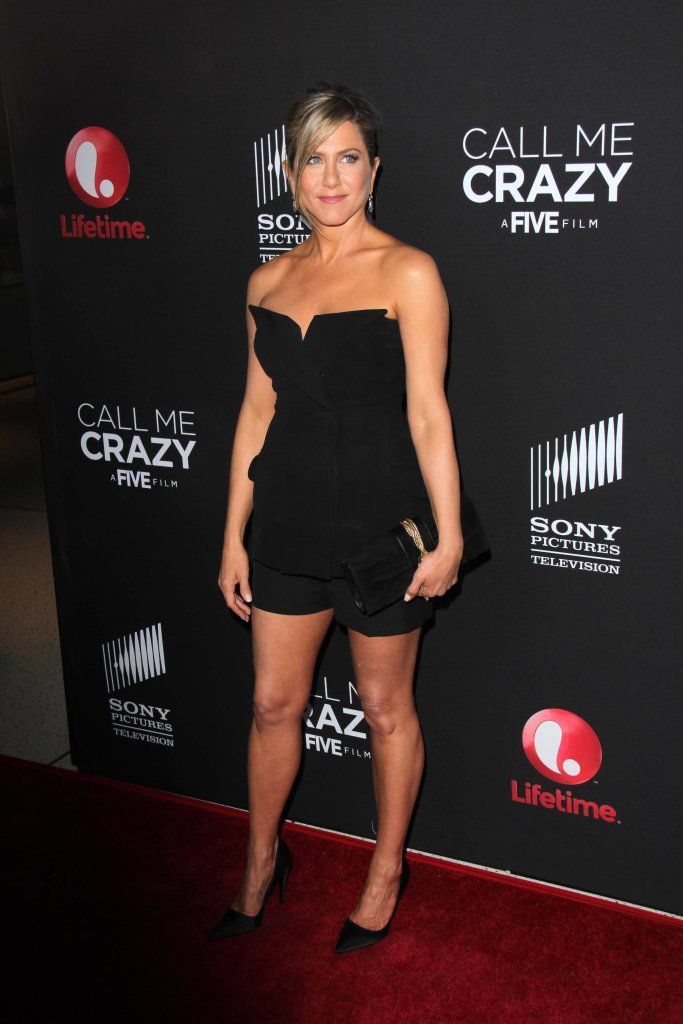 6. Bohemian Beauty
Angelina has a hard time pulling off bohemian looks on the red carpet, but we think Jen does it flawlessly. America's sweetheart looks effortlessly chic in a cream-colored Donna Karan gown at the Bounty Hunter premiere in NYC.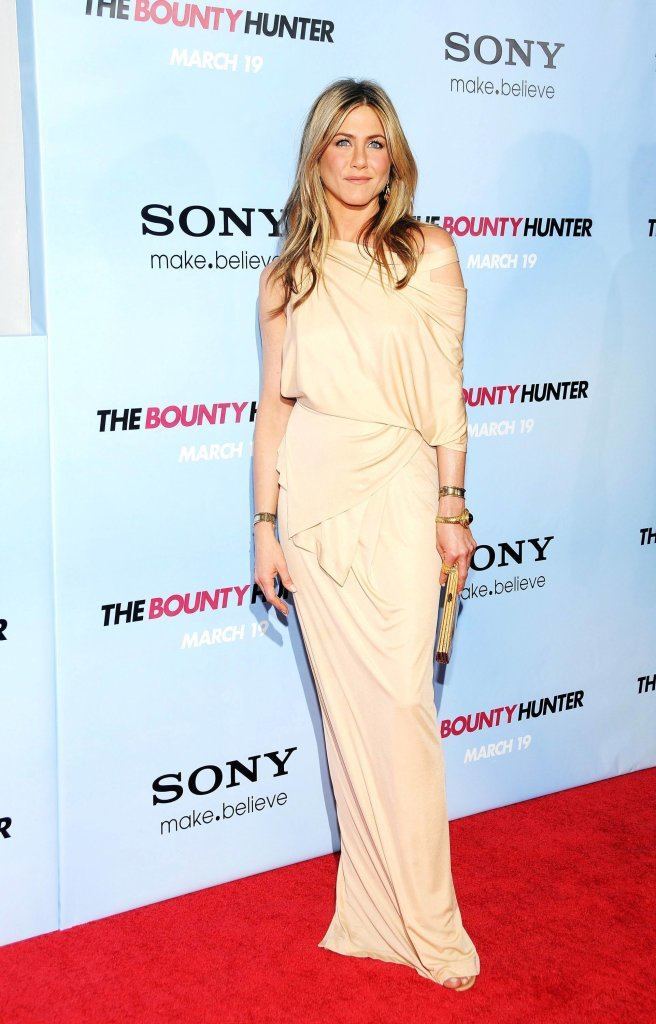 7. Sparkling in Silver
Jen looked radiant on the red carpet of her Love Happens world premiere in Westwood. We hardly ever see Angelina rocking short dresses, but we think Jen pulls it off consistently well. Her sleek hair and strappy heels finish the casually elegant look.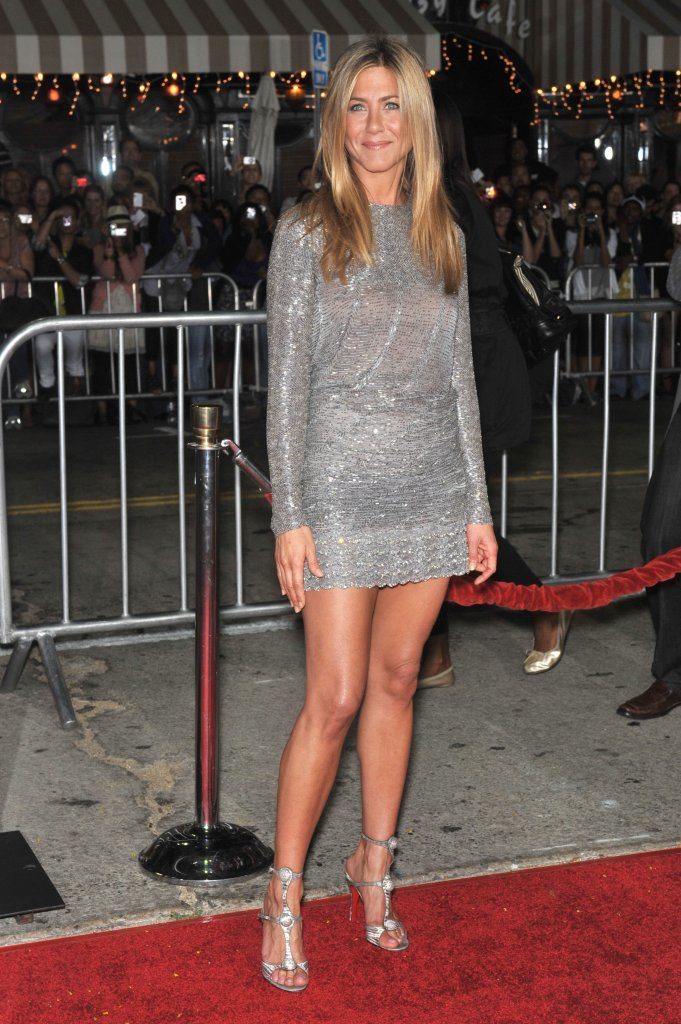 8. Bubbly at the Oscars
Another thing that we love about Jen's style is her bubbly personality. She's constantly smiling and that adds to her beauty, unlike stoic Angelina. Here's Jen at the Vanity Fair Oscar Party in a champagne-colored Valentino couture gown. Her hair is styled in a simple front plait. Easy, breezy, beautiful, Jennifer Aniston.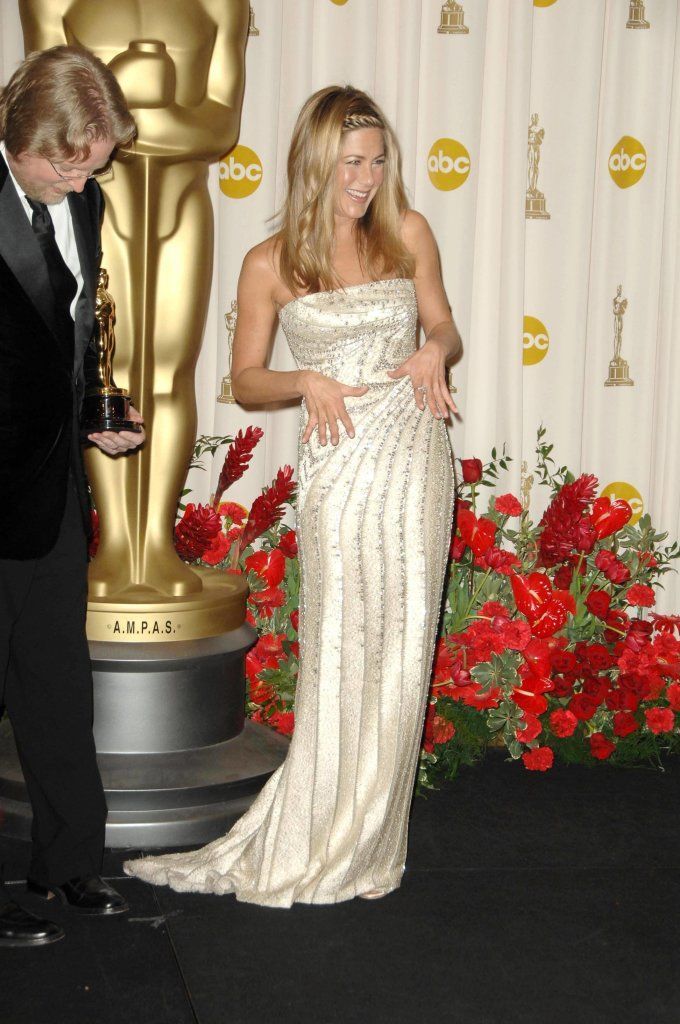 9. I Rock Tom Ford
Jen wore this black and white form-fitting Tom Ford frock to the LA premiere of her hit movie Wanderlust. The dress hugged Jen in all of the right places and showcased her toned arms. Jen completed the look with black Christian Louboutin pumps and gold cuffs on each of her wrists. Once again she looks effortlessly fabulous.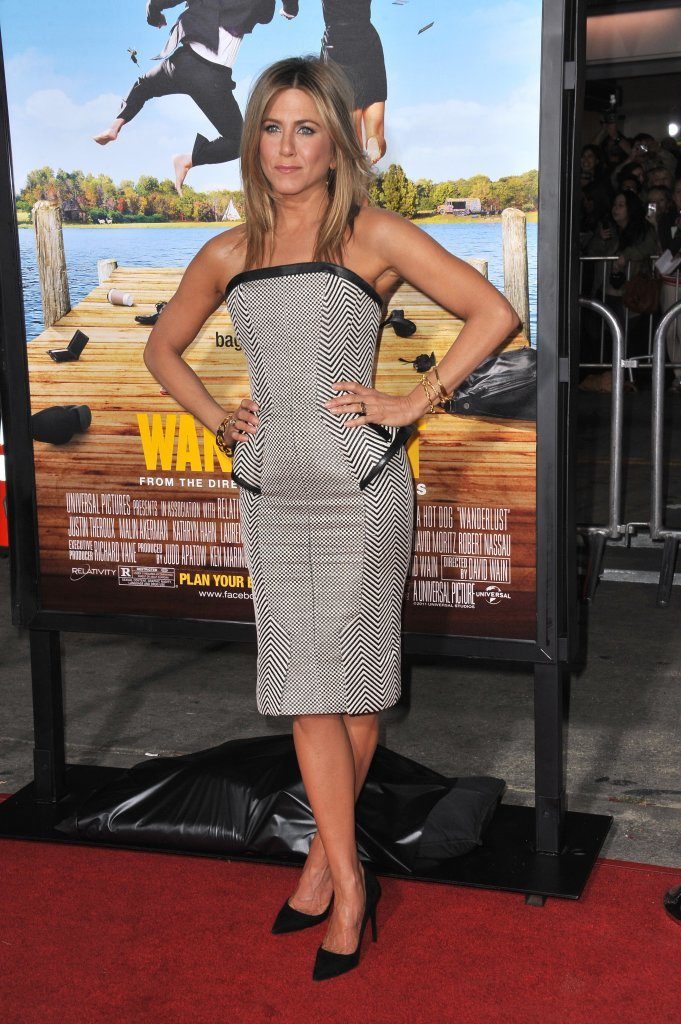 10. Baby Bump?
Here's Jen on the red carpet of her Life of Crime LA Premiere at ArcLight Hollywood Theaters. Pregnancy rumors have been swirling around Jen since July and when she wore this sequinned dress with an over-sized blazer. Some thought a baby bump was slightly visible, but we just think she's glowing in this look.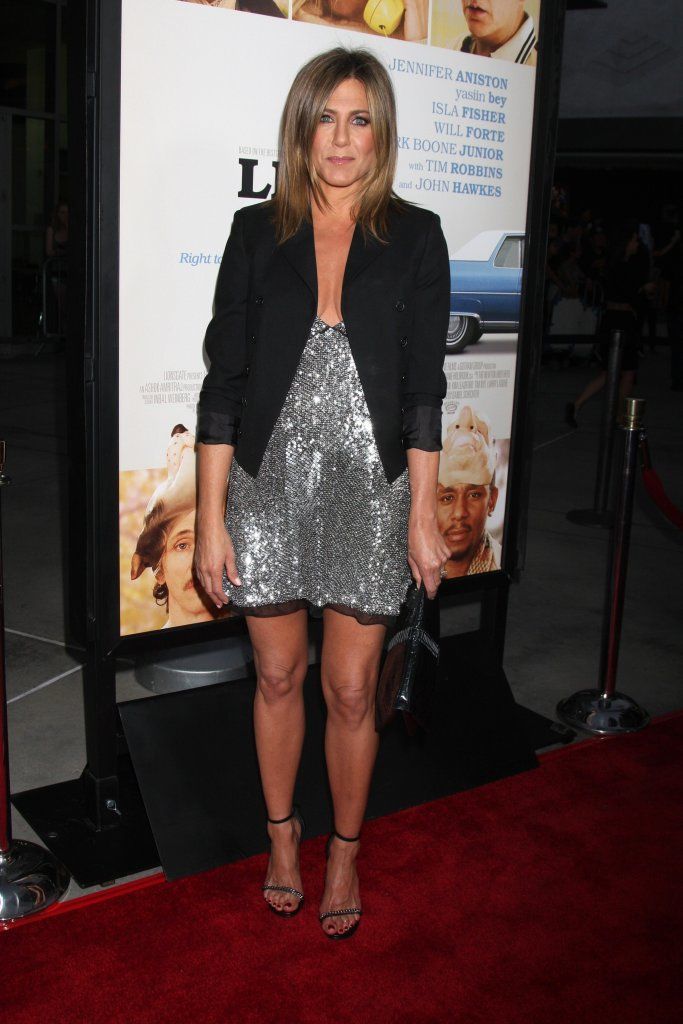 11. Little Black Dress
Here's Jen at the Director's Guild Awards in Hollywood. Like we said, no can pull off a little black dress quite like Aniston can. This sequinned number once again shows off what great shape Jen is in at 45!