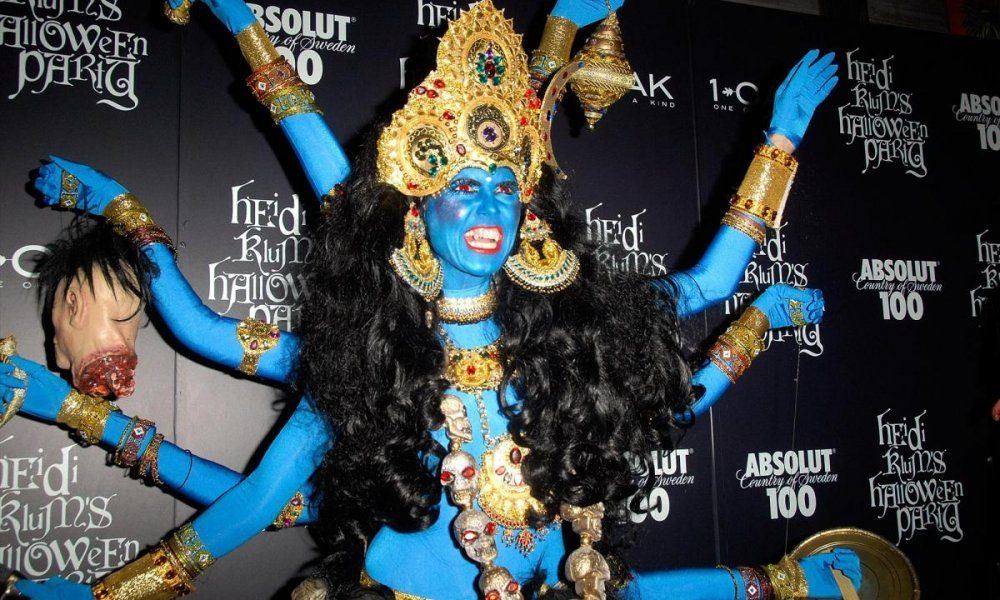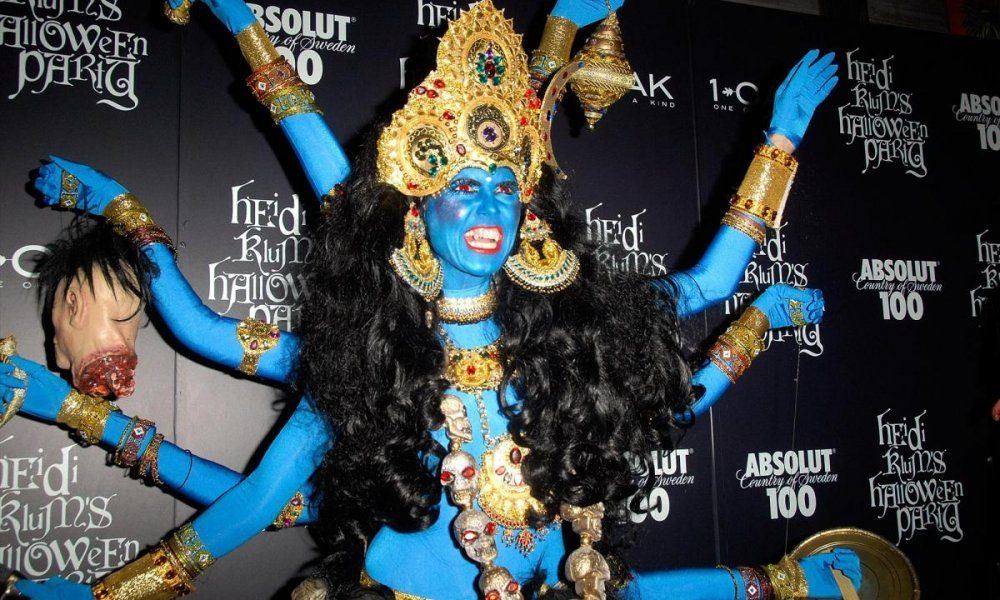 In the spirit of Halloween we decided to look back at the most creative costumes that Hollywood stars have donned for the spooky holiday. But Heidi Klum's costume wins the "most creative" award every year. The supermodel loves the holiday so much that she throws a Halloween bash in NYC annually. We've chosen the twelve best Heidi Klum Halloween costumes of all time. Sometimes you can't even recognize the supermodel. We wonder what she's got up her sleeve this year?
1. Lady Godiva Wouldn't Be Complete Without a Horse
Heidi threw her first annual Halloween party in 2001, and chose to go as Lady Godiva for he bash. She wore an all white bodysuit with some jewel details and wore a cascading blonde wig. Oh, and she rode in on a horse, of course.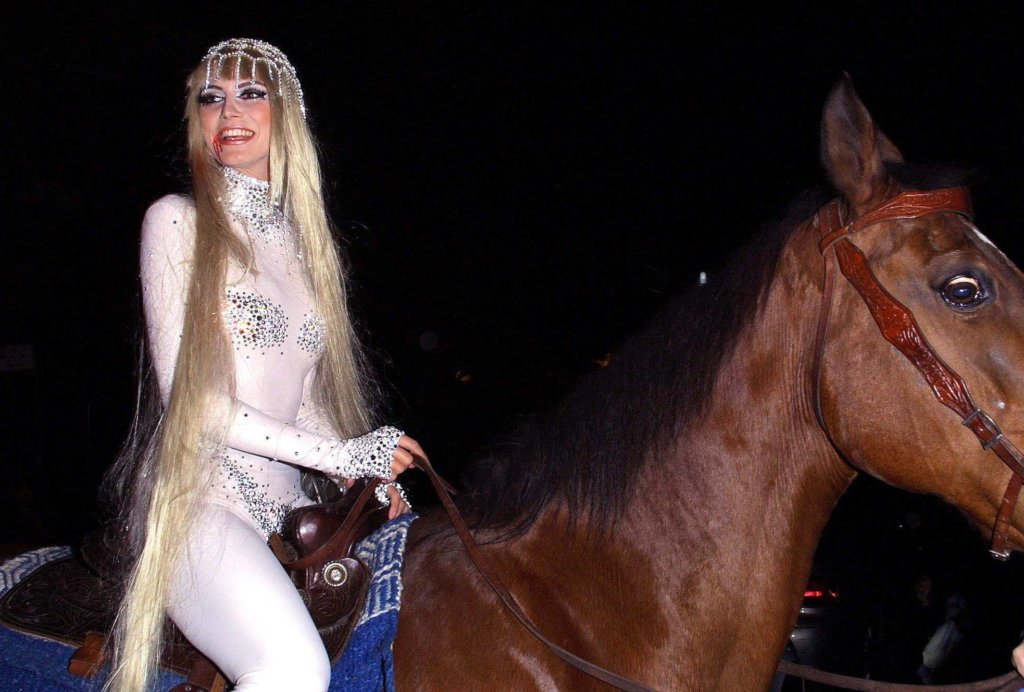 2. Her Golden Alien Costume in 2003 Must Have Weighed a Ton
In 2003 Heidi dressed in an elaborate golden alien costume, complete with golden teeth and long braids, for her 4th annual Halloween party. The metallic outfit was quite detailed, and those braids look heavy enough to give a girl a workout.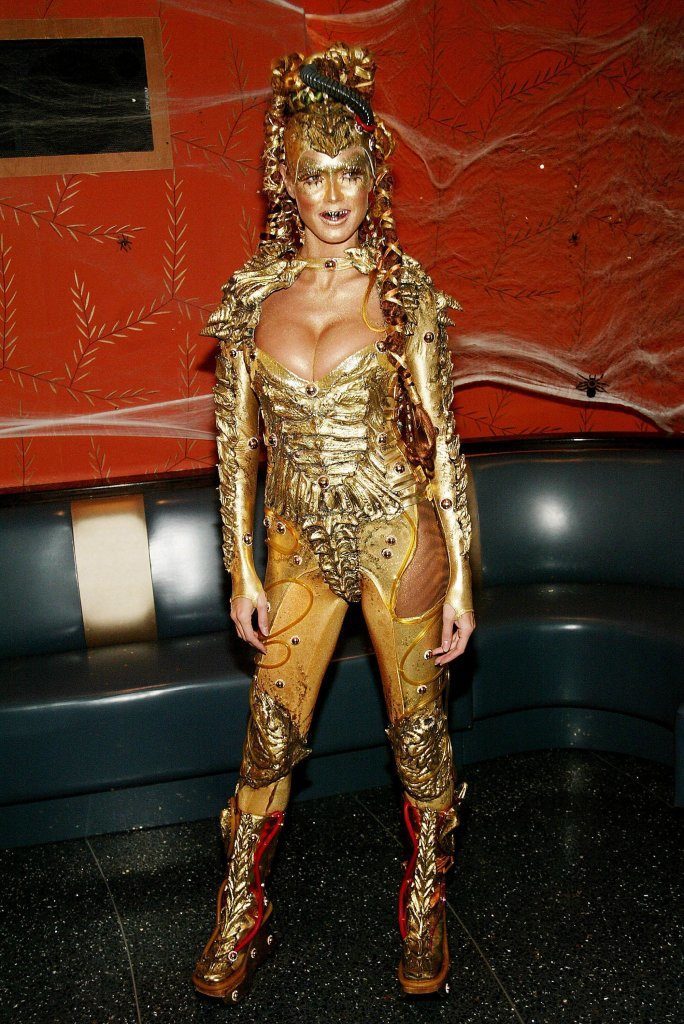 3. Heidi Was Ripe as Forbidden Fruit With a Twist in 2006
Heidi dressed as the forbidden fruit with a serpent wrapped around it for her 7th annual Halloween bash in 2006. Her then-husband, Seal, went as a sultry Eve. Heidi's costume collaborator Martin Izquierdo has said that this was the most complicated costume he created for her…because she was extremely pregnant at the time!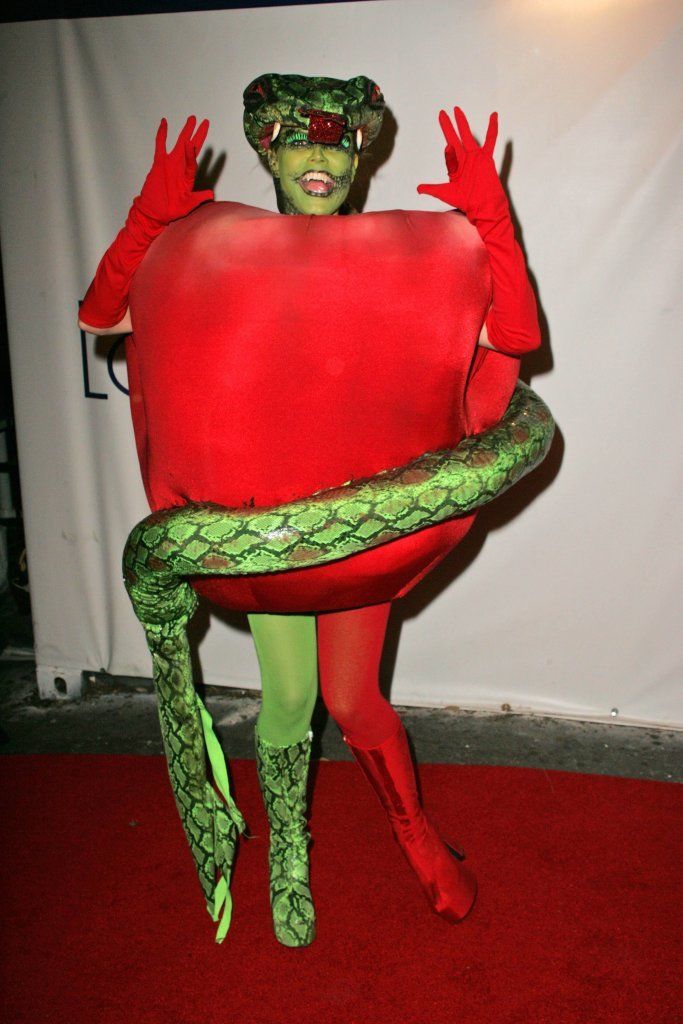 4. The Straightforward Catsuit in 2007 Was Still Pretty Purrfect
In 2007 Heidi donned one of more basic costume concepts, not that it was simple. As a cat she wore a full head-to-toe catsuit in velveteen fur, with ears, whispers, collar, the whole nine yards for her nine lives.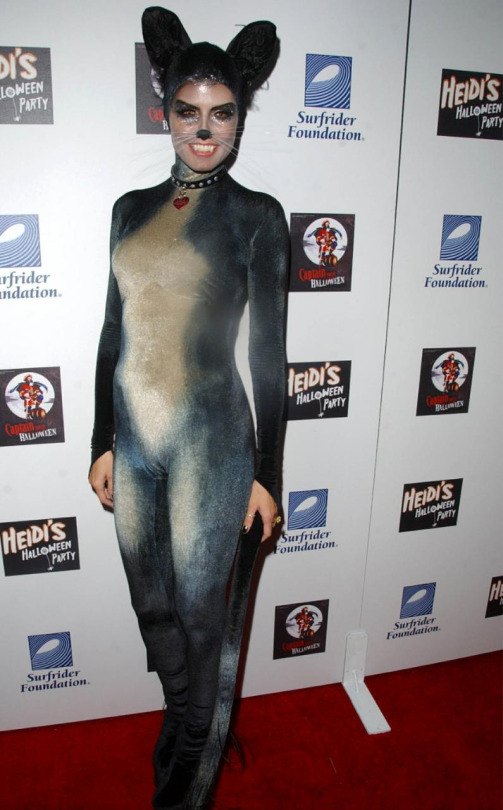 5. You Have to Hand it to Her For This Creepy Hindu Goddess Costume in 2008
Heidi went as the Hindu Goddess of destruction, Kali, in 2008. The detail in this costume is outrageous…including the six extra arms added on to make the all-blue Kali complete. Heidi took some creative liberties for the costume, like adding on some bloody hands and decapitated heads. It is Halloween after all.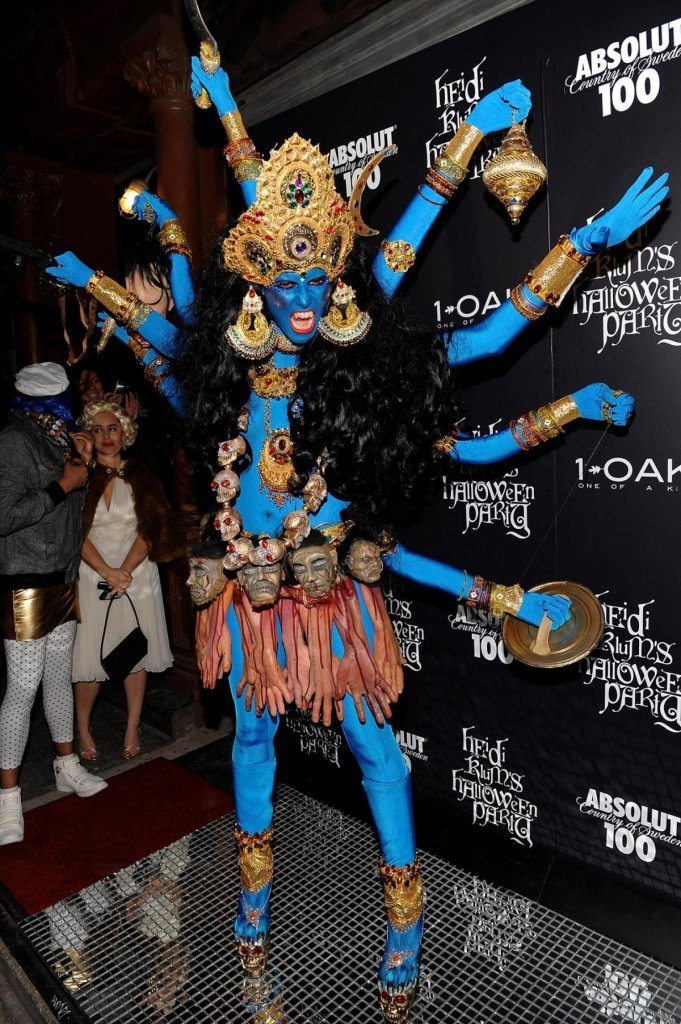 6. Feathered and Mostly Fabulous in 2009, But with One Flaw
Heidi Klum dressed as a black crow in 2009. The German beauty wore thigh high boots, fishnets, black face paint and lots of feathers for the look. In retrospect she didn't find this one the most comfortable, since the beak made drinking a bit difficult.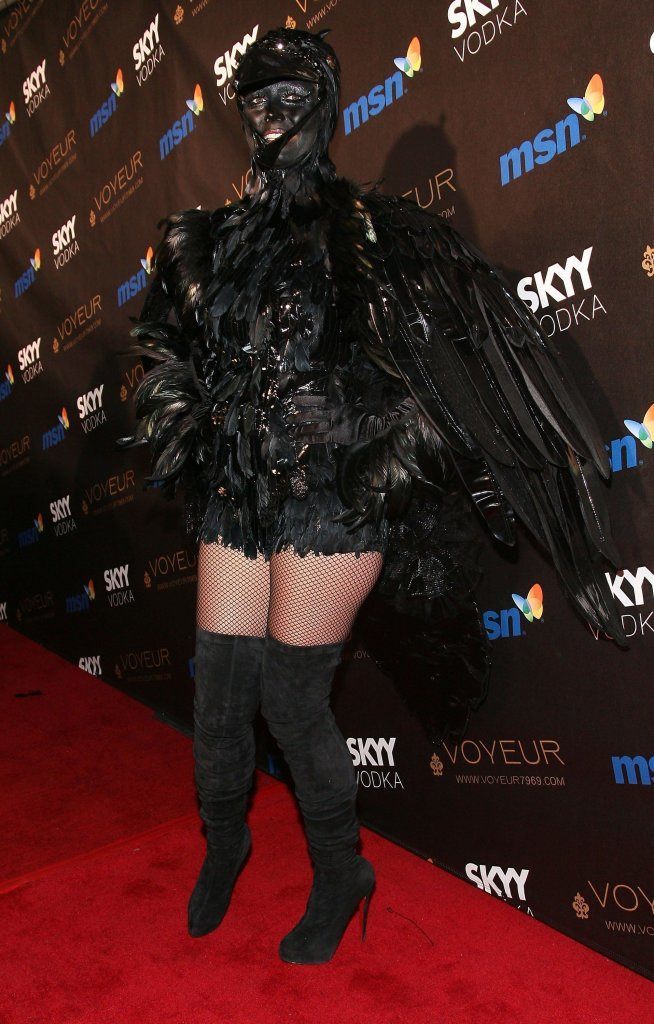 7. Heidi Was Literally Transformed in 2010
Heidi dressed as a transformer/alien character for her 11th annual Halloween party in 2010. The red and purple costume made the model nearly 8 feet tall!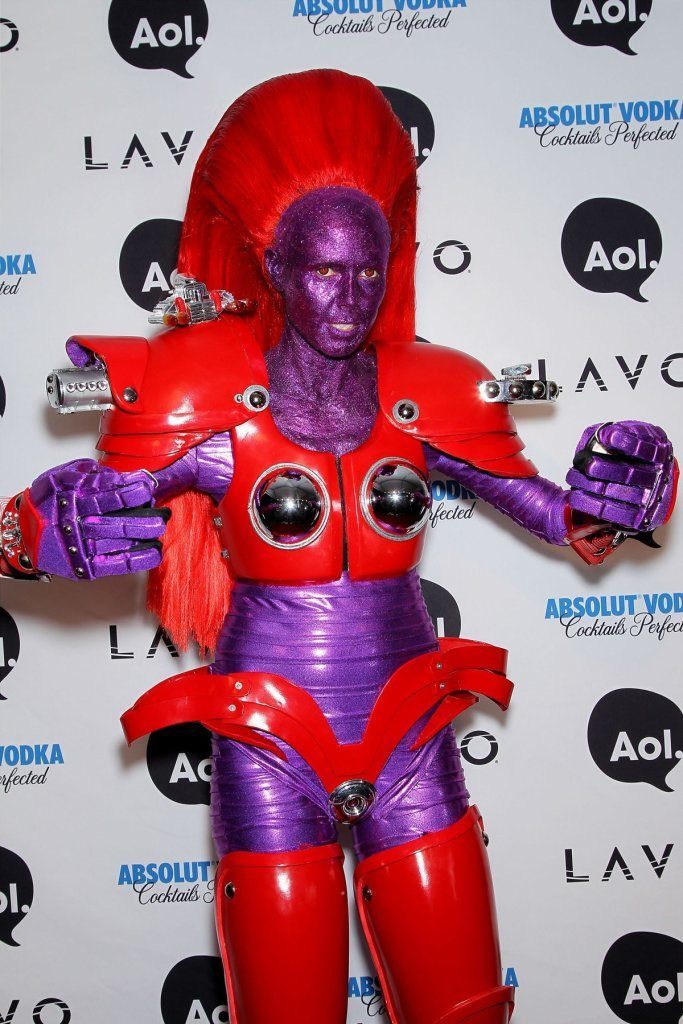 8. Heidi Was Naked but Didn't Show Skin in 2011
For Halloween 2011, the international supermodel donned a costume that showed what she would look like without skin. She was inspired by the "BODIES" exhibit for this costume, complete with platform boots. "It's kind of like a dead body with the first layer of skin ripped off. It's basically like me naked."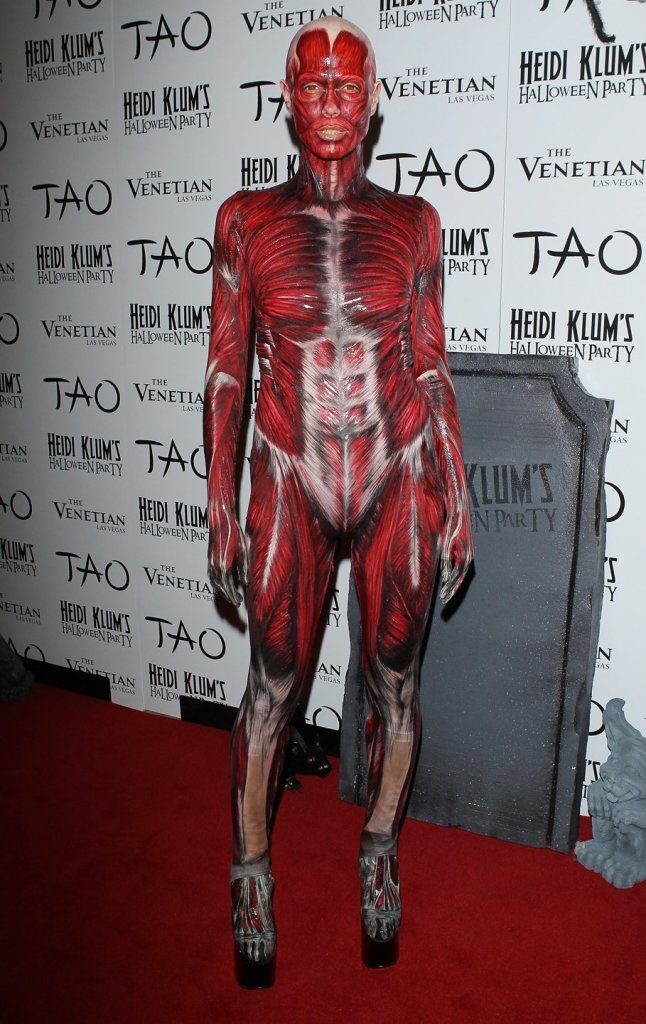 9. In 2012 She Was a Christmas Cleopatra
Due to the devastation of Hurricane Sandy in 2012, Heidi postponed her annual Halloween party until December. The model dressed in an elaborate Cleopatra costume, much more detailed than the original one she had planned to wear in October.
10. She Tricked Everyone as an Old Lady in 2013
Last year, Heidi tricked everyone. Klum showed up to her 14th annual bash at the Marquee dressed as an old lady. The costume included realistic looking wrinkles, gray hair and veiny legs. Heidi even arrived in an antique car!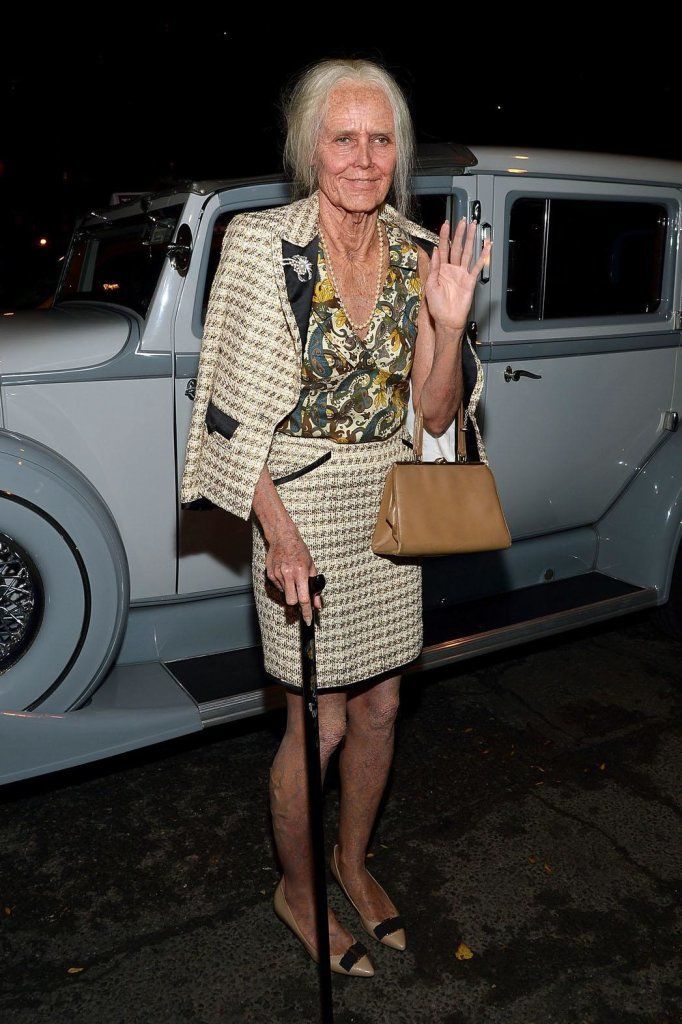 11. In 2014 She Made Our Eyes Bug Out as a Full On Butterfly
Heidi as a butterfly was eclectic to say the least. Her wings and outfit covered every corner of the rainbow as far as the color pallette went, and included some glitter for good measure. The wingspan of her set was truly enormous, and extended way larger than her actual already large supermodel wingspan. She has mentioned that she likes bugs and creepy crawly things.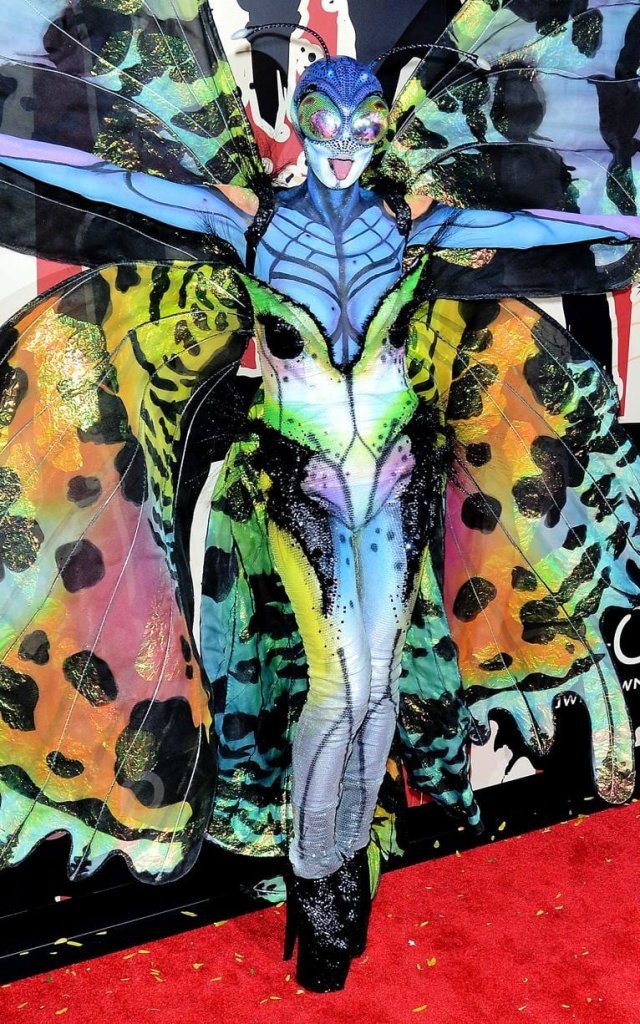 12. Becoming Jessica Rabbit in 2015, Curves and All
Again, in 2015 Heidi was pretty much unrecognizable. That time around she chose to go as cartoon character Jessica Rabbit, wife of Roger Rabbit, and she looked like a spitting image. Check out those carefully applied curves!