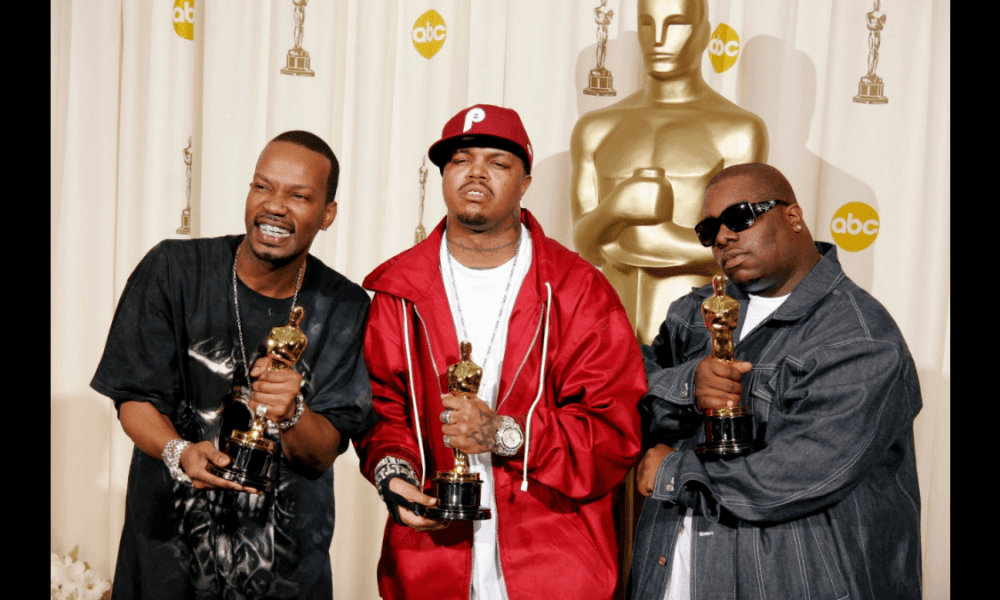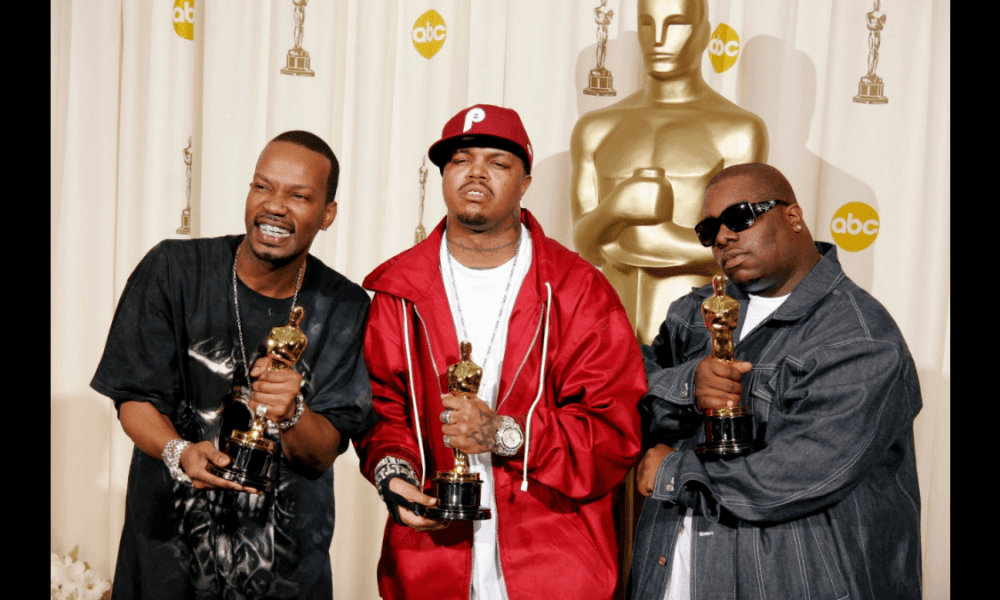 The Academy Awards ceremony has seen its fair share of righteous controversy over the years, with an increasing segment of the population claiming that the Oscars are biased against racial minorities. Whether you think they are racist or not, it seems obvious that the Academy of Motion Picture Arts and Sciences is headed towards obsolescence unless something changes fast. Regardless of what lay ahead, though, these movie awards are etched indelibly into the psyche of the American public. Since their inception in 1929, the Oscars have been celebrated as the pinnacle of film achievement. Here are 16 memorable moments from the last 80-plus years, good, bad and shocking.
1. David Niven Puts a Streaker in his Place
During the 46th Oscars in 1974, a naked man ran across the stage just before the Best Picture awards were to be announced. Debonair British actor David Niven happened to be at the podium during this unexpected interruption. He quipped, "Isn't it fascinating to think that probably the only laugh that man will ever get in life is by stripping off and showing his shortcomings?" Burn!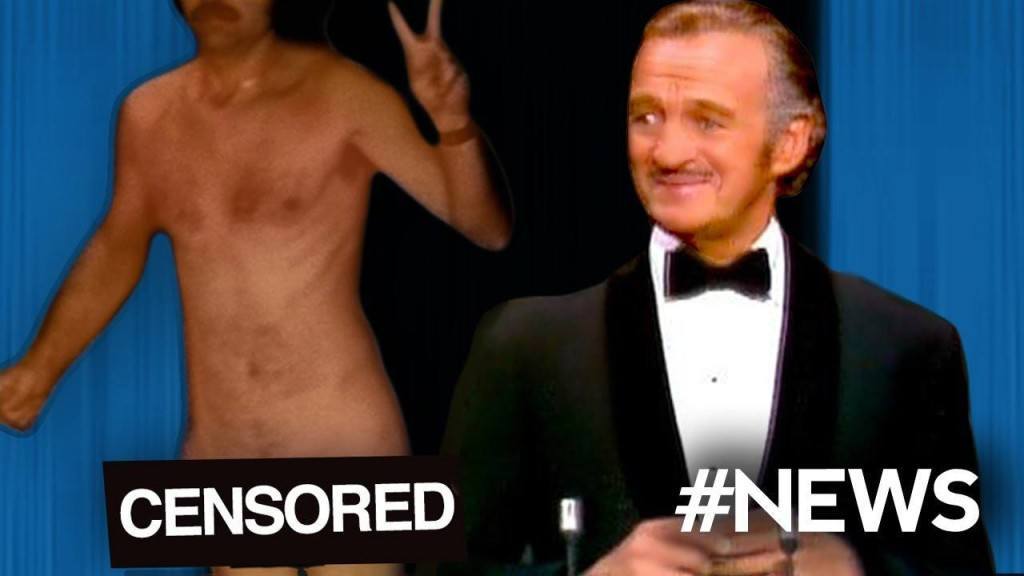 2. Angelina and Her Brother Are … Weird
Sometimes actors and directors should probably keep their private lives private. Case in point: Angelina Jolie's cavorting with her sibling at the 2000 ceremony (where Jolie took home the Oscar for Best Supporting Actress for Girl, Interrupted). The pair's behavior sparked several rumors about potential inappropriate behavior. Of course, those rumors were total BS, but you have to admit that that kiss is hardly sibling appropriate. Also, she said the following while accepting her award: "I'm in shock, and I'm so in love with my brother right now!" Yikes.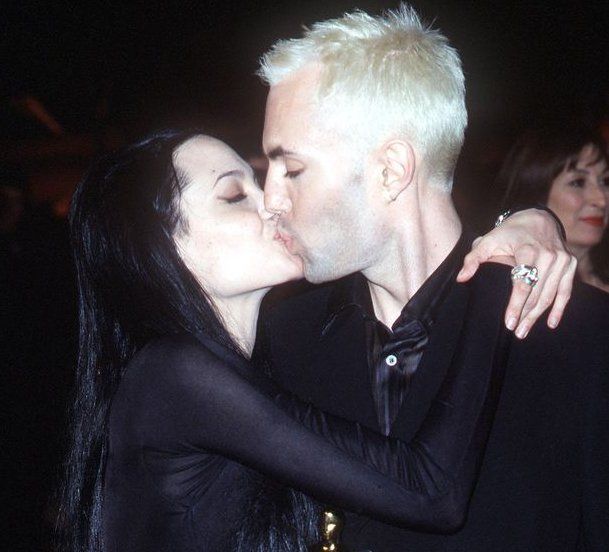 3. Adrian Brody's Halle Berry Smooch
Adrian Brody's performance in 2002's The Pianist was remarkable. It was brutal, heartfelt and harrowing. His acceptance speech for Best Actor at the following year's ceremony was the exact opposite of that. When his name was called, Brody swept onto the stage, his exuberance spilling over to the point that he dipped presenter Halle Berry and laid a big, fat kiss on her lips (who can blame him for giving it a shot?). His resulting speech was sweet, excited, genuine, the perfect capper for a fantastic Oscar moment.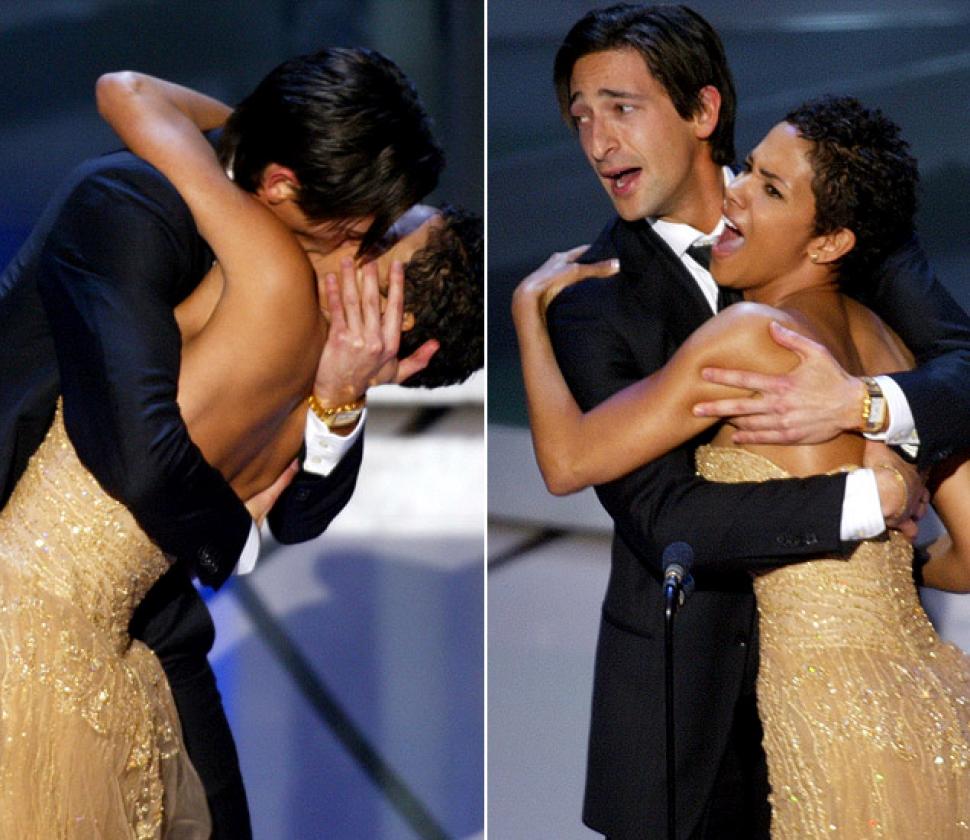 4. Jack Palance's One-Armed Push-Ups
When 72-year-old Jack Palance accepted his Academy Award for Best Supporting Actor for 1991's City Slickers (a serviceable Billy Crystal comedy), he was annoyed about people thinking his advancing age made him less capable physically. By way of expressing his strength and durability, he dropped to the ground and ripped out three one-armed push ups, no problem. Then he took the podium again and explained, "That's nothing, really. As far as the two-handed push-ups are concerned, you can do that all night and it doesn't make any difference whether she's there or not. And besides, it's a hell of a lot less expensive." Way to go, Jack.
5. Three Six Mafia's Acceptance Speech
When they arrived at the Oscars in 2006, pretty much no one expected Memphis-bred rap group Three Six Mafia to take home the Academy Award for Best Original Song for their rollicking hip hop song, "It's Hard Out Here For a Pimp" from Hustle and Flow. When Queen Latifah announced the win, the three man group were openly ecstatic, completely unable to express their joy or wipe the smiles from their faces. Even ceremony MC Jon Stewart had to ask, "How come they're the most excited people here tonight?"
6. Sandra Bullock's Dubious Double Year
Sandra Bullock is a rare actor to have managed both great acclaim and great ridicule in a single year. In 2010, the actress brought home Best Actress honors for her performance in The Blind Side, in which she played a charitable white lady who takes in a misunderstood giant who went on to be a football star. That same year, Bullock also won the Golden Raspberry for Worst Performance By a Leading Actress when she played a total psycho who stalks Bradley Cooper in what is supposed to be a romantic comedy(ish) called All About Steve. Ever the class act, though, Bullock became one of a select few actors ever to show up to receive her Razzie in person.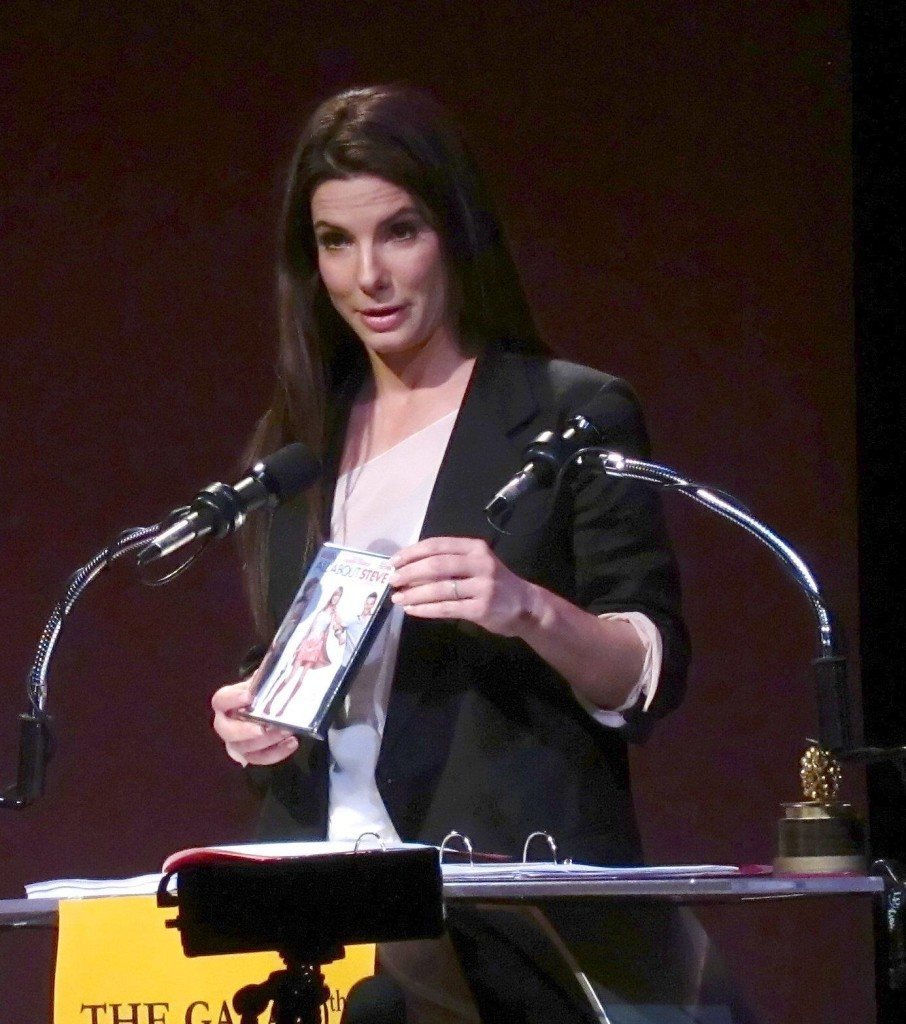 7. Tom Hanks Wins Back-to-Back Oscars
In the entire history of the Academy Awards, only two men have won back-to-back Academy Awards for Best Actor, Spencer Tracy and America's most trusted face, Tom Hanks. After putting in a tour de force performance with 1993's Philadelphia, our generation's response to Jimmy Stewart brought out the big guns for the 20th century epic, Forrest Gump. Throughout the adulation, Hanks has managed to maintain the quality of his output while also remaining down-to-earth and lovable.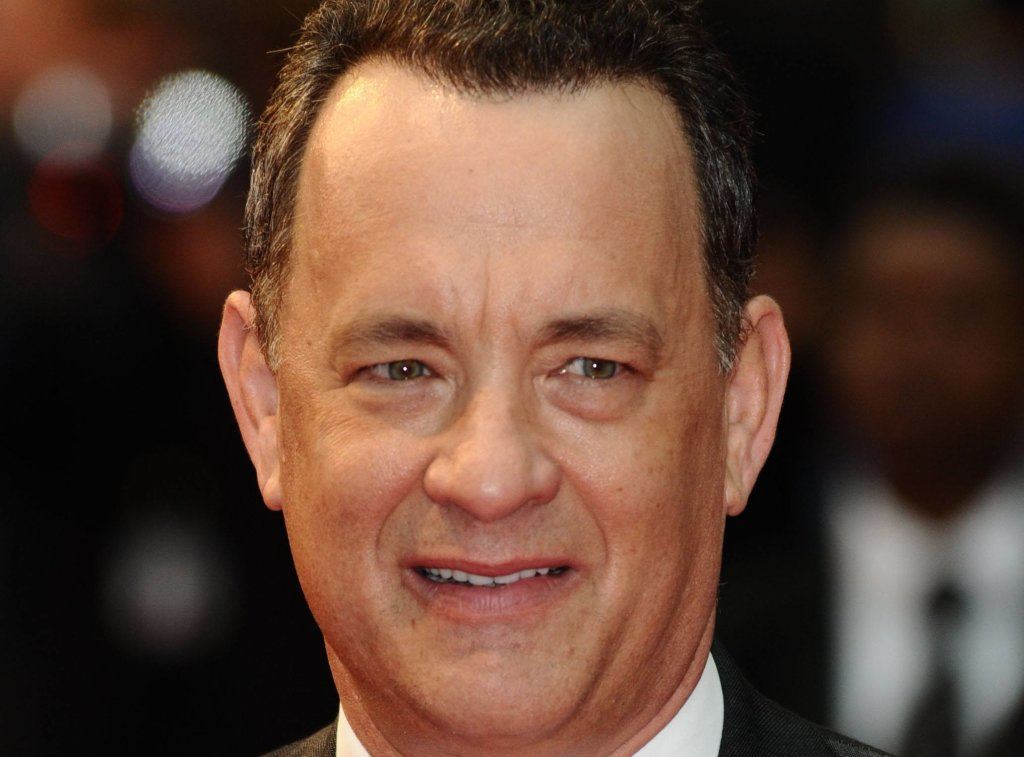 8. John Wayne Finally Wins One
Throughout his 50-year career, in spite of the fact that he anchored some of the most iconic films of all time, John Wayne was only recognized for his acting talent twice. The first time came in 1950 for his performance in The Sands of Iwo Jima. The second nomination, and Wayne's only win, came for his performance as Rooster Cogburn in 1969's True Grit. As he accepted his award for nearly a half century's work, Wayne was his typical concise self, saying, "I feel very grateful, very humble, and all thanks to many, many people."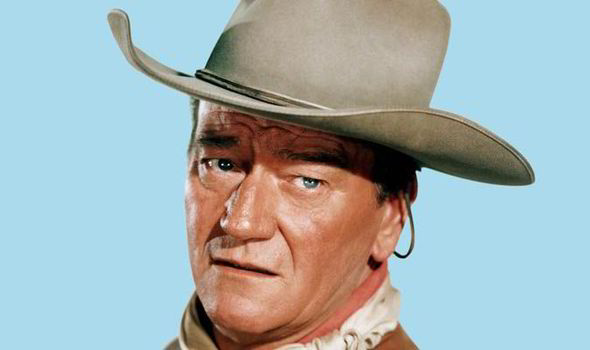 9. Hooray For Scorsese!
Throughout Oscar history, several performers have received what they call a "body of work" Academy Award. In other words, it's the case of an actor or director who receives a nomination and a win for a picture that may not be his or her best work. John Wayne won his only Oscar for such a picture (sorry, The Quiet Man is better). The best part about Martin Scorsese's win for 2006's gangster masterpiece The Departed is that while the man undoubtedly deserved his own "body of work" award, he also deserved to win outright for the film for which he was nominated. Let's not talk about the fact that Scorsese only holds one win for his nearly unmatchable filmography, but at least it's something.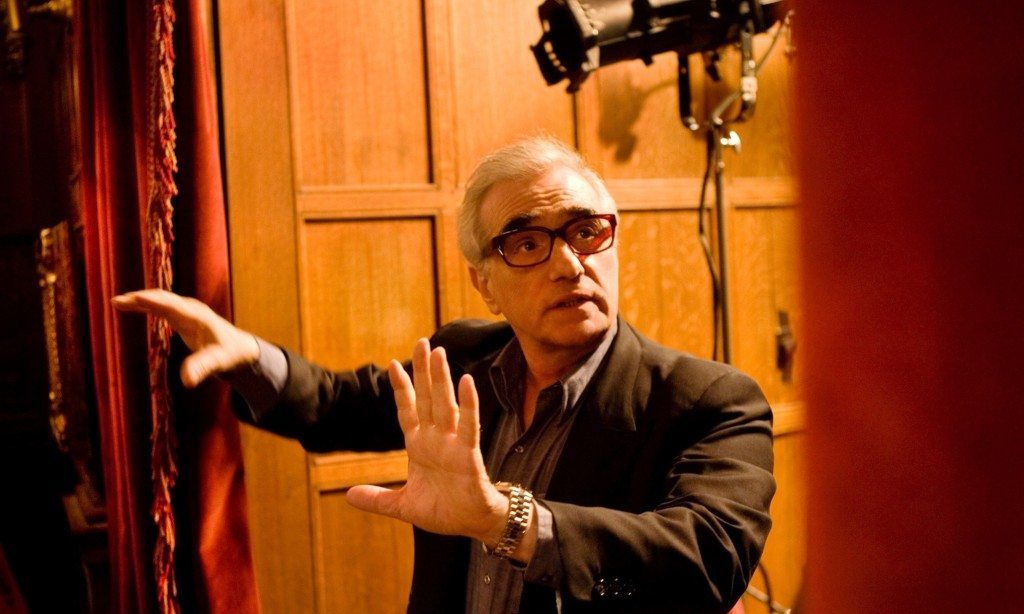 10. Marisa Tomei Wins One
When making your list of all time biggest Oscar upsets, you have to include the unlikely victory of Marisa Tomei. At the ceremony in 1993, the young actress took home the Oscar for Best Supporting Actress for her lively turn in My Cousin Vinny. The win was such an upset — especially considering she won over traditional favorites like Judy Davis, Miranda Richardson, and Vanessa Redgrave — that a rumor quickly began to circulate that Tomei only won her award by mistake (like Steve Harvey at the Miss Universe pageant). It wasn't true, of course, as Tomei has more than proved her worth in the years since, earning two more nominations for Best Supporting Actress.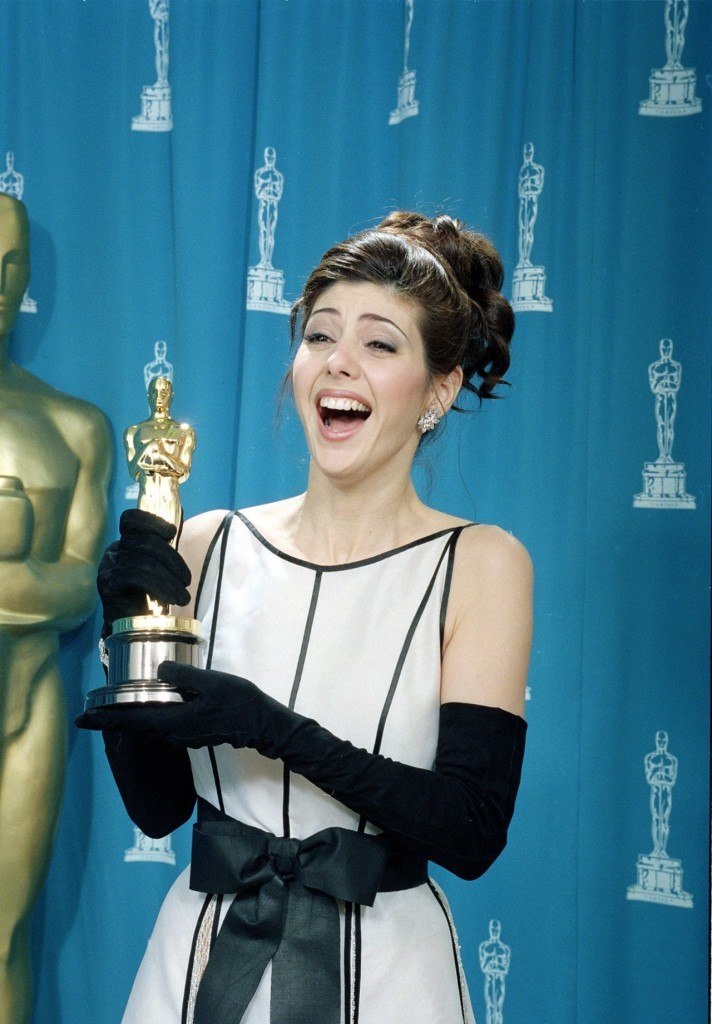 11. Sean Penn Beats Bill Murray
It was one of the closest Oscar races in recent history. Perennial favorite Sean Penn turned in one of the best performances of his career as a grieving father with a dark past in Clint Eastwood's Mystic River. Meanwhile, Penn was getting a lot of competition from first time nominee and the most beloved actor in Hollywood history (… prove me wrong), Bill Murray. Murray had received wide acclaim for his subdued, yet powerful performance in Sofia Coppola's only good movie, Lost in Translation. The race was so close that when Penn accepted his award, he made sure to take a moment to acknowledge a noticeably let-down Murray's performance.
12. 'Titanic' Ruins Everyone's Night
Like it or not, Titanic is probably the most celebrated individual film in Academy history. Not only is it tied for most wins by a single film (it won 11, same as Ben-Hur and Lord of the Rings: Return of the King), it's also tied for first with most nominations (14, like All About Eve). The real crime is that not only is this overblown disaster picture certifiably not James Cameron's best film (that would be Aliens or The Abyss), but 1997, the year of Titanic, was an otherwise incredible year for now completely unrewarded movie gems. Here's a short list of what else was competing for an Oscar that year: As Good As It Gets (which, admittedly, took home both Lead Actor Awards), The Full Monty, Good Will Hunting, L.A. Confidential (the film that really should have won Best Picture), Jackie Brown, Boogie Nights, Donnie Brasco, Gattaga and Wag the Dog. Undoubtedly, Cameron was "king of the world" that night, though.
13. Someone Make Michael Moore Stop
Ugh … there's nothing quite so bad as a star who just won't shut up about politics. Sure, it's understandable that celebrities are as passionate about politics as your or I, but when they use their fame as a podium to spout their beliefs, it's obnoxious. Documentarian Michael Moore is easily the best example of this. When he won his Academy Award for Best Documentary Feature in 2002 for his anti-gun crusade Bowling for Columbine, he didn't mince words about his reaction to the invasion of Iraq (which had begun earlier in the week). The filmmaker shouted over boos from the crowd, "We are against this war, Mr. Bush! Shame on you, Mr. Bush! Shame on you!" It just wasn't the time or place for that kind of discussion.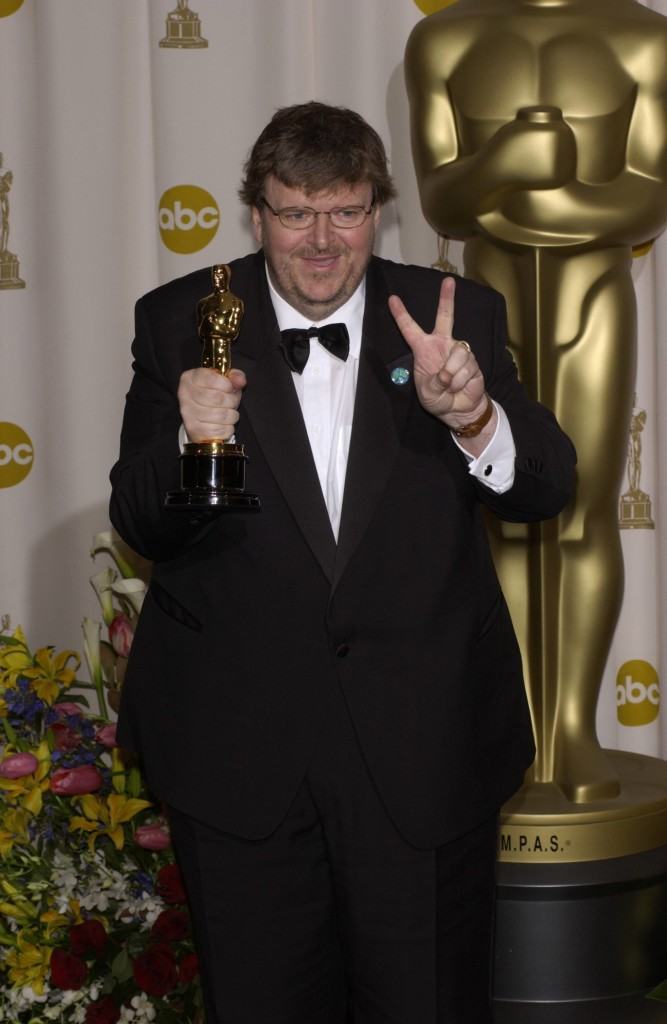 14. 'Crouching Tiger, Hidden Dragon' Shows That Genius Isn't English-Only
In 2001, Ang Lee took the world by storm when he released his Chinese epic masterpiece Crouching Tiger, Hidden Dragon. A love story that spanned decades, the film was as artful as it was true to its fantastical roots. It stands as the most decorated foreign film of all time, earning 10 nominations and bringing home four statues for Best Foreign Language Film, Best Art Direction, Best Original Score, and Best Cinematography.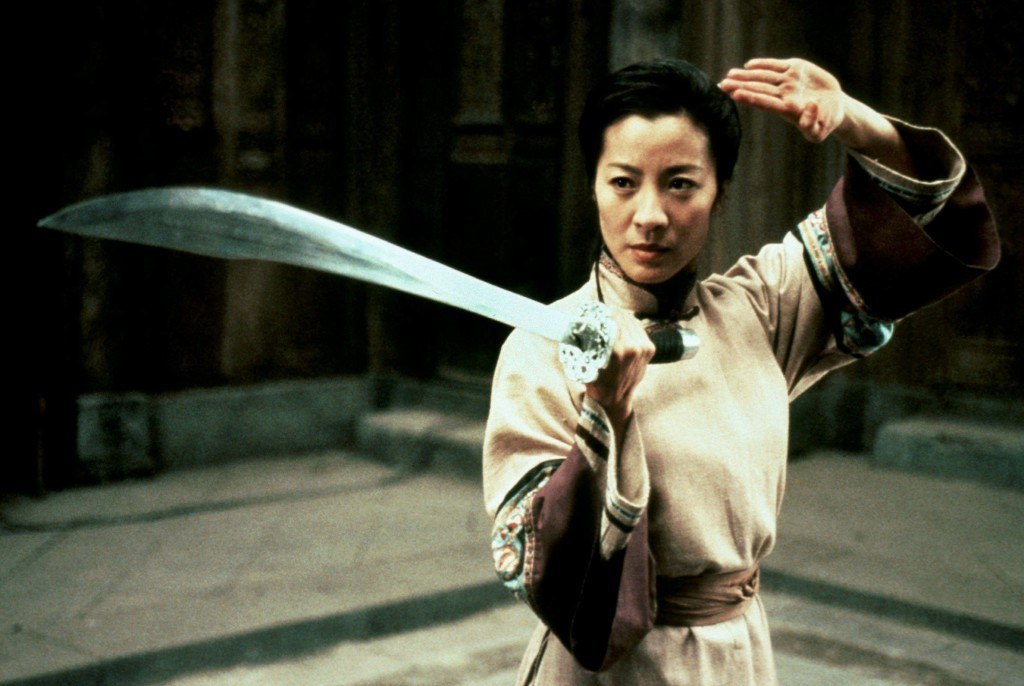 15. George Clooney, yon Douche
As we mentioned earlier, sometimes celebrities just need to keep their opinions to themselves. When he took home the award for Best Supporting Actor in 2005 for Syriana (a film he also directed), Clooney was the very picture of self-congratulation for both himself and the entire film industry. In a pitch perfect show of obliviousness he congratulated Hollywood for being the first to popularize AIDS awareness and the civil rights movement, even going so far as to proclaim with a wink that he was "proud to be out of touch". Don't you just feel lucky that there are super smart artists out there to not only tell you which stuff you should be thinking about, but also how you should feel about it? Get over yourself, George.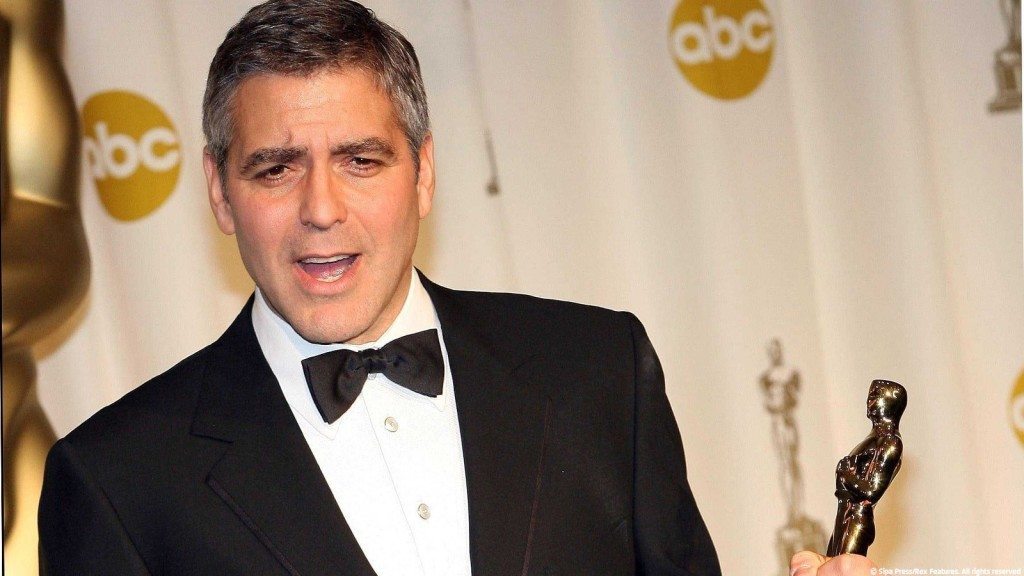 16. Walt Disney owns the Oscars
No Oscar list would be complete without a mention of Walt Disney. He holds the record for the single most awards won in Academy history at 22. Even more, he holds the record for the most wins (4) and nominations (6) by an individual on a single night. Oddly enough, only one of those was for animation, though. He won an honorary award for Snow White and the Seven Dwarfs. Beyond that, his wins and nominations were for his short films and his documentary features.