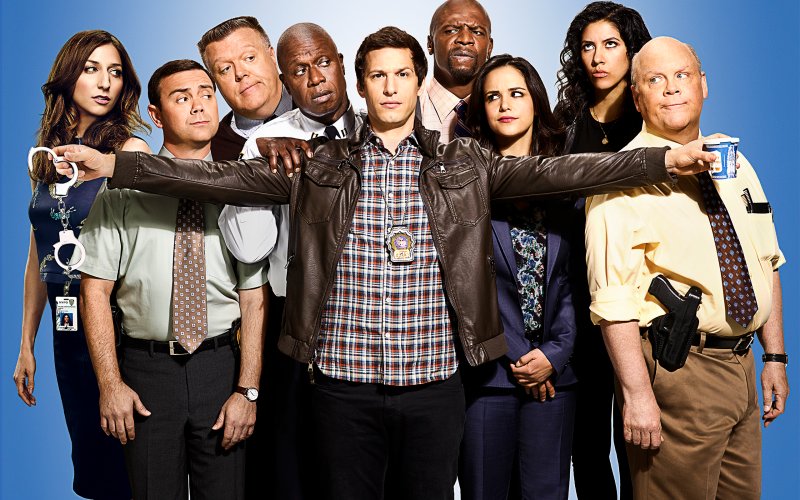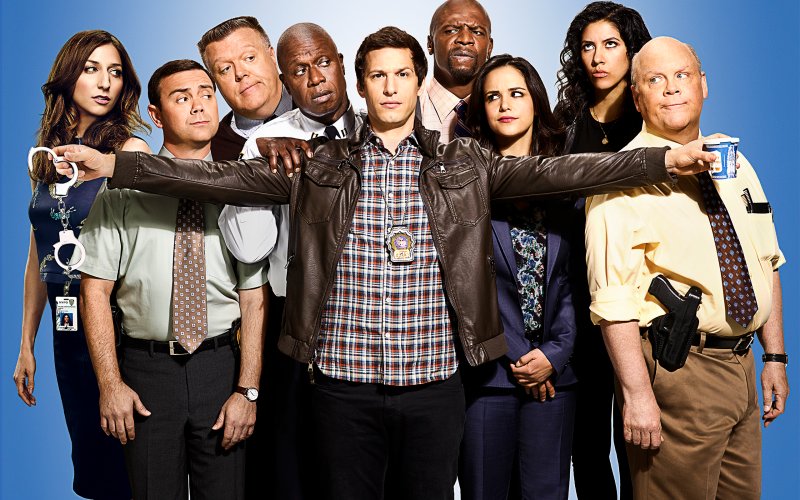 At a San Diego Comic-Con panel, the entire cast of Brooklyn Nine-Nine along with showrunner Dan Goor and executive producer Luke Del Tredici participated in a moderated conversation about the show's cancellation by Fox as well as NBC picking it up for a midseason premiere next year. The cast fielded questions from the audience during the panel, and delved into what it was like to once share a home with Fox News.
"All I know is there are different factions of Fox," Andy Samberg commented. "Fox, the people we dealt with there, I truly believe really loved and supported the show. I don't know what they would say publicly about the Fox News wing of Fox."
"Fox News is so good, that's the hardest part about leaving," Chelsea Peretti jokingly added.
Also during the panel, Stephanie Beatriz addressed her character's storyline about coming out as bisexual this past season.
"Dan [Goor] is a person who believes in equality and inclusivity, and that shows in his writers' room," Beatriz shared. "He wanted a bisexual person's voice to be heard in that storyline, and it just so happened that the person who's playing the character they wanted to turn bi is also bi. It was a gift, and I think we did it in an amazing way."
One fan asked the panel about the series tackling the tough topic of mental health.
"Anytime we tackle something that is tricky like that … it has to be the right story so we are walking the line correctly and it doesn't come across as us making a joke about it and giving it proper respect," Samberg said. "That's why episodes like Rosa deciding to come out or the episode 'Moo Moo' where Terry is racially profiled in his own neighborhood, those episodes take a lot longer because if you f*** it up it's bad."
Even though Brooklyn Nine-Nine won't return until midseason, the team is already hard at work on the show's sixth season.
"The writers' room is up and we are five weeks into our pre-production," Goor commented. "We've got a bunch of scripts; we've got a bunch of stories; it's going to be good."
Fans were devastated by the news when Fox announced the cancellation of Brooklyn Nine-Nine in May. Many took to Reddit, Twitter, and other platforms to voice their feelings about the decision. Miraculously, 30 hours after the announcement, NBC shared it was bringing the show back for a 13-episode season.
"Ever since we sold this show to Fox I've regretted letting it get away, and it's high time it came back to its rightful home," NBC Entertainment chairman Robert Greenblatt said in a statement. "Mike Schur, Dan Goor and Andy Samberg grew up on NBC and we're all thrilled that one of the smartest, funniest and best-cast comedies in a long time will take its place in our comedy lineup. I speak for everyone at NBC, here's to the Nine-Nine!"
The second life with NBC came as a surprise to most of the people involved with the series, particularly the cast.
"Most of the cast had no idea and didn't know that there were things being talked about. They felt the lows and the highs even more because they didn't know there was a chance. The world's reaction [to the news] was amazing," Goor told The Hollywood Reporter. "It was obviously hard to hear that the show was being canceled by Fox and then the outpouring of support was so heartening. Somebody said it's like in Tom Sawyer when he goes to his own funeral. You don't usually get to experience that and it was an amazing experience."
All five seasons of Brooklyn Nine-Nine are currently available on Hulu.