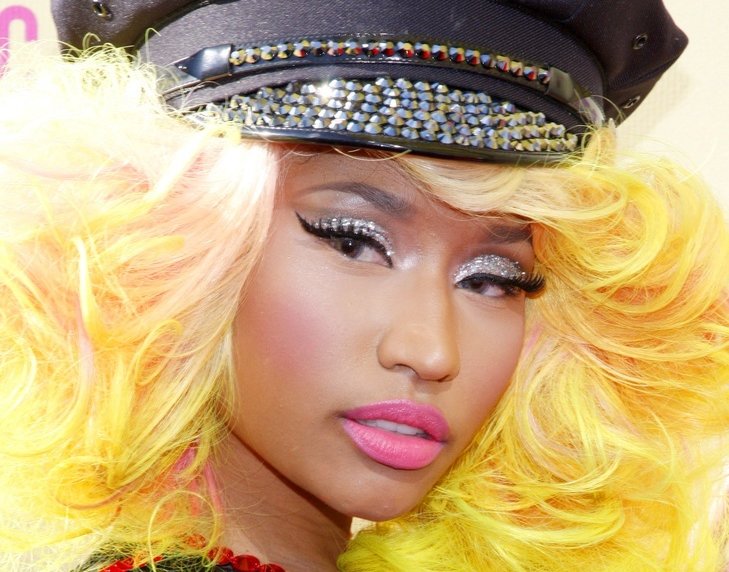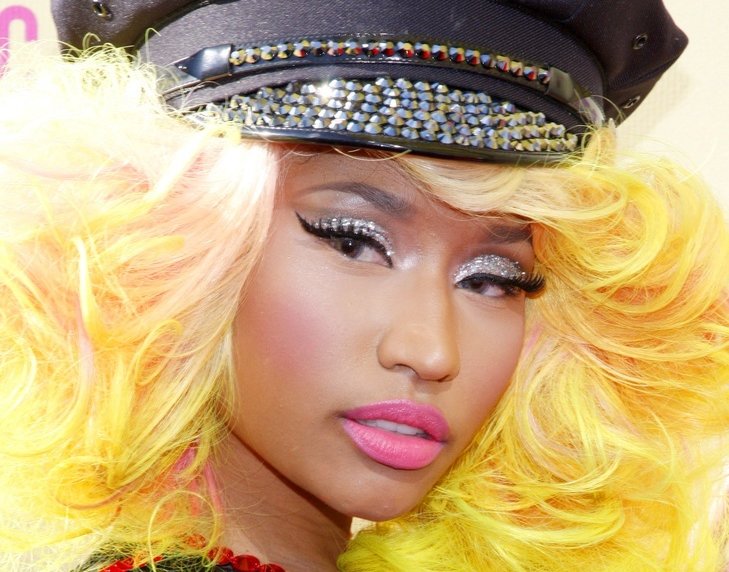 The Trinidadian-born singer is known for her outlandish costumes, hairstyles and over the top make-up choices, but sometimes she opts for simpler looks which showcase her endless curves. Click through these fifteen Nicki Minaj pics from head to toe and let us know which is your favorite look below.
1. Wild Wigs
The entertainer is known for her extravagant hairstyles and she did not disappoint at the 2012 MTV Video Music Awards. Minaj opted for a yellow-pink-and-green voluminous curly wig with a bejeweled police officer cap. She definitely knows how to make heads turn on the red carpet.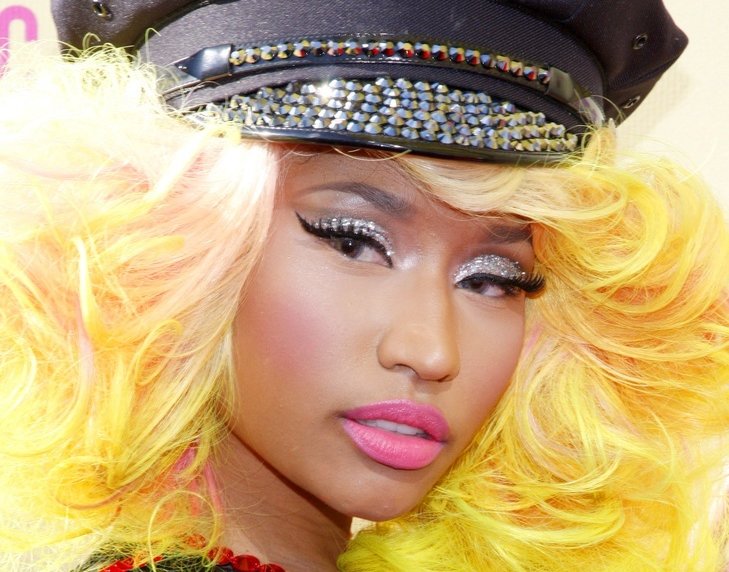 2. Fashion Forward Frankenstein
Here, Nicki seemed to be emulating the Bride of Frankenstein meets George of the Jungle with this with this sky-high blonde and leopard do. Minaj rocked this look at the 2011 Grammy awards show and paired the elaborate hairstyle with a leopard Givenchy jumpsuit.
3. Lost in Her Lashes
Unfortunately, those lashes aren't au natural, but they sure do draw attention to Minaj's sultry gaze. Her natural eye color is brown, but she often uses contact lenses to compliment her look. Here we can see the singer has in blue-grey lenses to match her two-toned hair.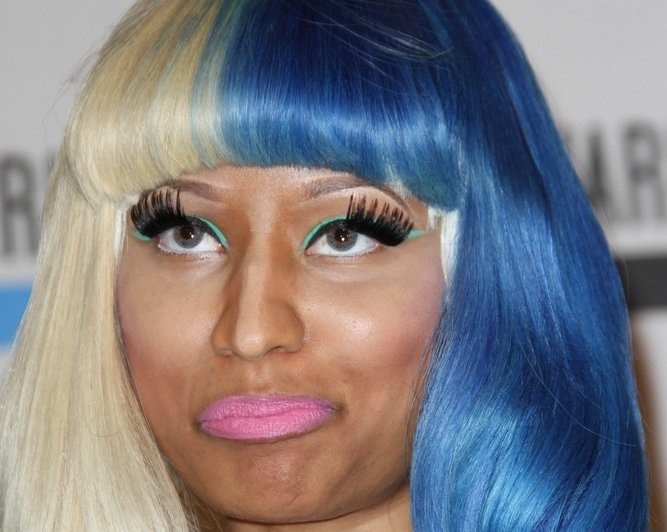 5. Pink and Pouty
The Trinidadian beauty has mastered the perfect pout. Minaj chose a luscious hot pink lip for FOX's American Idol Season 12 Premiere Event in 2013. She makes hearts melt with her plump puckers.
5. Stunning Smile
The "Superbass" singer showcased her pearly whites with a radiant smile highlighted by a soft pink lip for the 2010 MTV Video Music Awards. The star donned a pink wig, soft blue eye make-up and chunky costume jewelry to finish the look.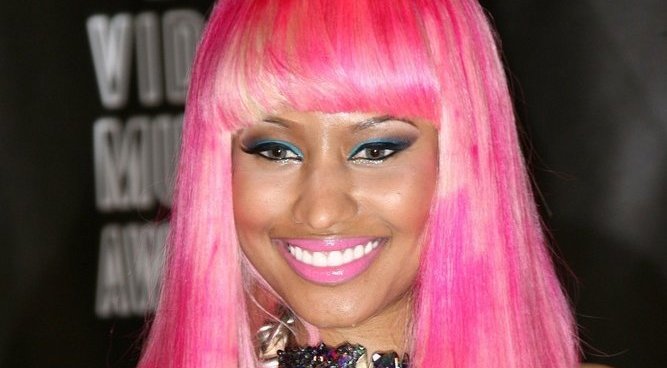 6. Distracting Décolletage
Minaj is known for her voluptuous frame and she never shies away from displaying her endless curves. Nicki distracted fans with her décolletage in 2013, at the 21st Annual Elton John AIDS Foundation Academy Awards Viewing Party.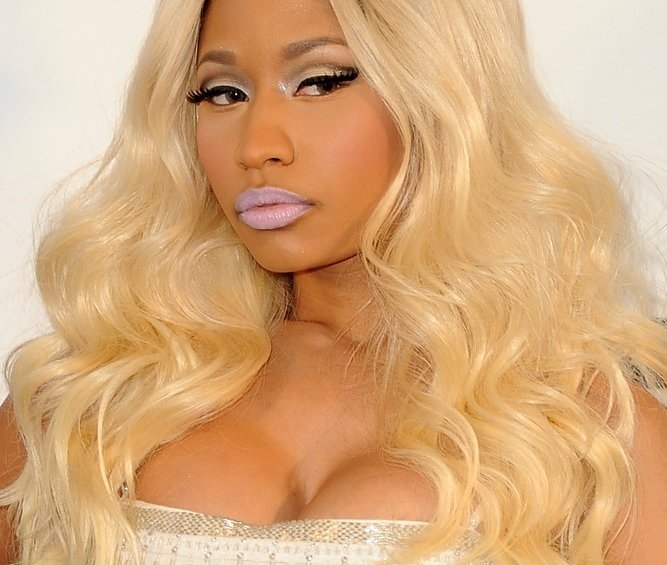 7. Nicki Minaj's Willowy Waist
Nicki Minaj's small waist and curvaceous backside were on display at the The Other Woman Premiere in LA in 2014. We would definitely be worried if Nicki was the "other woman" in our relationship with this form-fitting look.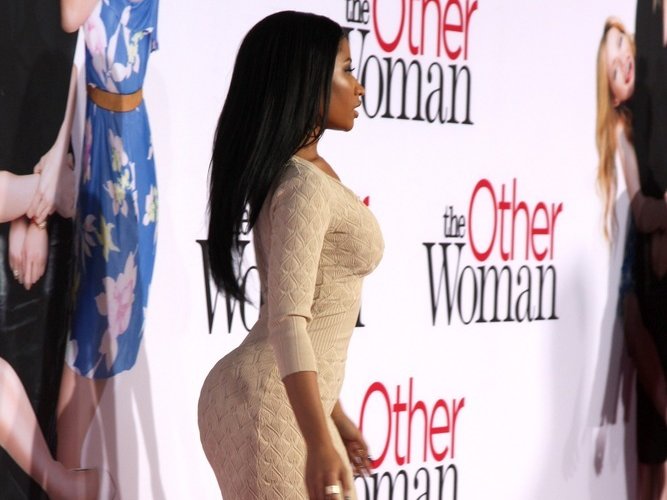 8. Sweet and Simple
Although she's known for her outlandish costumes and hairstyles, sometimes the "The Night Is Still Young" singer opts for a simpler style. Here's a svelte looking Minaj attending Fashion Rocks at the Barclays Center in New York City. Her jet black hair pulled back in a sleek ponytail is perfectly paired with a black trapeze blazer dress and gold spiked booties. Her fashion rocks.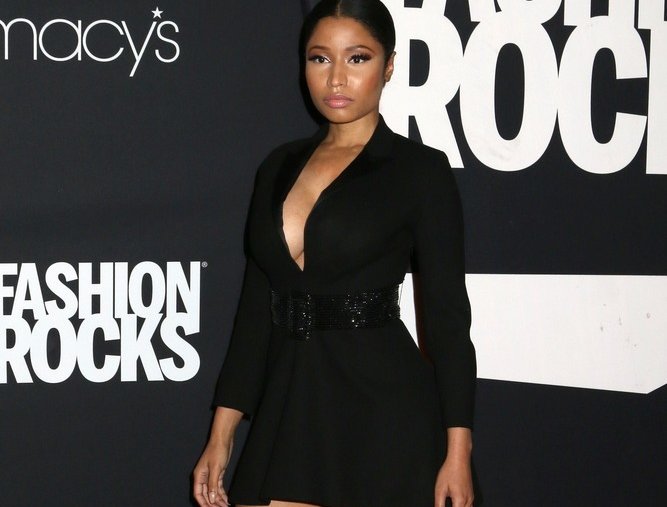 9. Egyptian Empress
At the 2010 American Music Awards, Nicki donned a sleeveless cocktail Manish Arora dress adorned with teal, gold and leopard attachments channeling ancient Egypt. She definitely stole the show on the red carpet with this dress which she paired with a blonde and green two-toned wig.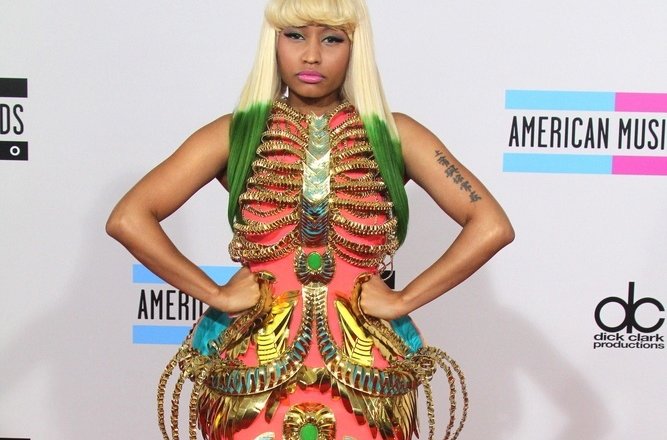 10. Glammed up in Gold
Nicki once again showcased her envious curves and her affinity for gold costume jewelry at the 2011 MTV Movie Awards. Nicki paired her black cut-out top with chunky bracelets and a necklace that highlighted her plunging neckline.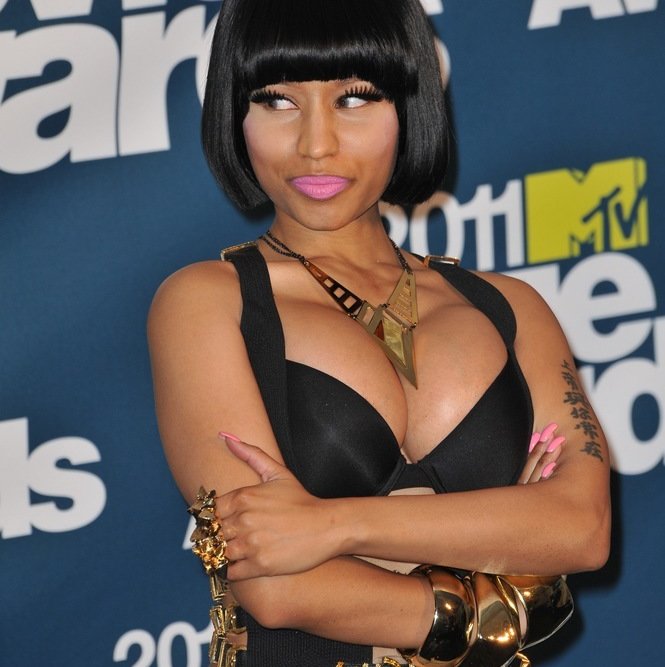 11. Heavenly Hourglass
Nicki Minaj's hourglass figure was on display in this simple floor-length Alexander McQueen dress. The "Starships" singer finished off the look with sleek hair, a subtle smoky eye and soft pink lips.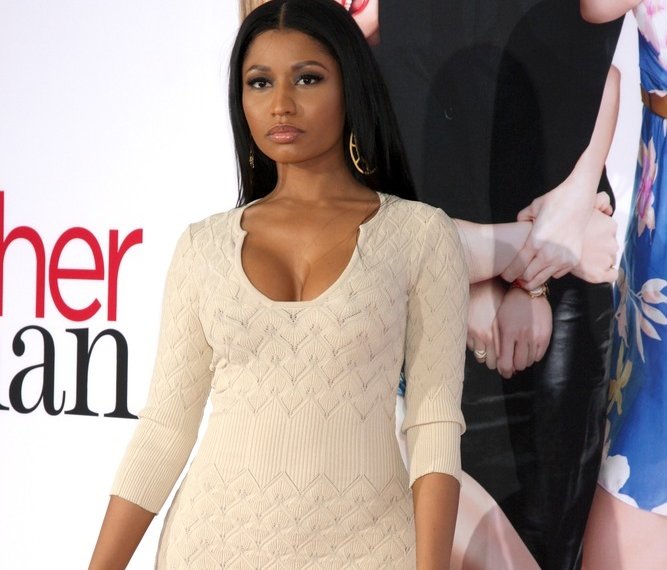 12. Best Formal Look
The 32-year-old hip-hop star arrived to the 2015 Grammy Awards in one of her most formal looks yet. Minaj opted for a sleeveless Tom Ford gown, designed with an organza bodice and halter neckline with plenty of plunge. The glittery hourglass-fit skirt with fringe from the knees down was finished with strappy sky-high sandals. She certainly had a "Va Va Voom" moment on the red carpet that night.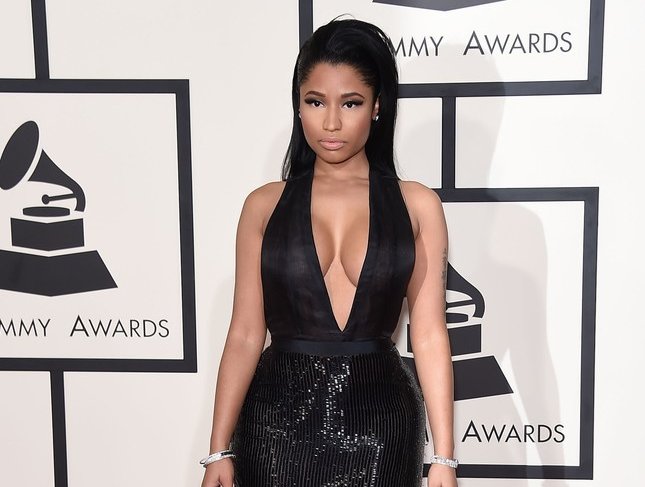 13. "Cause My Body's Too Bootylicious for Ya Babe"
Photogs caught a glimpse of Nicki's plump posterior at 2011 Billboard Music Awards. The singer paired her curly cotton candy locks with a baby blue Mark Fast jumpsuit that fit her body like a glove. We're sure she was humming "Feeling Myself" all night long with this look.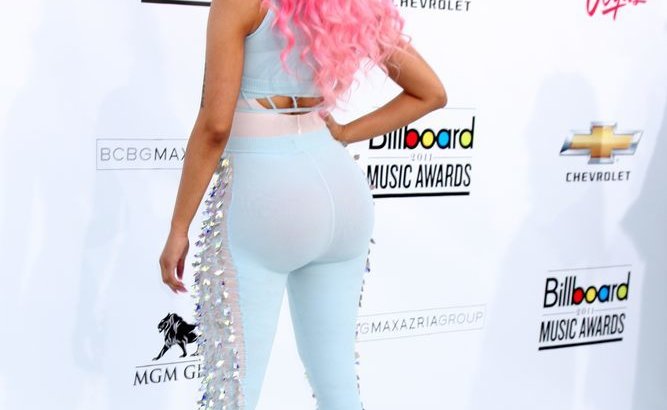 14. Sexy in Snakeskin
The 5'4 singer could not have promoted "Anaconda" any better at the 2014 MTV Video Music Awards with this long-sleeved snakeskin number. Minaj reached new heights with nude platform pumps which put her toned gams on display.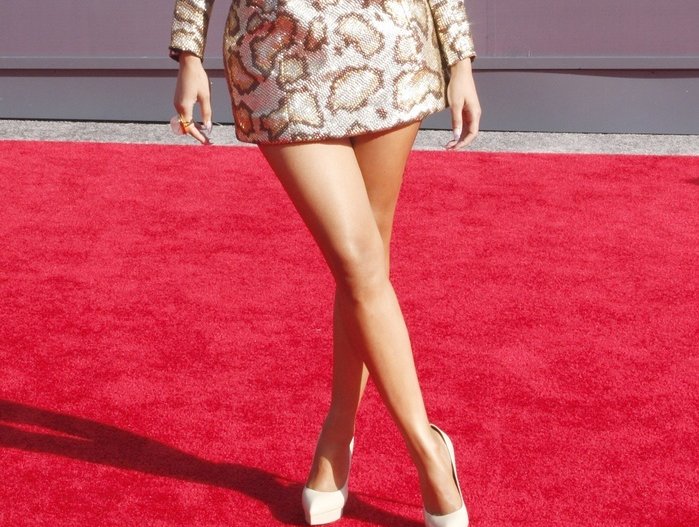 15. Playful in Platforms
Versace Resort lace-up sandals were the shoe of choice for Miss Minaj at the 2011 Billboard Music Awards. Complimented by a hot pink pedicure, the singer was definitely rocking a Pink Friday sort of look.