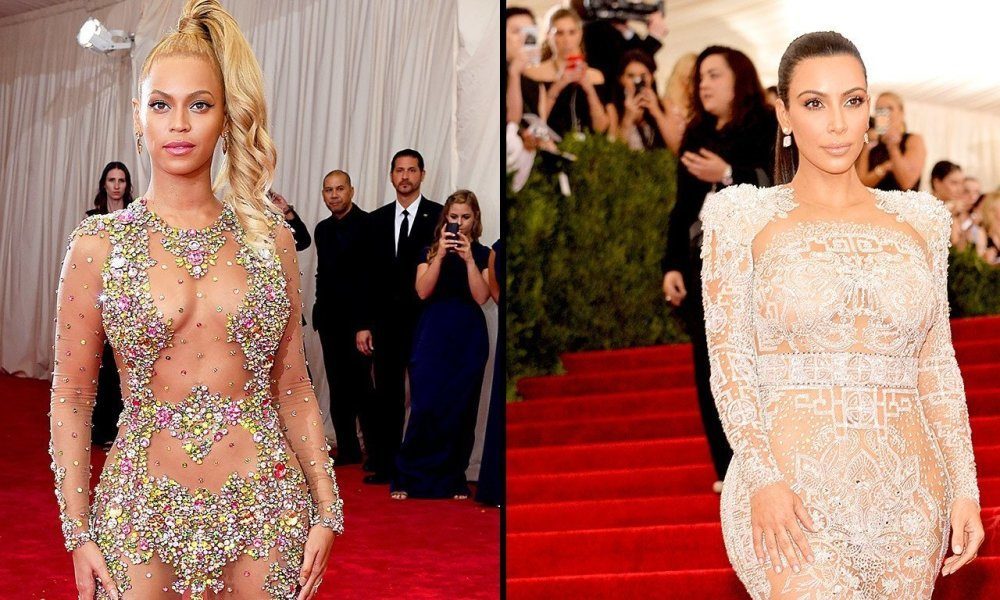 Not only do Beyonce and Kim K. rival as two of the "most searched names" on the Internet, they also compete for the limelight in the Hollywood style arena. Both women are shockingly beautiful and talented (well, that last point may be debatable), but we think Kim is pulling ahead in the race of fashion. Here are the seven times Kim looked better than Beyonce. Do you agree with us?
1. MTV Video Music Awards
Last year at the 2014 MTV Video Music Awards, Kim dressed in a revealing beaded Balmain frock accompanied by Lorraine Schwartz jewels and black woven heels. Beyonce chose a more formal look, wearing a floor-length black lace and beaded gown from Nicolas Jebran. The cut-out gown definitely highlighted Bey's curves, but we think Kim's choice was more appropriate for the fun-filled event.
2. Grammy Awards Glamour
Kim Kardashian attended the 2015 Grammy Awards to support her husband, while Beyonce walked away with three trophies of her own. But Kim did win in the style department, dressed in a golden sequin Jean Paul Gaultier gown. The cleavage-bearing ensemble wowed fans, while Beyonce chose another black plunging floor-length gown by Proenza Schouler. We appreciate Kim's gutsy glam look and although we think Queen Bey looked stunning, we wished she had picked another hue.
3. Leather: Who Wore It Better?
Kim balanced out her $1,500 J Brand's black lambskin leather "Quatro" pants with a crisp, cream blazer on the way to a date with Kanye in NYC. Beyonce paired her ripped leather trousers with a Stevie Wonder tee and $2,115 Purple Pocketed Acne Leather Jacket. We prefer Kim's look because she was able to pull off the leather look with more sophistication.
4. Dueling Denim Divas
Bey and Kim both rocked the exact same FRAME distressed denim skirt. Although we love Beyonce's jean jacket adorned with Chanel broaches, we can't get over Kim's plunging denim shirt. Ms. Carter paired the all-denim look with metallic pumps, while Kim chose strappy nude sandals and statement sunglasses. We just feel that Kim's look is more put together.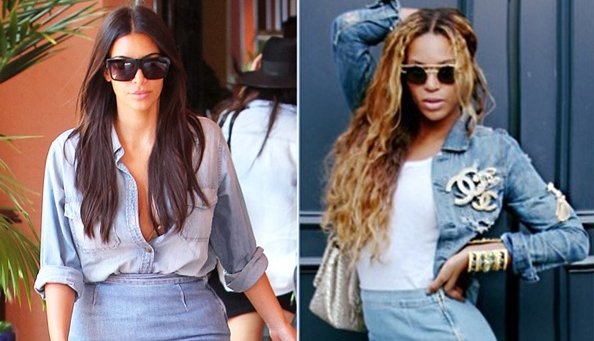 5. Battle at the BET Awards
Kim chose a sleek all-white ensemble for the BET Awards matching husband Kanye, while Bey opted for a more glamorous one-sleeved silk gown. Kim's revealing backless dress showed off her curves while Beyonce's chartreuse look hid her best assets. We prefer Kim's simpler style this time.
6. Power Pantsuits
Kim and Beyonce have both rocked power pantsuits, but which diva donned the look better? We have to give it to Kim for her sleek all-black ensemble that was perfectly paired with a dream-catcher broach. Beyonce looked fabulous too, but the suit could have been better tailored to her "bootylicious" frame.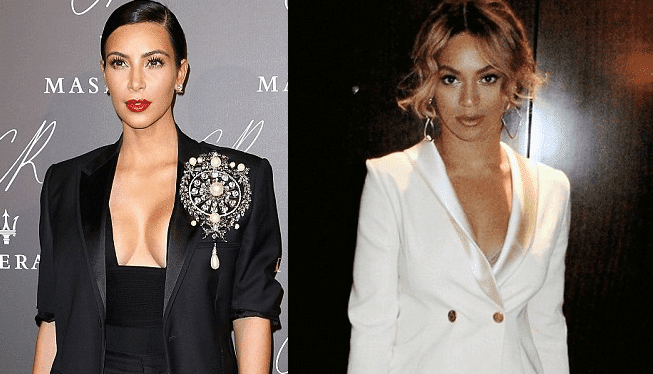 7. Met Gala 2015
Both ladies stunned at the Met Gala this year in nearly naked numbers. Kardashian wore a white beaded, see-through gown by Peter Dundas for Roberto Cavalli, accompanied by a sleek ponytail and feathered-train. Beyonce also opted for a beaded see-through look wearing an embroidered Givenchy gown with a high-curled ponytail. Both women turned heads that night, but we have to give it to the more regally-dressed Kardashian, Bey's train just couldn't compete with the swan princess.