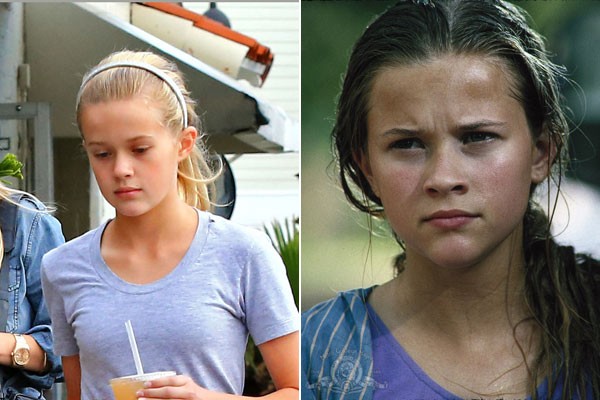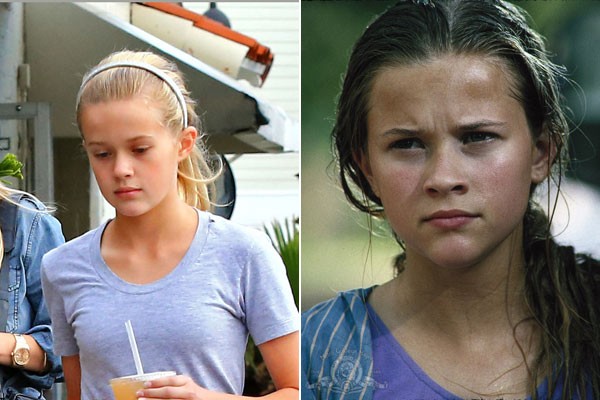 They say the apple doesn't fall far from the tree, and in Hollywood that means there are some stunning mother-daughter doppelgangers out there. In some cases, the offspring inherited talent as well as good looks from their famous mom. Take a look at these stars who passed on their genetic gifts to their clone-like kids.
1. Gwyneth Paltrow and Apple Martin
In the case of Gwyneth Paltrow and her lookalike 11-year-old, Apple really didn't fall far from the tree. The 43-year-old actress recently posted a pic on Instagram of the two, and their similarities are striking, from their long blonde hair to their smirky smiles.
2. Kate Hudson and Goldie Hawn
Goldie Hawn has been America's sweetheart since her days on Rowan & Martin's Laugh-In and her Oscar winning turn in Cactus Flower. Her bubbly blonde daughter, Kate Hudson, has followed her into the family business. They not only do these two look alike and smile alike, they act alike. Kate was also nominated for an Academy Award for her supporting role in Almost Famous.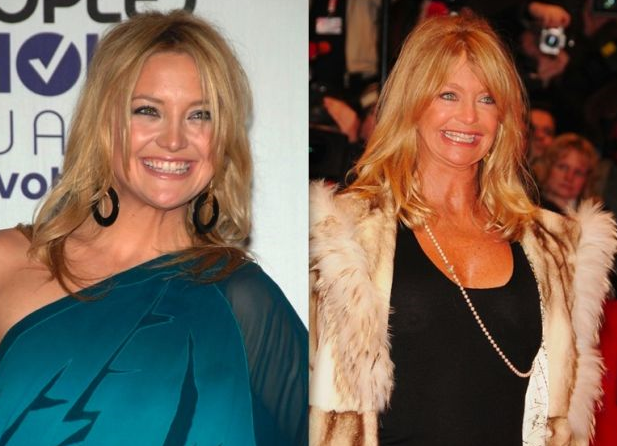 3. Meryl Streep and Mamie Gummer
You have to admit, it was pretty brave of Mamie Gummer to go into the acting biz when comparisons to her famous mother – the incomparable Meryl Streep – were inevitable. The two share a striking resemblance, especially around their shared distinctive nose. Mamie's inherited some of her mother's acting chops as well as her looks, and is slowly amassing a resume of roles. Most recently she played the daughter of the titular character in Ricky and the Flash, who was played by her real life mom. Perhaps this mother-daughter casting wasn't that much of a stretch, but Mamie held her own (even though the film was largely forgettable). Any filmmaker looking for a "young Meryl Streep" is in luck.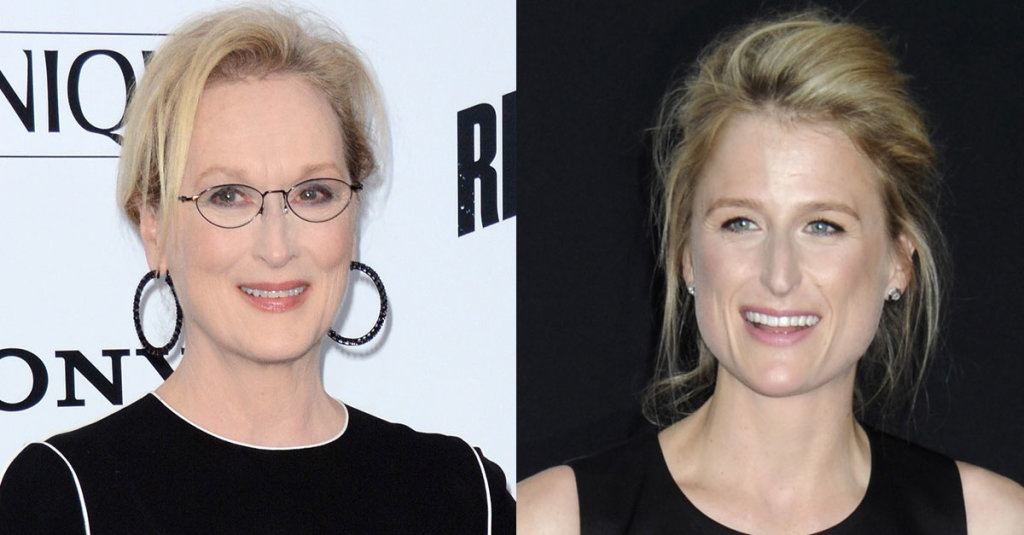 4. Lily-Rose Depp and Vanessa Paradis
Odds are any offspring of Johnny Depp and Vanessa Paradis would win the genetic lottery when it comes to good looks. How can you go wrong if you take after either parent? In Lily-Rose's case, she's essentially a mini-me of her gorgeous mom. The aspiring actress, model and singer has been open about her LGBTQ sexuality.
5. Cindy Crawford and Kaia Gerber
There may never be another supermodel like Cindy Crawford, but her daughter Kaia Gerber certainly has a shot at that kind of stratospheric success. Apart from sultry mole, this mother-daughter duo are almost indistinguishable. Despite Cindy's apprehensions of her 14-year-old following in her career footsteps, Kaia has walked the occasional runway and posed for a few spreads. Not surprisingly, the camera loves her.
6. Reese Witherspoon and Ava Phillippe
Talk about twins! Oscar winner Reese Witherspoon's 16-year-old daughter is her spitting image (lucky girl), prominent chin and all. Sure, there's a pinch of dad Ryan Phillipe in there, but if they're looking to remake Legally Blonde in a few years, here's your Elle.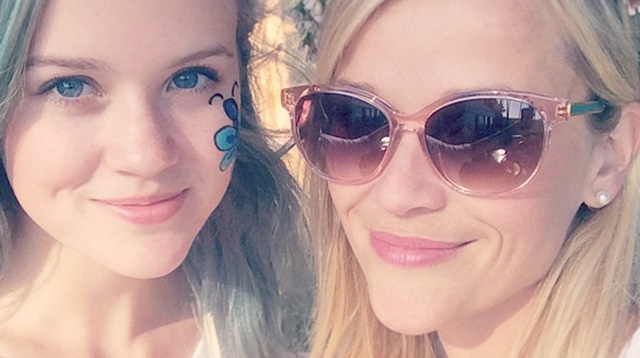 7. Uma Thurman and Maya Hawke
Uma Thurman and Ethan Hawke's marriage didn't go the distance, but they sure did make beautiful babies while it lasted. They have a son, Roan, and a daughter, Maya, who has more than a passing resemblance to her stunning mother. She's only 16, but if Maya wanted to try her hand at modelling or acting, she'd no doubt fit right in under the spotlight.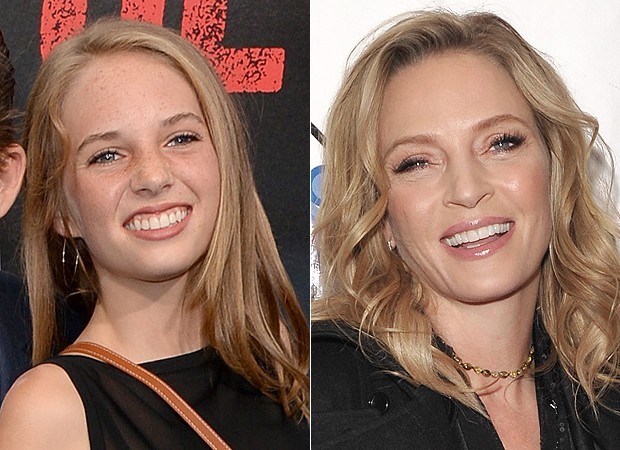 8.Julianne Moore and Liv Freundlich
Thirteen-year-old Liv Freundlich inherited more than just her Oscar winning mother's copper-toned hair. Her green eyes, porcelain skin and cupid-bow lips are uncannily similar to Julianne's. Liv is no doubt going to blossom into a beauty, just like her mom. With a director father and actress mother, she's definitely got some showbiz connections should she want to pursue a career in Hollywood herself.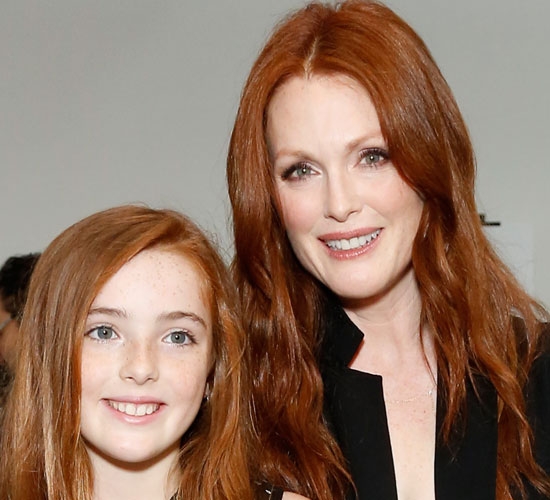 9. Miley and Tish Cyrus
We're not sure Tish Cyrus has been photographed with her tongue wagging out, but if she was, she'd look just like her famous daughter. Miley is well known as Billy Ray's kid, but it's mama Tish that she most resembles. It's hard to believe that the 23-year-old free-spirit's mother is 48. They could easily pass for sisters.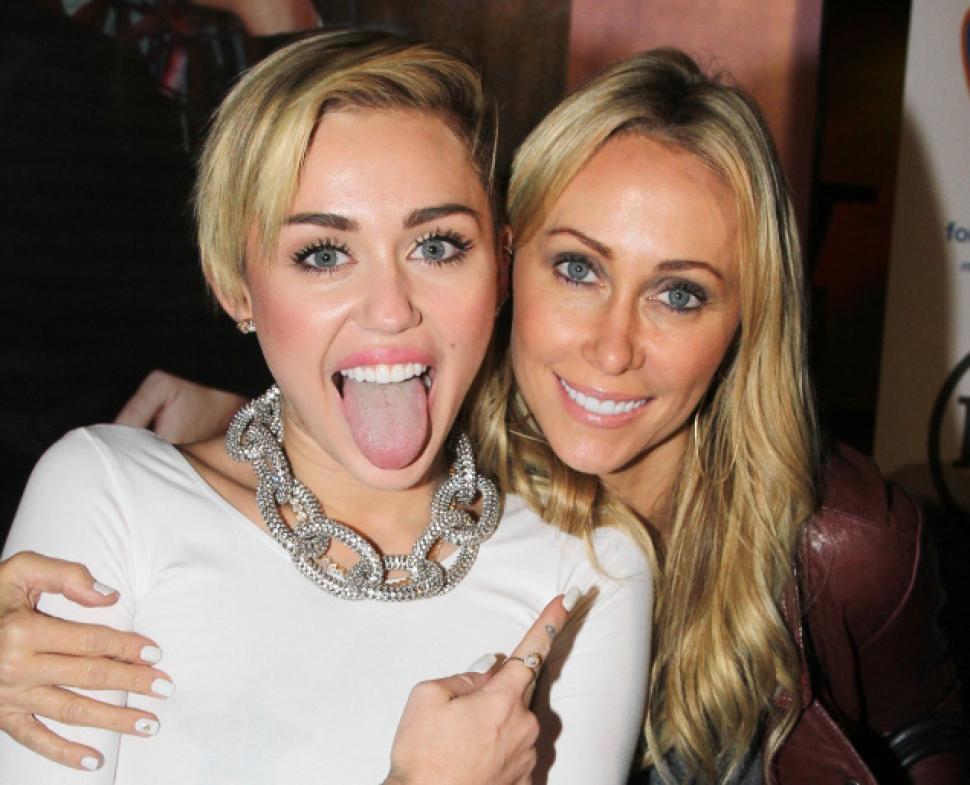 10. Nicole Ritchie and Harlow Madden
Reformed party-girl Nicole Ritchie has emerged into a successful business woman and doting mom in recent years. It's hard not to dote on a cutie pie like her daughter Harlow, now eight. Check out the throwback picture of Nicole as a youngster to see how much these two are mirror images of each other.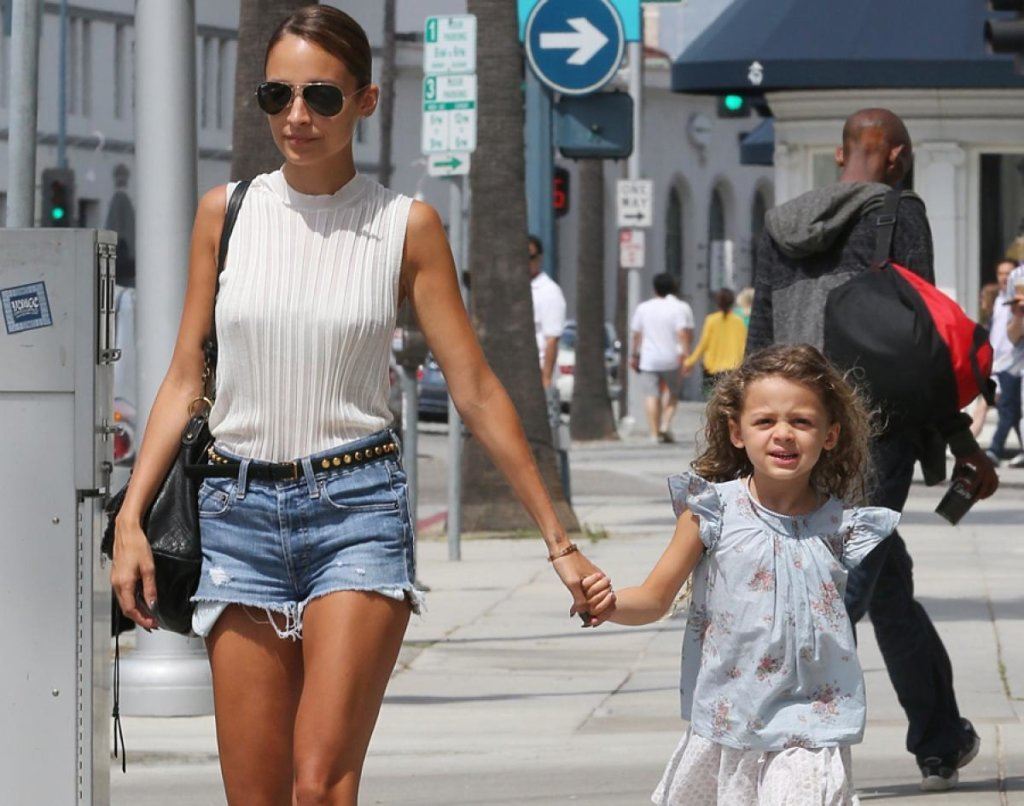 11. Madonna and Lourdes Leon
If it wasn't for the darker hair and Latina complexion, you'd think you were looking at young Madonna when you see her 19-year-old daughter, Lourdes. They share the same striking eyes, full eyebrows and facial shape – but there's a touch of her Cuban-born father, Carlos Leon, in there too. Madonna's looking fab at 57, so Lourdes should have many years of gorgeousness ahead of her.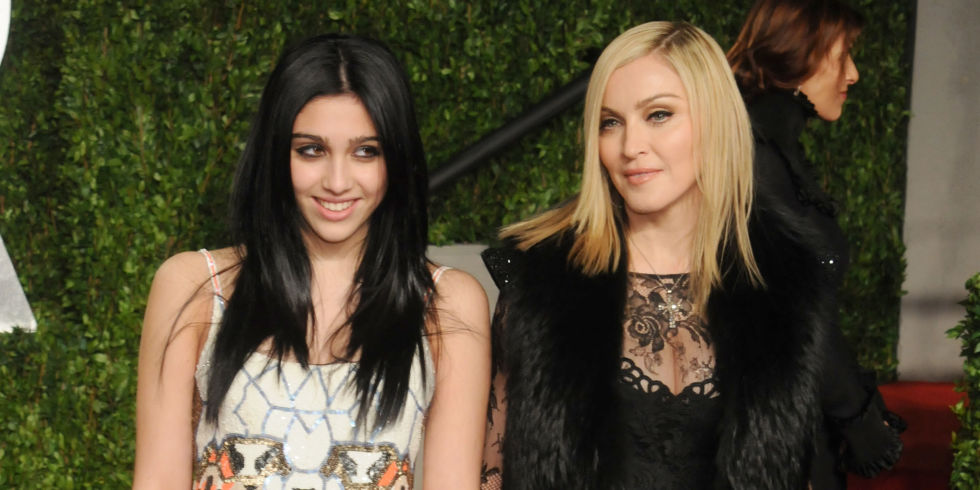 12. Yolanda Foster and Gigi Hadid
Good looks definitely run in this family. Real Housewives of Beverly Hills star Yolanda Foster (who has recently reverted to the name Hadid since her divorce) has not one but two supermodel daughters, "it" girls Bella and Gigi Hadid, and 16-year-old son Anwar just signed with IMG Models too. Yolanda was a model herself for over 15 years, so the kids come by it naturally. The one who resembles mom the most is Gigi. Take a look at this throwback picture way back when. They have identical profiles!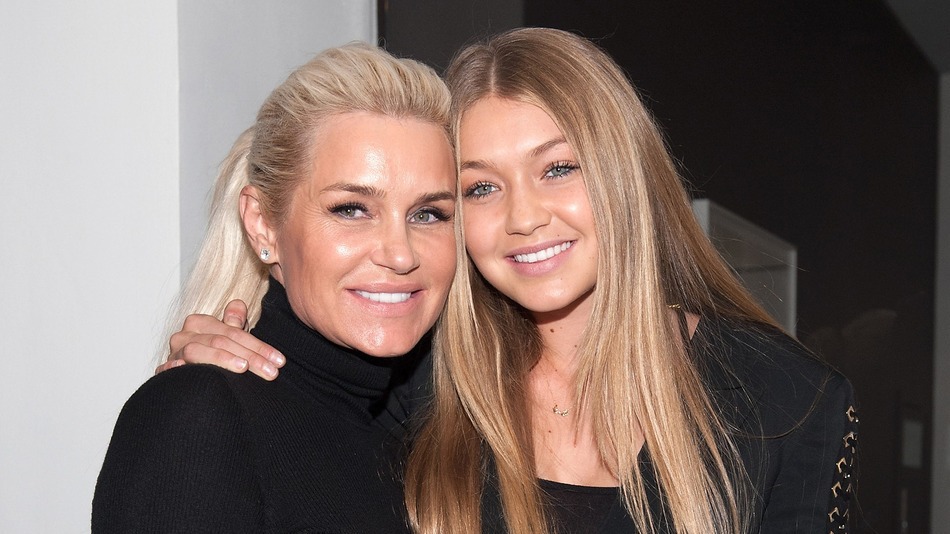 13. Lisa Bonet and Zoe Kravitz
You'd be forgiven if you thought these two were sisters, but they're actually a mother (48) and daughter (27) duo. The two stunning actress were recently featured together in a Calvin Klein campaign, and damn, they both look fine.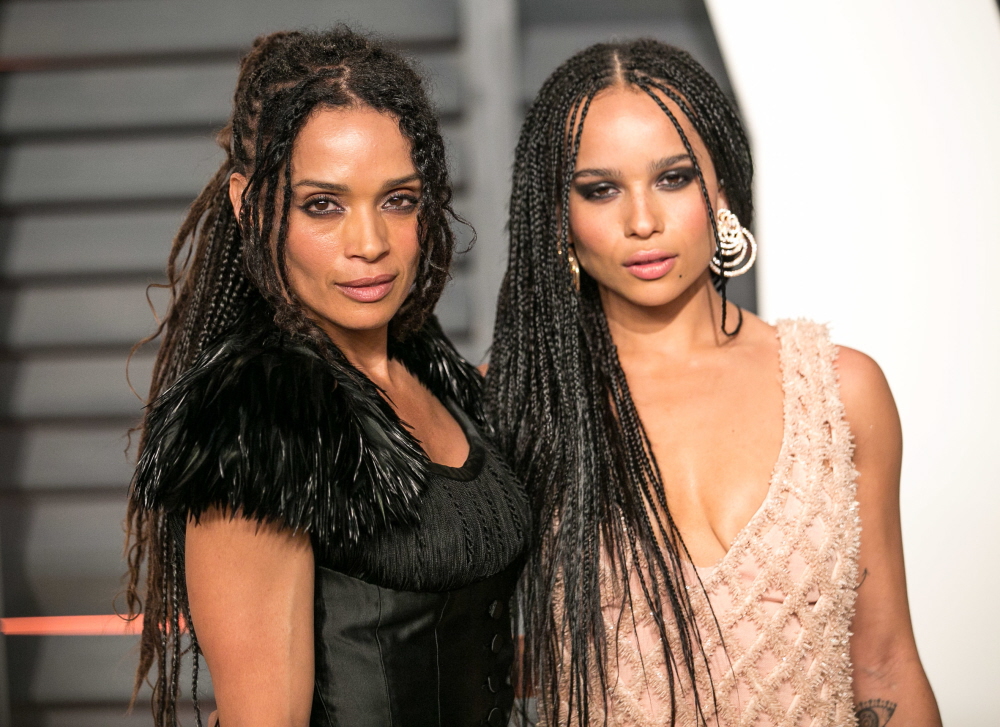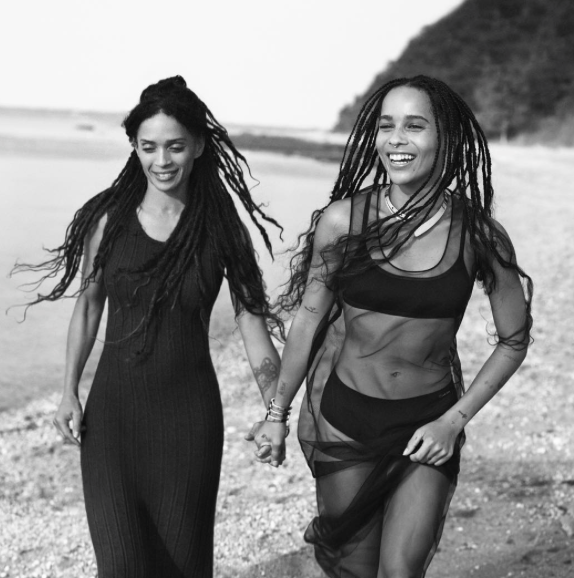 14. Rumer Willis and Demi Moore
Growing up with stunning Demi Moore as a mother was apparently hard on Rumer Willis, who many thought looked more like her dad, Bruce Willis. However, Rumer has blossomed into a gorgeous young woman. She says her recent win of the Dancing with the Stars mirror ball trophy did a lot bolster her self-confidence. When you look at pictures like this, it seems Rumer resembled her hot mama all along.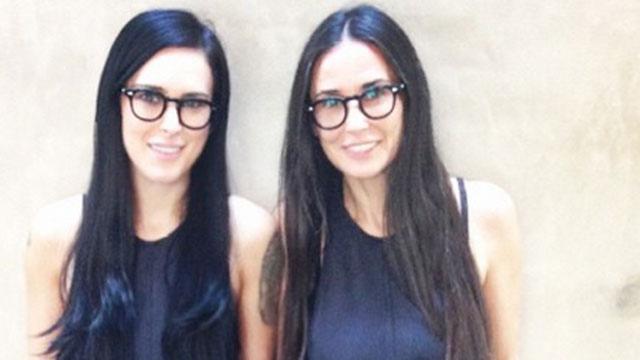 15. Bette Midler and Sophie von Haselberg
You might have to do a double-take to figure out who's who in this photo. Bette Midler's daughter is definitely her doppelganger. The 29-year-old is an aspiring actress and the only child of the outspoken 70-year old singer/actress/comedian.