In the word of Photoshop and airbrushing, no one seems to have a grasp of what "real" men and women look like anymore. It can be depressing comparing yourselves to these touched up celeb photos. Take heart, though, because these images are not reality. Have a look though these 10 pictures which showcase the ridiculous affects of photo editing, and feel better about your flaws.
1. "Who's That Girl" It's Madonna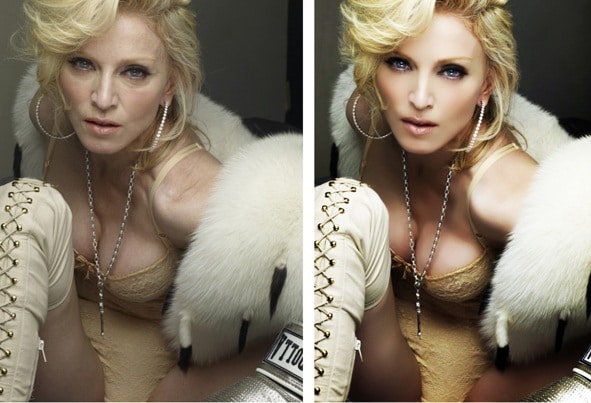 Well, it's obvious that Madonna's age has been Photoshopped out of this picture. Instead of showing the 56 year old's natural wrinkles, editors decided to create an unrealistic picture of the star. Taking on a whole new meaning of flawless. The picture looks ridiculously airbrushed.
2. Jennifer Lawrence Loves Her Body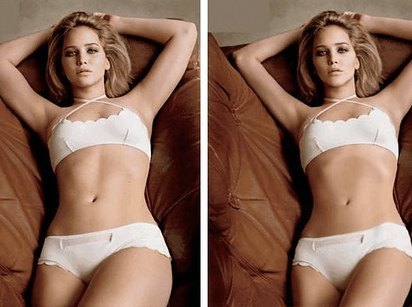 In the picture above, it's obvious that J. Law's arms, thighs and waist have been artificially slimmed. It's unfortunate that the magazine did this to a star who's been known to voice how proud she is of her body. Lawrence has been quoted saying, "I'd rather look chubby on screen and like a person in real life." Good attitude.
3. Britney Spears' Photoshopped Frame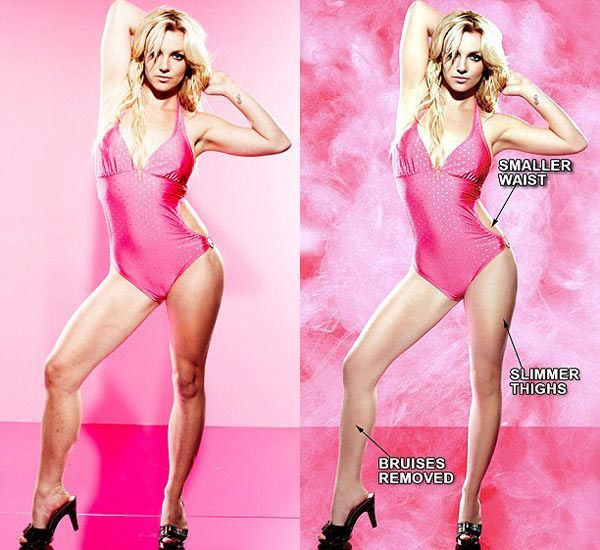 During a recent Candies promotion, Britney Spears allowed her un-photoshopped photos to be placed alongside the airbrushed ones. We can see that editors made her waist and thighs smaller and even lightened her skin tone. We still think the 33 year old singer looks great in the original.
4. Lady Gaga's Renaissance Waist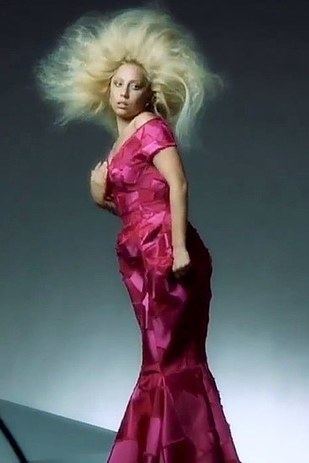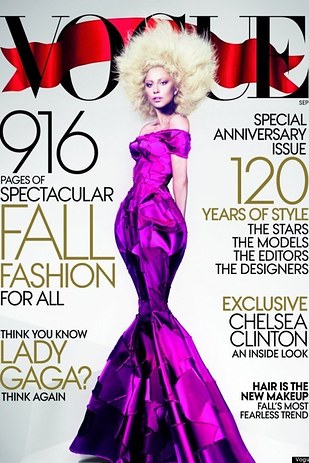 When Lady Gaga appeared on the September cover of Vogue, Photoshoppers had definitely worked their magic. The woman who graced the front page looks much different than the woman who paparazzi were snapping at the shoot. Gaga's edited waist is completely disproportionate to her body.
5. George Clooney's Ageless Face
Even George Clooney gets Photoshopped! In the picture above its obvious that most of Clooney's wrinkles have been erased, his skin tone and hair have been darkened, the bags under his eyes have vanished and even his lips look rosier! Personally, we don't think they need to airbrush this "Sexiest Man Alive."
6. Gwen Stefani Does Have Wrinkles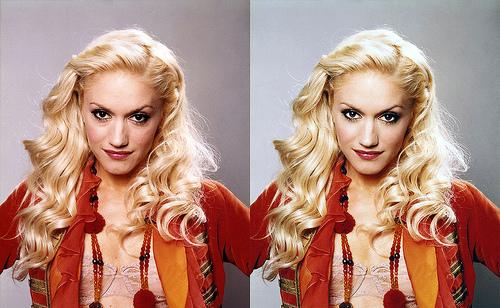 Stefani has been known to frolic in the fountain of youth. The 44 year old pop star is recognized as one celeb who never seems to age. But, father time and mother nature had to give her wrinkles at some point. In the picture above we can see that Gwen's face has been smoothed and lightened with computer magic.
7. Lindsay's Freckles Disappear
One element of Lohan's skin that constantly seems to vanish when her photos are retouched is her freckles! Personally, we think she looks better with them. We all know Lindsay's a natural red-head, so freckles come with the territory and we think they're cute!
8. Beyonce's Lightened Skin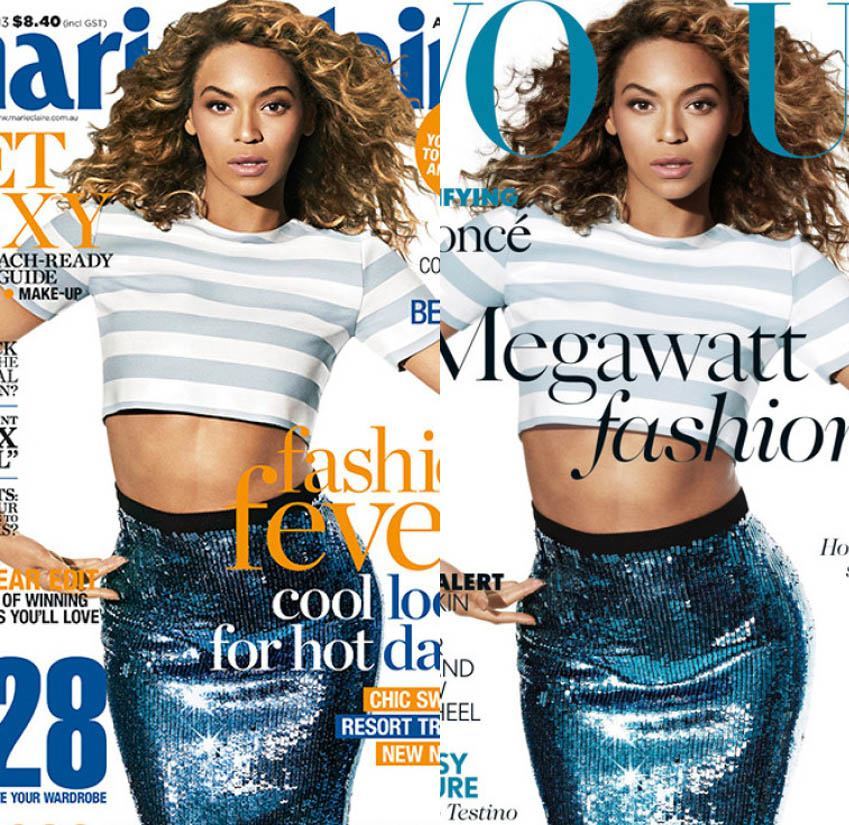 Two different magazines used the same shot of Beyonce for their cover picture. But something seems a little off. Marie Claire lightened Beyonce's skin tone and hair color. They also seemed to slimmed down her waist! So unnecessary.
9. Kourtney's Baby Weight Is Photoshopped!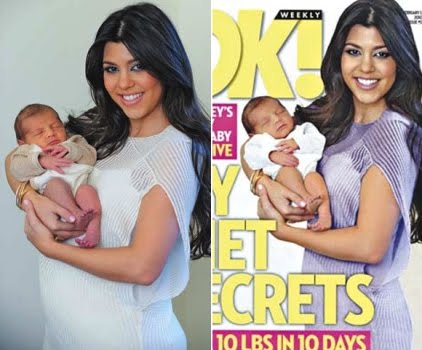 This one is scary. OK! Magazine featured Kourtney on their cover just after she had her son, Mason. It was only one week after he was born, but the magazine was claiming that she'd already lost most of the baby weight. Only in Photoshop land, not reality. See the real photo and the adjusted one above. I'm sure this cover story didn't make new mothers very happy.
10. Harry Styles' Acne Airbrush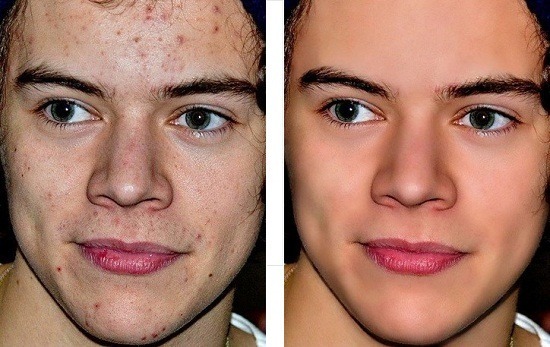 Check out the two pictures above of One Direction's Harry Styles. It's too bad that the photo has been so heavily Photoshopped because acne is one skin condition that a lot of teens face. Harry could have served as a great role model for teens dealing acne issues.