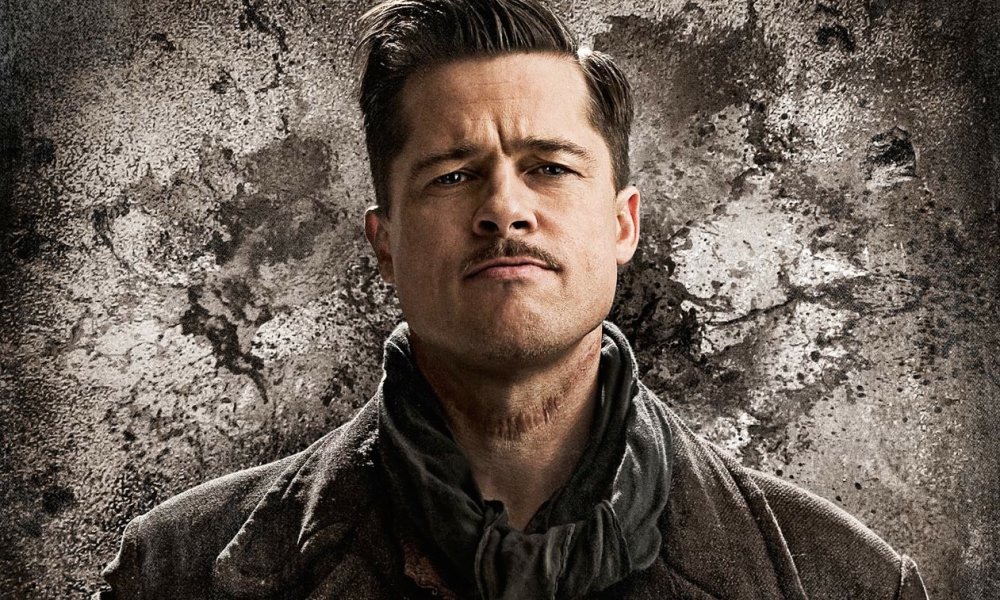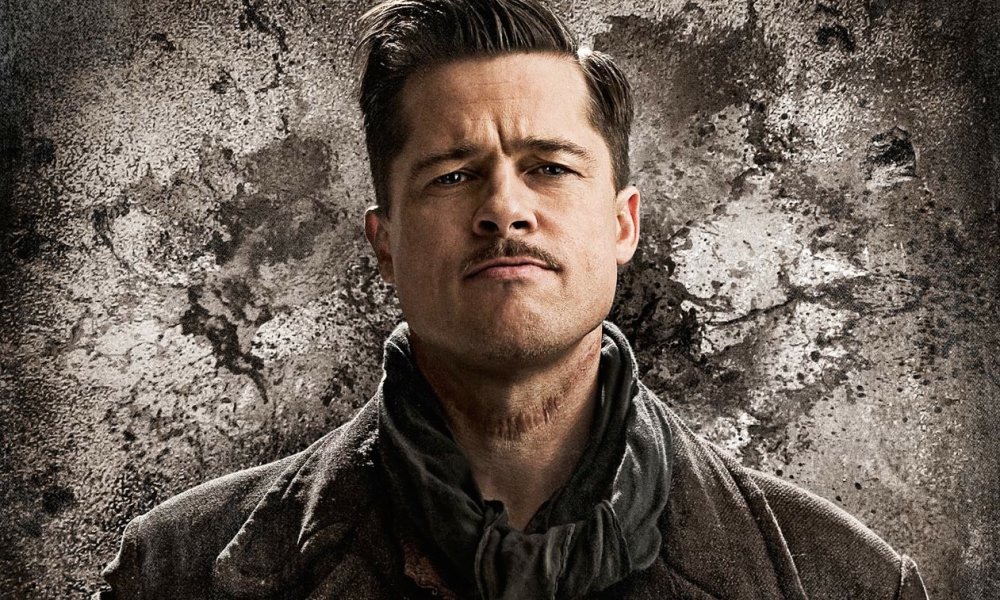 There are few actors who are bomb-proof – meaning they're sure to produce a hit no matter what movie they star in. A great story and topnotch writing also have a lot do with it, but sometimes, all it takes is an A-list actor to bring moviegoers out to the theaters in droves. Brad Pitt is one of these actors who guarantees to churn out a box office hit. His 30 years in the entertainment industry have been highlighted by numerous leading performances and supporting roles in back-to-back blockbuster hits. Here are 10 of the best movies he has appeared in.
1. "Se7en"
Pitt never fails to bring the sex appeal, but his fans were introduced to a new side of the award-winning heartthrob with the release of Se7en. As the character David Mills, Pitt received some help from Detective Lieutenant William Somerset (Morgan Freeman) to track down a serial killer (Kevin Spacey). Thanks in part to the riveting yet sometimes gruesome plot, Pitt's received critical acclaim and an MTV award nomination for his work as the short-tempered, headstrong detective.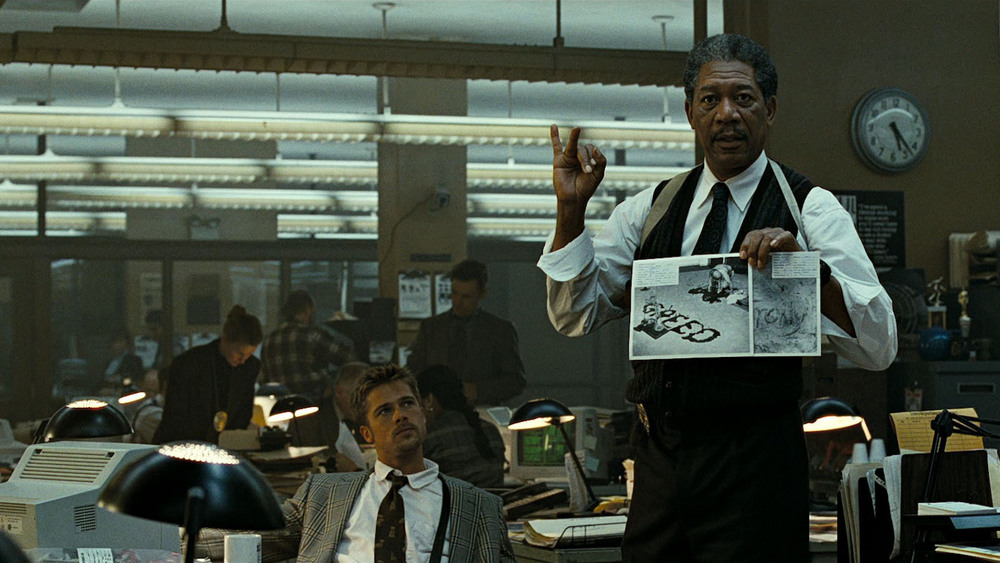 2. "Snatch"
In 2000, British director Guy Ritchie wrote and directed this comedy featuring an ensemble cast. The two intertwined plots dealt with the search for a missing diamond and a boxing promoter (Jason Statham) who gets caught up with a dangerous gangster (Alan Ford). Pitt was brought in as an Irish Traveller, complete with an accent to boot. What makes Pitt's performance stand out is his ability to go against the industry's pressures to typecast him as a sex symbol and leading man. Some loved Pitt's attempt at sounding like a Northern Irishman, while others called it the worst accent they'd ever heard. Either way, Snatch is still one of his standout performances.
3. "Fight Club"
After the success of Se7en, Pitt teamed back up with the film's director, David Fincher, for the 1999 movie Fight Club. Alongside Edward Norton and Helena Bonham Carter, Pitt played the role of soap maker Tyler Durden. He starts a fight club with the film's narrator (Norton), and brutal battles ensue! The hidden world of this underground organization propelled the film into cult status. Thanks to the violent nature of the club, the movie was one of the most controversial at the time of its release, but its cultural impact lasts to this day.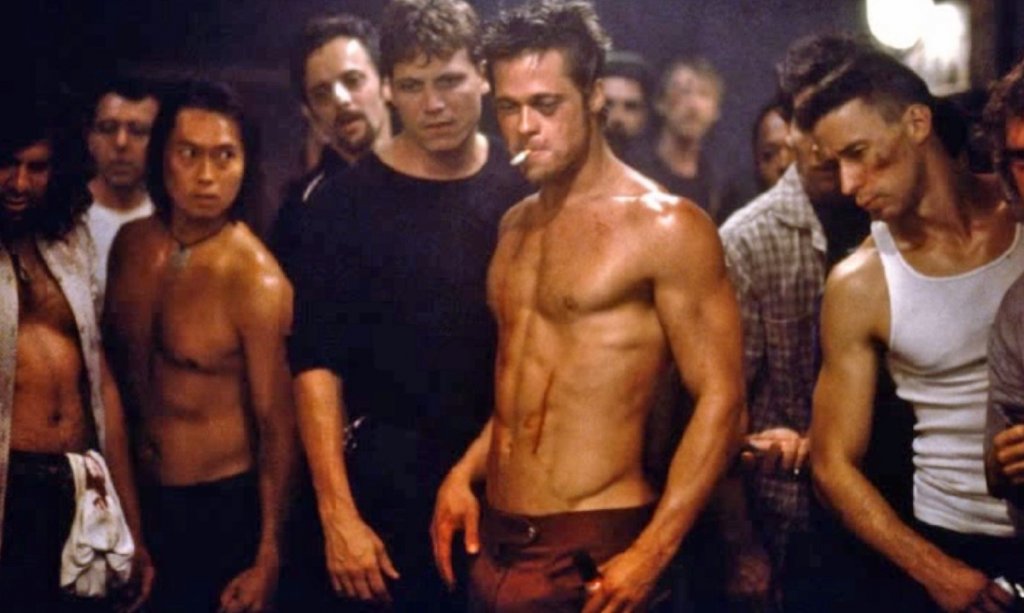 4. "Troy"
In 2004, the 8th highest grossing film of the year was released. Troy, a period war film directed by Wolfgang Petersen, starred Pitt as Achilles. Loosely based on the Trojan War, Pitt's character invades the city of Troy with some help from the Greek army and his Myrmidons. The majority of the film's success came from box offices outside of the U.S., but the worldwide success helped to cement Pitt's label as an international superstar.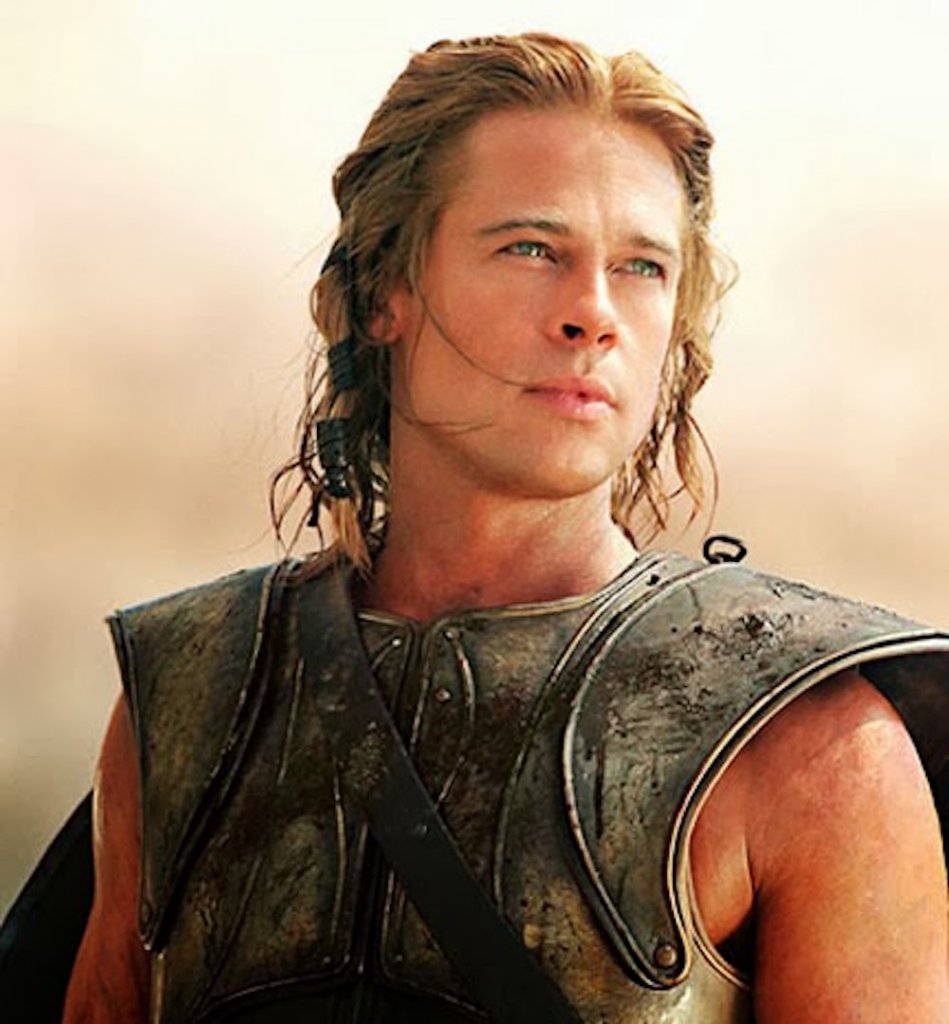 5. "Inglorious Basterds"
Just as most people were ready to write Quentin Tarantino off and shut the door on his career, he released the 2009 war film, Inglorious Basterds. Pitt played the leader of the Jews who were exacting revenge on the Nazi Party. The film skyrocketed Tarantino back to the top of the Hollywood director food chain and earned Pitt a slew of honors, including a Screen Actors Guild nod and Critics' Choice Movie Award.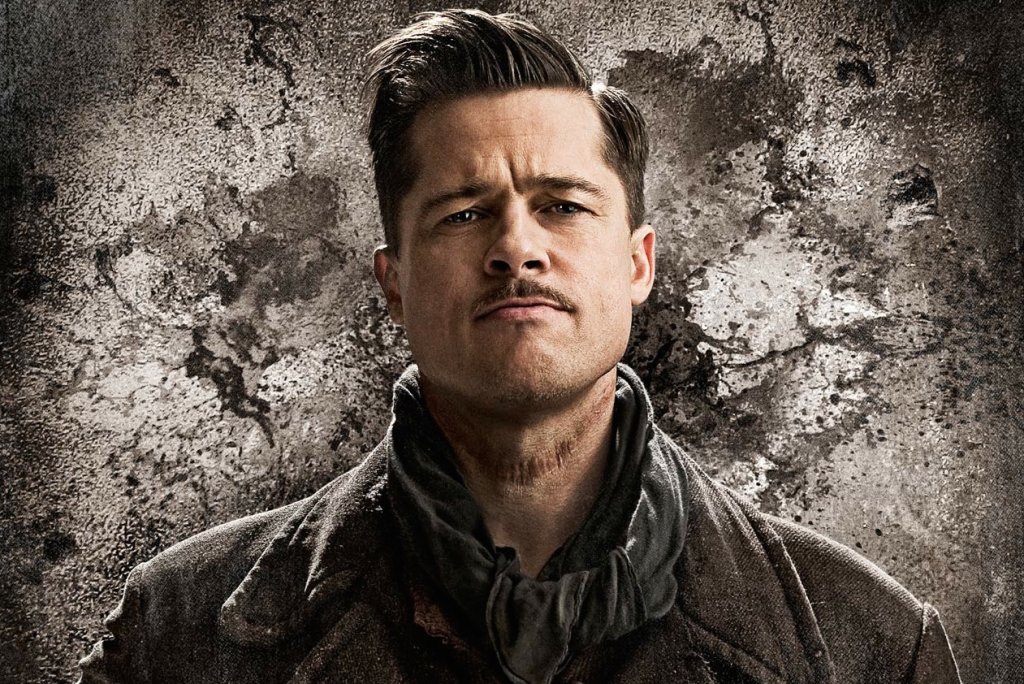 6. "True Romance"
Speaking of Tarantino, back in 1993, he was responsible for writing the American crime film True Romance. It was his first screenplay for a major film, and it includes elements of romance and comedy. The film, which chronicles the life of a modern-day Bonnie and Clyde, includes Pitt who plays a small part as the stoner character, Floyd. After the movie's release, Pitt revealed he spent most of his time in the '90s high. So watching this film gives his fans a glimpse at what his life would've been like if he hadn't gotten bit by the acting bug.
7. "12 Monkeys"
With a deadly virus that killed the majority of the population, James Cole (Bruce Willis) sets out to stop the virus before it begins by going back in time. When he accidentally travels back six years earlier, he finds himself in a mental institution with Jeffrey Goines (Brad Pitt). Viewers are taken on a wild ride thanks to Pitt's character's fanatical views. Now hailed as one of the most important roles in his career, his eagerness to play the harrowing character earned him critical acclaim and an Oscar nomination.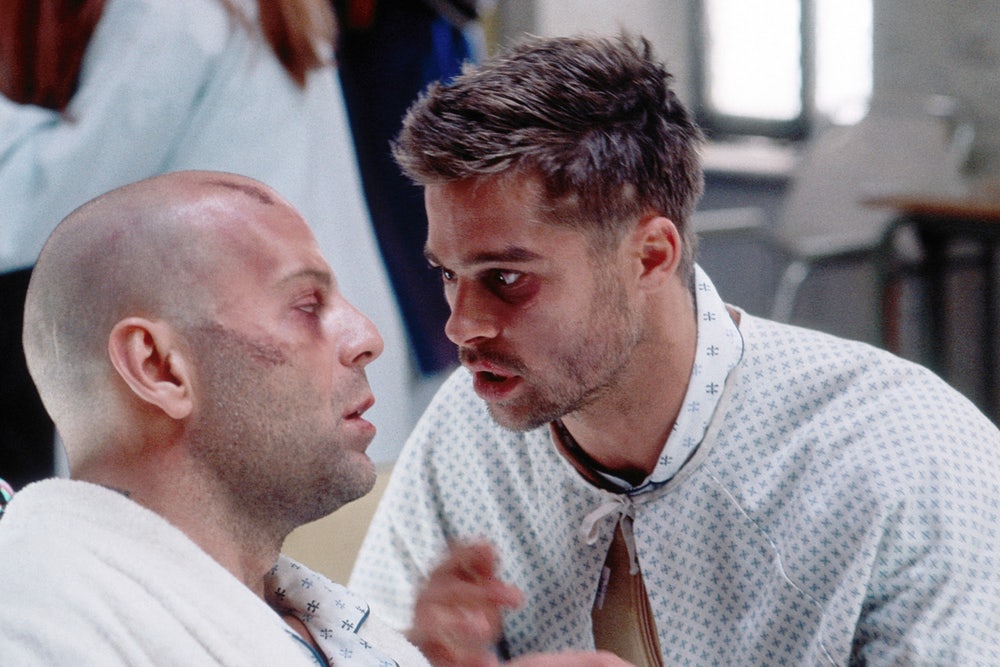 8. "A River Runs Through It"
In 1992, Pitt was still trying to make a name for himself as a box office star. With a series of TV movies underneath his built, as well as the role of J.D. in Thelma & Louise, he set out to explore his range and prove his acting capabilities in this coming-of-age drama. As the son of a Presbyterian minister, Pitt's portrayal of Paul MacLean has been cited as one of his best career-making performances.
9. "Legends of the Fall"
A couple of years after A River Runs Through It was released, Pitt put his magic touch on Legends of the Fall. The epic drama stars Pitt as one of three brothers living in the wilderness of Montana with their father. They all fall in love with the same woman, played by Julia Ormond, and viewers from far and wide were captivated by the heartfelt drama. The legendary late film critic Roger Ebert was quick to announce that Pitt's performance in this movie carried the entire film.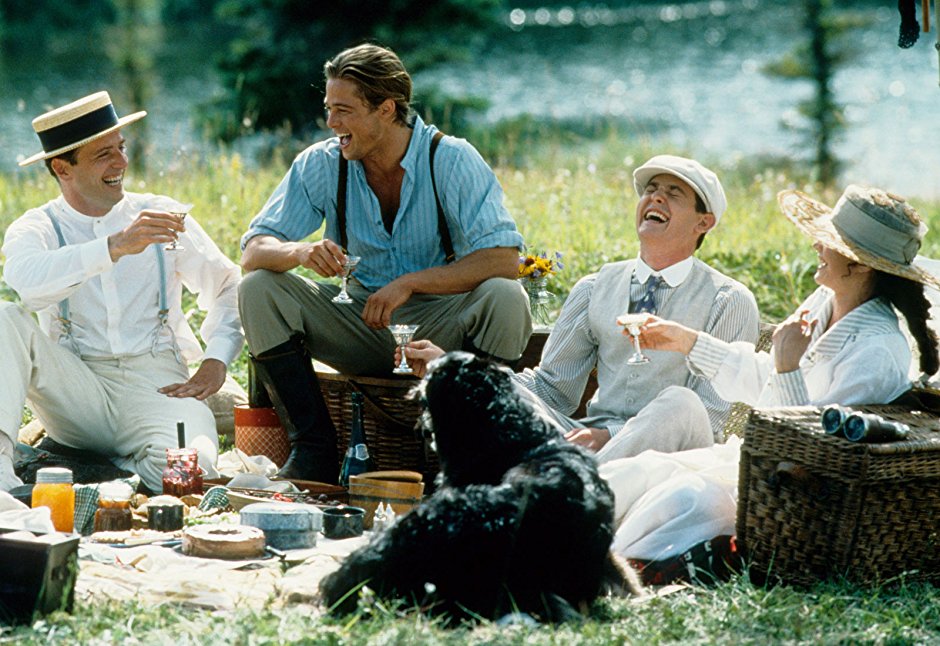 10. "Ocean's Eleven"
Pitt found himself a key member of the ensemble cast of this 2001 film. As Rusty Ryan, Pitt's performance in Ocean's Eleven pretty much kept him in the background behind other Hollywood heavy hitters, such as George Clooney, Don Cheadle, Matt Damon, Julia Roberts, and Andy García. But his presence was undeniable. When he wasn't chowing down in front of the camera, he was posing as a doctor in the same wig that Mike Myers wore in Austin Powers. If people thought Pitt was nothing more than a pretty face, he proved the naysayers wrong in this performance.