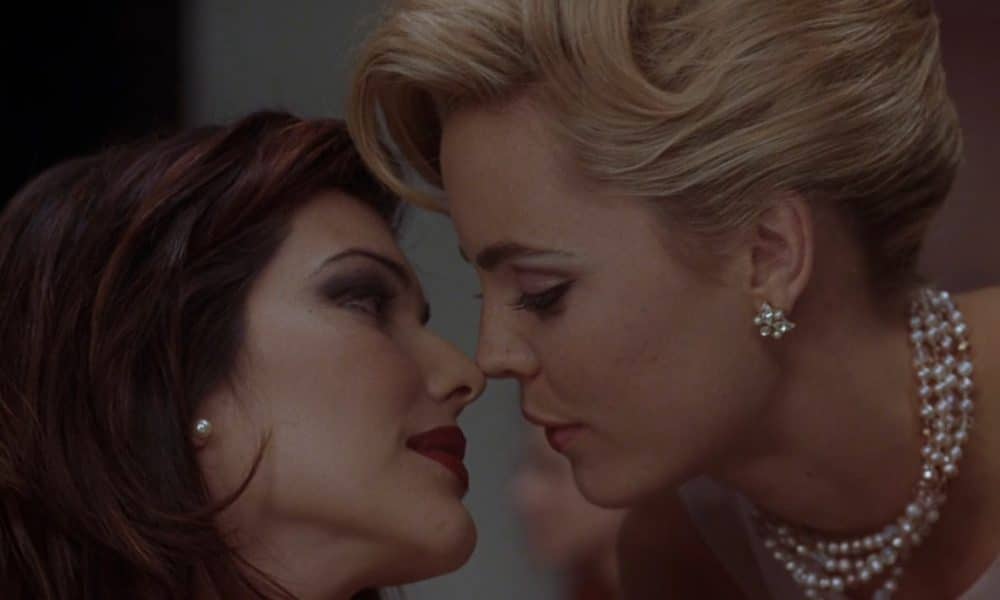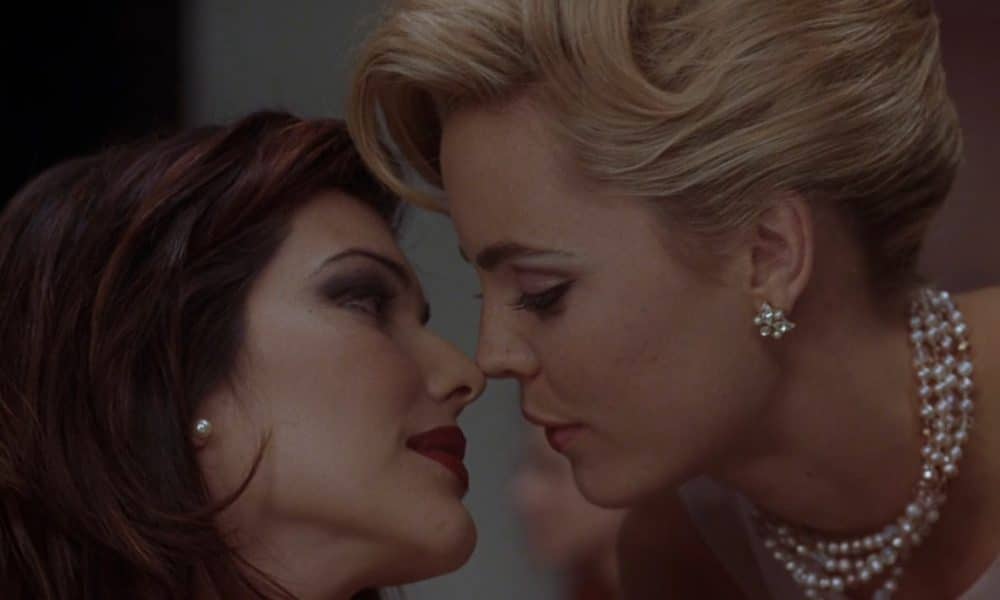 Love, sex, and passion are in the air whenever you watch one of the movies on our list. The displays of graphic eroticism in many of their iconic scenes have left viewers clutching their pearls through every kiss, twist, turn, and nibble. Here are the 30 sexiest movies of all time from the most provocative and racy films the theater has ever seen.
1. Bound
The debut motion picture of Lana and Lilly Wachowski was the neo-noir horror film Bound. The movie depicted Violet (Jennifer Tilly) attempting to end her relationship with her mobster boyfriend, Ceasar (Joe Pantoliano). But in an alluring twist, Violet embarks in a steaming affair with ex-con Corky (Gina Gershon), and what follows included some of the steamiest sex scenes the box office has witnessed, thanks to sex educator Susie Bright who was brought on set to give the actresses some pointers on how to coordinate their lesbian romps and bring "hand sex" mainstream.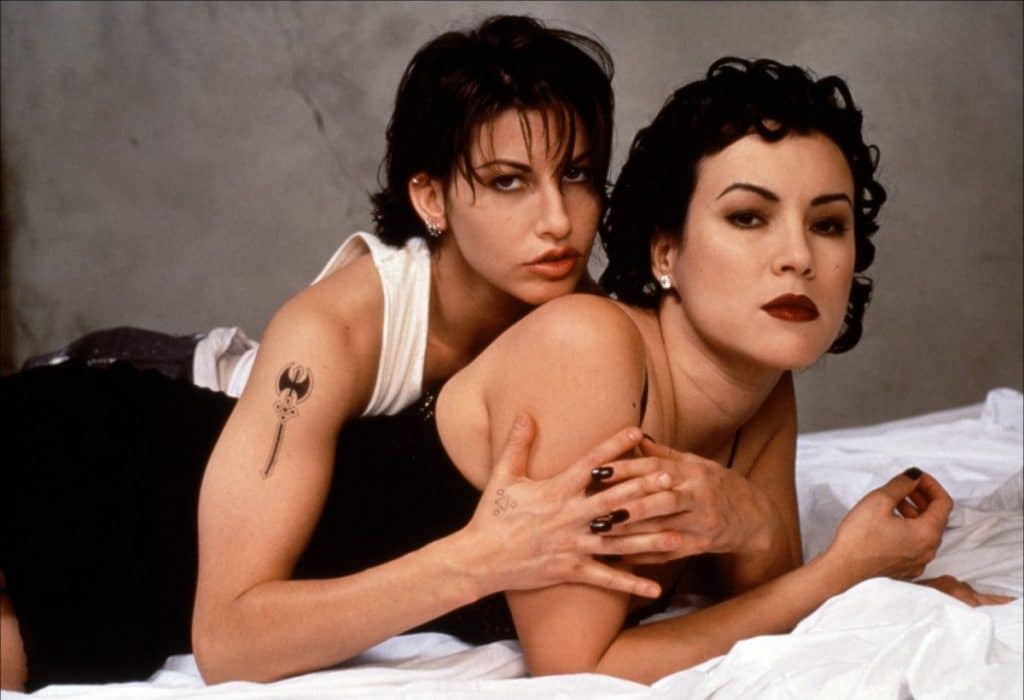 2. Wild Things
In 1998, moviegoers were fascinated by the sensual scenes in the erotic thriller, Wild Things. From Sergeant Ray Duquette (Kevin Bacon) exposing his package and the threesome between Sam (Matt Dillon), Kelly (Denise Richards), and Suzie (Neve Campbell), the film gained notoriety and mainstream buzz for its explicit nature.
3. Mulholland Dr.
The neo-noir mystery film explored the sexuality between actresses Laura Harring and Naomi Watts. Not only do the gorgeous women get wrapped up in the dark side of Hollywood, they get wrapped up in each other, as well. Various same-sex scenes are depicted throughout the film as control and domination take over in each love scene.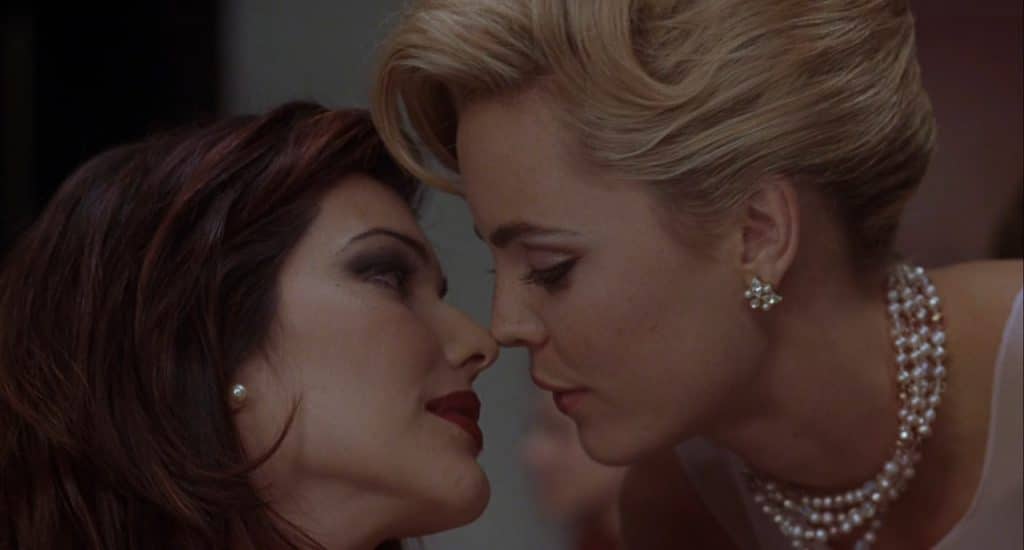 4. The Hunger
Money, power, and sex are the recurring themes in Tony Scott's 1983 film The Hunger. The ill-fated romance between the vampire, Catherine Deneuve, and her targets, David Bowie and Susan Sarandon, mean the erotic scenes are full of blood and gore, but a more sensual side was shown in the infamous same-sex scene between the two actresses. "Originally, the descriptions of the scene were of us kind of posing and not necessarily connecting. We figured out the choreography so there was a first kiss, and how that happened, so it didn't just jump into nakedness and corsets and a lot of other things," Sarandon told Vulture about their on-screen tryst that instantly turned this British-American erotic thriller into a cult classic.
5. Cruel Intentions
Sexuality was deeply explored in the 1999 teenage drama, Cruel Intentions, and it all started with a little wager between Sebastian (Ryan Phillippe) and Kathryn (Sarah Michelle Gellar; pictured). If Sebastian failed to sleep with Annette (Reese Witherspoon), he'd have to hand Kathryn the keys to his Jaguar. However, if he was able to get her into bed, he would get the opportunity to sleep with Kathryn, too. This spicy and sexy movie included all of the themes of a blockbuster smash, from blackmail to tangled webs, lies, deception, and sexual manipulation.
6. Weekend
This 2011 SXSW festival hit is a British romantic drama starring two men, actors Tom Cullen and Chris New, who embark on a steamy and lustful sexual relationship the weekend before New's character (Glen), leaves the country. The same-sex scenes are graphic – albeit passionate – as the characters take part in a fleeting, whirlwind romance.
7. 9 Songs
Known as one of the most controversial films of the 2000s, the British film 9 Songs caught heat for its sexual nature, including its real-life sex acts that actors Margo Stilley and Kieran O'Brien engaged in that borderd on pornographic, although Stilley would beg to differ. "It was a film about love and sex. It wasn't porn," she told the Independent.
From their raunchy bathtub scene to various acts of fondling and self-pleasure, O'Brien is now crowned the first mainstream actor to be shown blowing a load in a UK-produced film. Bravo.
8. 9½ Weeks
Experimental sex, and psychosexual rendezvous are abundant during the 9 ½-weeks long relationship between Elizabeth (Kim Basinger) and John (Mickey Rourke). The dynamics between the equally yoked couple lead to an infamous sex scene that combines the use of jello, peppers, and honey. So yummy yet so kinky at the same time.
9. Romance
Catherine Breillat's 1999 French film Romance is yet another movie that pushes the boundaries of mainstream themes by introducing pornographic and explicit elements. The unsimulated romps between the actors go further than traditional sex when the character Marie enters into a relationship with a much older man, Paolo. Exploring elements of BDSM, Romance was steaming up the big screen long before 50 Shades of Gray was even a thing.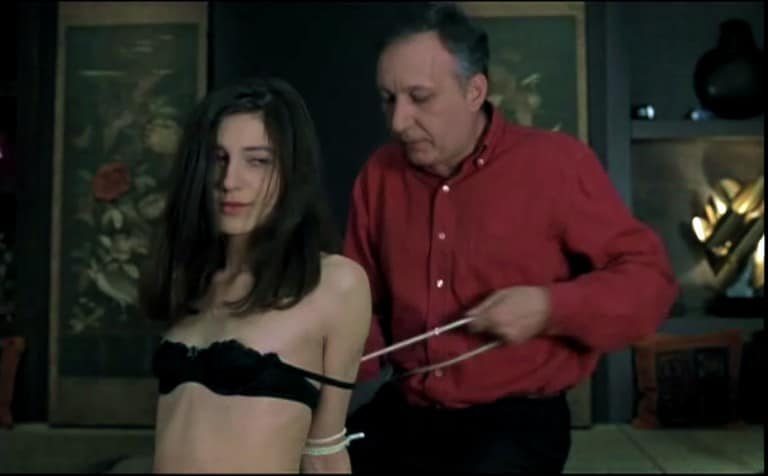 10. Y Tu Mamá También
The 2001 Oscar-nominated drama is a coming-of-age story about teenage boys experimentation with sex and intimacy as they engage in a wild ride that includes swapping sex partners and experimentation with illicit drug use. As one might expect, the sex scenes in this film aren't for the faint at heart.
11. Elles
Anne (Juliette Binoche) begins writing a piece on female student prostitution, and her research takes her into an underbelly that allows her to explore her own sexual prowess. Charlotte (Anaïs Demoustier) is the more liberated character who actually enjoys her foray into sex work, although she lives a double life to shield her risqué occupation from her boyfriend and family.
12. Dressed to Kill
Kate Miller (Angie Dickinson) is the sexually frustrated housewife who's on a quest to relieve some tension. An extra-marital affair in the back of a taxi cab eventually turns into her worst nightmare, but thankfully, there's a twist at the end of the film as moviegoers discover her hot and heavy sexual escapades were all a dream.
13. Secretary
Dominant and submissive role-playing and a classic BDSM relationship is the focal point of this romantic comedy. Starring Maggie Gyllenhaal (Lee Holloway) and James Spader (E. Edward Grey), the couple experiences a sexual reawakening with Lee falling in love with being Edward's obedient sex slave, while Edward struggles with the feelings of shame for their sex acts.
14. Do the Right Thing
Rosie Perez brought the heat to the 1998 comedy-drama Do the Right Thing when she went nude for the infamous ice cube scene. Although fans of the film fell in love with her energy and sultriness, Perez expressed regrets for what will later go down in cinematic history. "I was afraid of what my family would think — that's what was really bothering me," she told the New York Times.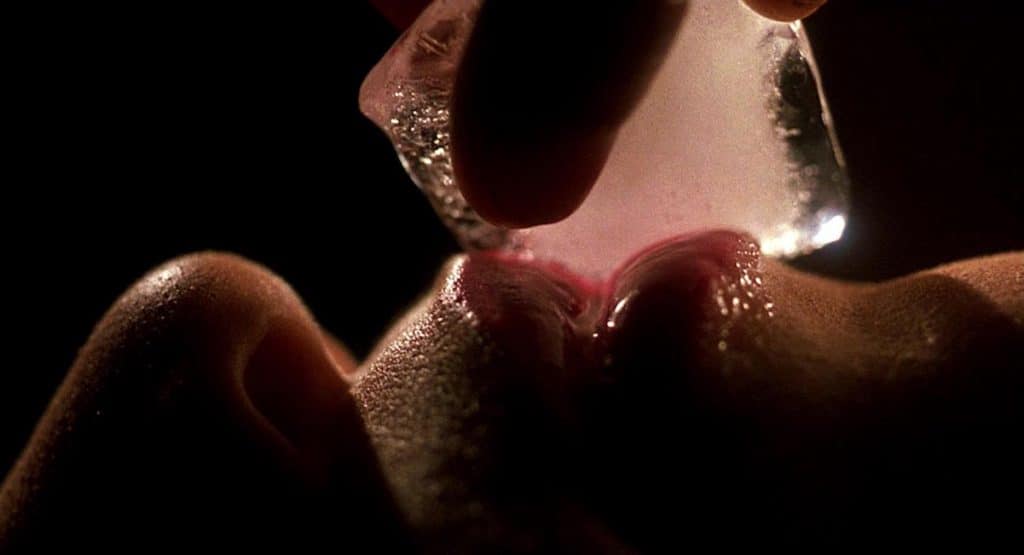 15. Brokeback Mountain
The same-sex love story between Jack (Jake Gyllenhaal) and Ennis (Heath Ledger) broke the barriers that previously existed in Hollywood. As the couple grappled to come to terms with their attraction for each other, their sexual chemistry overpowers each and every scene as the two burly alpha males delve into the dark side of their passion for each other.
16. Body Heat
Under the sweltering heat of a Florida summer, Matty (Kathleen Turner) and Ned (William Hurt) engage in a sexual power play where they each attempt to dominate and control one another in this steamy and seductive Lawrence Kasdan directed film.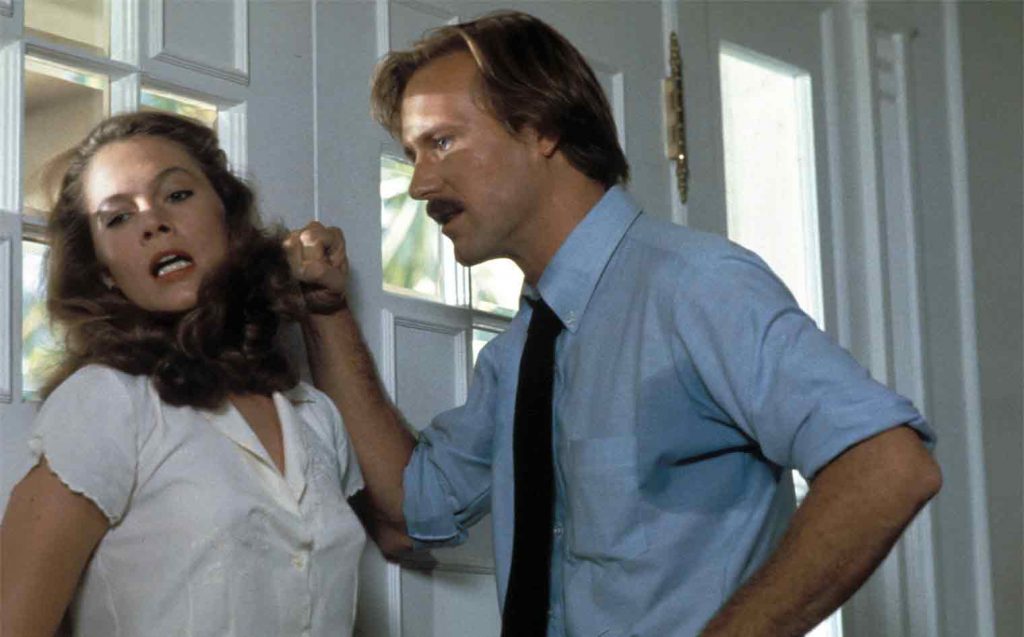 17. Moonlight
Academy Award-winning movie Moonlight is a coming-of-age drama that follows Chiron (played by Alex R. Hibbert, Ashton Sanders, and Trevante Rhodes; pictured) from childhood into adulthood. Each stage of his life is faced with bouts of him struggling with his sexual identity as a gay black male. From his intimate sexual encounter on a beach and his repressed homosexual urges, Moonlight explores sex-related topics that many in the LGBTQ community can relate to.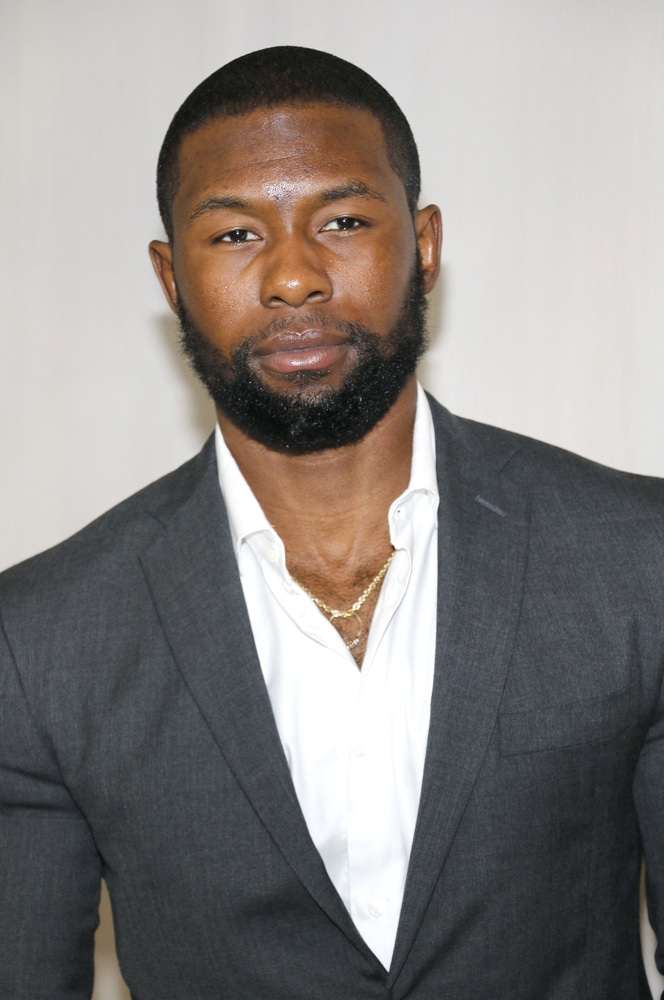 18. Unfaithful
This erotic thriller will go down in history as one of the sexiest films to ever hit the box office. When Connie (Diane Lane) engages in an affair with the much younger French bookseller Paul (Olivier Martinez), she becomes obsessed with their sexual encounters and the attention she receives from her doting beau. As her sex-less marriage to her husband Edward (Richard Gere) putters out, Connie finds satisfaction in her trysts with her manstress.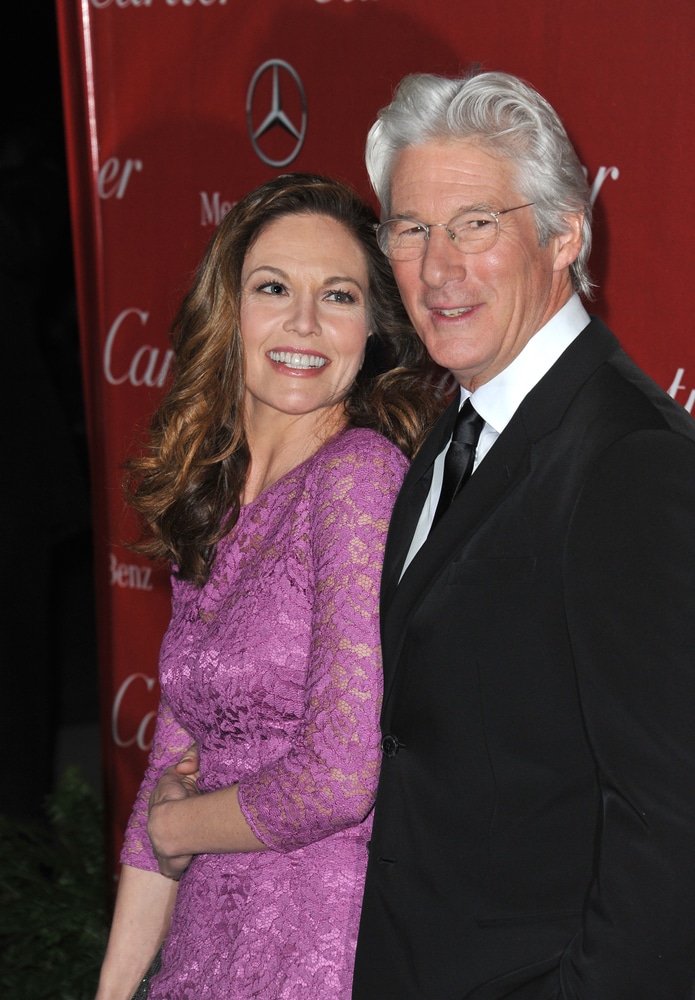 19. The Pillow Book
What do you get when you combine two beautiful actors and a bunch of body paint? The answer is The Pillow Book – a 1996 drama directed by Peter Greenaway. Nagiko (Vivian Wu) is the vivacious Japanese model who explores her sexual desires with numerous partners, while Jerome (Ewan McGregor) is more than willing to decorate her body in bursts of vibrant colors. Oh, and did we mention McGregor appears in a few nude scenes as well?
20. Before Sunrise
A date between two strangers, Jesse (Ethan Hawke) and Céline (Julie Delpy), turns into a magical few hours of the couple bonding on an emotional level as they discuss their past, hopes, dreams, and fears. The entire film builds up to the couple eventually doing the deed, but not before they connect on a deeper level during their journey through Venice.
21. Love and Basketball
Sports and love intertwine as Omar Epps and Sanaa Lathan try to turn their adoration for the game of basketball into a long-lasting relationship. The childhood sweethearts' relationship culminates with a game of one-on-one that goes from playful to sexy in the blink of an eye.
22. Swimming Pool
Julie's sex life is full of one night stands, and her sexual freedom is envied by her roommate Sarah, a mystery writer who steals Julie's diary to use as a source of inspiration for her novel. A journey into voyeurism turns into the two women being attracted to the same man, Frank. But lust and passion turn to grief and tragedy when this love triangle takes an unexpected turn.
23. Henry & June
Henry (Fred Ward) is having his cake and eating it too as he probes deeper into his relationship with his wife, June (Uma Thurman), and his mistress, writer Anaïs Nin (Maria de Medeiros). Holding the crown as the one film that catapulted the motion picture industry's NC-17 rating, you can only imagine the sexual content that can be found in many of its scenes. Although critics think many of the sex acts miss the mark, the intensity of Henry's tormented love affair is what scored the film a spot on our list.
24. Blue Is the Warmest Color
After a lackluster sexual experience with a man, Adéle (Adèle Exarchopoulos) takes a dip in the lady pond with Emma (Léa Seydoux). The coming-of-age romantic film gives insight into the young couple's sexual independence that lasts from high school until their adult years. The graphic nature of the movie depicts their tender and loving same-sex acts with some help from prosthetic genitalia. So, basically, this is one movie that's definitely NSFW.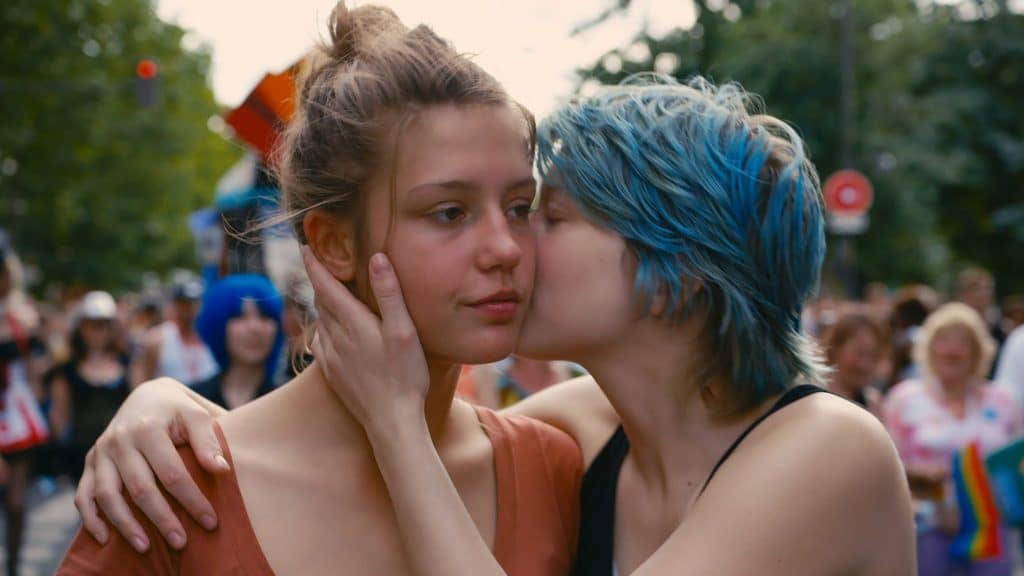 25. Lust, Caution
After the success of Brokeback Mountain, Ang Lee followed up with Lust, Caution to bring yet another erotic film to movie buffs. This Chinese thriller has no shortage of explicit sex scenes that range from rough to passionate.
26. Querelle
Querelle (Brad Davis) finds himself rolling the dice and winning a night of fun with Nono (Günther Kaufmann) or his wife, Lysiane (Jeanne Moreau). The dramatic film culminates with Querelle losing the bet and submitting to sex with Nono, but he also manages to become Lysiane's lover while engaging in some fun on the side with Mario (Burkhard Driest). The film received mixed reviews, but one thing's for certain: its sexy storyline is definitely visually stimulating.
27. Dirty Dancing
Baby (Jennifer Grey) and Johnny (Patrick Swayze) brought magic and passion to the big screen as they danced and swiveled their way into moviegoers' hearts. With each sultry step, this film had people clamoring to sign up at their local dance studio to recreate that infamous flying scene. There's a reason why this legendary movie will stay cemented in our sexy movie playlist, and it all has to do with the magnetic chemistry between Grey and the late Swayze.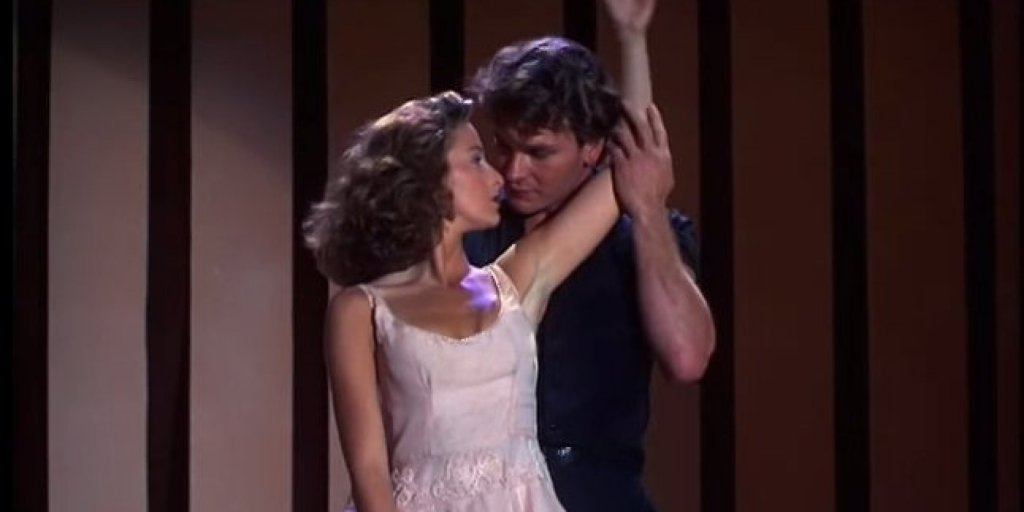 28. Sex and Lucia
This internationally-acclaimed film follows the relationships between a group of people living on an island in the Mediterranean Sea. Lorenzo (Tristán Ulloa), is a depressed writer whose personal life begins to affect his creative juices. His writing turns dark and somber as he fathers a child with a married woman after an intimate and rather graphic sexual escapade on a moonlit beach.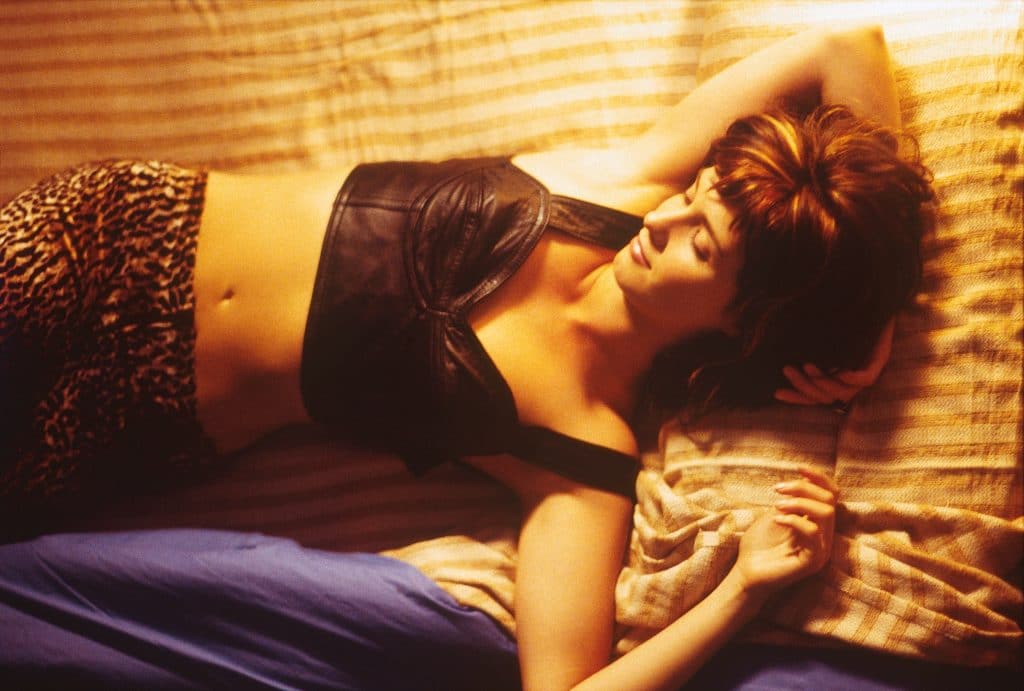 29. I Am Love
Emma (Tilda Swinton) is happily married to an Italian businessman…or so she thought. After meeting up with one of her son's handsome friends, a young chef named Antonio (Edoardo Gabbriellini), she begins an affair that is so wrong but oh so right. Emma can't seem to stay away from her young lover as she becomes addicted to the passion he invokes inside of her whenever they're together.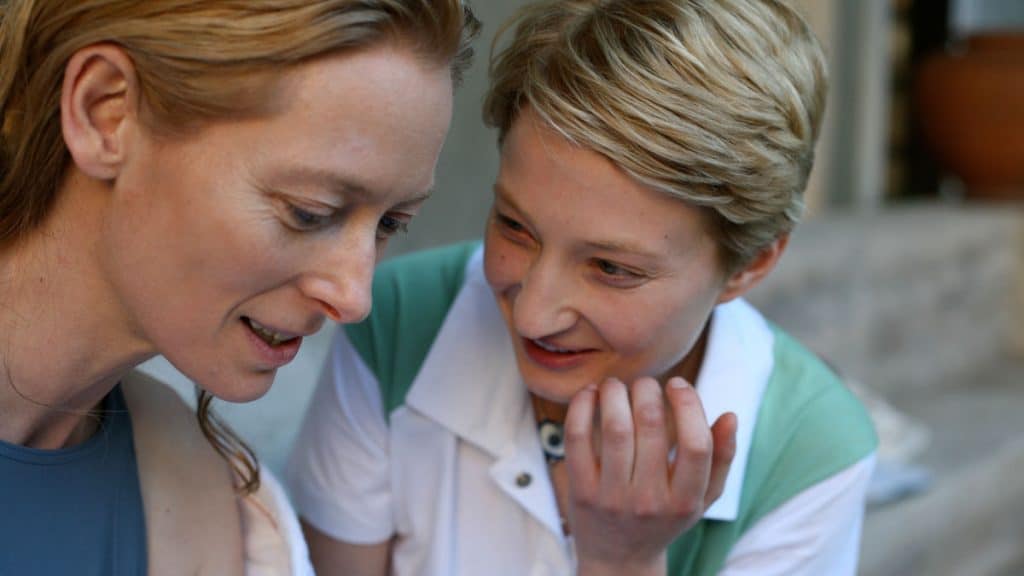 30. Magic Mike
We might as well add Magic Mike XXL to this list, as well, because both movies brought movie fanatics out to the theaters in droves. Semi-based on actor Channing Tatum's life as a former exotic dancer, this film leaves audiences fanning themselves through every single bump and grind. Lead character Mike (Tatum) puts on a satisfying performance with some help from R&B singer Ginuwine's track "Pony," of course.