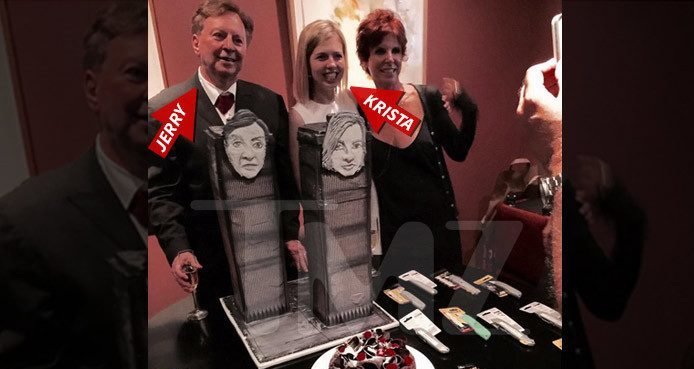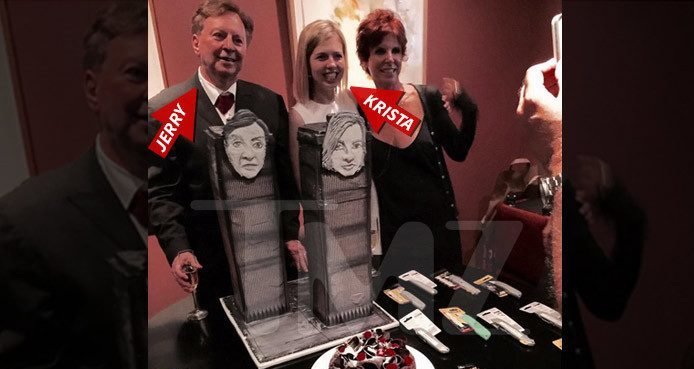 Devo, the rock group best known for its 1980 single "Whip It," has not been popular for many years, but it has maintained a cult following throughout its existence. The band's founder and lead vocalist, Jerry Casale, recently made headlines after he wed 26-year-old Krista Napp in a bizarrely-themed Santa Monica wedding.
Many are outraged by the couple's decision to not only host their union on September 11th, but to also make the deadliest terrorist attack in American history their wedding theme!
According to TMZ, the pair's wedding cake was the World Trade Center with the newlyweds' faces appearing on top of each tower.
Guests also received real box cutters as party favors, and their tables' setting cards had an image of a "Gerald & Krista" engraved box cutter.
Although it seems tasteless and highly offensive to make the murder of nearly 3,000 innocent people the wedding motif, sources say that Jerry and Krista's guests weren't fazed because "they both have a dark and strange sense of humor."
One guest explained, Jerry has "real heart as an artist, and is a super sweet guy." But does that make it okay?
Krista, who is 41 years Jerry's junior, met the band leader in his hometown of Kent, Ohio nearly five years ago. A Kent State University graduate and former figure skater, Krista is also not surprisingly a huge fan of Devo.
Besides working with Devo, Jerry Casale dedicated his time to commercials and music videos. He is the man behind the late 1990's "Dick" commercials for Miller Lite. He said during an interview, "I used to do a lot of music videos but it trickled over more into commercials. Other than that, Devo has played now and then. We pit together songs for movies and TV shows."
Let us know what you think about Krista and Jerry's wedding theme in the comments section below. Wildly offensive or an acceptable case of dark humor?