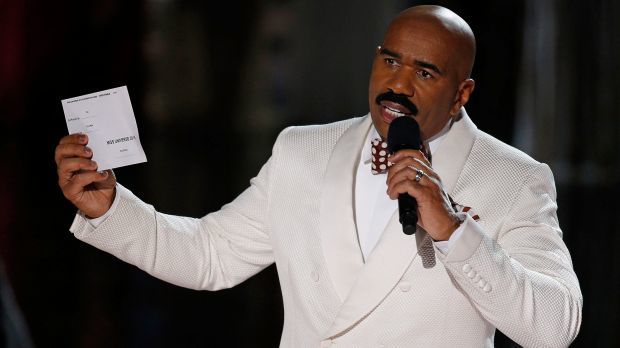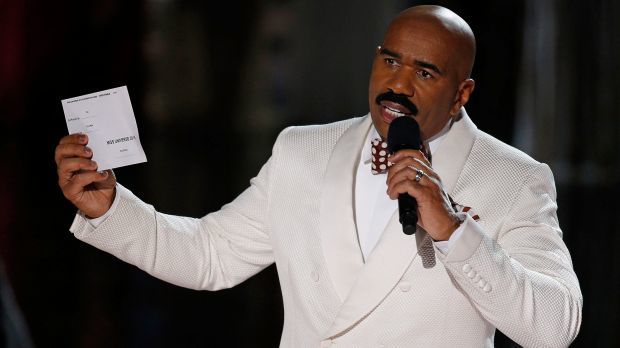 For those of you who thought the Miss Universe pageant was past its prime, that it was simply a relic of an age when women were paraded around like show ponies and thought to possess nothing worthwhile beyond a winning smile, Steve Harvey has breathed new life into the proceedings … just not in the way anyone was hoping. What was once a glorified meat market was reborn last night as a borderline brilliant arthouse comedy exercise. Last night, the 58-year-old comedian — acting as MC of this year's show — made a huge mistake in the final moments of the show, leading to several minutes of cringeworthy comedy worthy of The Office.
Okay, so here's what happened. In the waning moments of the program, as Steve Harvey was reading the names of the winners, he mistakenly said that Miss Colombia Ariadna Gutierrez Arevalo was this year's winner (which would have meant a repeat win for Colombia … which isn't all that surprising, honestly, considering that Sofía Vergara is like run-of-the-mill hot down there). At the sound of her name, Arevalo obviously freaked out, the band started playing, the crown was placed on her head, the whole nine yards. Everything was going well, just like a nice, boring pageant show should.
A few seconds into her celebration, the host came back on stage wearing one of the most horrified hangdog expressions ever seen in the history of basic cable. He grudgingly made the correction, announcing that Miss Philippines Pia Alonzo Wurtzbach was this year's real winner. The band had to start their song, the winner had to take the world's longest walk up to the front of the stage. And poor, stunned Miss Colombia had to have her crown removed and get shuffled back into line with the rest of the also rans.
Even better, he followed the gaffe up with an apology tweet in which he misspelled the names of both countries involved in the error, apologizing expressly to "Miss Philippians and Miss Columbia." It's been a tough night for the former King of Comedy. Tough indeed.