Miley Cyrus has been raising eyebrows ever since the video premiere of her 2013 hit, We Can't Stop. The former Disney star has transformed into a rebellious sex symbol whose main concern is remaining relevant in the ever-evolving music industry. Do you remember what Miley Cyrus looked like back in 2006? Neither do we. All we can think about is that big foam finger and silly tongue pose. Let's take a look back at the pop star's rise to fame and remember Miley Cyrus style choices throughout the years.
1. Miley Cyrus in 2006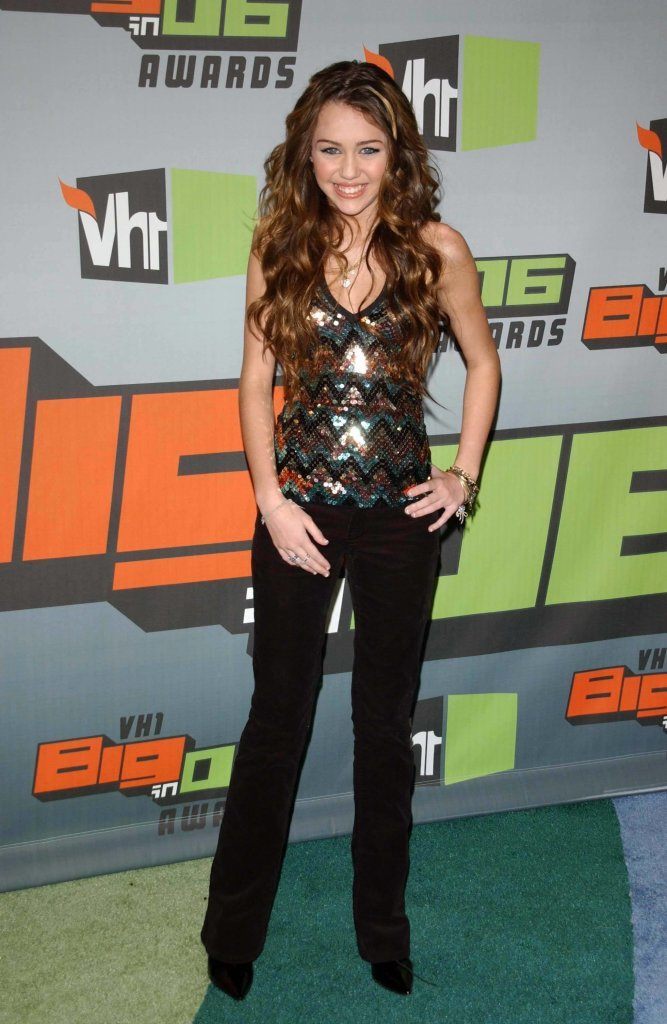 Here's Miley Cyrus on the red carpet of the VH1's "Big in 06" Awards. The event was held at Sony Studios in December 2006. Miley rocked a sequined top with black plants and long, brunette curls. She looked so young and innocent back then!
2. Miley Attends AMAs in 2007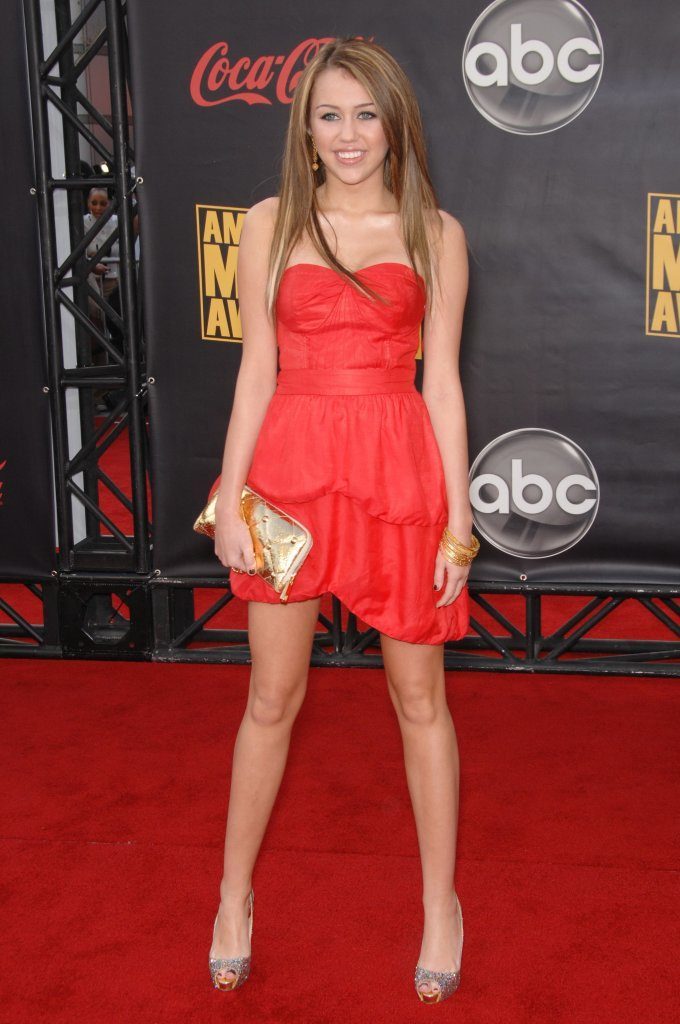 Miley attemtped to look at bit more mature at the American Music Awards in 2007. She donned this strapless red dress with silver heels and accessorized with a gold clutch and straight brown locks. Can you believe this photo was taken just days before Miley's 15th birthday!
3. Miley Cyrus Looking Sophisticated in 2008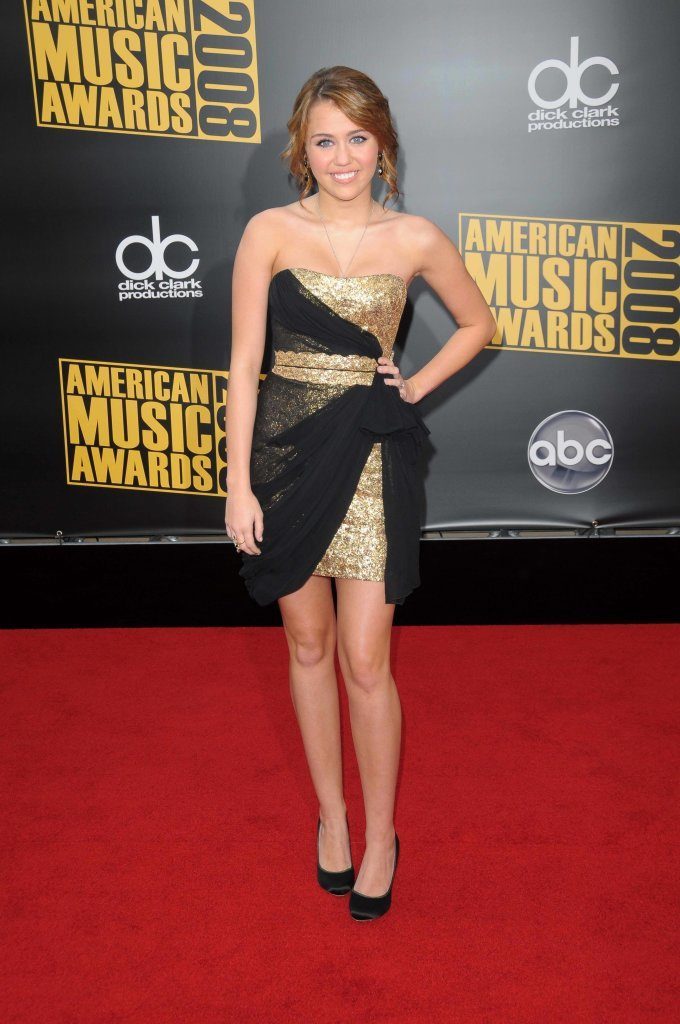 Here's Miley the following year at the American Music Awards. Miley attended the event on her 16th birthday. The young star chose a short black and gold gown, with simple black pumps and a tousled up-do. She's definitely trying to move past her "Hannah Montana" persona and showcase her own Miley Cyrus style.
4. Miley At the Grammy's in 2009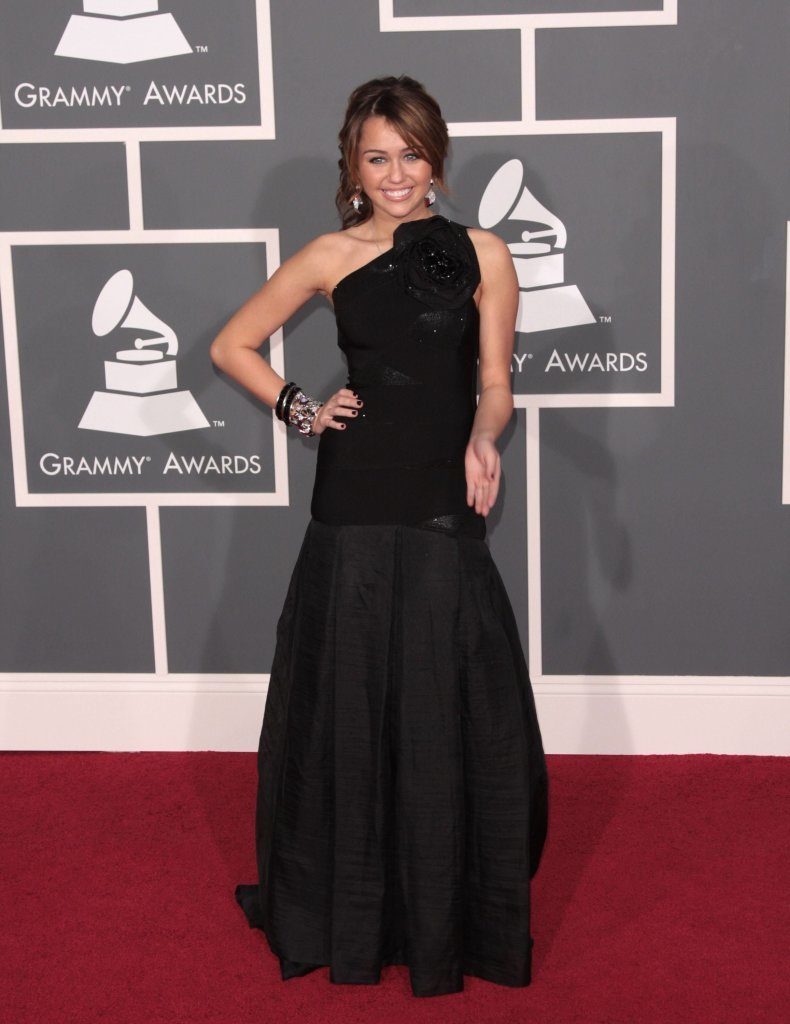 Miley Cyrus attends the 51st Annual Grammy Awards at the Staples Center. Miley rocked a black symmetrical Herve Leger gown by Max Azria with bangles and large silver earrings. The pop star is only 16 in this elegant look!
5. Miley at the 2010 Oscars
Seventeen year old Miley wore this champagne colored Jenny Packham gown to the 82nd Annual Academy Awards. She accessorized the look with gold diamond earrings and a large diamond cuff bracelet. Miley attended the event with her then boyfriend, Liam Hemsworth, whom she met on the set of the 2010 flick The Last Song.
6. Miley Cyrus Style: Chic at the MTV Awards in 2011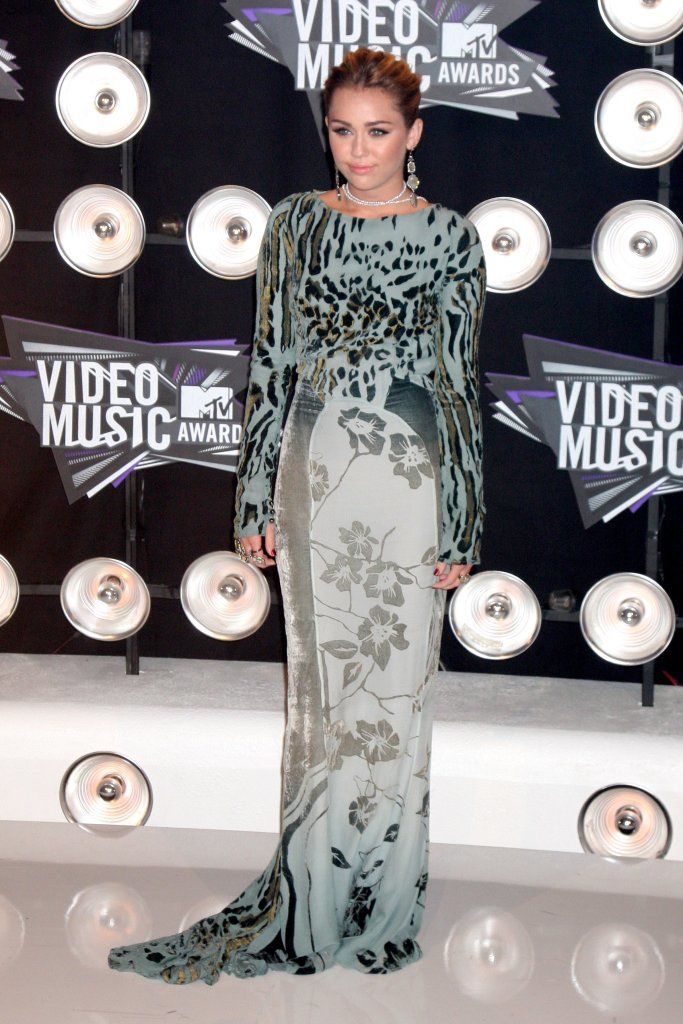 Miley's finally legal! The 18-year old songstress attended MTV's Video Music Awards at LA Live in August of 2011. Miley rocked a leopard and floral print Roberto Cavalli backless dress for the event. She finished the look with Lorraine Schwartz jewels and Azzedine Alaïa heels. Miley's definitely becoming quite the fashionista!
7. Miley Stuns at the Vanity Fair Party in 2012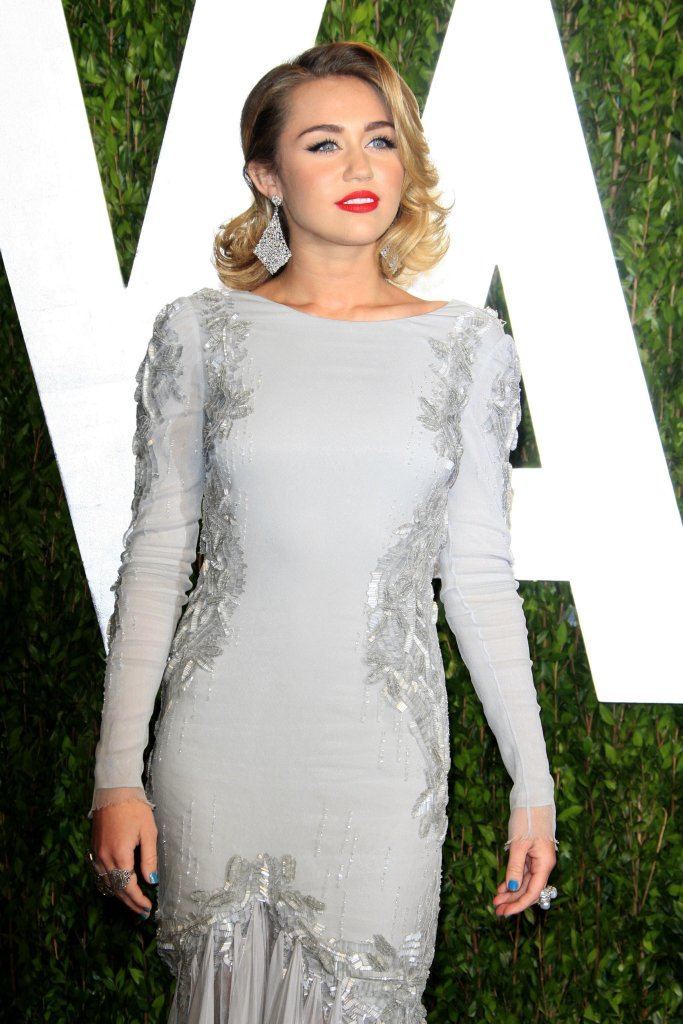 Miley dropped jaws when she donned this old Hollywood glamor look at the Vanity Fair Oscar Party in 2012. The 19-year old wore a grey Roberto Cavalli mermaid dress with blonde bob and bright red lipstick. This was definitely a statement of elegance for the pop star.
8. Cyrus Gets Chopped in 2012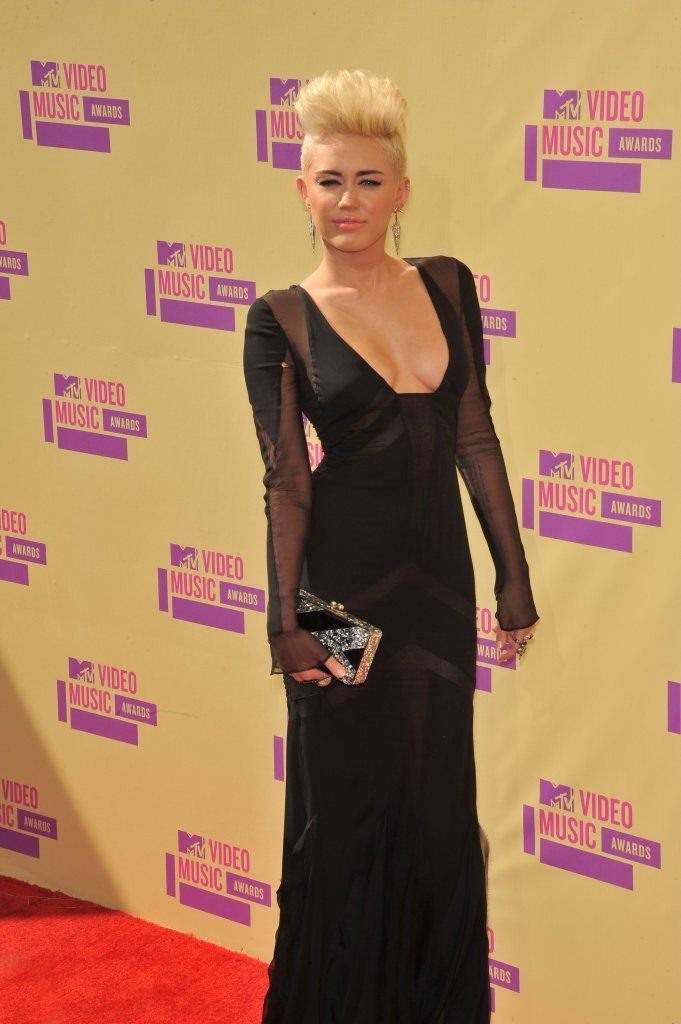 Only a few months after the Oscars, Miley was sporting a much edgier look. The young star chopped off most of her hair and dyed it platinum blonde. Miley looked punk at the 2012 MTV Video Music Awards rocking a "Pink" inspired do, a black Emilio Pucci gown with Lorraine Schwartz jewels and an Edie Parker clutch.
9. The Miley Cyrus Style Transformation of 2013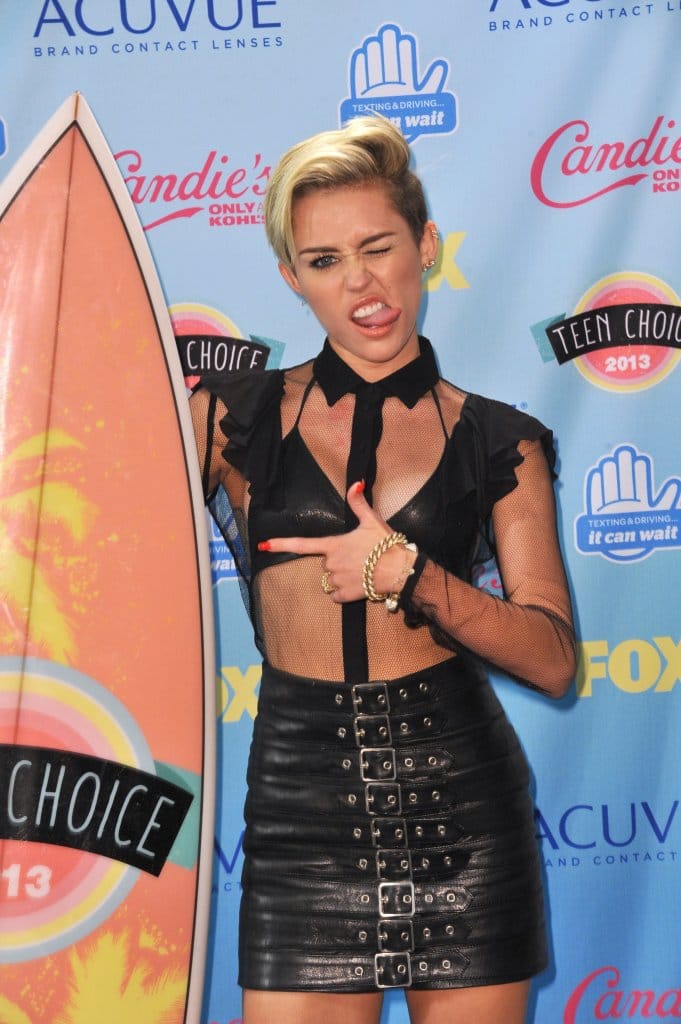 Sweet and innocent Miley Cyrus was definitely trying to show the world she's all grown up. After the release of her raunchy party hit We Can't Stop, Miley began dressing more sexually explicit. The 20-year old wore this Saint Laurent leather ensemble to the 2013 Teen Choice Awards. She won the Candies Choice Style Icon award.
10. Miley in Concert in 2014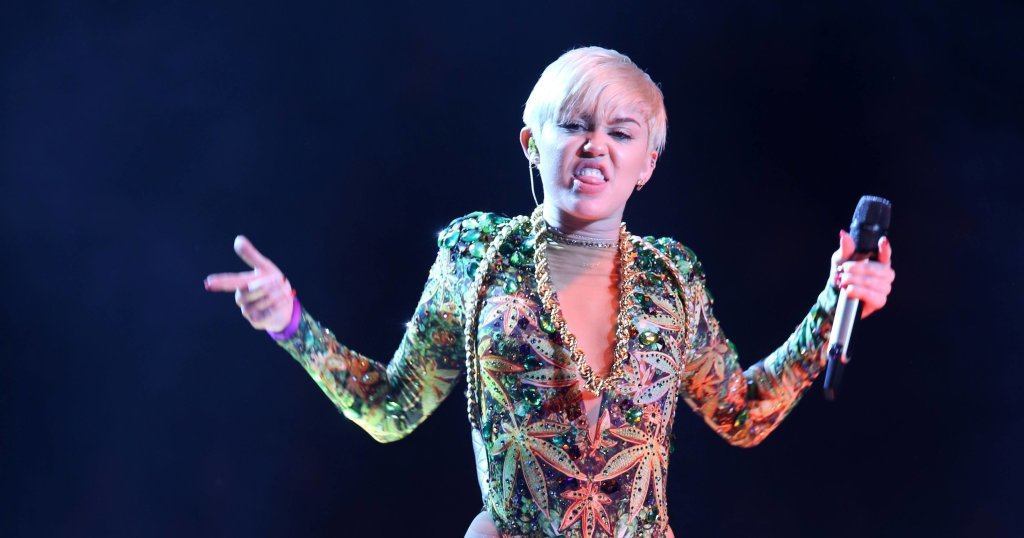 The 21-year old rocked this sequined one-piece back in April of this year. Miley was performing in Brooklyn, NY when she donned this revealing marijuana leaf leotard with cowboy boots. The pop star finished the look with a large gold chain and "grills" on her teeth. Miley definitely turned heads with this look! So what are your thoughts on the new Miley Cyrus style?