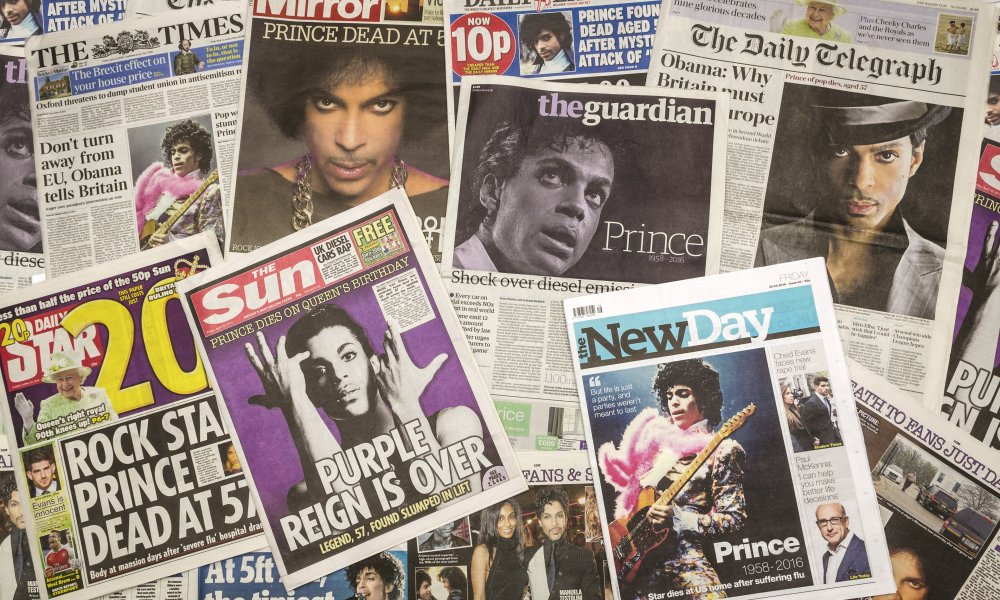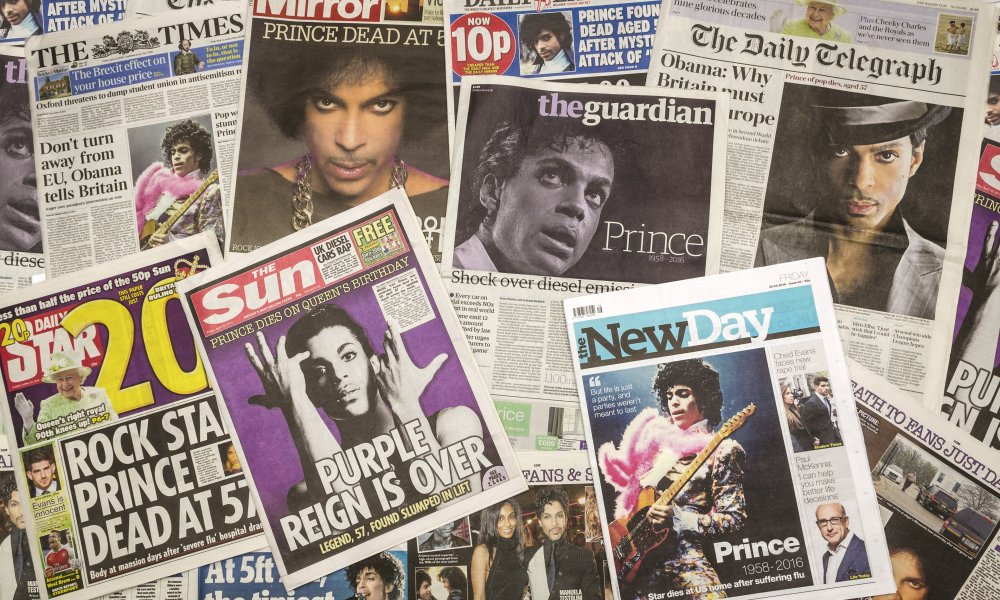 Despite celebrity friends like Jimmy Fallon, Ellen DeGeneres, and Nick Jonas praising Justin Timberlake's performance at the Super Bowl LII halftime show yesterday, Prince fans were none too happy with the segment dedicated to the beloved pop musician.
The backlash is due to an interview Prince gave twenty years ago to Guitar World magazine. When asked if he would ever consider using technology to perform with a deceased artist, Prince responded, "Certainly not. That's the most demonic thing imaginable. Everything is as it is, and it should be. If I was meant to jam with Duke Ellington, we would have lived in the same age. That whole virtual reality thing… it really is demonic. And I am not a demon. Also, what they did with that Beatles song ['Free As a Bird'], manipulating John Lennon's voice to have him singing from across the grave… that'll never happen to me. To prevent that kind of thing from happening is another reason why I want artistic control."
Yesterday's halftime show was the third time Justin Timberlake performed at the Super Bowl, first in 2001 with NSYNC and again in 2004 alongside Janet Jackson, when he infamously exposed her breast to millions of people while singing "Rock Your Body."
Hosted at the U.S. Bank Stadium in Minneapolis, Minnesota, Timberlake sang a variety of songs spanning his career, including tracks from his latest album, Man of the Woods. The arena lit up purple when he went into his tribute to Prince, singing "I Would Die 4 U" as footage of the late Minnesotan singer projected behind Timberlake, who sang and played at a piano. Prince fans took to Twitter to vent their outrage over the performance.
Okay punkass justin Timberlake. You was cool till you pulled that Prince bullshit. You dissed Prince on a track of yours and you dissed him onstage when you lowered the mic stand onstage when prince won an award. Later for ya ass

— Sinbad (@sinbadbad) February 5, 2018
And then ANGER!!! To bring out Prince to improve this mediocrity is a damn embarrassment. I'm fumin #HalftimeShow

— Cynthia Erivo (@CynthiaEriVo) February 5, 2018
Timberlake also came under scrutiny for not inviting Janet Jackson to perform alongside him as a sort of redemption for Nipplegate 2004. Joseph Jackson, Janet's father, told the New York Post, "If he's such a gentleman, he'd make sure Janet is there."
An unidentified Jackson family member went on to comment, "Justin's solo career took off after that and Janet was blackballed. He says they are good, but let's see him prove it and bring her out."
On Saturday, Janet Jackson addressed the rumors that she would perform with Timberlake at the Super Bowl LII halftime show in a statement to People. "To put to rest any speculation or rumors as to whether I will be performing at the Super Bowl tomorrow: I will not."
On the same day, a Twitter account managed by Prince's brother said there would not be a Prince hologram at the show. However, the same account tweeted that they were "so proud" of the tribute at the halftime show earlier today.
??? Yes! So Proud ?https://t.co/1l20PrCYxT pic.twitter.com/TxrV3yPMnL

— PRNFamily� (@PRNFamily) February 5, 2018