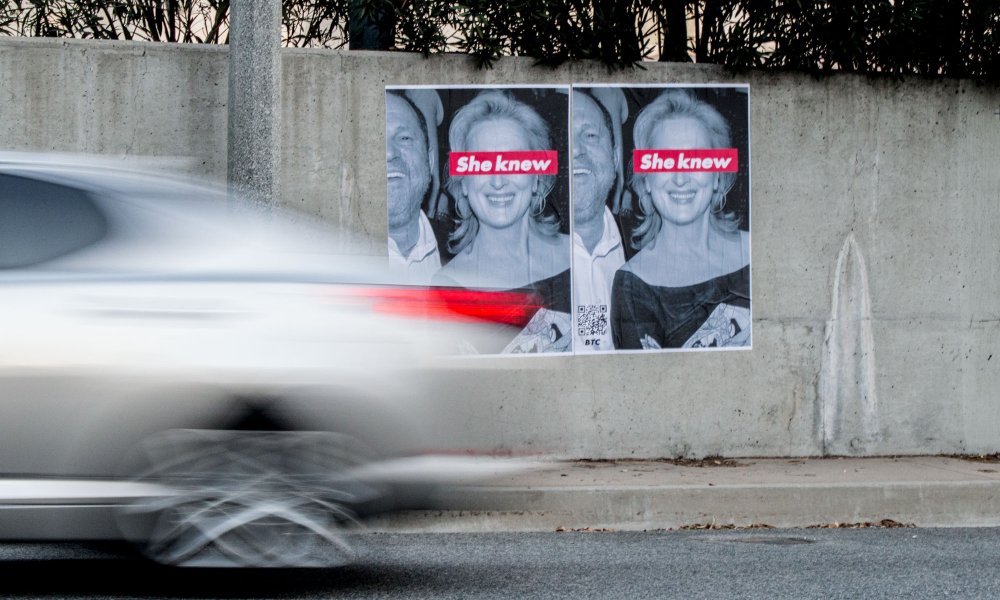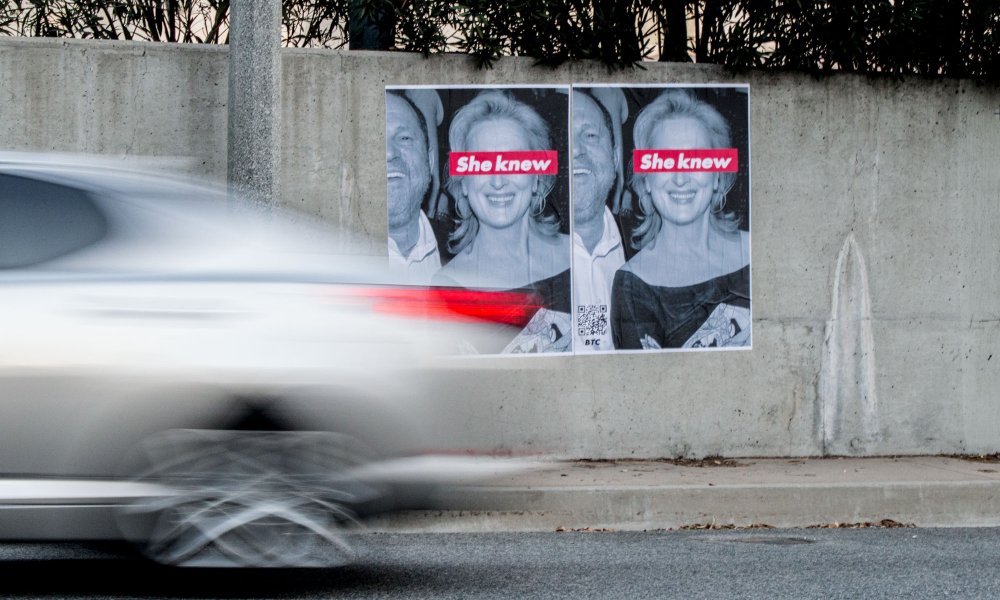 Street artists in Los Angeles have started putting up posters to allege that Meryl Streep knew about Harvey Weinstein's behavior all along. The posters have a red banner with the words "she knew" across Streep's eyes. At this point in time, the identity of the artist (or artists) has not been revealed.
The posters started popping up on December 19, which was the day after Streep claimed to be in the dark about Weinstein's behavior. She spoke out her own defense after responding to a response from Rose McGowan. McGowen was criticizing Streep's choice to wear black to the Golden Globes, thinking that it was hypocritical for her to jump in and start protesting sexual misconduct now when she knew about it all along. From Streep's perspective, she was invaluable to Weinstein so he went out of his way to make sure that she had no idea about the sexual misconduct and manipulations that were going on.
"I want to let [McGowan] know I did not know about Weinstein's crimes, not in the 90s when he attacked her, or through subsequent decades when he proceeded to attack others. I wasn't deliberately silent. I didn't know. I don't tacitly approve of rape. I didn't know. I don't like young women being assaulted. I didn't know this was happening. I don't know where Harvey lives, nor has he ever been to my home," she continued. "I have never in my life been invited to his hotel room…He needed me much more than I needed him and he made sure I didn't know."
People have been posting photos of the posters to social media. So far they have been seen near the Hollywood and Highland shopping center, near Meryl's home, and near the 20th Century Fox studio lot since they are producing her film The Post.
#Polanski…saw this, thought of you, too….#STTOY#SheKnew pic.twitter.com/3a5PoznMFk

— Alex W Smith (@AlexSmith1964) December 19, 2017
#SheKnew
Big love to whoever Ventilated the Venerated child rape apologist #MerylStreep. XOs
Please send some BTC love to those unsavory agents
on my behalf. pic.twitter.com/K9QGITUoxF

— Marianne Barnard (M) (@Marianne_M_B) December 19, 2017