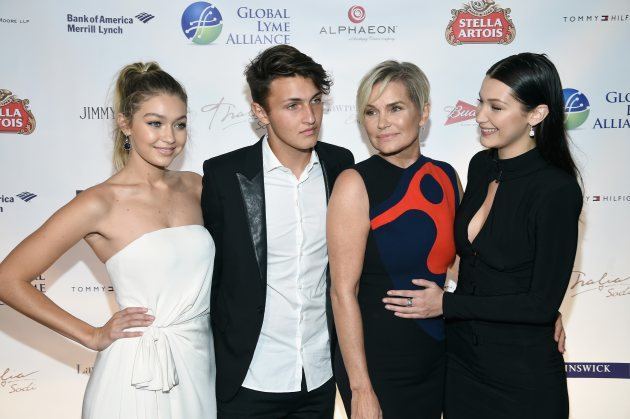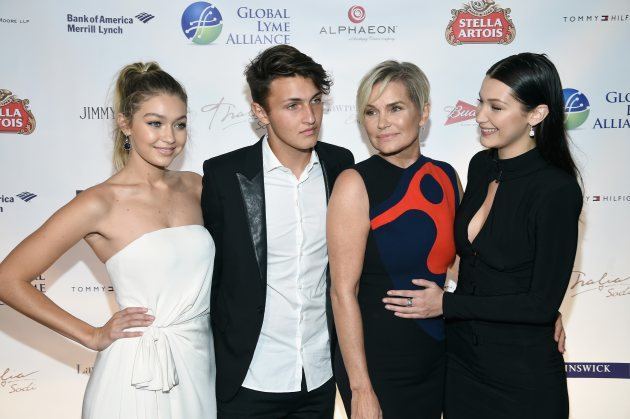 Real Housewives of Beverly Hills star and former supermodel, Yolanda Foster, recently revealed that she and two of her children have secretly been battling Lyme disease for the past few years.
Last night, Yolanda attended the Global Lyme Alliance Gala in New York City with her children, Bella, Anwar and Gigi Hadid.
She gave an incredibly emotional speech, after being presented with the Power of One trophy, in which she revealed that her children, Bella and Anwar also suffer from the tick-born illness that she's had for years.
Foster, who's been an advocate for Lyme disease awareness, shared the seriousness of the disease:
"I honestly don't have the proper words in my vocabulary to describe to you the darkness, the pain, and the unknown hell I've lived these past years. I actually did not live. I just existed in a jail of my own paralyzed brain. This disease has brought me to my knees. Many nights I wish to die. I pray that I will just wash away into heaven, where there will be no pain."
Then, Yolanda explained why she was dedicating the award to her children:
"God had different plans for me. He changed my destiny when my two youngest children, Bella and Anwar, were diagnosed with chronic Lyme disease in early 2012. Watching my babies struggle in silence in order to support me and my journey struck the deepest chord of hopelessness inside of me, and it's because of them that I'm motivated to stand here in front of you today."
She continued by saying:
"I don't deserve this award. This award is for Anwar and Bella. This is my token and my promise to you that I will not allow you to live a life of pain and suffering. I will walk to the end of the earth to find a cure so that you can live a healthy life that you deserve. No child should suffer in the way that you do."
Foster, who was diagnosed with the disease back in 2012, even had her silicone breast implants removed in hopes of improving some of the severe symptoms of the condition.
The 51-year-old has also spent much of her time traveling the world to try and find a cure.
Leave your thoughts and comments below. Did you know that three of the Hadid/Fosters were suffering from Lyme disease?