When Jennifer Lopez first landed in Hollywood, she didn't have much fashion sense. She let her wild tresses roam free and her wardrobe lacked sophistication. Over the 20 years that she has walked the red carpet, we've watched her blossom into a beautiful, mature, cosmopolitan woman! We've certainly enjoyed seeing JLo's style evolve over the years, so let's take a walk down memory lane of Jennifer Lopez fashion.
1. Jennifer Lopez Fashion Sense: Circa 1994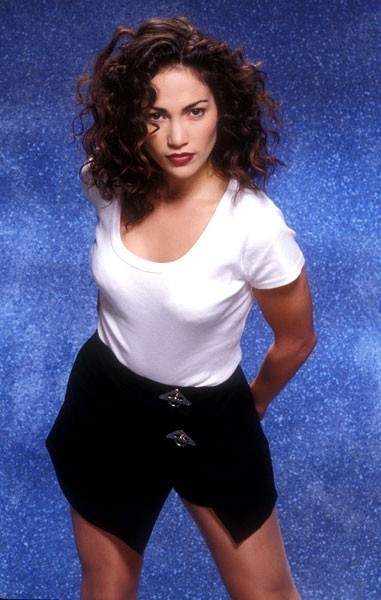 Jennifer Lopez was definitely looking a bit Selena-esque back in 1994. Look at  those curls! When she first stepped on the scene, this fly girl was looking more from the block than from Rodeo Drive.
2. Jen's First Oscar Appearance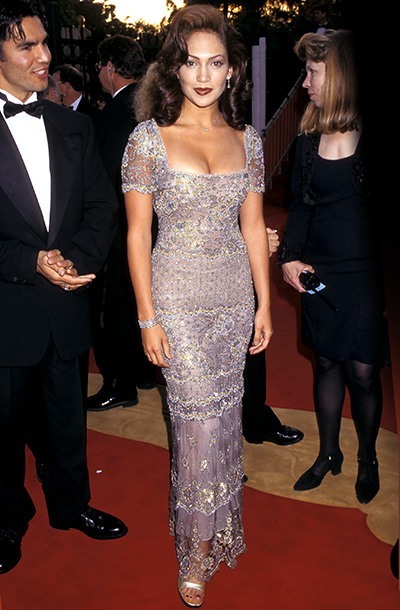 Even though Jen's never been nominated for an Oscar, she a frequent guest on the red carpet. This picture above was Lopez's first Oscar appearance. Dressed in a beaded lace gown by Badgley Mischka, the glamorous look seems to be inspired by the Roaring Twenties. We're also loving her old-school curled hairstyle!
3. Jennifer Lopez's Flapper Gown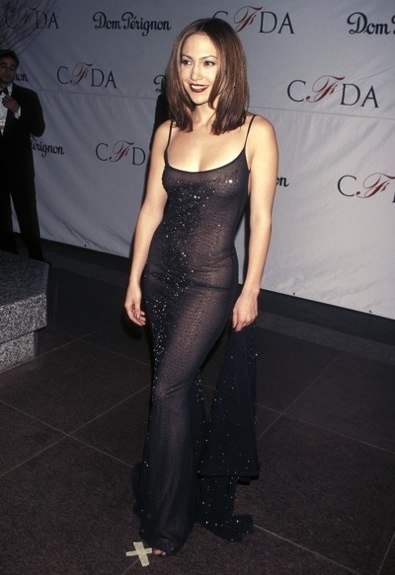 When Jen attended the 17th Annual CFDA Awards back in 1998, she was inspired by a bygone era once again. Her low-cut, tight-fitting black sequined gown complete with shawl definitely has a flapper feel to it.
4. Jen's A Golden Girl
Jen spiced it up a bit with this golden number at the 41st Grammy Awards in 1999. Lopez seemed to be loving those sequins, as she sparkled down the red carpet. No need for an award, she already looks a bit like a trophy to us! The straight hair is a new look for Jen, sleek and sophisticated. We just wish she would have opted for some heels to elevate this Jennifer Lopez fashion statement.
5. The Iconic Dress
The iconic dress that rocked the world can be seen above. JLo was dating Puff Daddy when she donned this revealing Versace gown at the 2000 Grammy awards. Lopez didn't win any awards that night but, her plunging neck line made headlines for weeks. Love it or loathe it, she'll go down in fashion history with this one.
6. Jen Looking Haute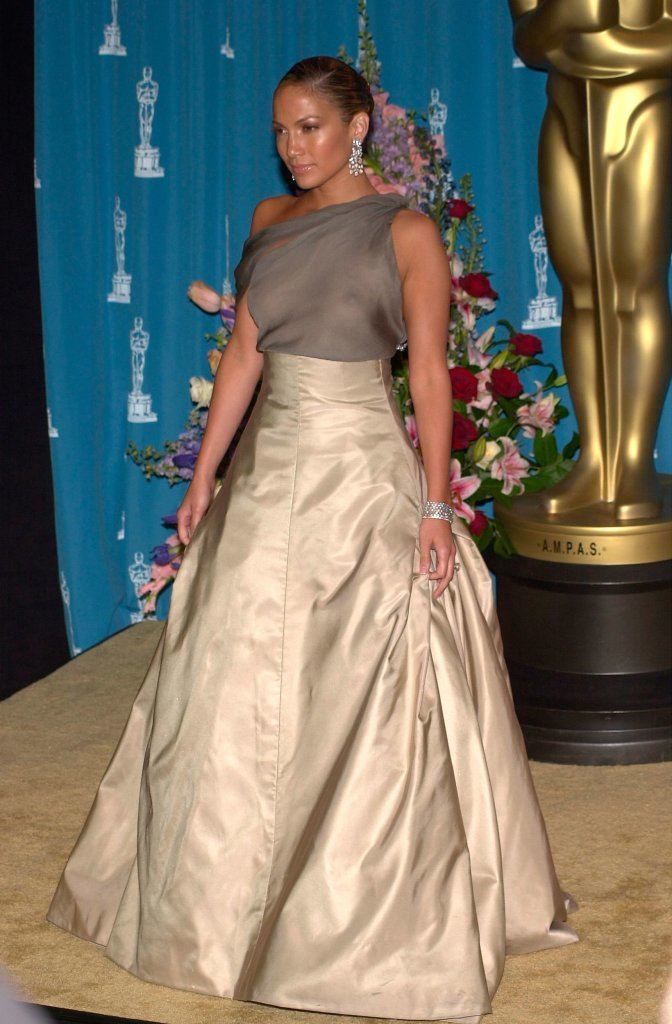 By the 73rd Annual Academy Awards, Jennifer was an acclaimed actress, singer and dancer. She wore this two-toned Chanel haute couture gown with a polished updo. The dress is much more elegant and conservative compared to her previous wardrobe choices, unless you look closely. The top is actually sheer and we don't think Jenny was wearing a bra!
7. The Gigli Gown, Worse Than the Movie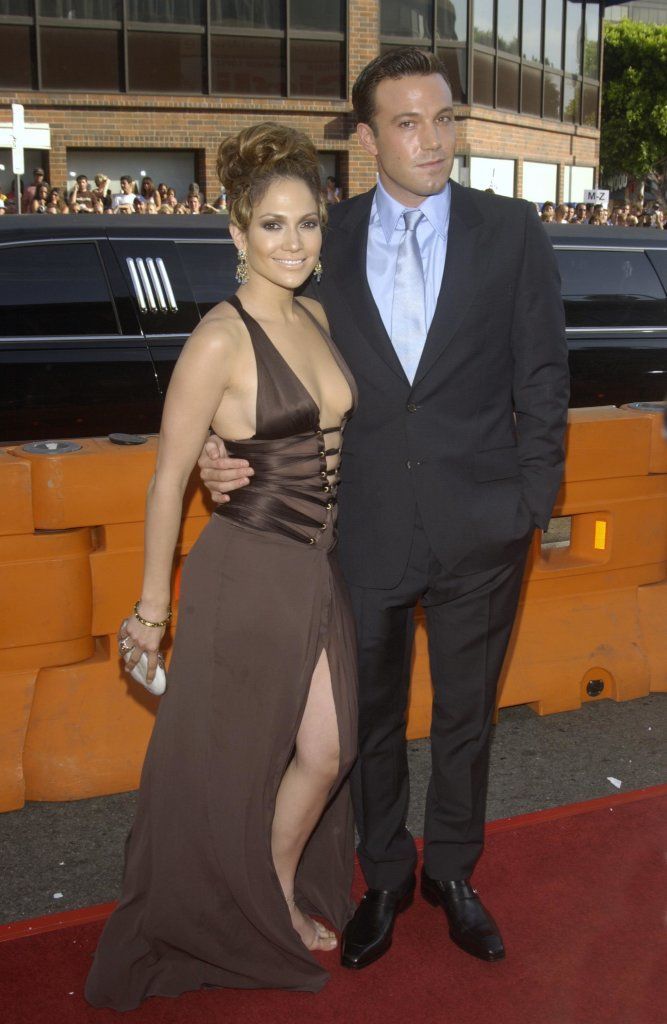 Remember when Ben and Jen were a thing? Here's the lovely couple at the 2003 premiere of one of the worst movies of all time  – Gigli. We're not loving Jen's silk chocolate dress. It looks a bit cheap and that messy bun just adds to the fashion faux pas. Just like Bennifer's relationship, this dress is so over.
8. Jen Looking Peachy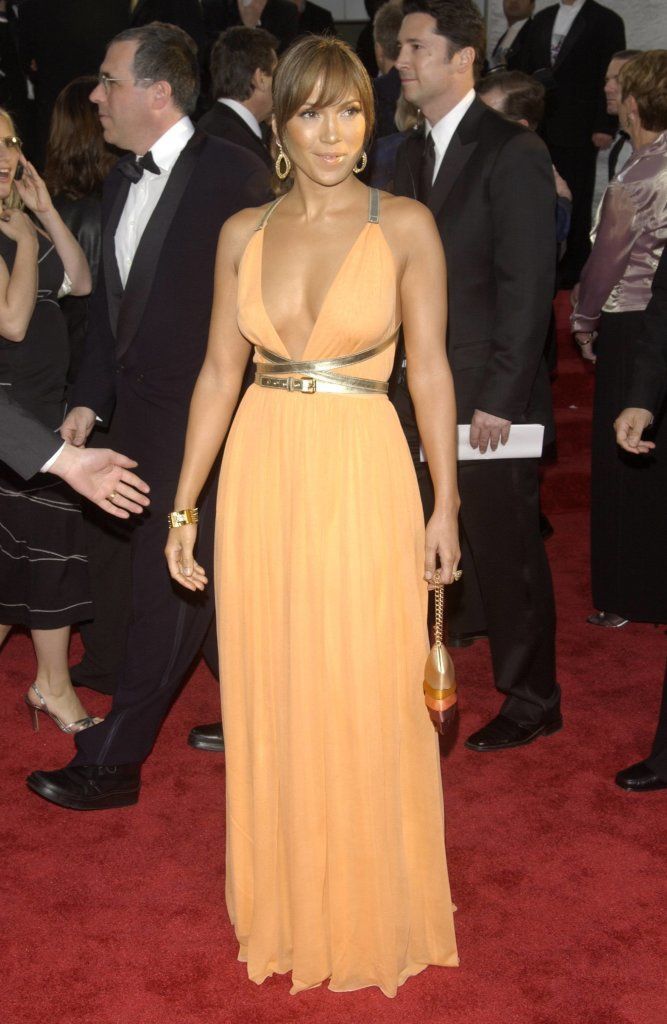 Jen won us back over with her 2004 Golden Globe gown. She donned a beautiful peach dress with golden belt, and her hair was pulled back into a chic ponytail. We're loving this hue with her olive skin tone! This Jennifer Lopez fashion gets a thumbs up.
9. Lopez Lacks Shape
We're not quite sure what happened here. At the 2005 premiere of Jen's movie, Monster in Law, she wore a white, silken, pleated disaster. The dress does nothing for Jen's amazing figure. One thing we do like is here is her short bob hairstyle, so all is not lost.
10. Jen's Glowing in Marchesa
Jen wore this beautiful coral Marchesa gown at the NY premiere of El Cantante. The hue definitely suits her light brown locks and glowing skin. She's looking absolutely radiant in 2007!
11. Athens Inspired Look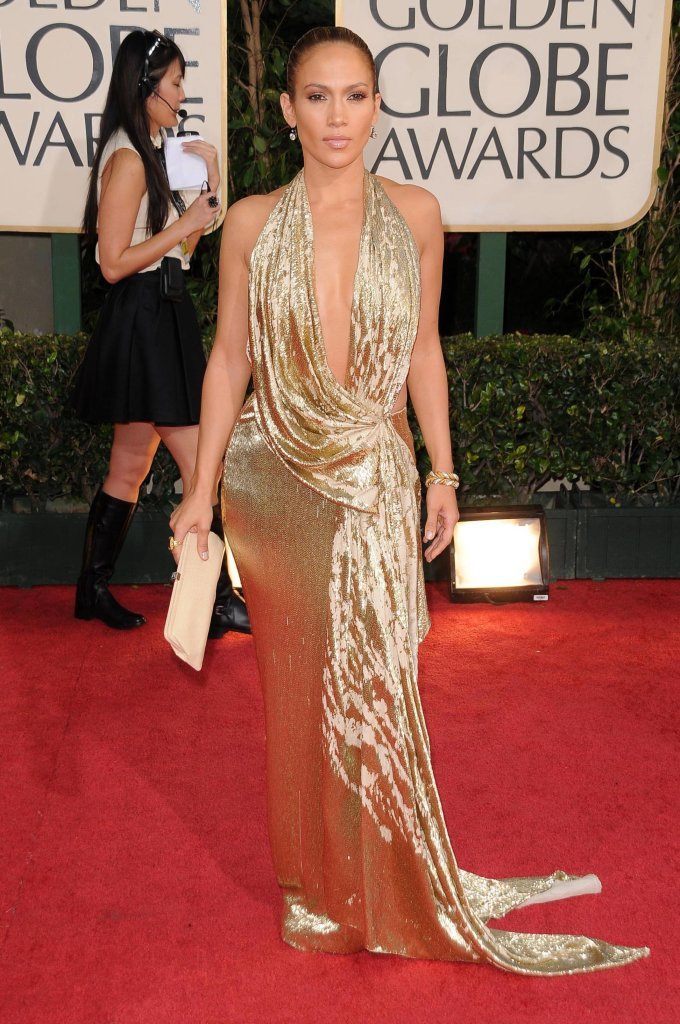 Jennifer Lopez looked like a greek goddess in this golden Marchesa gown at the 66th Annual Golden Globes. It was a very appropriate look for the occasion. She's showing off her high cheekbones with that sleek hairstyle and her body looks better than ever. Very chic!
12. A Belle at the Ball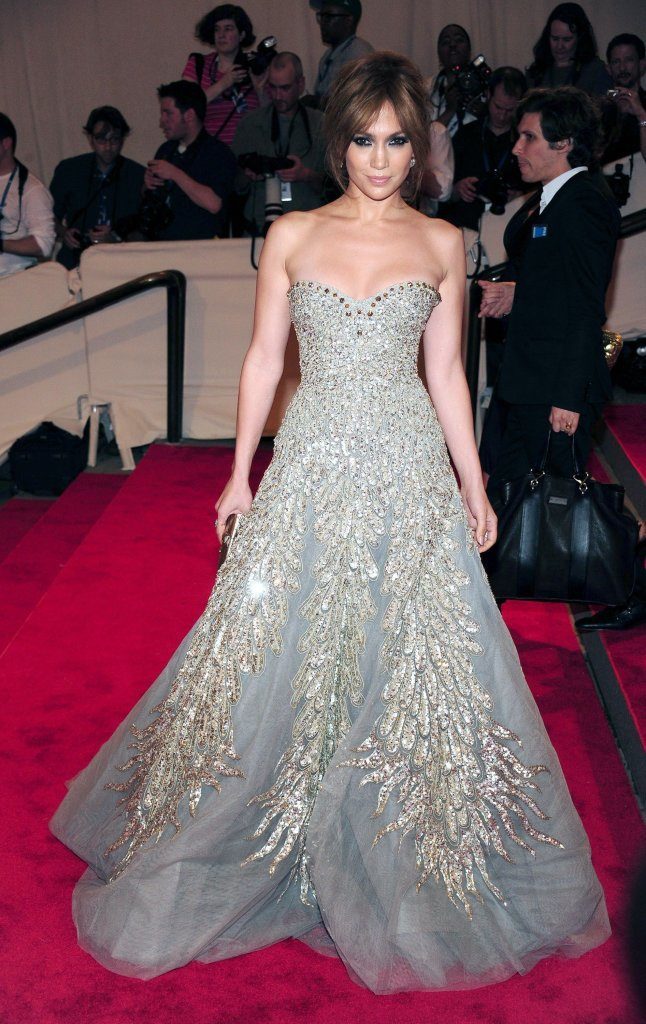 At the American Woman Fashioning a National Identity Benefit Gala, Jen rocked this Zuhair Murad ball gown. The event took place at the Metropolitan Museum of Art in NYC and we think JLo definitely showcased her own fashion identity!
13. Jen's Sophisticated Red Carpet Look
At the 2011 American Music Awards, Lopez definitely turned heads on the red carpet in her beaded, body-clenching, black-lace gown. She always knows how to work those curves and that sophisticated sleek bun completes the look! Jen was a winner in more ways than one that night. This one wins a Jennifer Lopez fashion award.
14. Ravishing in Red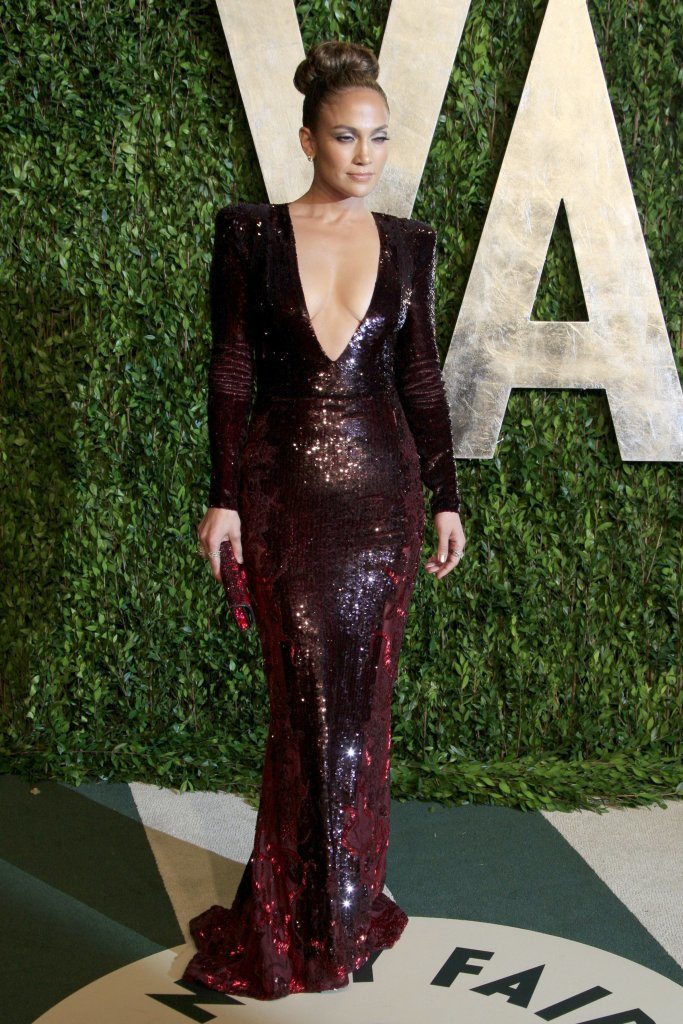 Lopez rocked this ruby number at the 2012 Vanity Fair Oscar party, held in West Hollywood. We loved the broad shoulders and plunging neckline on this floral-detailed Zahair Murad gown. And that coiffed hair definitely makes a statement!
15. The Statement Slit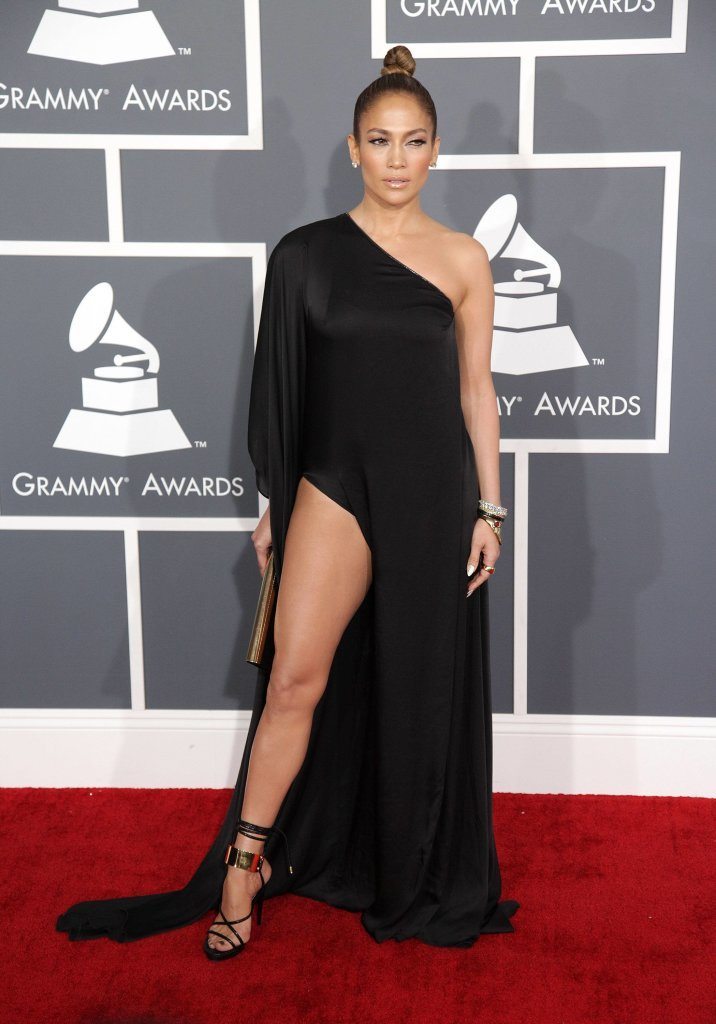 JLo attended the 2013 Grammy Awards in a sleek black silk dress. Taking a page out of Angelina Jolie's book, this statement slit showed of Lopez's toned gams and those metallic stilettos added a bit of shine to the look. We love when she pulls her hair back and shows off that flawless face!
16. Fierce at 45!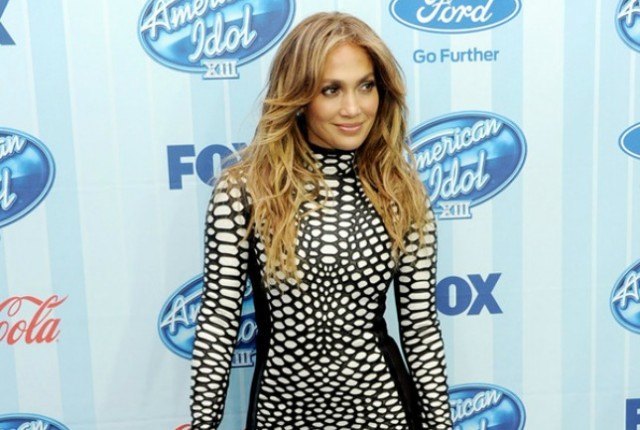 At 45, Jen's been continuing to turn heads on the red carpet. She wore this white high neck, long sleeve bodycon dress with a black leather netted overlay to the Season 13 premiere of American Idol. We love when she wears her hair down and those stark white Louboutin pumps look fierce! We think Jen's looking better than ever! Can't wait to see what new Jennifer Lopez fashion statements are coming down the pipe.