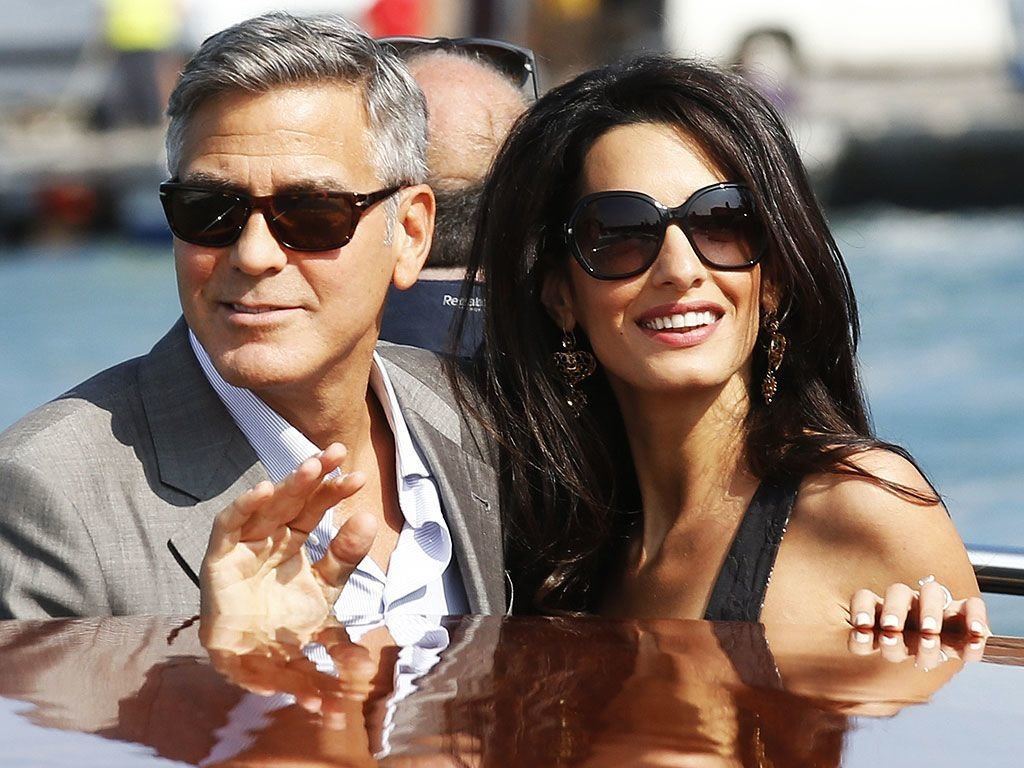 Infamous bachelor and one of the sexiest men of all time is officially married! George Clooney has dated a slew of women over the last 20 years including models, to actresses, to cocktail waitresses. So who did he finally choose to be his wife? Lebanese-born British attorney Amal Alamuddin.
The pair began dating in 2013 and became engaged last April when Clooney said that he had met his match. Many were surprised to see Clooney finally settle down. After his first marriage to Talia Balsam, Clooney said that he didn't think marriage was for him.
But then George found Amal, who's not only one of the most beautiful women Clooney has dated, but she's definitely the most intelligent. Amal has defended Julian Assange of Wikileaks fame and Yulia Tymoshenko, the former Ukrainian Prime Minister, and more.
The couple enjoyed a four day celebration in Venice over the weekend. The George Clooney wedding festivities began on Friday afternoon as the pair arrived in Italy. On Friday evening, a Girls' Night Out and Boys' Night Out included the lavish Cipriani hotel, the seven-star Aman Canal Grande hotel, which is housed in a 450-year-old palazzo, and the famous Da Ivo restaurant.
The couple tied the knot in front of family and friends at Aman Canal Grande Hotel at sunset by former mayor of Rome, Walter Veltroni. Amal's wedding dress was designed by Sarah Burton for Alexander McQueen and George wore a black Armani suit.
During the reception, guests dined on a five-course meal by Italian chef Riccardo De Pra and listened to music from a small string orchestra. Guests included Matt Damon, Ellen Barkin, Richard Kind, John Krasinski, his wife Emily Blunt, Vogue editor Anna Wintour, rock star Bono and comedian Bill Murray.
Sunday, the newlyweds emerged from their hotel. Amal was wearing a white lace-embellished dress by Giambattista Valli and George donned a charcoal grey suit. The couple headed to brunch at the Cipriani hotel by water taxi.
Today, Amal and George officially wed in a private ceremony at the 16th-century Cavalli Palace. Amal donned a sophisticated white skirt-suit with a wide-brimmed white hat and Clooney dressed in a charcoal grey suit.
Congratulations to the beautiful couple!