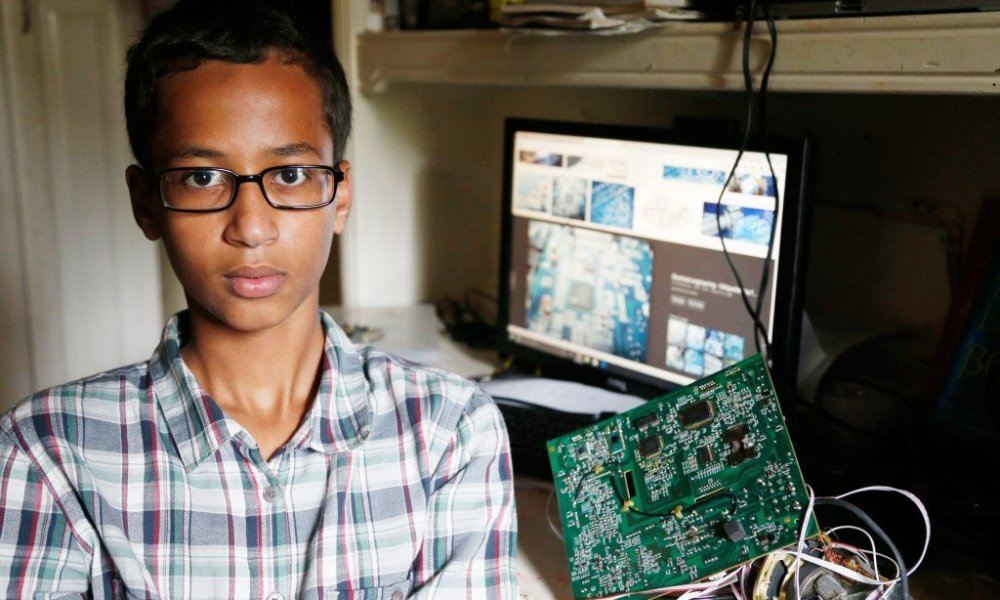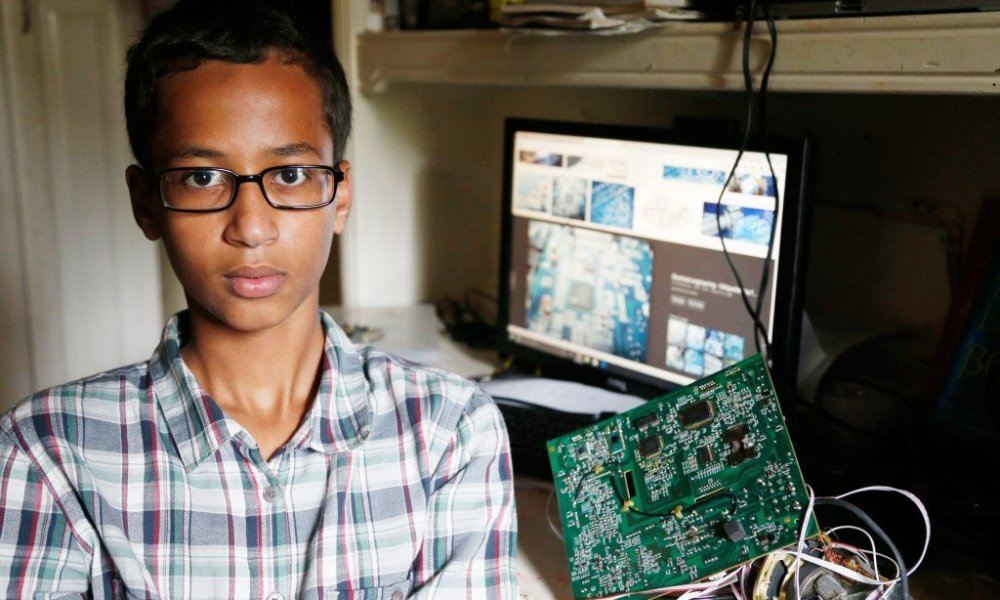 When 14 year old Texas whiz kid, Ahmed Mohamed, showed his teacher his homemade digital clock, instead of praise for his ingenuity he was arrested for bringing a suspicious object to the high school.
He was handcuffed and brought to a juvenile detention center where he was interrogated. Police announced that he will not face criminal charges, but he was suspended from school for three days.
In an era of school shootings and terrorism, one might argue that the school was simply erring on the side of caution. However, most people are outraged that the misunderstanding escalated to such an extreme level. Many are quick to point out that this is yet another example of insidious Islamophobia in America.
"I built a clock to impress my teacher but when I showed it to her, she thought it was a threat to her," Ahmed told the media. "It was really sad that she took the wrong impression of it."
Masses of people have rallied around Ahmed, applauding his passion for tinkering and his aptitude for engineering. The #IstandWithAhmed and #engineersforahmed hashtags have been trending across social media with an outpouring of support, along with plenty of shout-outs from well known celebrities.
Here are some of the famous people who've reached out in support of Ahmed, including Pharell Williams, Mark Zuckerberg and the President of the United States.
Cool clock, Ahmed. Want to bring it to the White House? We should inspire more kids like you to like science. It's what makes America great.

— President Obama (@POTUS) September 16, 2015
Assumptions and fear don't keep us safe—they hold us back. Ahmed, stay curious and keep building. https://t.co/ywrlHUw3g1

— Hillary Clinton (@HillaryClinton) September 16, 2015
Ahmed, it's innovative, curious, bright minds like yours who move humanity forward. You are our future. Keep inventing! #IStandWithAhmed

— Pharrell Williams (@Pharrell) September 16, 2015
#IStandWithAhmed because all kids should be allowed to invent and explore and imagine without fear of being arrested http://t.co/Hutmn95SGh

— AmyPoehlerSmartGirls (@smrtgrls) September 16, 2015
#IStandWithAhmed cause I was once a brown kid in the south too. Plus sure he'll lead an amazing life & I'm trying to get in the bio pic game

— Aziz Ansari (@azizansari) September 16, 2015
#IStandWithAhmed — stay strong little brother. you are a genius and we all support your incredible passion for innovation + technology.

— Russell Simmons (@UncleRUSH) September 16, 2015
When a kid who loves robotics builds a clock & wants to show his classmates, we should celebrate him. Not arrest him. #IStandWithAhmed

— Sophia Bush (@SophiaBush) September 16, 2015
We should uplift more boys/girls like Ahmed! Brilliant minds! Embrace the things that make you unique even if it makes others uncomfortable.

— Janelle Monáe, Cindi (@JanelleMonae) September 16, 2015
Nerds Unite. #IStandWithAhmed http://t.co/uVpy4Z6vim

— Questlove Gomez (@questlove) September 16, 2015
Ahmed, you are welcome in the Hephaestus cabin at Camp Half-Blood any time. Some of the greatest heroes are inventors! #IStandWithAhmed

— Rick Riordan (@camphalfblood) September 16, 2015
@IStandWithAhmed dm me

— Mark Cuban (@mcuban) September 17, 2015
Even Mark Zuckerberg chimed in on Facebook, saying, "Having the skill and ambition to build something cool should lead to applause, not arrest. The future belongs to people like Ahmed." He added, "Ahmed, if you ever want to come by Facebook, I'd love to meet you. Keep building."
Who knows, he may score a job out of this debacle.
What's your take on this story?