Last night in San Francisco, an aging quarterback sealed his place in the hearts of an entire city when Peyton Manning delivered a third Super Bowl championship to the Mile High City. Backed by a plucky team of guys who began the season on a rough note with two tough losses, Manning managed to rally his team to a monster 24-10 victory over the Carolina Panthers.
It was a transcendent moment, the culmination of so much promise born when Manning first strapped on an orange and blue jersey. Everyone in Denver cheered, everyone in the stadium applauded. Everyone, that is, except this guy: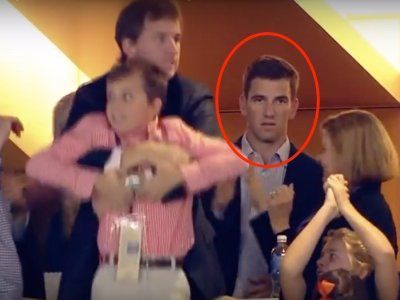 Yep, that's Eli Manning, the two-time Super Bowl champion and quarterback of the New York Giants, watching with dismay as his older brother ties his Super Bowl win record.
Of course, this kind of behavior is expected from Eli, who's had a bit of a reputation for being a prima donna since he entered the NFL (remember how he threw that temper tantrum because he didn't get drafted by the Giants initially? Who's going to be pissed off about going to San Diego?). One might think that two brothers who are both talented athletes with respected careers (and assured places in sports history) might find a place in their hearts to celebrate each others triumphs. After all, Eli can still give Peyton crap for taking so long to win his second title.
Instead, what we see is real aggravation, real annoyance at having to share time with a sibling who (sorry, Eli) will go down as one of the greatest the game of football has ever seen.
Not exactly a congratulatory face of brotherly love and support, is it.