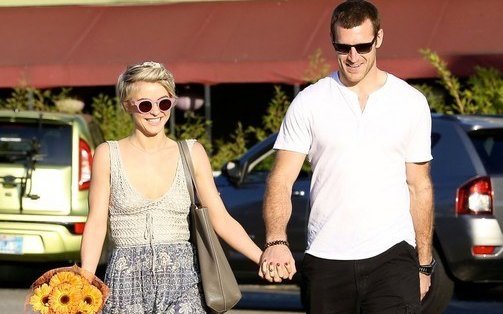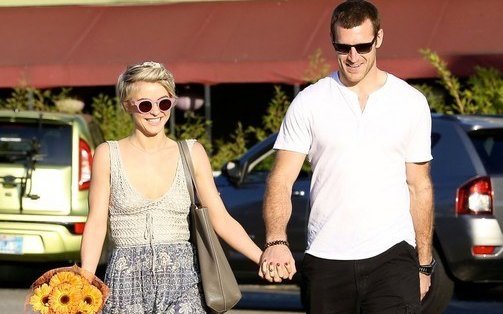 The 32-year-old Washington Capitals center proposed to his girlfriend of two-and-a-half years, actress and professional dancer Julianne Hough today.
The Dancing with the Stars pro and the NHL hunk started dating in December 2013 after being set up by a mutual friend. The pair went public with their relationship in February 2014.
During a radio interview, Laich revealed that he owes actor Teddy Sears of Masters of Sex for introducing him to Hough. Laich said, "On set, apparently, [Sears] was talking with Julianne…and then asked her if she'd been seeing anyone, and she said no or whatever, and I guess he was watching our hockey game…on Game Center on his iPad. I guess he just showed her the iPad and said, 'Well I've got a guy for you,' or something."
Hough revealed to Redbook magazine last year that her relationship with Laich was healthy and built on a solid foundation. "We've been open and honest from day one," she said.
Meet Hough's fiancé: Brooks Laich, a Wawota, Saskatchewan native, has been playing professional hockey since 2003. Laich first signed on with the Ottawa Senators during the 2003-2004 season before being traded to the Washington Capitals later in the year. Throughout his career, Laich has played for a few AHL teams including the Binghamton Senators, the Portland Pirates and the Hershey Bears, but he's spent the majority of his time with NHL's Washington Capitals.
Laich has represented Canada internationally, capturing a silver medal at the 2003 World Junior Championships, and playing for Canada again at the 2010 World Hockey Championships. Laich is one of the team's leaders, and plays in all situations for the Capitals.
When he's not playing hockey, you may catch Brooks on the golf course. He's a big fan of Tiger Woods. Brooks is also active in raising money for the National MS Society and Athletes Against Autism.
On August 18, 2015 Brooks Laich officially announced via Instagram that he and Hough were engaged.
Laich and Hough posted the same engagement photo with this caption, "We are overwhelmed with joy and excitement to share with you our recent engagement! #fiancé #love."
This will be the first marriage for Hough, 27, who was previously linked to television personality Ryan Seacrest for three years, and also the first for the NHL star who was previously tied to businesswoman Lauren Grebinski.