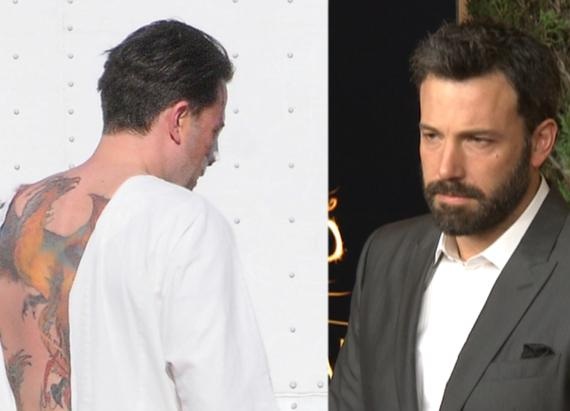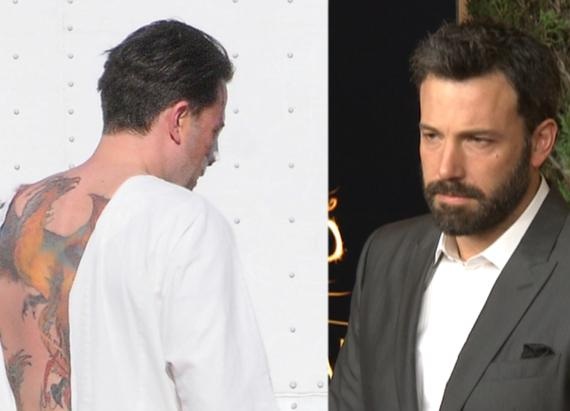 Ben Affleck recently got a giant tattoo on his back, and it looks like ex girlfriend Jennifer Lopez is not a fan. Jlo stopped by Watch What Happens Live with Andy Cohen this week, and was asked about the tattoo during a round of Plead the Fifth.
Jennifer was not shy about jumping in when shown a photo of the tattoo, describing it as "awful."
"What are you doing? It has too many colors. His tattoos always have too many colors. They shouldn't be so colorful. They should be cooler."
The tattoo itself is a rather large phoenix rising out of the ashes, which some are assuming has something to do with his recent split from Jennifer Garner. Jennifer Garner has also spoken out about the tattoo recently, making it clear that she thought it was a bit silly as well.
"You know what we would say in my hometown about that? 'Bless his heart.' A phoenix rising from the ashes. Am I the ashes in this scenario? I take umbrage. I refuse to be the ashes."
She went on to get candid about the divorce.
"I didn't marry the big fat movie star; I married him. And I would go back and remake that decision. I ran down the beach to him, and I would again. You can't have these three babies and so much of what we had. He's the love of my life. What am I going to do about that? He's the most brilliant person in any room, the most charismatic, the most generous. He's just a complicated guy. I always say, 'When his sun shines on you, you feel it.' But when the sun is shining elsewhere, it's cold. He can cast quite a shadow."