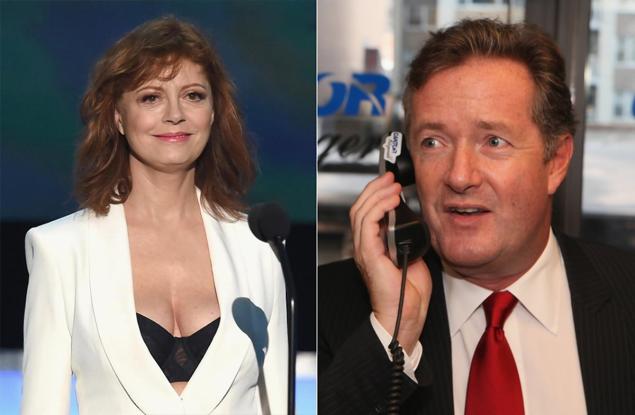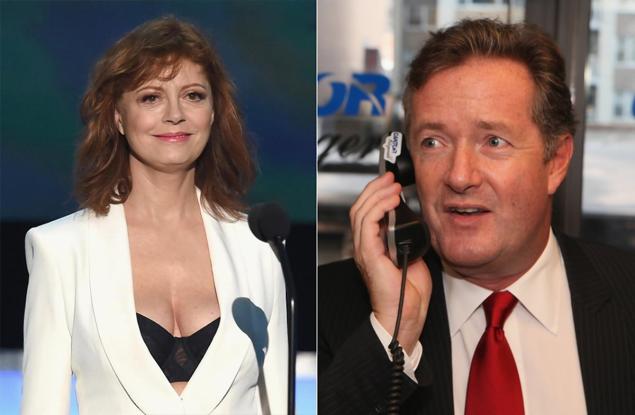 If he's not careful, Piers Morgan is going to find himself on the business end of some American justice. After the uppity Brit tried to take all of our guns a few years back, he's now attacking another American cultural institution: Susan Sarandon's boobies. When Sarandon wore a revealing white suit to the Screen Actor's Guild Awards last Saturday, the 69-year-old drew a lot of attention and controversy because of her visible bosom. Daily Mail columnist (and all-around rabble rouser) Piers Morgan joined in the fun:
Would Susan Sarandon wear this to a funeral? No.
It was thus horribly inappropriate for an In Memoriam tribute. pic.twitter.com/hMoGChJY8D

— Piers Morgan (@piersmorgan) February 3, 2016
He went on to call the actress' ensemble choice tacky and inappropriate, comments that have earned him a considerable amount of backlash over the course of this week, even earning the dubious moniker #cleavagegate. The personality known for his undisguised love of instigation has been actively enjoying the attention, seemingly responding to anyone who will point a Tweet his way. Sarandon herself fanned the flames by sending her fashion critic a throwback photo of her Rocky Horror Picture Show character in a bra.
He responded with this (warning, once you see this, you can't unsee it):
Today's #TBT is dedicated to @SusanSarandon. pic.twitter.com/g8Wh6phMrA

— Piers Morgan (@piersmorgan) February 4, 2016
Literally a week into the feud, not one single person has taken the time to point out that the whole controversy is completely inane. Like Susan Sarandon is the first person to wear a racy outfit to an awards show. Not only that, but Sarandon has been a sex symbol for her entire career, regardless of how old she is. Sure, she's pushing 70, but she's still oozes sensuality on a level unmatched by most twenty-somethings. After all, even though she's a grandma, Susan Sarandon still has objectively great breasts. Why should she get into trouble for gifting them unto the world?